A rich, creamy peanut-butter center is covered in chocolate in this simple, no-bake Vegan Peanut Butter Cups recipe. You only need 6 simple ingredients to make your own delicious, vegan peanut butter cups at home!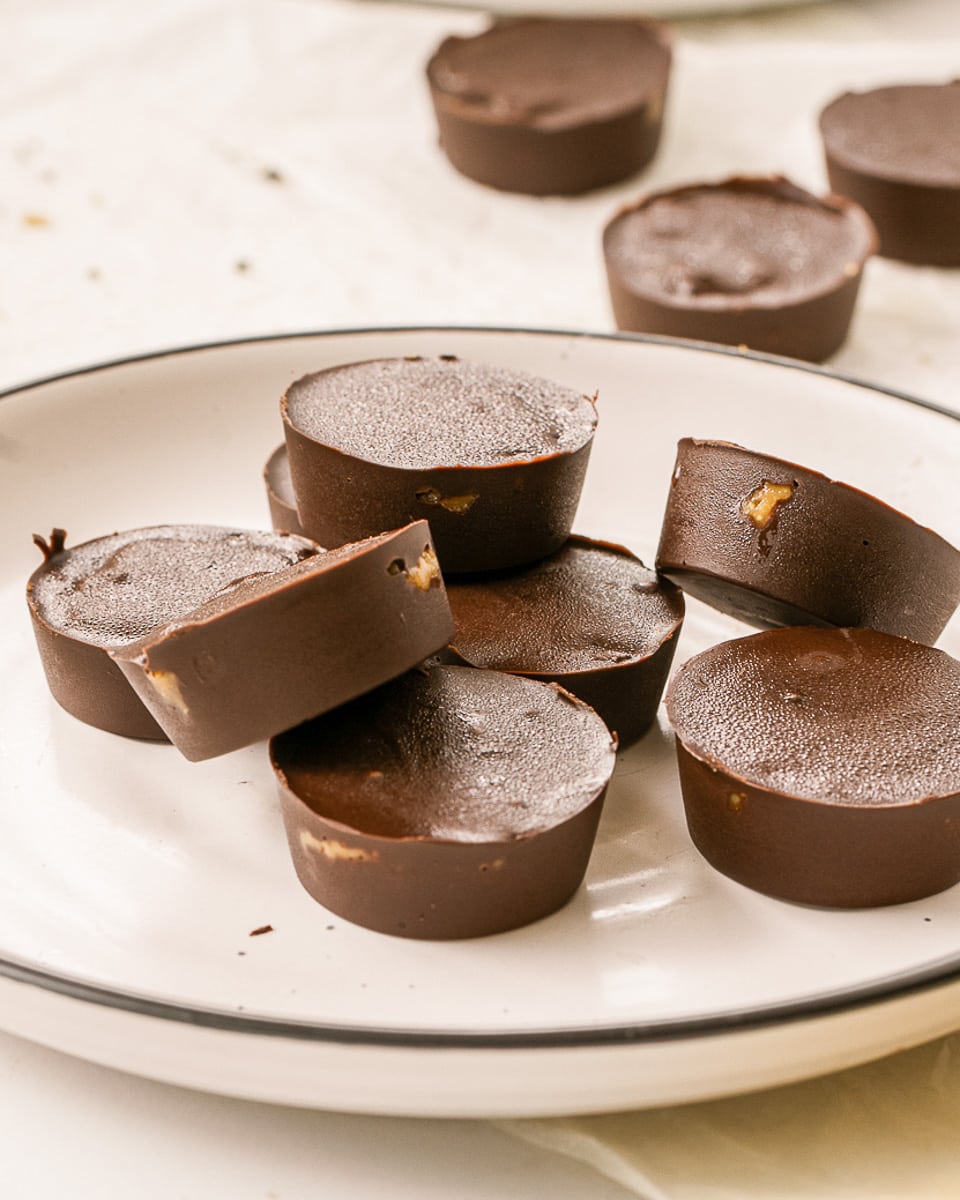 If you are a fan of simple desserts, this recipe is for you. Velvety smooth chocolate and peanut butter join forces to create a decadent yet surprisingly simple dessert.
Vegan Peanut Butter Cups aren't the only desserts that combine chocolate and peanut butter, though. These Chocolate and Peanut Balls are also super portable and crunchy, and this Vegan Chocolate Peanut Butter Cake is to die for!
If you're not feeling chocolate, though, I recommend my favorite chewy Vegan Peanut Butter Cookies. (And if you are feeling chocolate, you could always dip the cookies in some!)
Making homemade desserts is so much better than buying them from the store. Skip the Reese's, and make these homemade peanut butter cups instead!
These Vegan Peanut Butter Cups Are....
Easy 
Made with simple ingredients 
Naturally gluten-free 
Vegan 
Vegetarian 
Freezer-friendly
Keto-friendly (using Lily's keto-approved chocolate)
How to Make Vegan Peanut Butter Cups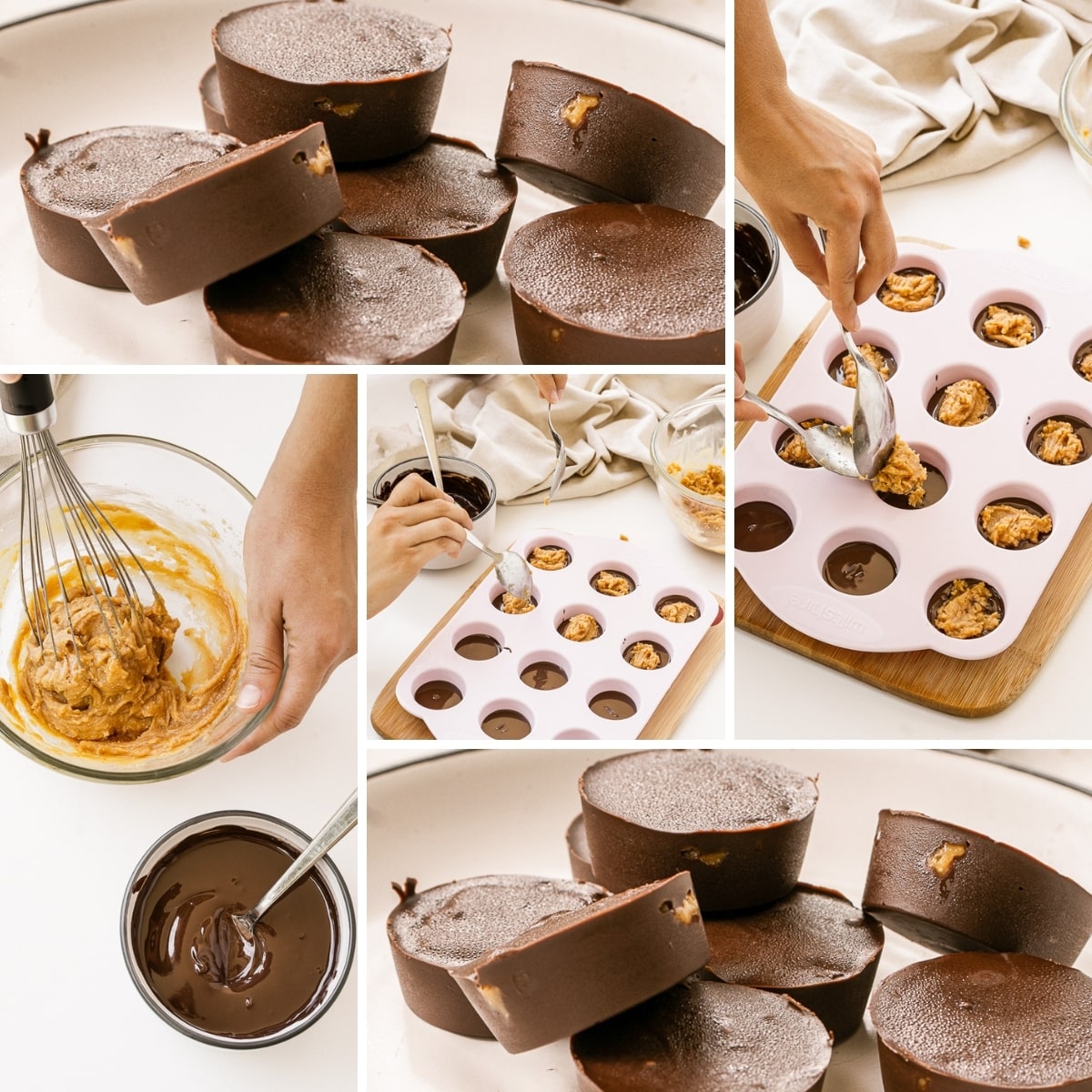 Start by melting your chocolate in a bowl in the microwave.
Pour ½ tablespoon of chocolate into each mold, then place in the refrigerator to set up.
While chocolate is setting up, make the peanut butter filling.
Pour filling into the cups, then top with more melted chocolate.
Place the cups in the fridge to set up. Then enjoy!
See below for full directions for this Vegan Peanut Butter Cups recipe.
Tips & Tricks for Vegan Peanut Butter Cups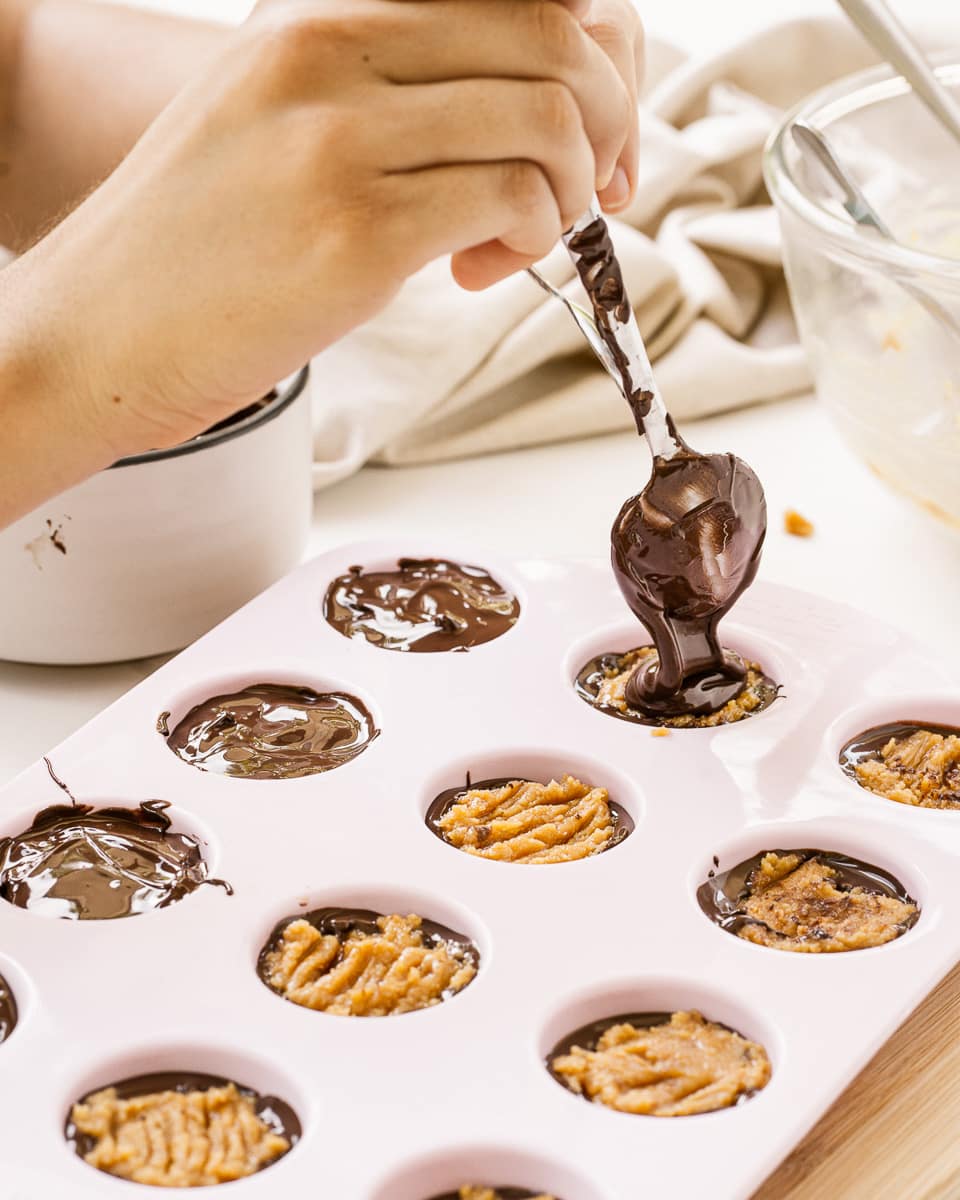 Setting Up The Chocolate
Mixing the coconut oil into the chocolate is what will help it set up. Without the coconut oil, you will need to temper your chocolate.
Don't Overfill Your Molds
Make sure to not overfill your molds the first time when you are creating the chocolate shell. You will be adding in the peanut butter and the second layer of chocolate later on, so you need to make sure to save space for those layers.
Variations To Vegan Peanut Butter Cups
Change Up the Chocolate
Feel free to use any flavor of chocolate you want for your peanut butter cups. Try white, dark, milk, etc. Feel free to pick and choose, or even try a mix of chocolate flavors!
Try a Different Nut Butter 
Fill your vegan chocolate cups with any kind of nut butter you want. You don't have to stick with peanut butter. Try filling your cups with almond, hazelnut, or even cashew butter!
Just measure out the same amount of your nut butter as you would for peanut butter in the recipe. However, if your butter has a wetter consistency, just use a little less of it.
Add Nuts
Consider using a nutty peanut butter or add in a few nuts by hand to the filling of your peanut butter cups. You could even stick a nut or two into the top chocolate coating of your cups!
Vegan Peanut Butter Cup FAQs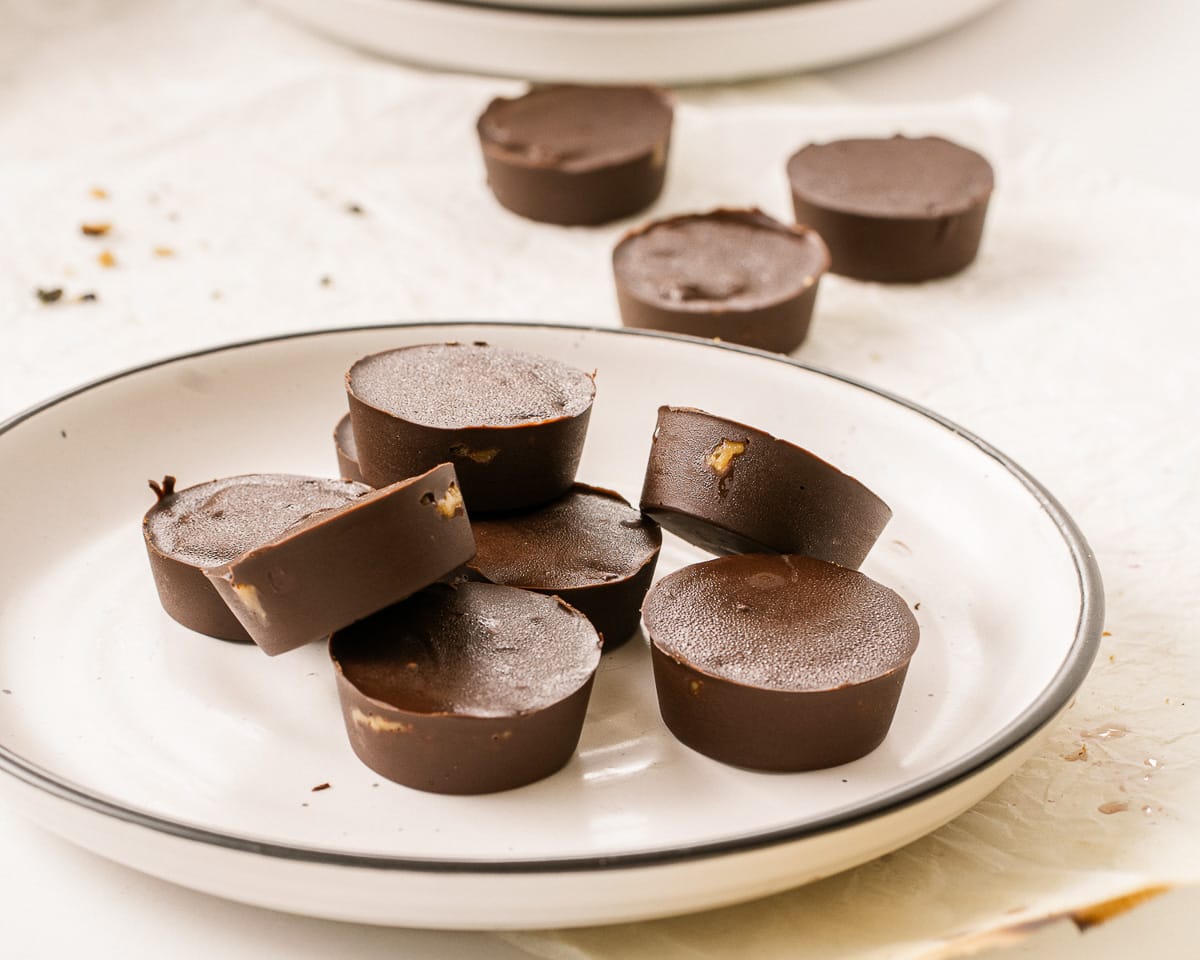 How long can you store these vegan peanut butter cups?
You can store these cups for up to 10 days in the fridge. Or you can freeze your peanut butter cups for up to 3-4 months.
What if I don't have a silicone mold?
If you do not have a silicone mold, simply use cupcake liners in a muffin pan. Allow the Reese's peanut butter cups to set up completely before you try to remove from the liners.
Can I make these homemade peanut butter cups with sugar-free chocolate?
Absolutely! Feel free to use your favorite sugar-free chocolate for this recipe. Melt down the chocolate and then continue to follow the directions.
Lily's Sweets sells keto-approved chocolate that is also sugar free.
Recipe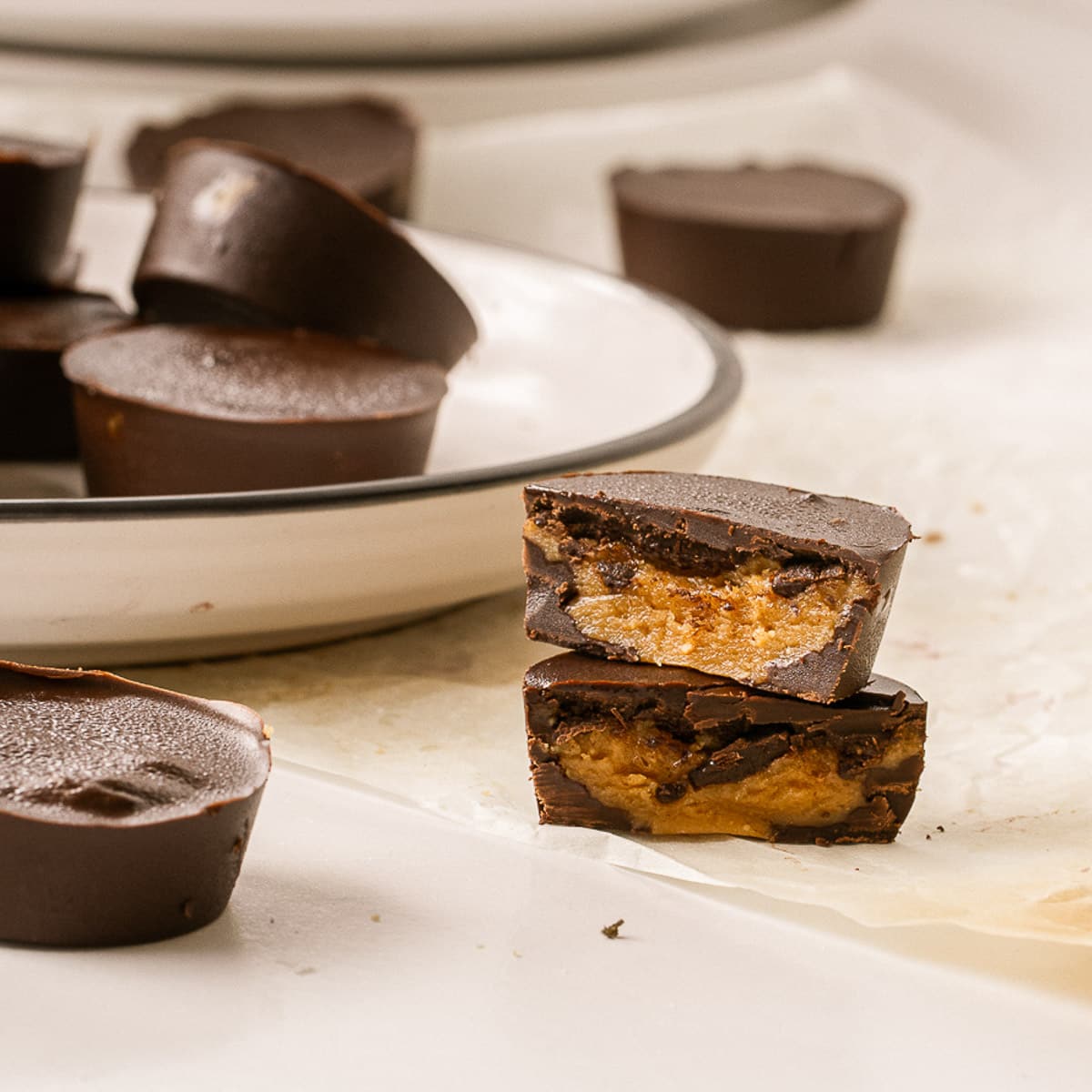 Servings:
12
small silicone molds
Instructions
Melt chocolate in a microwave safe bowl for 45 seconds.

Place ½ tbsp of melted chocolate into each of 12 small silicone molds (see pictures).

Refrigerate for 20 minutes or until chocolate has hardened.

For the filling, mix the peanut butter, coconut oil, vanilla extract, and maple syrup until smooth.

Add 1 tsp of the filling into each cup.

Cover filling with melted chocolate, filling to the top of the mould. (You can microwave to melt your chocolate again if it has hardened back up.)

Refrigerate 30 minutes or until the peanut butter cups are hard enough to transfer from the moulds.

Store in the fridge for up to 10 days.
Nutrition
Calories:
159
kcal
Carbohydrates:
10
g
Protein:
4
g
Fat:
12
g
Saturated Fat:
5
g
Trans Fat:
1
g
Cholesterol:
1
mg
Sodium:
149
mg
Potassium:
178
mg
Fiber:
2
g
Sugar:
6
g
Vitamin A:
6
IU
Calcium:
17
mg
Iron:
2
mg
Craving more veg-friendly recipes?
Shop our collection of vegetarian and vegan cookbooks, including our new Vegan Thanksgiving and Vegan Christmas cookbooks!