If you love the tangy flavor and crumbly texture of parmesan cheese but not the dairy - you're going to love this simple vegan parmesan cheese. It's super easy, and goes perfectly with a big bowl of pasta!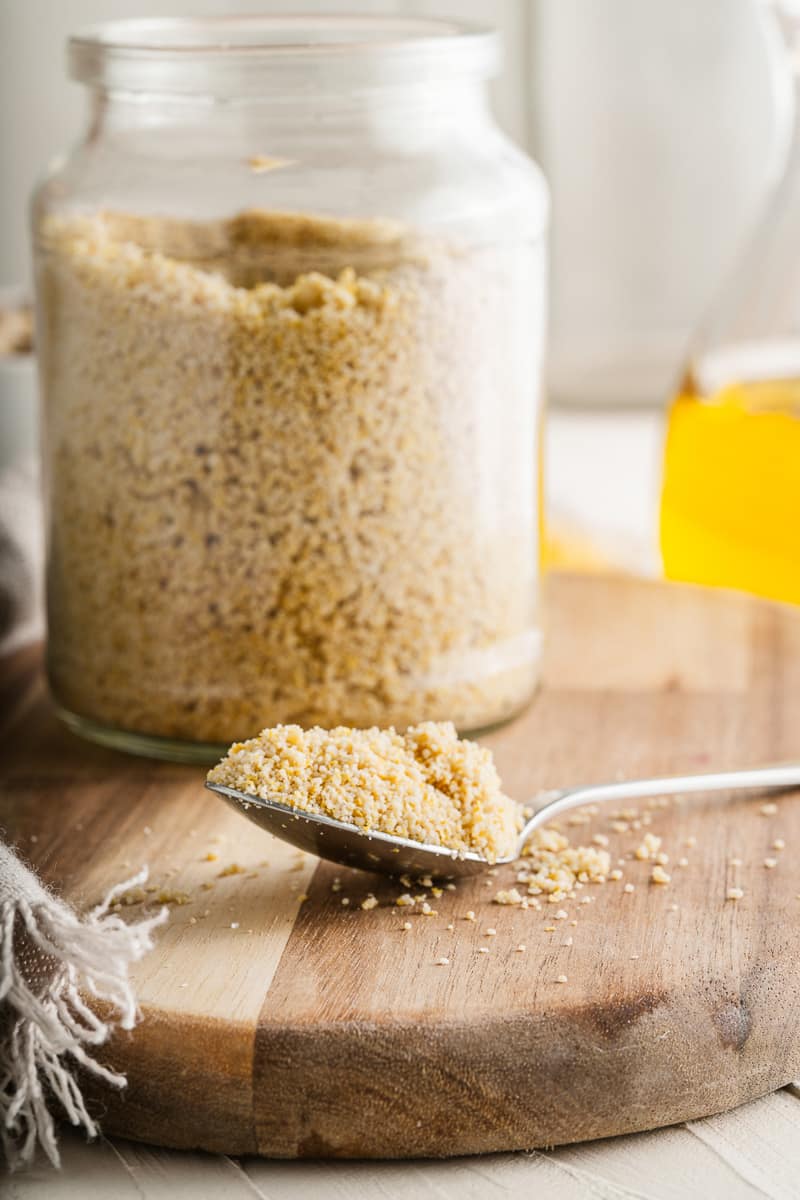 Grab your food processor and ingredients—in just 15 minutes you'll have a delicious grated vegan cheese to sprinkle over pasta, pizza, etc.!
This parmesan tastes great on anything, but some of my favorites include Fresh Corn, Poblano, and Cheddar Pizza, Lemon Parsley Pasta Salad, and Roasted Fennel & Hazelnut Salad.
How to Make Vegan Parmesan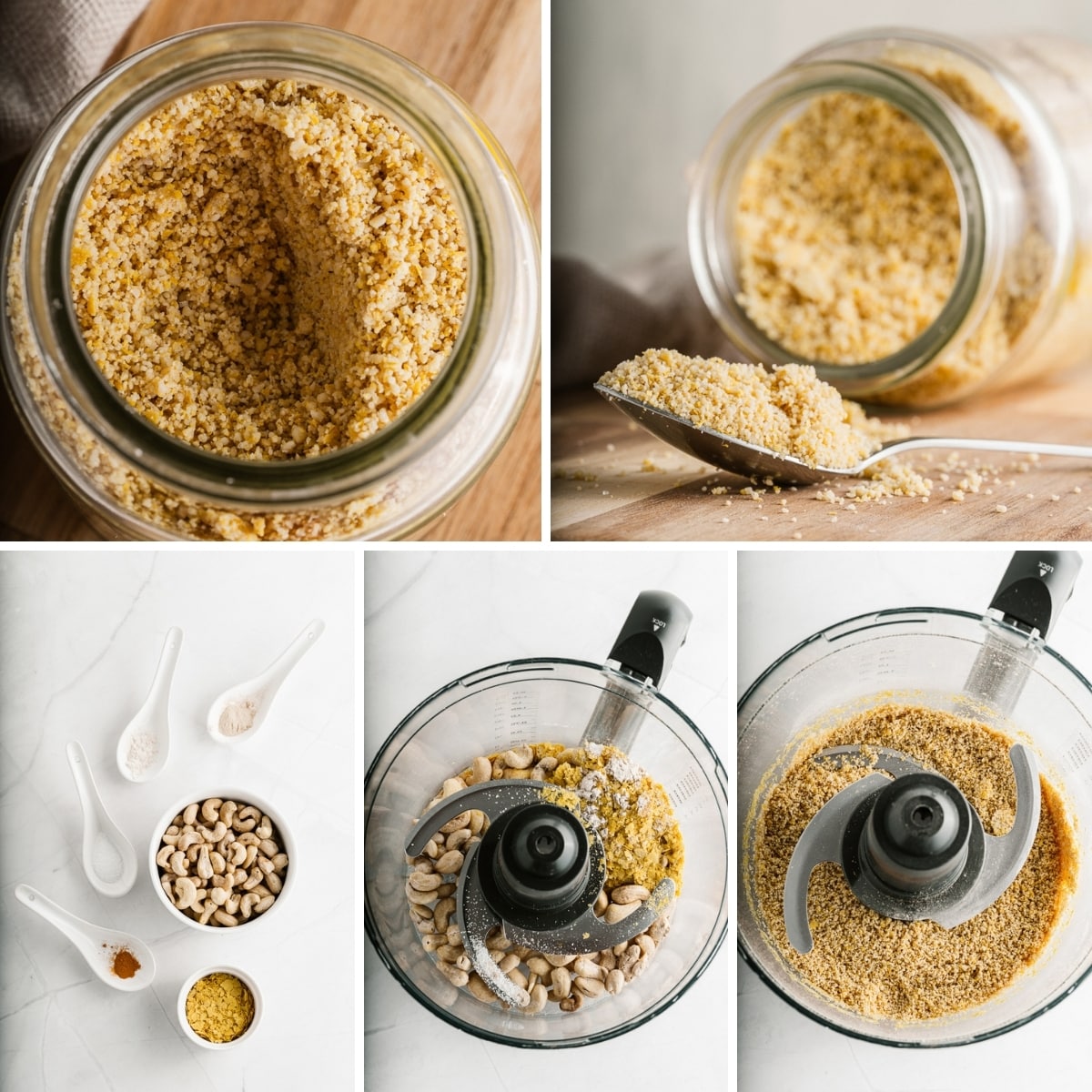 Add all your ingredients into a food processor or blender and pulse.
Once the mixture is coarse, scrape sides, turn off, and season with salt.
Tips & Tricks for Vegan Parmesan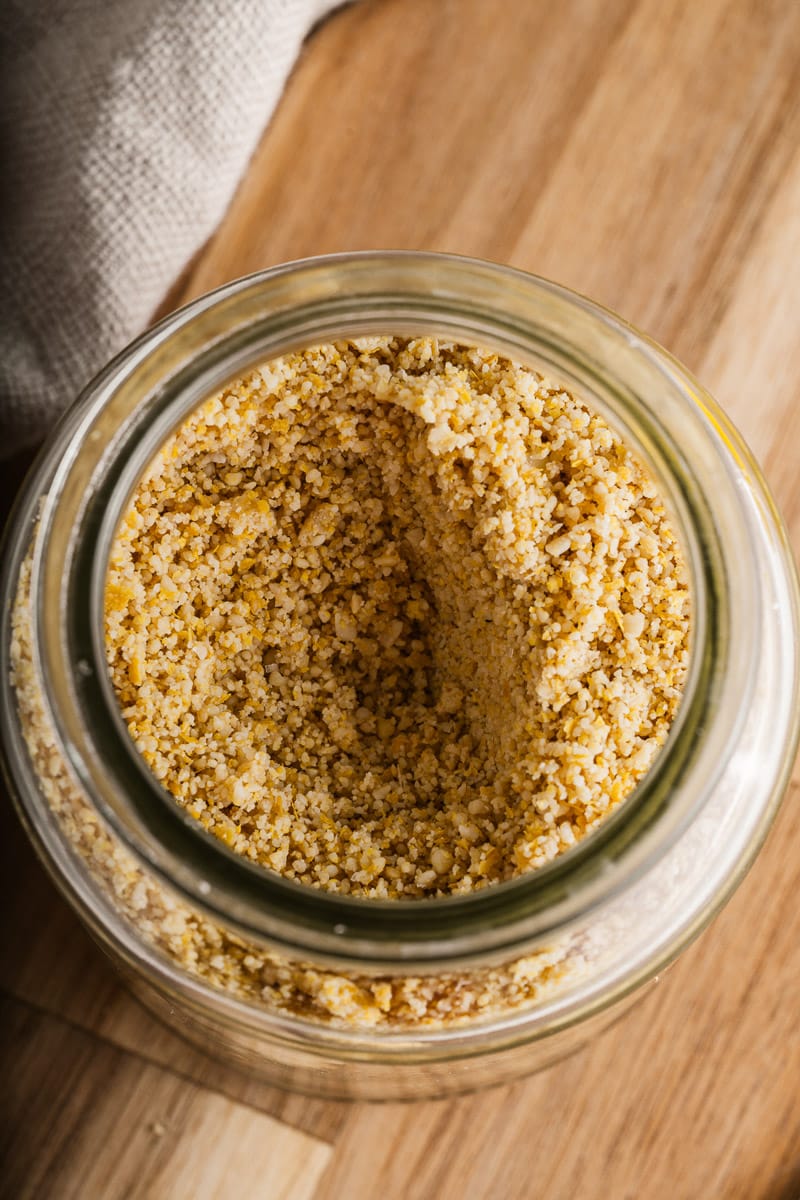 Getting The Right Texture
You need a high-speed blender or food processor to make this vegan cheese. Otherwise, you won't achieve the parmesan-like texture that you want. If your blender is not high-speed, you may want to opt for a food processor.
Ways To Use Vegan Parmesan Cheese
This cheese can be used in so many ways. Use it to top your pasta, mix into your pasta salad, or sprinkle over green salad. And if you enjoy parmesan on pizza—go for it! I even use it for my casseroles!
Scrape the Sides
The mixture will stick to the sides of the food processor or blender. So make sure to use a rubber spatula to randomly scrape down the sides. That way you don't end up with un-mixed clumps!
Don't Overmix
If you blend or process the mixture too much, your cheese will go from crumbs to butter. So make sure to watch your texture, and stop before it goes too far!
Variations to Vegan Parmesan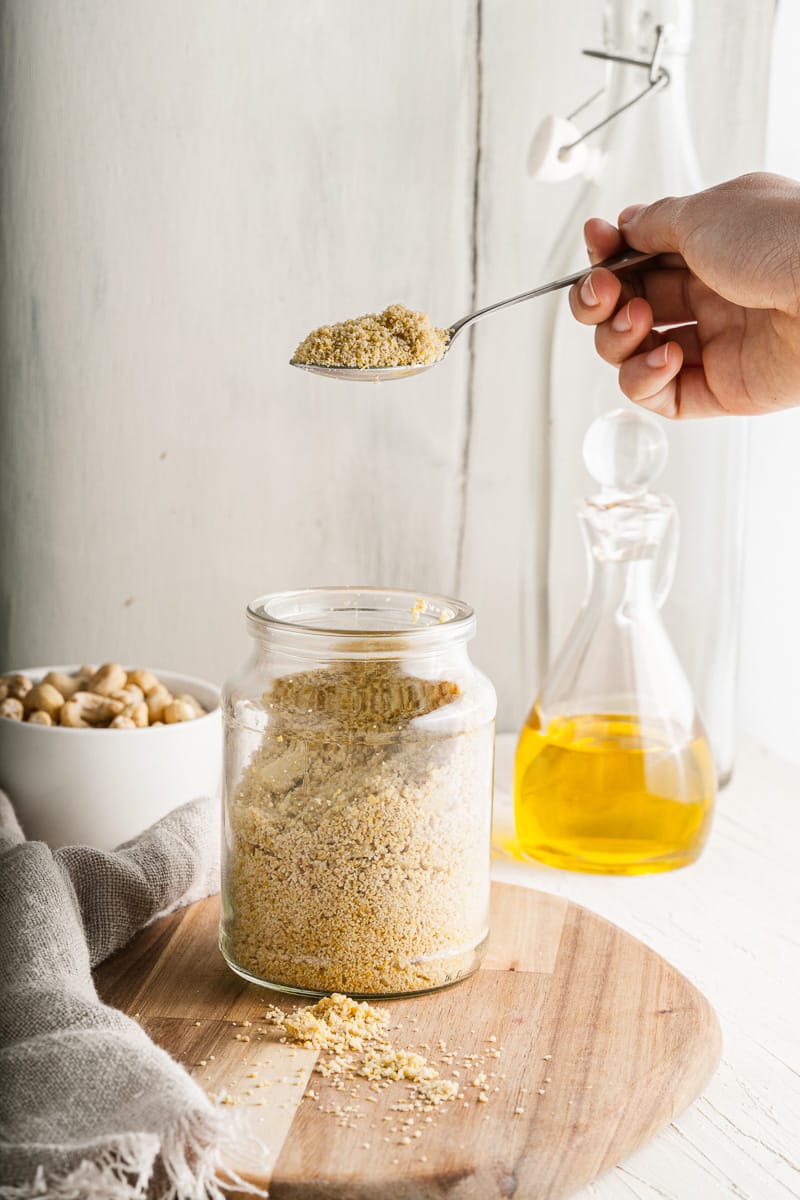 Spices
Go right ahead and use different spices to alter the flavor of your cheese. Cajun spice, cayenne for a kick, or even smoked paprika would all be a tasty addition. Have fun altering the flavors to create a cheese that works for you!
Nuts
Don't want to use cashews? No problem! Swap the raw cashew nuts with raw, de-shelled sunflower seeds. They will grind up well and mix nicely with the other ingredients to produce the right texture.
Vegan Parmesan FAQs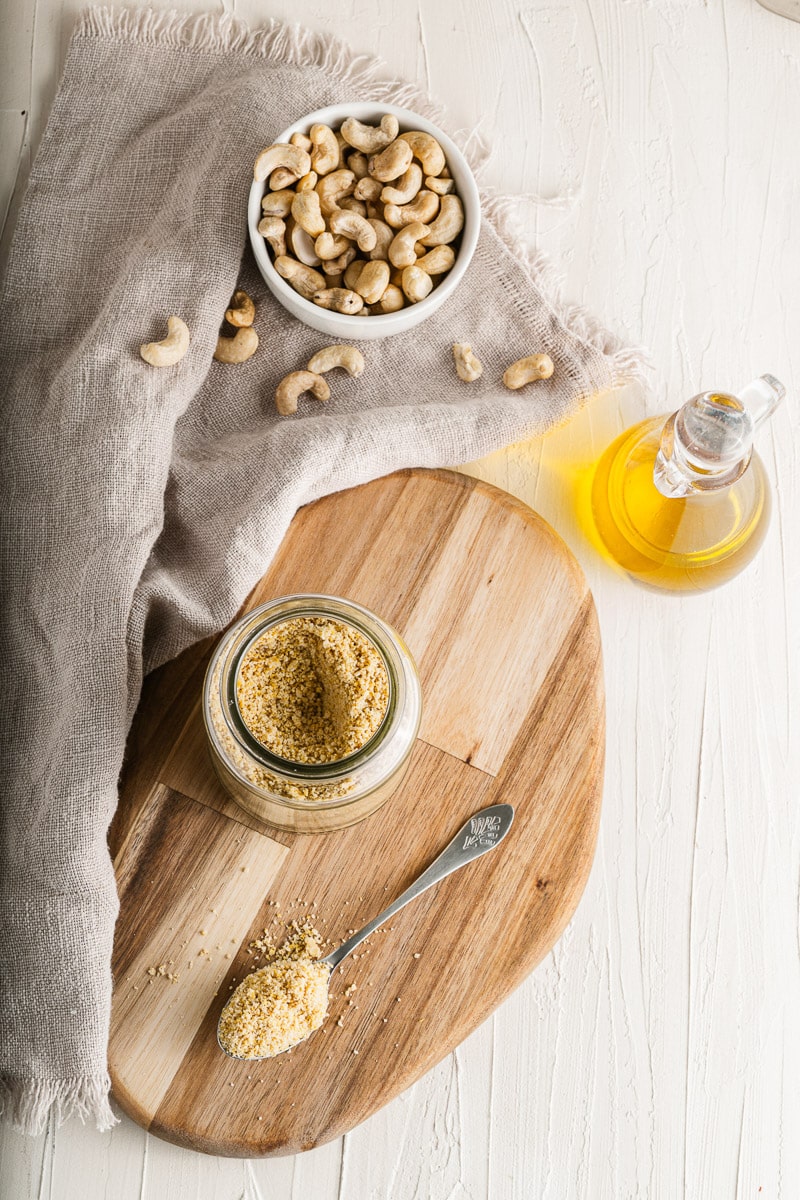 Can I use roasted nuts?
You can use roasted nuts to make parmesan, but you will find that most people prefer the flavor of raw nuts. When nuts are roasted, they give the vegan cheese a flavor that hits a bit differently on the taste buds.
How long does Vegan Parmesan last?
This plant-based cheese can last for up to 2 weeks when stored in an airtight container in the fridge. Just keep an eye on it—if it begins to smell different, toss it out and make some new vegan cheese.
Will this cheese melt?
This plant-based parmesan alternative will not melt like a traditional parmesan. This recipe is meant to be a topping, providing that tangy flavor you get from traditional parmesan cheese.
Recipe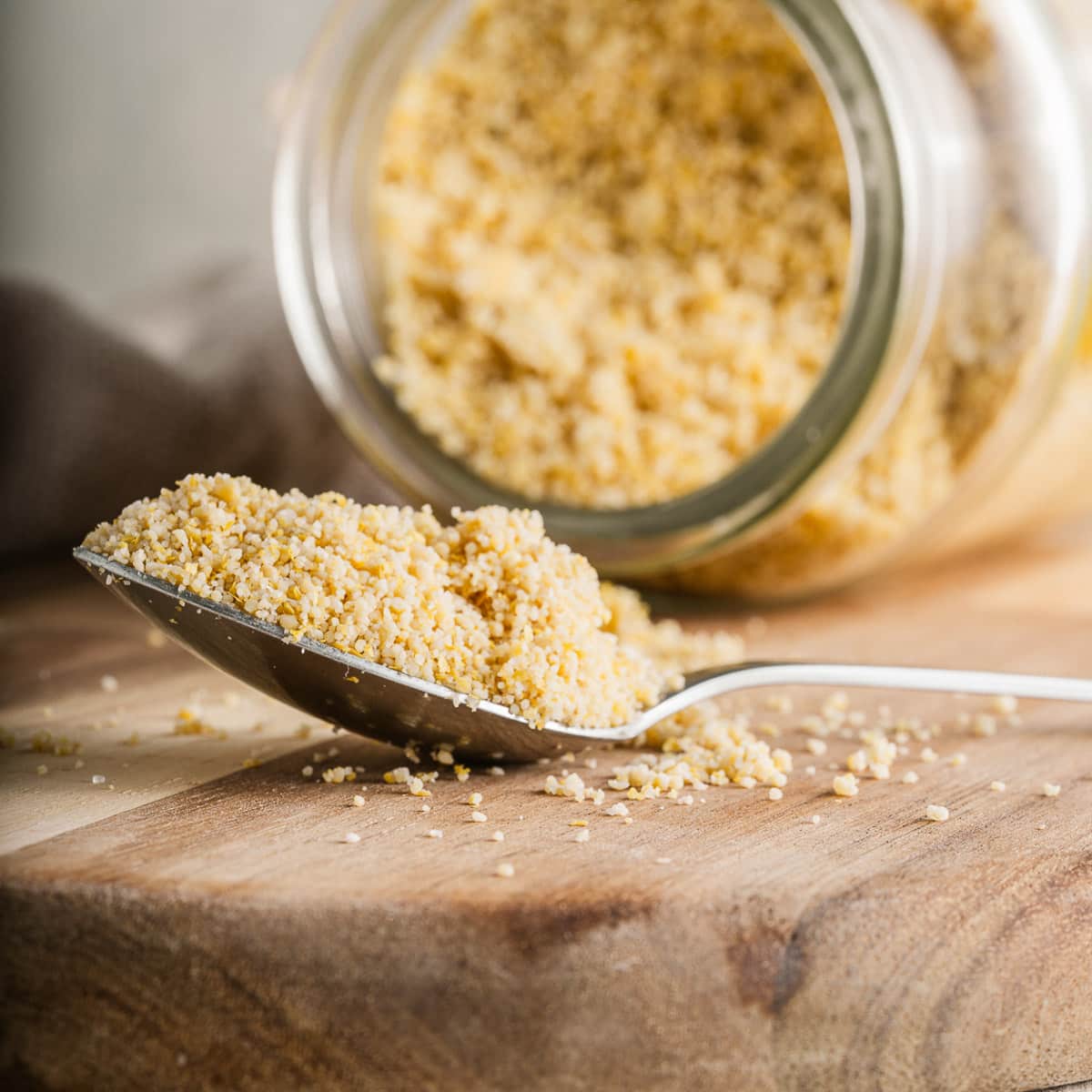 Instructions
Place all the ingredients in a high-speed blender or food processor.

Pulse until the mixture has a coarse consistency. You may need to scrape the sides a few times.

Adjust the salt and seasonings to taste.
Notes
You can keep this Vegan Parmesan in the fridge for up to two weeks, stored in an airtight container.
The cashew nuts can be replaced with sunflower seeds; the resulting cheese has a different texture but is still delicious.
Try adding your favorite spices to create different flavors of vegan parmesan. For example, try adding smoked paprika, cayenne pepper, or a cajun spice blend.
This Vegan Parmesan is perfect served over pasta, salads, or pizza.
Nutrition
Calories:
774
kcal
Carbohydrates:
46
g
Protein:
31
g
Fat:
57
g
Saturated Fat:
10
g
Polyunsaturated Fat:
10
g
Monounsaturated Fat:
31
g
Sodium:
1179
mg
Potassium:
1166
mg
Fiber:
8
g
Sugar:
8
g
Vitamin C:
1
mg
Calcium:
51
mg
Iron:
10
mg
Craving more veg-friendly recipes?
Shop our collection of vegetarian and vegan cookbooks, including our new Vegan Thanksgiving and Vegan Christmas cookbooks!