Skip the boxed brands and make this decadent Vegan Chocolate Pudding instead. Made rich with cocoa powder and cashew milk, you'll melt with every bite. This pudding is thick and creamy, perfect for any occasion or to even use for pies!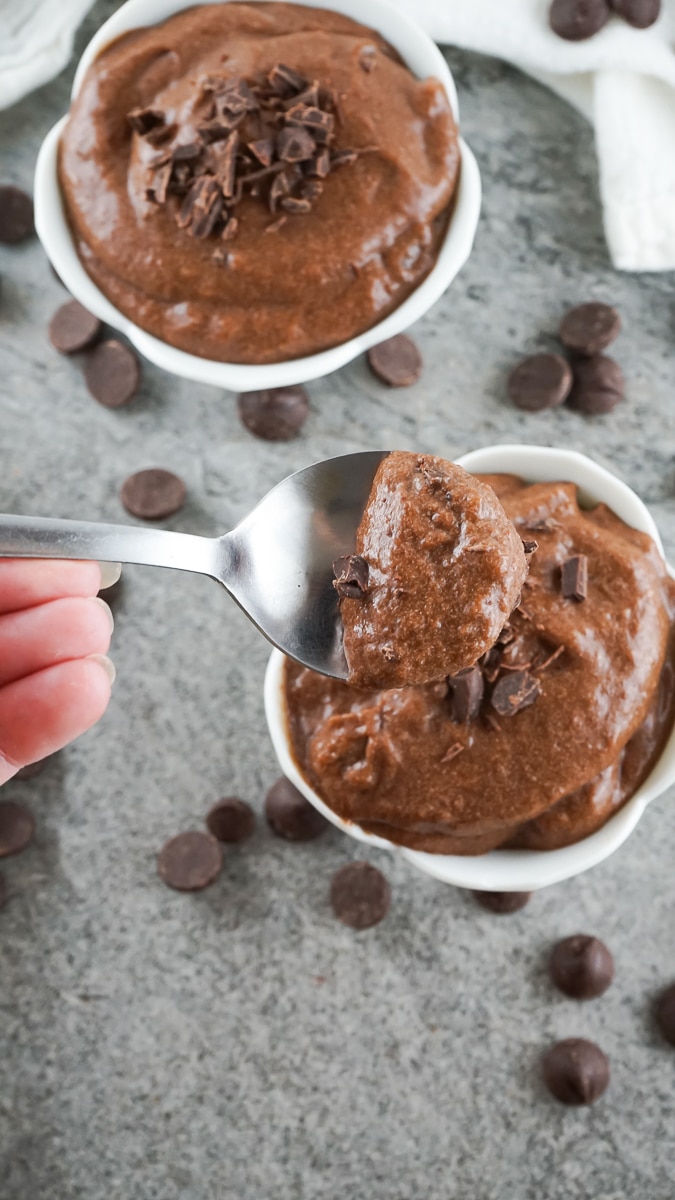 Jump to:
Something that pretty much everyone on this planet loves is chocolate pudding. It is a great snack, dessert, and can even be used as an ingredient for a slew of other desserts! My Vegan Chocolate Pudding retains the reputation of thick, fluffy and delicious pudding. The ingredients are very simple and the steps are as easy as it gets.
Vegan Chocolate Pudding has quickly become the kids' favorite dessert. I find myself making it often because it's an easy-to-please dessert. I find it tastes best when following a lighter dinner like Vegetarian Burrito Bowls or some Vegan Ramen Noodles.
It is a great recipe to make while dinner is being cooked. It is also great as a snack if you have leftovers! I've even used it to stuff some vegan donuts before. This is definitely a great recipe to have on hand. 
And don't forget to grab a copy of my free vegan cheat sheet too! It's packed with my favorite easy substitutions to help you make just about any recipe vegan!
How to Make Vegan Chocolate Pudding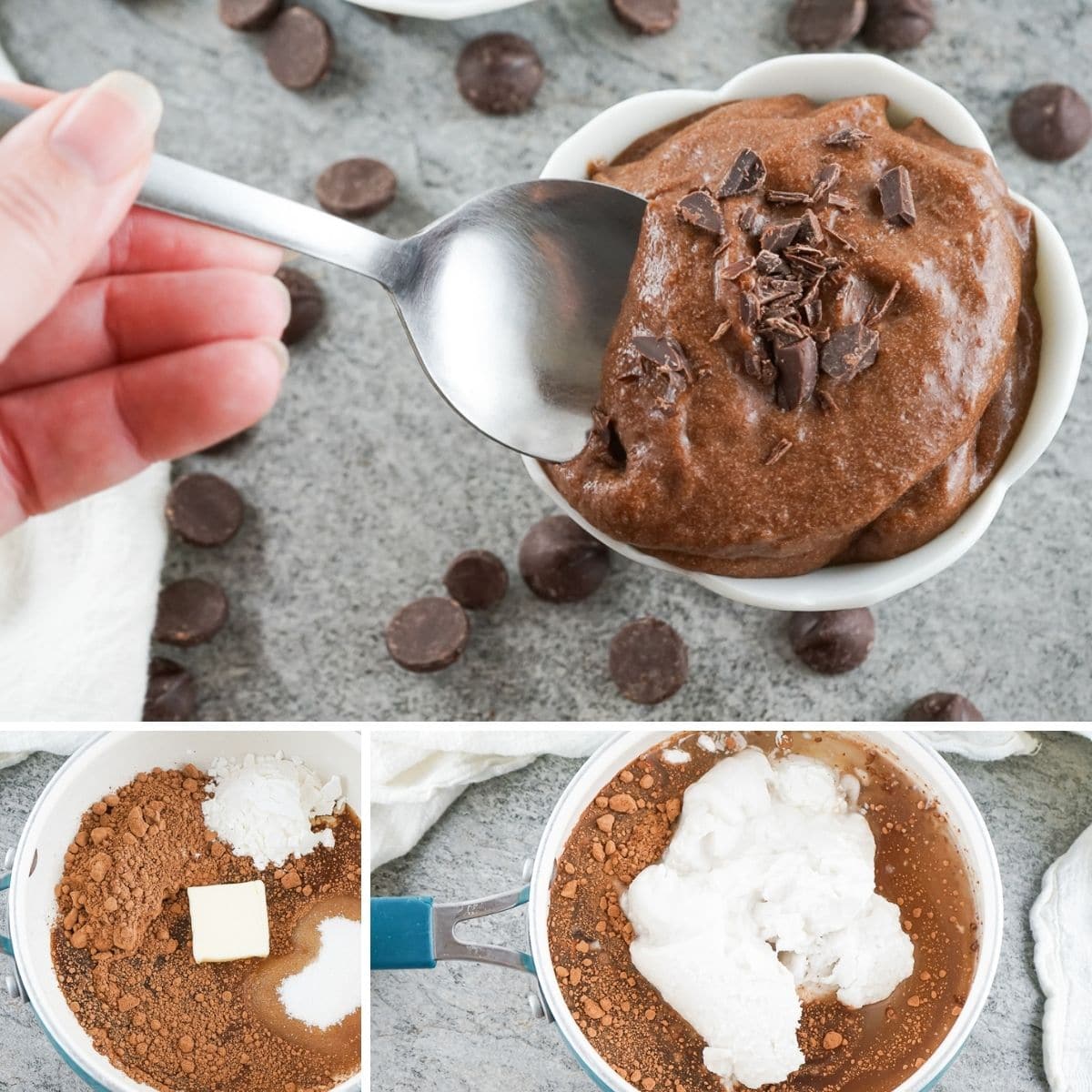 Combine and heat - Combine all of your ingredients, except for the xanthan gum, in a pot. Heat on medium and stir out all of the lumps. Let it continue to cook for about 10 minutes.
Thicken - Pour the mixture into a mixing bowl and sprinkle the top with the xanthan gum. Using a hand mixer, beat the mixture until it thickens up like pudding.
Serve - You can let it cool or serve warm.
Tips and Variations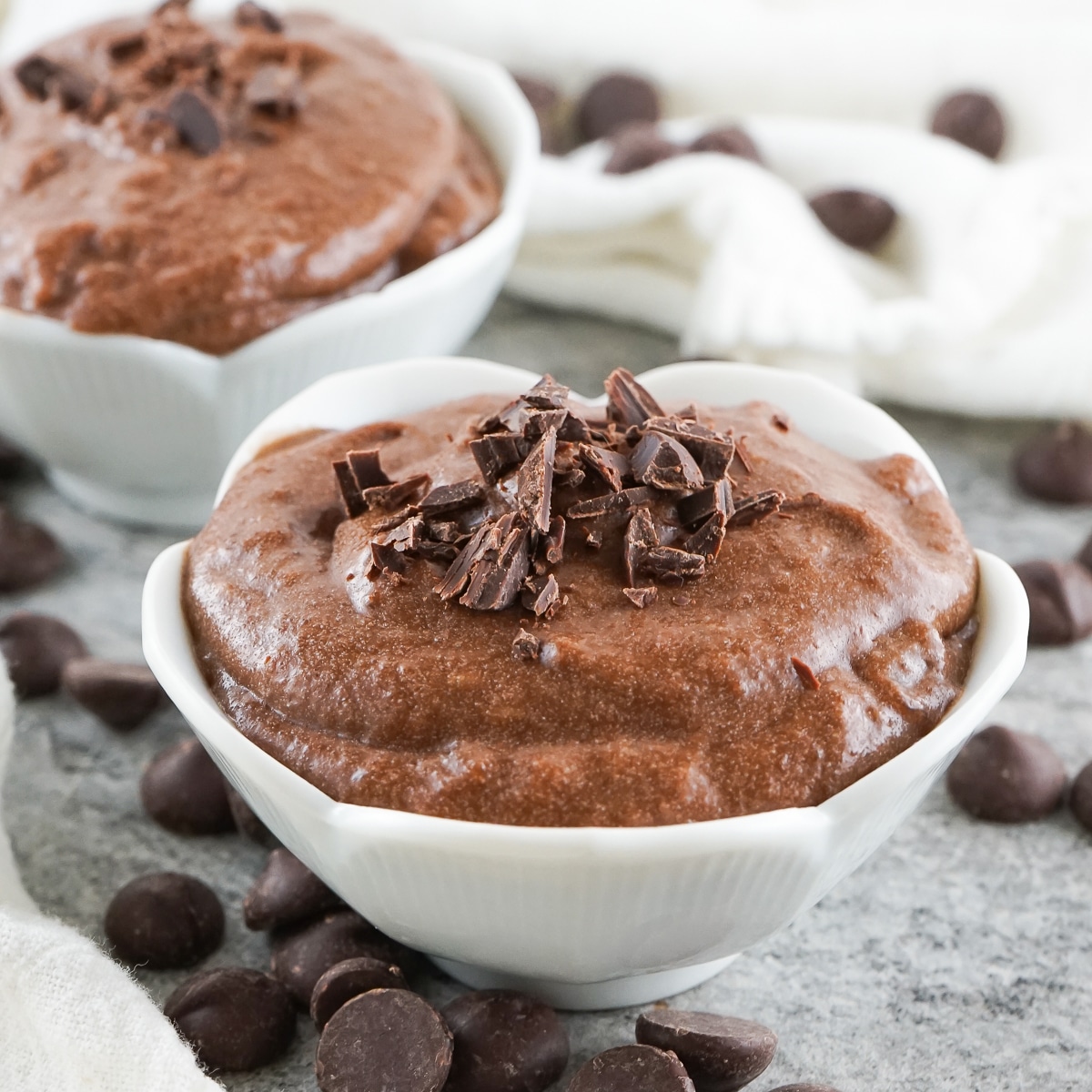 Storage - Store in a sealed container in the fridge for up to 4 days. Do not freeze or store outside the fridge. I wasn't a fan of how it turned out after being frozen. Freeze at your own risk.
Reheating - Pudding is meant to be served cold. I do not suggest heating this recipe. You should be able to serve it straight from the fridge.
Toppings - You can always make some homemade vegan whipped cream out of coconut milk to top your chocolate pudding. Chocolate shavings, sprinkles, various chocolate chip flavors, candies, etc. are all fun and tasty ideas to top your pudding. You could always just stick with plain as well.
Use coconut milk instead - If you want to use something other than cashew milk, I would go for coconut milk. Full fat would be the best kind. The fat in cashew and coconut milk make it the perfect substitute for a thick and creamy pudding.
Use for other desserts - You can always whip up this vegan pudding for other dessert recipes as well. For example, poke cakes, chocolate cream pie, etc.
Swap out the cornstarch - If you don't have cornstarch on hand, you can always use xanthan gum instead. These both are thickening agents, although you don't normally need as much xanthan gum as you do cornstarch.
Vegan Chocolate Pudding FAQs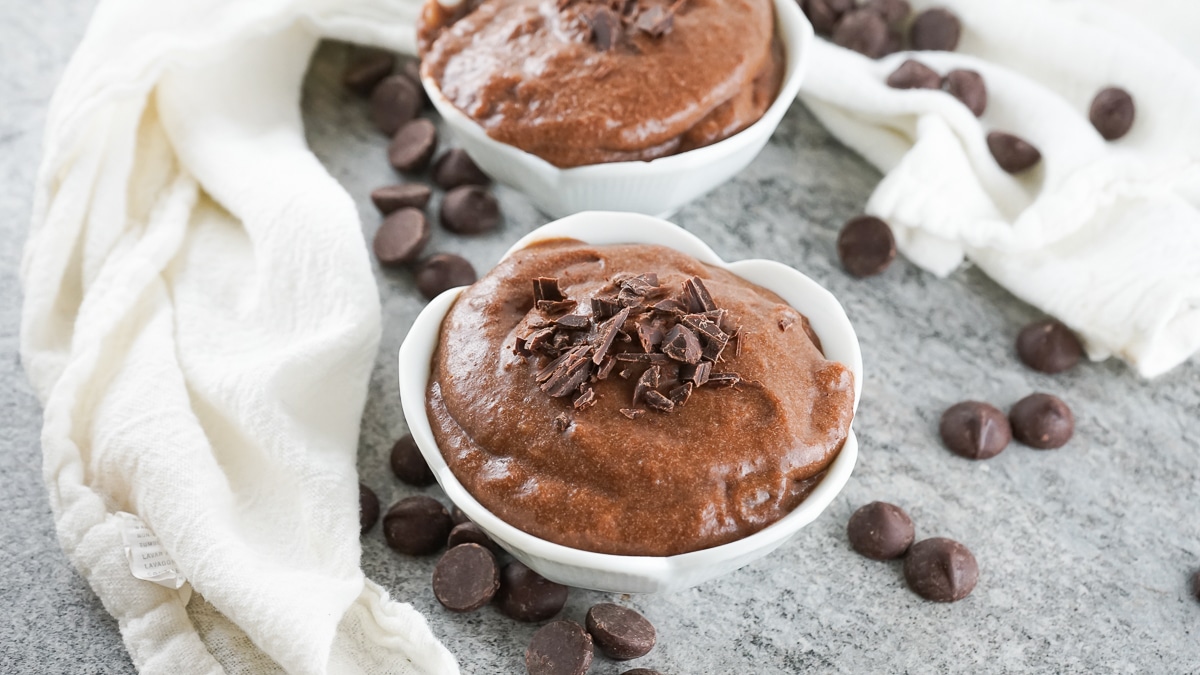 Is Chocolate Pudding Mix Vegan?
A lot of store bought pudding mixes these days are vegan. Where the issue occurs is the milk. It is generally a necessary ingredient to get your pudding to thicken up like you are used to. My recipe is totally vegan and has the taste and fluffiness we all know and love about chocolate pudding while still being cruelty-free!
What is Vegan Chocolate?
Vegan chocolate is any chocolate made without using any animal products, such as milk or eggs. Generally, chocolate made with fewer ingredients is a good place to start looking. Darker chocolate tends to be a pretty safe area as well. This is because there is less added to it, in general.
There are a variety of brands that market their chocolates as vegan and are almost always a safe option to choose. Of course, if you're vigilant, I would check the ingredients and ensure the product you're buying is actually vegan. Sadly, it can be marketed as vegan, but that doesn't always mean it's fully vegan.
If you decided to give this Vegan Chocolate Pudding a try, please let me know in the comments below or on social media!
Other Vegan Dessert Recipes You Might Like:
While you're here, be sure to grab our FREE 5-Day Meatless Meal Plan. It's packed with tasty recipes to make vegetarian cooking easy and delicious!
Recipe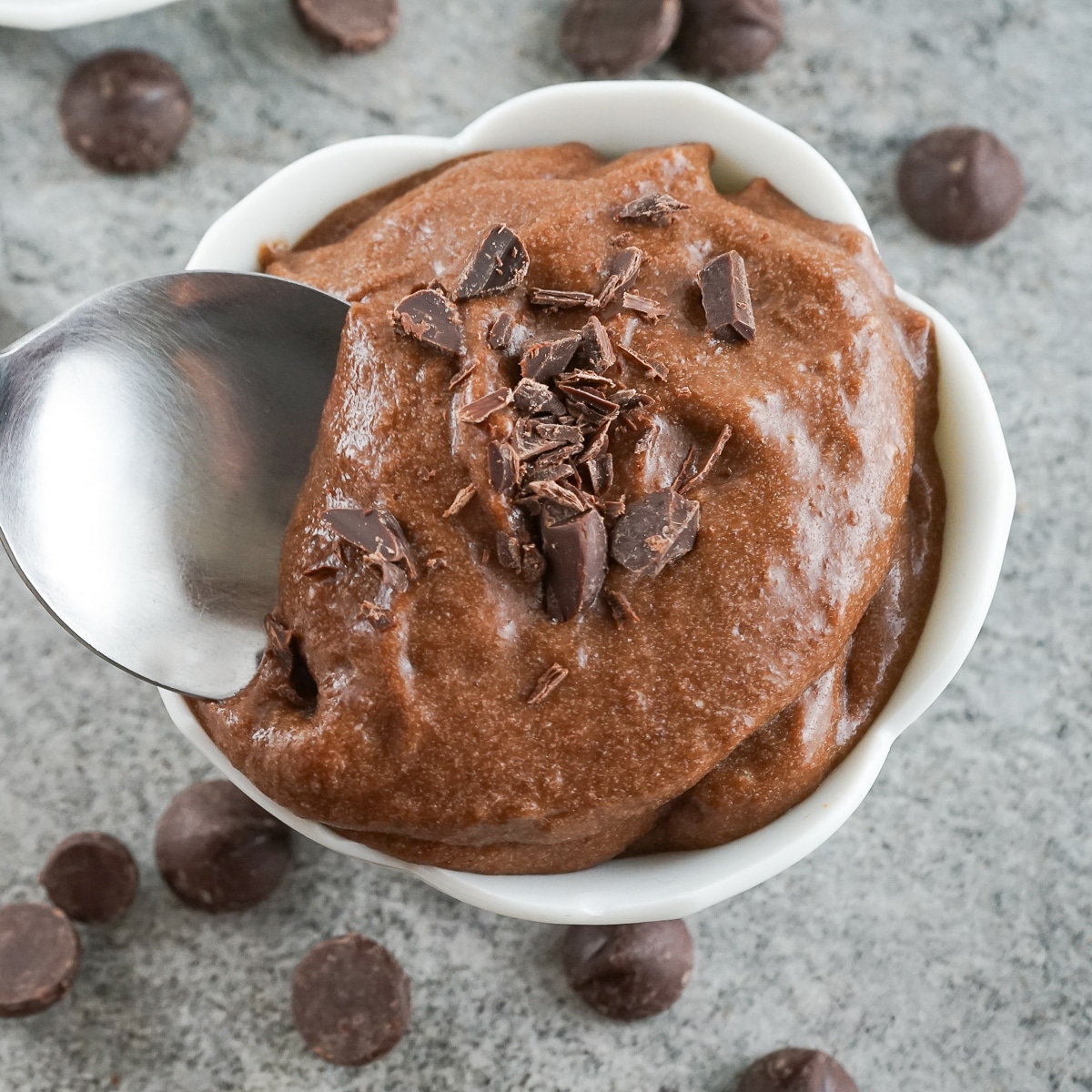 Instructions
Combine all the ingredients except the xanthan gum in a medium pot over the medium heat on the stove.

Heat ingredients until sugar and butter have melted, then whisk well, so that no lumps remain.

Let continue to cook for a few minutes (it should cook for about 10 minutes in total) then remove from heat.

Pour the chocolate mixture into a medium bowl and sprinkle the xanthan gum over the top.

Using a hand mixer, beat the mixture until it's as thick as pudding should be.

Chill for 1 hour, if desired, or serve warm. Enjoy!
Nutrition
Calories:
221
kcal
Carbohydrates:
45
g
Protein:
1
g
Fat:
5
g
Saturated Fat:
1
g
Sodium:
91
mg
Potassium:
109
mg
Fiber:
4
g
Sugar:
34
g
Calcium:
9
mg
Iron:
1
mg
Craving more veg-friendly recipes?
Shop our collection of vegetarian and vegan cookbooks, including our new Vegan Thanksgiving and Vegan Christmas cookbooks!