This vegan buddha bowl is packed with nutritious flavor from black beans, sweet plantains, and roasted portabella mushrooms. And it's all topped with a creamy, spicy cilantro-jalapeno sauce. This one-bowl dinner is super easy for a weeknight meal, and fun to put together too!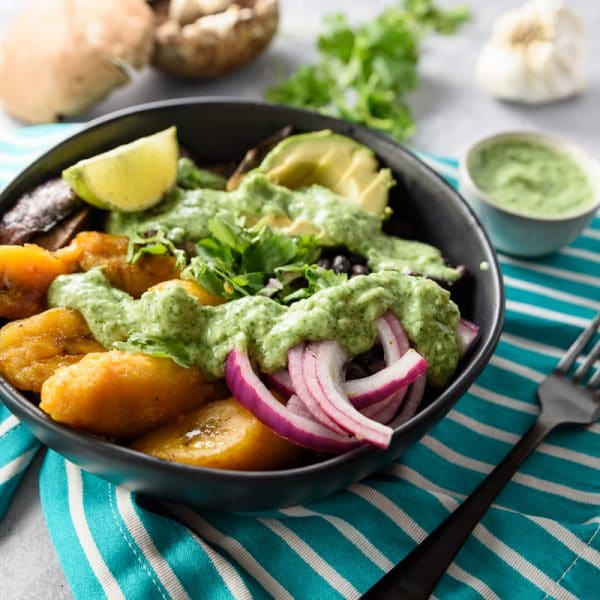 What is a buddha bowl?
Well to be honest, a buddha bowl is whatever you want it to be.
According to Urban Dictionary, buddha bowls are simply bowls of delicious food, packed so full that they resemble the round belly of a buddha.
They typically have a base of some type of grain – like rice, couscous or quinoa. And then they're loaded up with all kinds of veggies and creative toppings.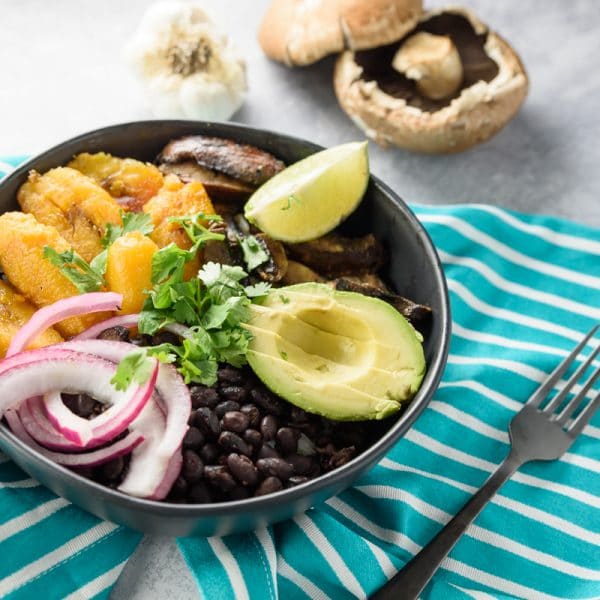 Kind of like a burrito bowl, but usually with more exotic flavors.
So when I took a look at the new Family Celebrations program at Publix, the first idea that popped into my mind was to create an incredible veggie-packed buddha bowl!
As a bonus, this buddha bowl is 100% vegan, vegetarian, and gluten-free.
Buddha Bowl Ingredients at Publix!
I've been enjoying shopping at Publix again since we moved back to Florida earlier this year.
It's such a fun place to shop. The stores are always clean, the produce is always fresh, and the team is always friendly!
This week, the Family Celebrations program kicked off at Publix, and it's what inspired me to make these amazing buddha bowls.
There are over $35 in savings available on a great assortment for items from 9/1 – 9/30. Check out the full list of sale items and print the coupons by visiting their website.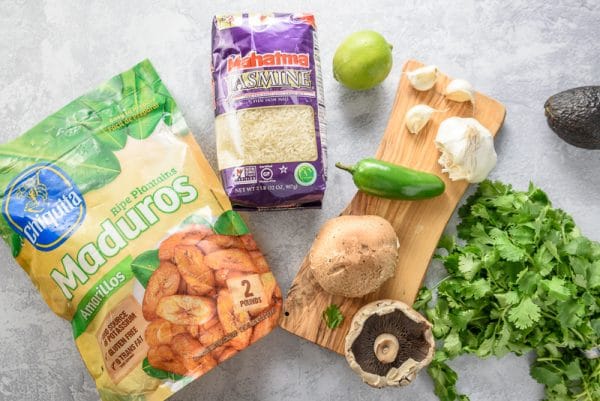 Some of my favorite ingredients are included in this sale! That includes the Mahatma® Jasmine Rice that I used for these vegan buddha bowls.
I cook with Mahatma rice all the time! In fact, last time it was on promotion at Publix, I used it to create a fantastic Vegan Jambalaya dish. It's become one of the most popular recipes on the blog – so definitely check it out if you missed that!
They also have plantains from ChiquitaTM on sale. That includes both the Tostones (fried green plantains) and Maduros (sweet plantains), and they are both delicious.
While I've made both from fresh plantains before, I can't believe how easy these frozen ones are to cook with. And honestly, they tasted just as good as fresh ones. I had a hard time choosing which plantains to use for my buddha bowls.
And to top things off, they have several Badia® seasonings on promotion as well. I picked up the Badia Adobo seasoning because it's so versatile – I know I will use it for tons of recipes!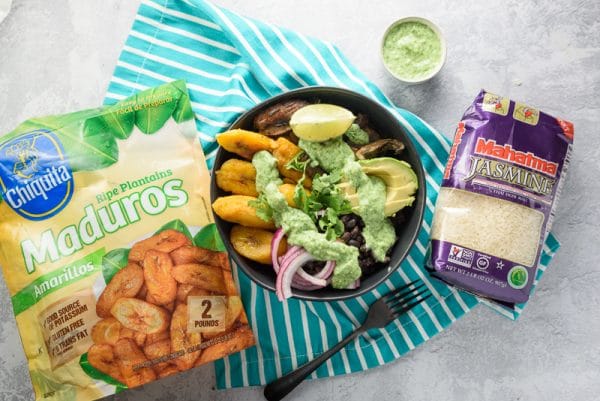 So, what to do with all of these tasty things? Obviously, we should throw them all into one giant bowl of deliciousness.
Let's Make Vegan Buddha Bowls!
You won't believe how easy and fun these buddha bowls are to make.
I pulled the whole thing together in about 30 minutes. And I love how everyone in the family can customize their own bowl with their favorite toppings.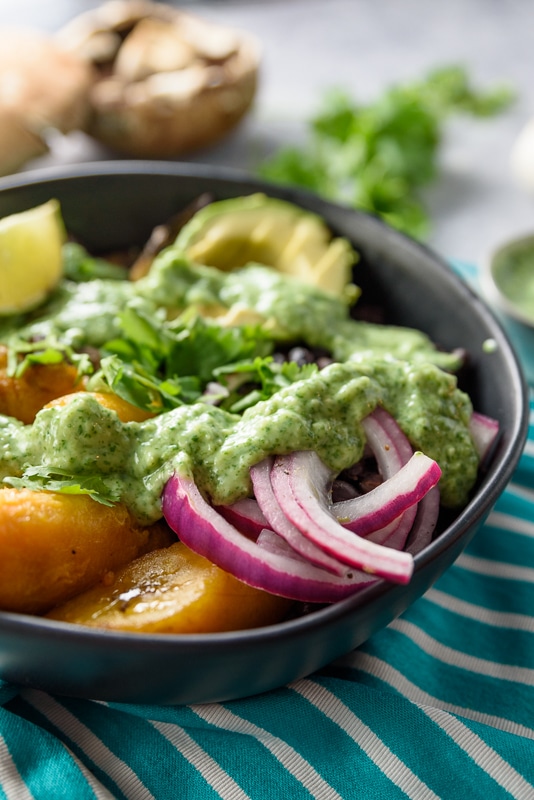 Start off by cooking the rice. That part is simple of course – just boil the jasmine rice for about 15 minutes.
To give the rice some more flavor, I mixed in a bit of lime juice and fresh cilantro. I just love the smell of fresh cilantro – yum!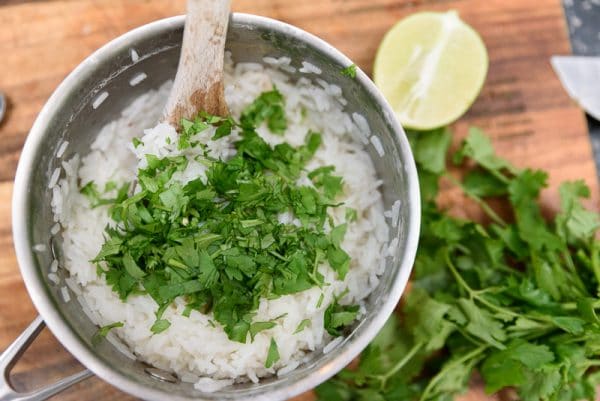 While the rice is cooking, prep the veggies. Start off with the plantains. I love how easy these are – simply spread them out on a baking sheet and bake for 20 minutes.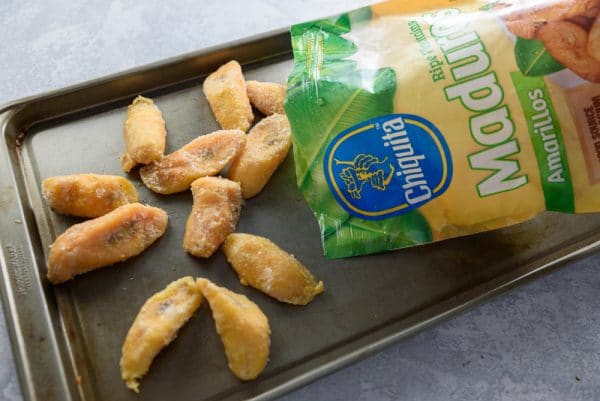 For the portabella mushrooms, line a baking sheet with a piece of parchment paper. The parchment paper is optional, but it does keep the mushrooms from sticking to the pan. Plus, it makes things easier to clean up!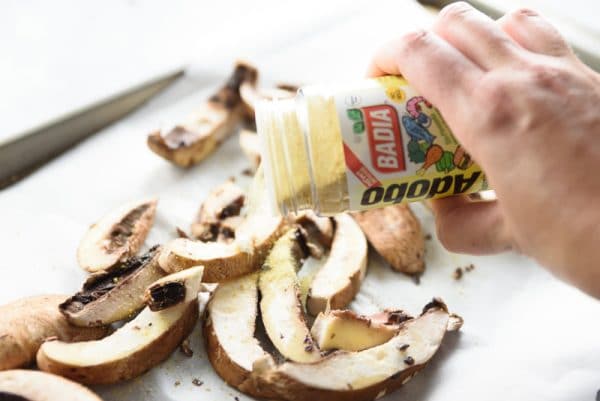 Toss the portabella mushrooms with the Adobo seasoning and a bit of olive oil.
Spread them out in a single layer, and bake for 12 minutes. I baked the portabella mushrooms and the plantains at the same time, to move things along more quickly.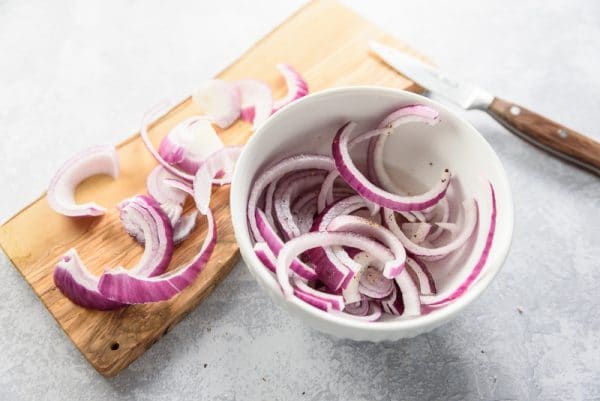 While the veggies are roasting, you can prep the onions.
I pickled the onions a bit, for a nice tangy flavor. Simply stir together some red onions with a drizzle of white vinegar, salt, and pepper. Let the onions marinate while you finish cooking the other ingredients.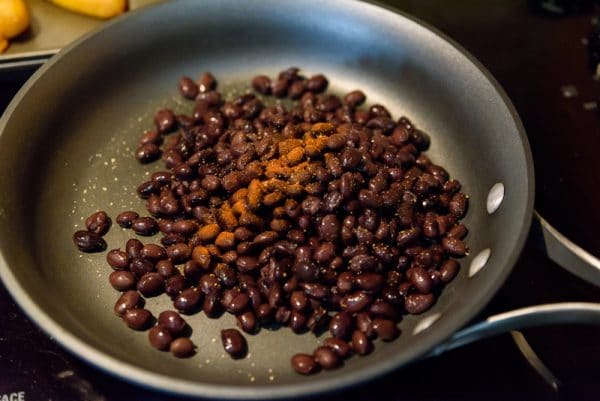 Next up are the black beans. These are the main protein for our buddha bowls!
Be sure to drain and rinse the beans well. Then just toss these in a frying pan, with a bit of olive oil. Mix in a sprinkle of adobo seasoning and a bit of smoked paprika, and cook for 3-4 minutes.
Finally, we are ready to make the Cilantro-Jalapeno sauce. This is the thing that pulls it all together – it's perfectly creamy with just the right amount of spice to give everything a little kick.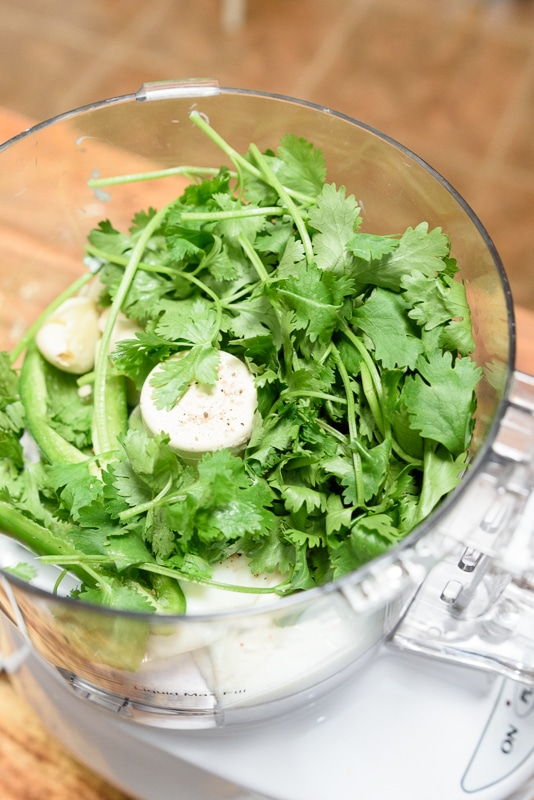 I used a dairy-free coconut yogurt as the base for my sauce. If you are not concerned about making the recipe vegan, you can feel free to use regular, unflavored yogurt.
In a food processor, combine the yogurt with jalapenos, garlic cloves, and a whole bunch of fresh cilantro. Add a bit of salt and pepper to your taste.
And there you go – the most flavorful, beautiful green sauce you'll ever taste!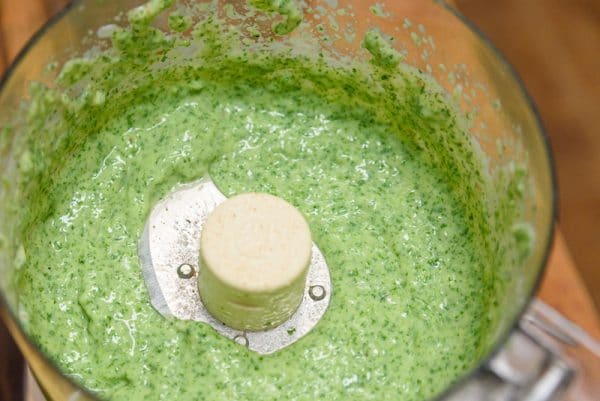 If you prefer things on the mild side, you can use just one jalapeno. But what's the fun in that?
Finally, it's time to assemble our buddha bowls!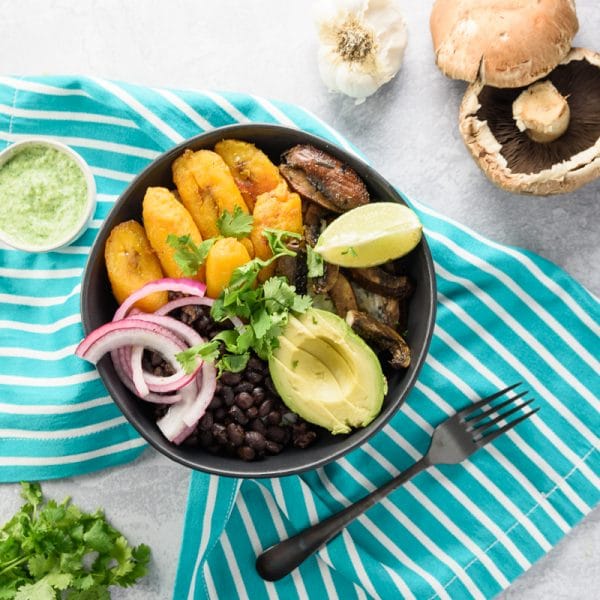 This is the really fun part. I suggest letting everyone in the family make their own bowls – so they can each pick their favorite toppings.
I love ALL the toppings of course. So, I loaded mine up with the works.
Start with a layer of the cilantro-lime rice. Then top that with the sweet plantains, roasted mushrooms, pickled onions, black beans, and some fresh avocado slices.
Drizzle everything with a generous helping of the cilantro-jalapeno sauce, and sprinkle over a bit of extra cilantro for good measure.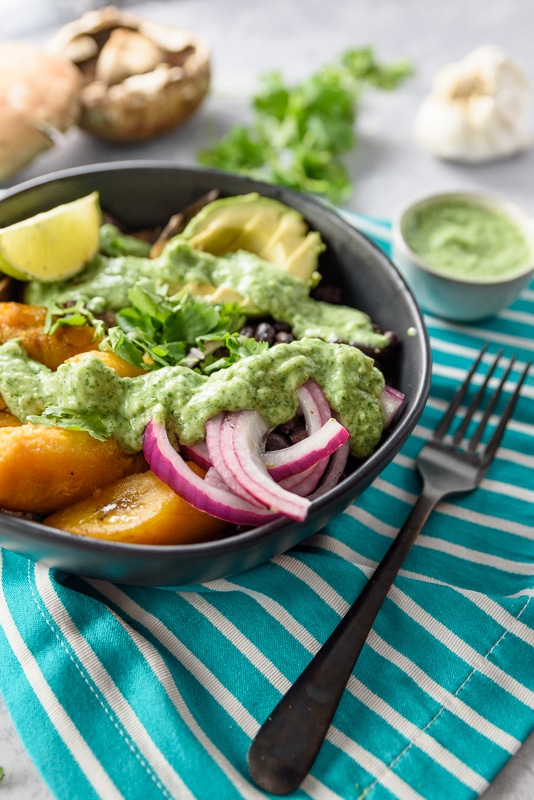 And there you have it – one big buddha bowl full of deliciousness. Yum!
Check out the Family Celebrations Promotion
Don't forget to check out the savings at Publix.
Coupons flyers are available in stores starting on September 1st, and can be found at the Family Celebrations in-store display or at the customer service counter. Or you can just print the coupons from home, by visiting this site.
Besides all of the awesome ingredients for these buddha bowls that are on sale, the promotion also includes Mission® Tortillas.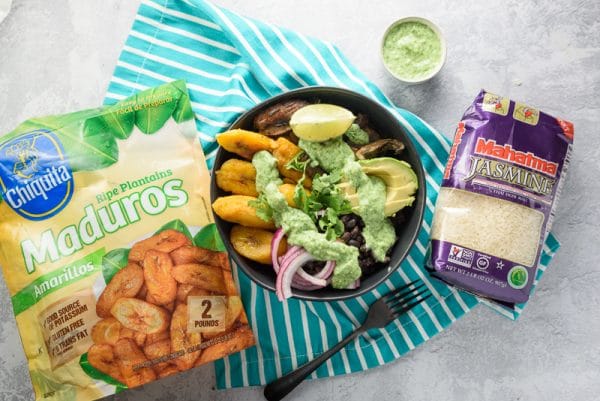 While they didn't fit into my buddha bowl, you all know I'm a big fan of Mission products. I suggest picking up some of their tortillas, and trying out these veggie enchiladas also.
Happy cooking!
Recipe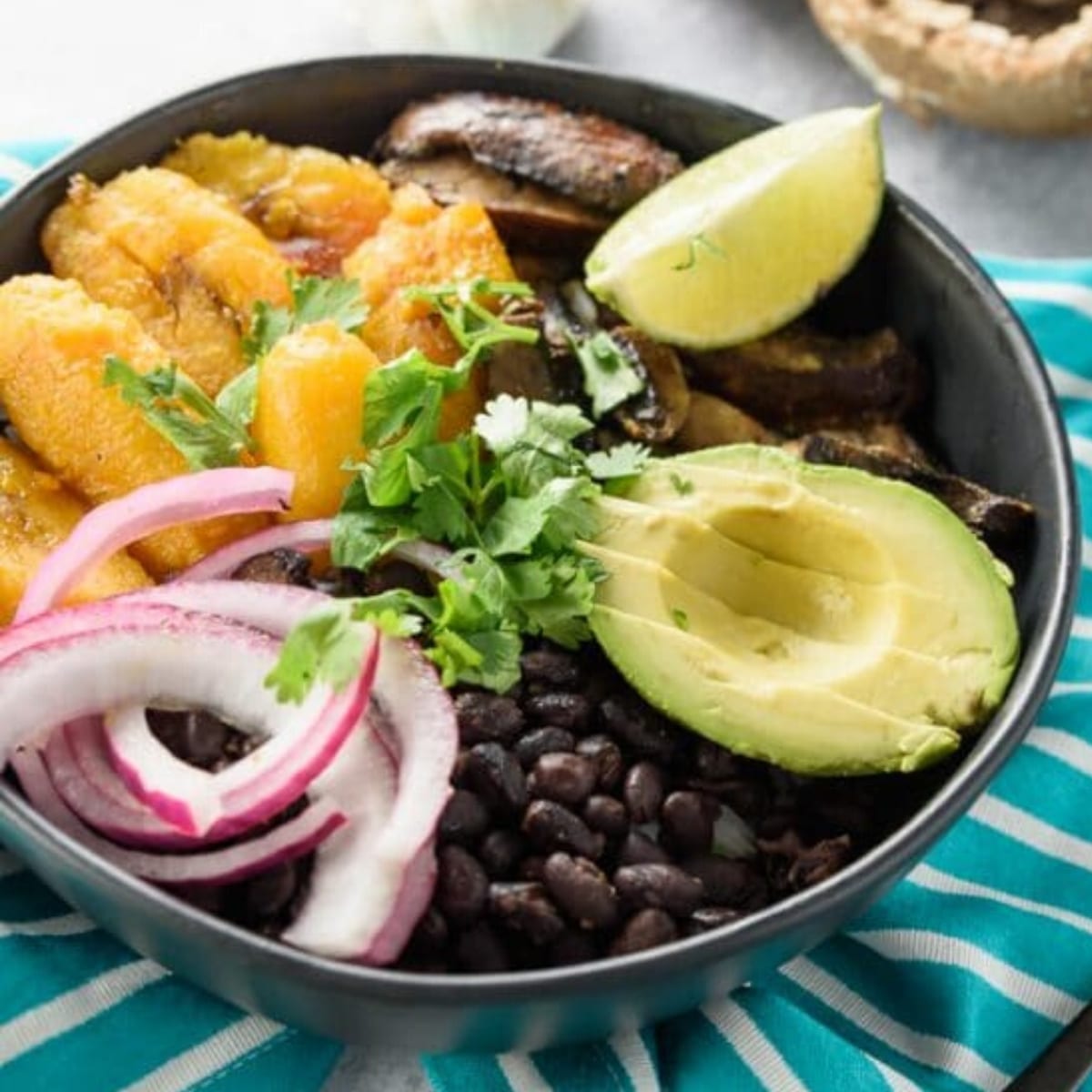 Ingredients
2

cups

Mahatama® Jasmine Rice

3

tsp

Badia® Adobo Seasoning

1

pound

Chiquita™ Maduros

2

Portabella Mushroom Caps

slice into ½" thick slices

15

oz

Black beans

drained and rinsed

½

Red Onion

peeled and thinly sliced

2

Limes

fresh

1

avocado

pitted and sliced

2

Jalapenos

Seeded

2

cups

Cilantro

fresh

1

tsp

smoked paprika

2

tbsp

white vinegar

1

cup

coconut yogurt

3

cloves

Garlic

peeled

3

cups

water

Extra cilantro for garnish

if desired
Instructions
Preheat oven to 350 degrees.

In a medium pot, bring 1 ½ cups of water to a boil. Add jasmine rice. Turn heat down to a simmer, cover, and cook for 15 minutes.

When rice is cooked, fluff with a fork. Squeeze in the juice of half a lime. Chop 2 tbsp of the fresh cilantro, and stir into the rice. Set aside.

While the rice is cooking, continue to prepare the other ingredients.

Spread the Maduros in a single layer on a baking sheet and bake for 20 minutes. Set aside when finished cooking.

Line a separate baking sheet with a piece of parchment paper. Spread the portabella mushrooms out in a single layer. Toss with 2 tsp olive oil and 2 tsp Adobo seasoning, until well coated. Bake for 12 minutes. Set aside when finished cooking.

In a small frying pan, heat 2 tsp olive oil. Add the black beans. Stir in 1 tsp Adobo seasoning and 1 tsp smoked paprika.

In a small bowl, combine the red onions and white vinegar. Add salt and pepper to taste. Set aside.

To make the sauce: In a food processor, combine the remaining cilantro, jalapenos, coconut yogurt, and garlic. Puree into a smooth sauce. Add salt and pepper to taste.

Now it's time to assemble the buddha bowls! In each serving bowl, spread a layer of the cilantro-lime rice. Top with the maduros, mushrooms, black beans, red onions, and avocado slices.

Drizzle with the cilantro-jalapeno sauce. Garnish with additional cilantro, if desired. Dig in!
Nutrition
Calories:
778
kcal
Carbohydrates:
155
g
Protein:
22
g
Fat:
10
g
Saturated Fat:
1
g
Sodium:
41
mg
Potassium:
1626
mg
Fiber:
20
g
Sugar:
23
g
Vitamin A:
2295
IU
Vitamin C:
55.3
mg
Calcium:
227
mg
Iron:
5.9
mg
Craving more veg-friendly recipes?
Shop our collection of vegetarian and vegan cookbooks, including our new Vegan Thanksgiving and Vegan Christmas cookbooks!