We always try to put together easy meal plans, but this week's plan is extra easy -- the shopping list is short and the dinners are all pretty fuss-free. It's summer, after all -- who wants spend time in the kitchen when there are ice cream trucks to chase down (two words: Choco Taco), Slip-N-Slides to be slipped and slid upon, and sparklers to singe your fingers with? (Stupid sparklers always burning my fingers!)
Oh, and speaking of singed fingers! Next Friday is the 4th of July, so we won't be posting a meal plan, but if you're looking for some summery recipes that just happen to be meatless, we've got a whole list of vegetarian 4th of July menu ideas to help you out.
Here's this week's meatless meal plan.
Monday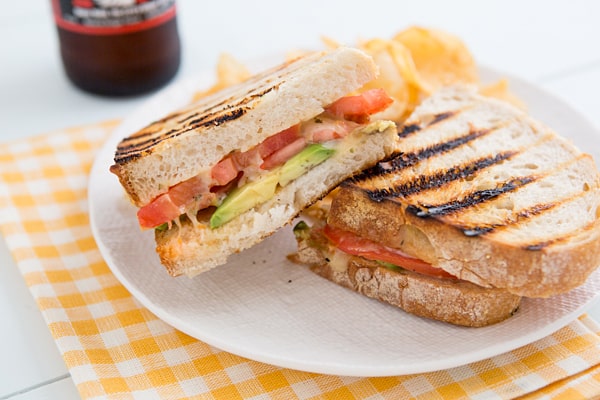 Avocado and Tomato Grilled Cheese Sandwiches from Cooking Light // Why not start the week off with a super easy summer grilled cheese recipe? Serve these sandwiches with fresh fruit, baby carrots, or your favorite chips to round out the meal.
Tuesday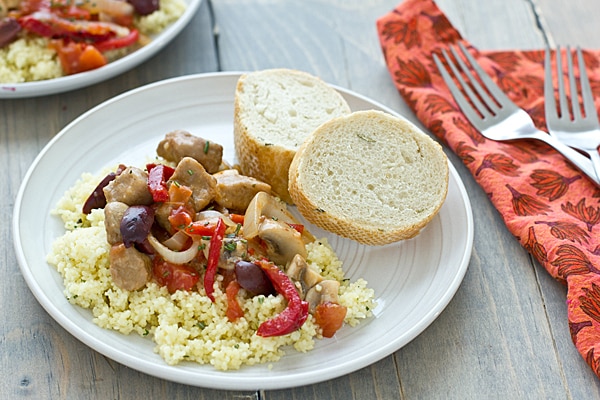 Seitan Cacciatore from Oh My Veggies // If you haven't tried seitan before, it's time to give it a go! It's the ideal substitute for chicken in this vegetarian take on Chicken Cacciatore.
Wednesday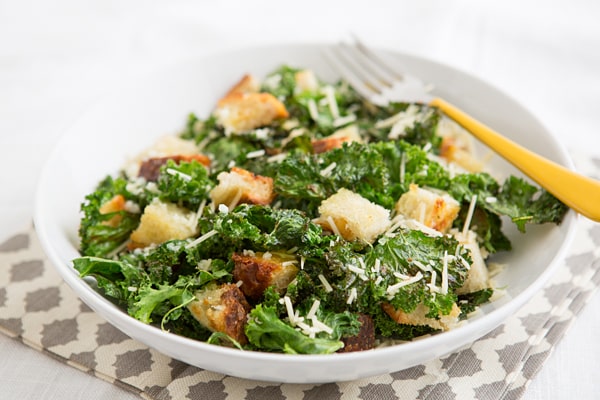 Garlicky Grilled Kale Salad with Grilled Bread from The Kitchn // This is one of my favorite salad recipes -- grilling the kale makes it crispy like kale chips! If you don't have an outdoor grill, don't worry, a grill pan or indoor grill works just fine.
Thursday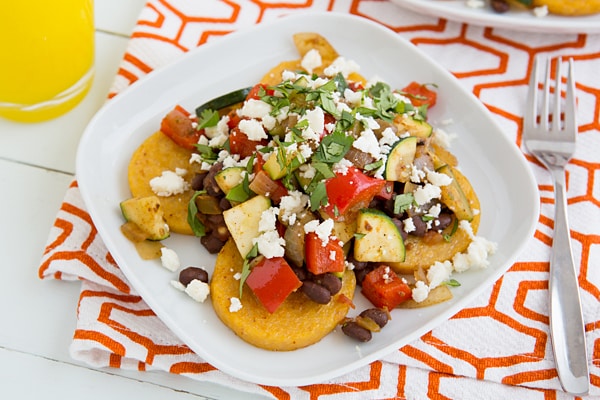 Mexican Baked Polenta with Salsa Beans & Sautéed Veggies from Oh My Veggies // If you're still in a grilling mood after Wednesday's recipe, you can grill the polenta for tonight's dinner instead of baking it. Just make sure your grill is well-oiled because if it's not, the polenta will stick!
Friday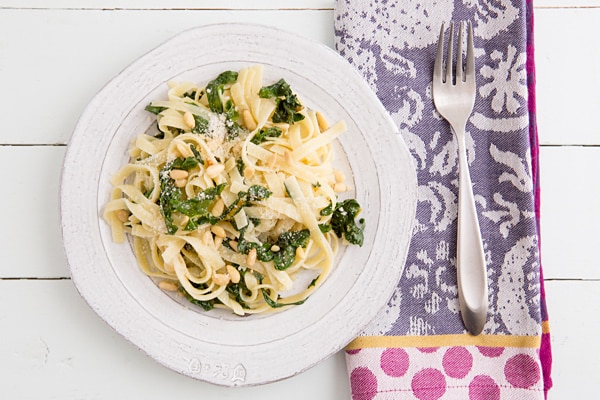 Fettuccine with Swiss Chard & Garlic from The Little Kitchen // We started the week with an easy recipe and we're ending it with another -- this fettuccine recipe takes only 15 minutes to make from start to finish and it only has 6 ingredients! But don't let the short ingredient list fool you, this dish is packed with flavor.
Tips for This Week's Plan
Instead of buying separate loaves of bread for the sandwiches and the salad, we just put one loaf on the shopping list. If you prefer to go with the multigrain bread that the sandwiches call for instead of the sourdough, that will work fine in the salad too.
If you can't find seitan or if you're just not a fan, try adding chickpeas to the cacciatore instead.
We like serving the cacciatore over couscous, so we've added that to the shopping list, but any grain or pasta you have on hand would be fine!
Crispy roasted chickpeas or toasted pine nuts are great additions to Wednesday's salad. And if you buy pine nuts, save some for Friday's pasta!
The salad calls for shaved parmesan and the fettuccine calls for grated, so if you can find a vegetarian block of parmesan, that would work best; if not, it's easy to find vegetarian shredded and grated parm (we like Whole Foods 365 brand and Organic Valley).
Want to try your hand at making polenta instead of buying it? Use Meg's tutorial on how to make polenta.
The fettuccine recipe says it serves 2, but we easily got 4 servings out of it, so we didn't bother doubling the recipe when adding ingredients to the shopping list. If you like BIG bowls of pasta, you might want to consider doubling it.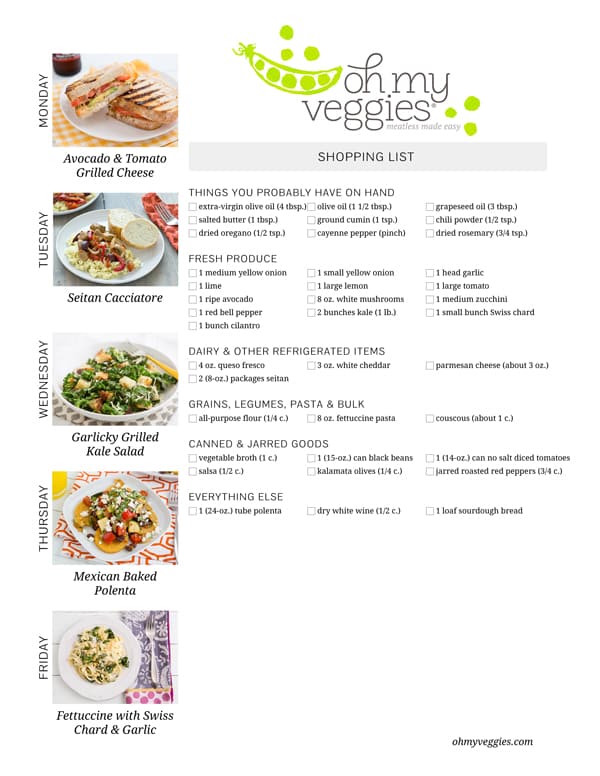 Click here for a printable version of this week's meatless meal plan and shopping list, then click on the links above to print out each recipe. Now you're set for the week!
Find more dinner ideas from our Meatless Meal Plan archives.