Do you like brown rice salads? Well, you're in luck! We've got two of them for you this week -- Brown Rice Greek Salad and a Summer Veggie Rice Bowl. We think both recipes are perfect for this time of year, with the weather heating up. Even better, you can cook one batch of rice and just divide it between the two meals. Less cooking! Rounding out the week are Grilled Portabella Burgers, a simple Veggie Skillet Lasagna, and the super summery Sweet Corn, Veggie Sausage, & Thyme Pizza. Here's the plan!
Monday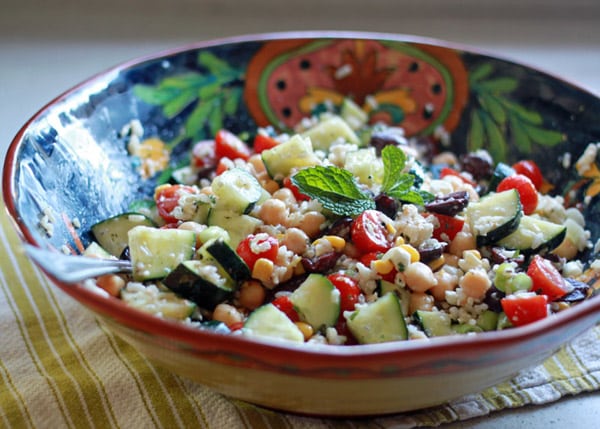 Brown Rice Greek Salad from The Lemon Bowl // Crunchy cucumber, juicy tomatoes, hearty chickpeas, and briny kalamata olives punctuate this lemony Greek-inspired brown rice salad. We love this stuff! We like serving it over a bed of baby spinach, but it's plenty hearty on its own, too.
Tuesday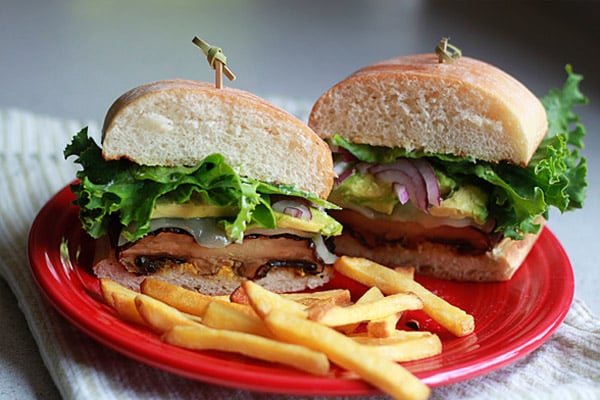 Grilled Portabella Burgers from Happy Food, Healthy Life // This super-easy grilled portabella burger recipe boasts simply marinated mushrooms sandwiched between chewy ciabatta buns, and stuffed with whatever toppings you like. We served a few french fries alongside -- if you'd like to do the same, be sure to add some frozen fries or potatoes to your grocery list!
Wednesday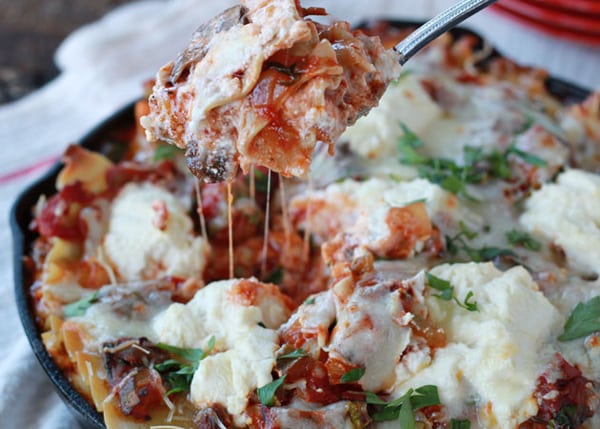 Easy Cheesy Veggie Skillet Lasagna from Kitchen Treaty // Splurge night! Even though this simple skillet lasagna is, yeah, rather loaded with cheese, it's still full of veggies, so it's not all indulgence. We like this with a simple mixed green salad, so be sure to add that to your list if you'd like a little side-salad action too.
Thursday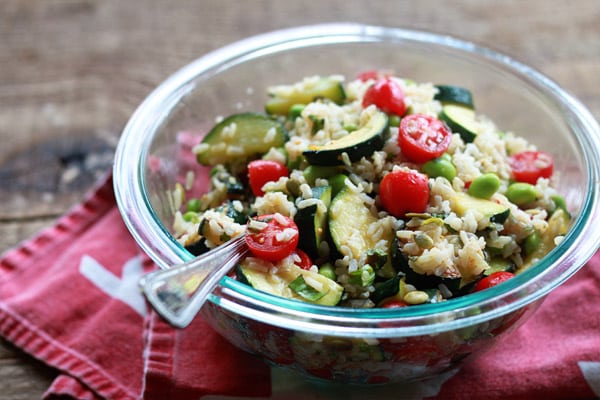 Summer Veggie Rice Bowl from Cooking Light // Brown rice salad #2! This one is fresh, summery, and colorful, with sauteed zucchini, cherry tomatoes, and shelled edamame for protein. It's the perfect cool, light, yet filling summer dinner. The recipe calls for pine nuts, but pepitas make a fine substitution, too.
Friday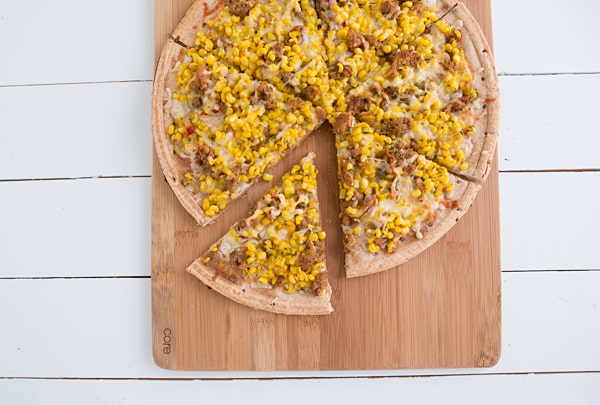 Sweet Corn, Sausage, & Thyme Pizza from Oh My Veggies // Corn isn't quite in season yet for most of us, but we couldn't help but jump the gun a bit. If fresh-off-the-ear corn isn't available, sweet frozen corn kernels make a fine stand-in. Veggie sausage (Field Roast is our favorite!) and fresh thyme add bold flavor to this summery pie that's perfect for pizza night.
Tips for This Week's Plan
When making the rice for the first brown rice salad, cook the rice for the second salad at the same time. Then just seal the rice in an airtight container and refrigerate until Thursday. Easy peasy!
We've been loving Saveur's method for cooking brown rice. Instead of steaming it, you essentially cook it like pasta. We love the results!
For the grilled portabella burgers, be sure to add your toppings of choice to the grocery list. If you have some cucumber left over from Monday's salad, those would be a nice, crunchy addition.
If you can find some good ears of corn for the pizza, grab a couple on Thursday or Friday. But it's pretty early in the season for corn, so on the grocery list, we've accounted for using frozen instead of fresh. The recipe also calls for either fontina or mozzarella; I opted for mozzarella in the shopping list. So be sure to swap some of the mozzarella for fontina if you prefer to go that route.
You'll have some leftover chickpeas from Monday's salad. Scatter a few here and there on your lunch salads throughout the week.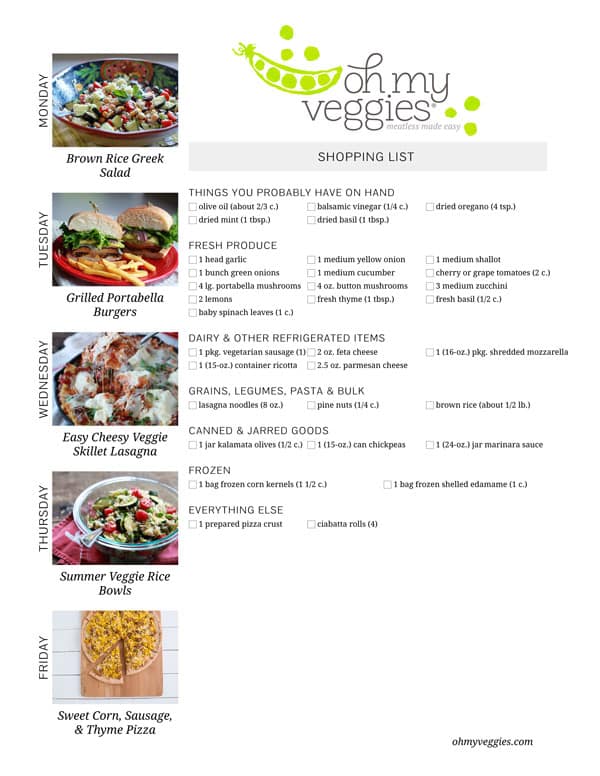 Click here for a printable version of this week's meatless meal plan and shopping list, then click on the links above to print out each recipe. Now you're set for the week!
Find more dinner ideas from our Meatless Meal Plan archives.