Variety! I like to keep meal times interesting by injecting variety into my diet and when it comes to eating healthy, the more variety the better. This way, you're getting a wide range of nutrients and health benefits and you don't get sick of what you eat. Staying true to this idea, the theme of this week's meal plan is ... variety! Including Thai, Indian, and Southwestern-inspired meals, this is a delicious week of vibrant eats with fresh ingredients, and satisfying flavors. Plus, all these meals are quick and affordable to make!
Ready to dig in? I hope you enjoy this week's meatless meal plan!
Monday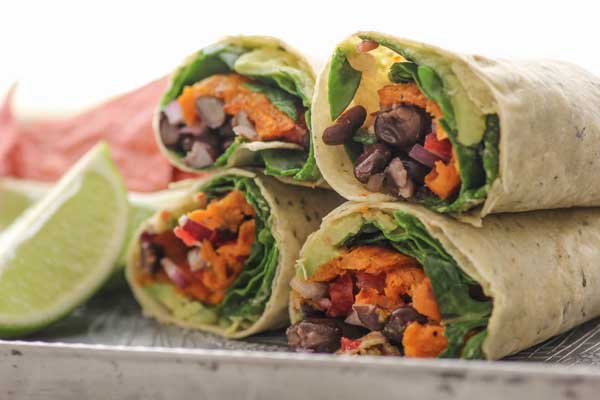 Southwestern Veggie Wraps from Oh My Veggies // Wrapping up roasted and fresh vegetables is genius for weekday meals! These Southwestern Veggie Wraps are quick, easy, satisfying, and you can easily adapt them to include your favorite veggies, guacamole, or salsa. Plus, leftovers for work lunches? Brilliant!
Tuesday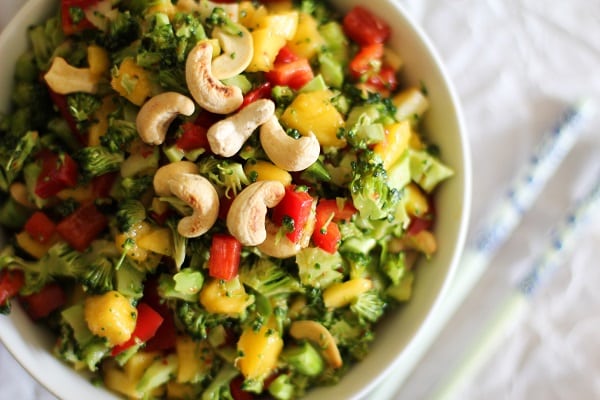 Thai-Style Broccoli Salad with Sweet Chili Lime Dressing from GI 365 // Who says all salads have to include leafy greens? The sweet chili lime dressing for this salad is full of flavor and gives the salad a great deal of pep. To add a boost of protein, serve it with cooked quinoa. I will absolutely be making this over and over again for summer picnics and barbecues.
Wednesday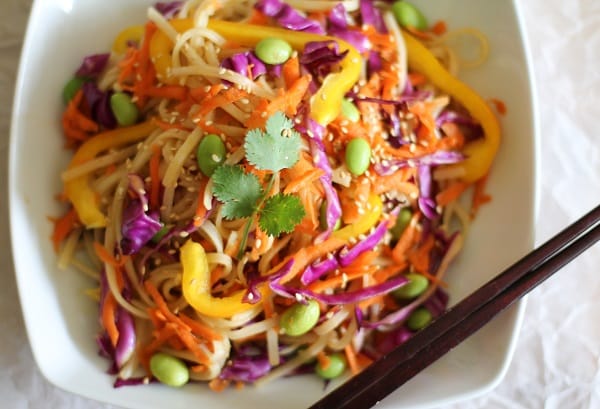 Last Minute Sesame Noodles from Aggie's Kitchen // Just as the title suggests, this recipe can be made in a pinch. Simply heat up some noodles, chop up veggies and toss everything in a tasty sesame dressing. BOOM! Food for the whole family. This easily serves 6 people, so you can have leftovers to take to work for lunch the rest of the week. The recipe calls for spaghetti noodles, but I used rice noodles in order to keep the meal gluten-free.
Thursday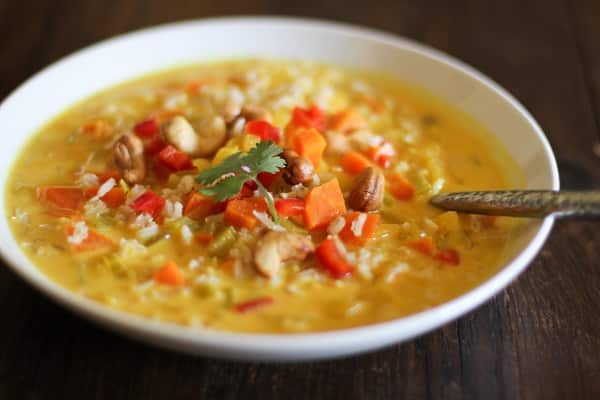 Vegetarian Mulligatawny Soup from The Fig Tree // Making this recipe was my first go at mulligatawny soup and it was very well received by my household. Mulligatawny soup is a traditional Indian dish. I would compare it to vegetable curry in soup-form, which is, in a word: delicious. This soup is packed with creamy, zesty flavor and lots of color. You can serve the soup with all sorts of toppings, like chopped cilantro, cashews, plain yogurt, or tofu.
Friday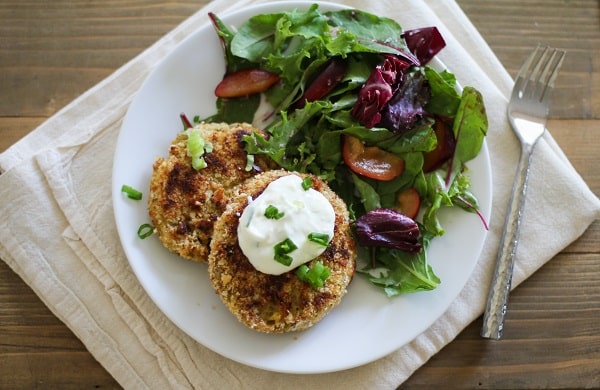 Crispy Cauliflower Cakes with Yogurt Dipping Sauce from The Roasted Root // I know, I know: cauliflower is all the rage right now, but hopefully you aren't sick of it! These crispy cauliflower cakes are an instant crowd-pleaser! If someone in your family swears they don't like cauliflower, no sweat, because you'd never be able to tell there is cauliflower in these tasty treats. The yogurt dipping sauce takes only seconds to make, and it adds a fancy twist to the cakes. You probably have most of the ingredients for this recipe on hand already, and if you end up with leftovers, the cakes make for an awesome breakfast!
Tips for This Week's Meal Plan
You can cross out the avocado oil on the shopping list and use olive oil instead; if you don't use canola oil, any cooking oil you have on hand will work, so you can cross that off the list too.
Add your favorite spring produce to the Last Minute Sesame Noodles and the Thai Broccoli Salad.
I didn't add the optional toppings for the mulligatawny to the shopping list because you'll probably have leftover yogurt, cashews, and cilantro from the week.
You can substitute the Gruyere or Fontina cheese in the Crispy Cauliflower Cakes for any type of cheese you may have on hand.
Whip up a homemade salsa or guacamole for the Southwestern Veggie Wraps, or use your favorite store-bought kind!
Extra spinach from Monday's wraps makes a perfect bed of greens for serving with the Crispy Cauliflower Cakes.
Friday's recipe calls for lemon zest, while Thursday's recipe calls for lemon juice. Zest the lemon before juicing it and reserve the zest for Friday.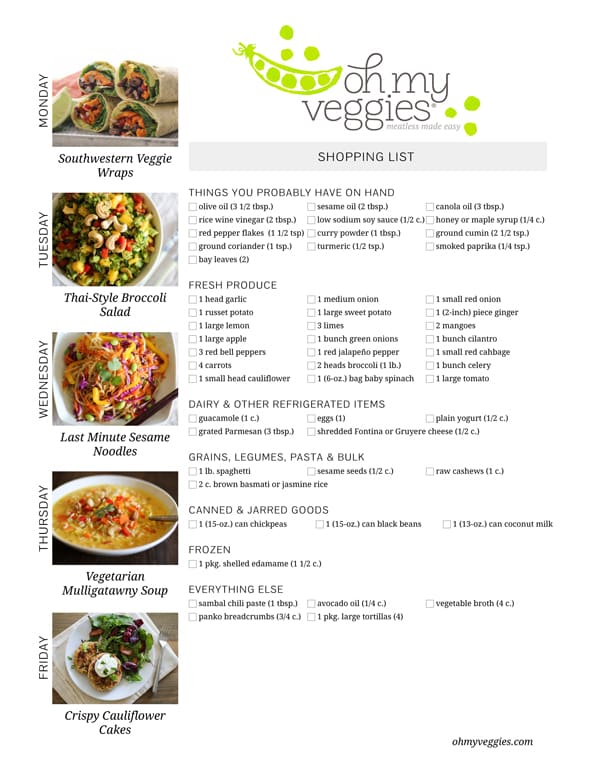 Click here for a printable version of this week's meatless meal plan and shopping list, then click on the links above to print out each recipe. Now you're set for the week!