Christmas is still 10 days away, but I'm already drowning in candy and cookies. The thing about all those holiday treats is that at first, you're totally living the dream. Cookies for breakfast? Don't mind if I do! Salted caramels for dinner? Well, I bet they're a terrific source of calcium! And then after a day or two, the thought of anything sweet makes your teeth ache and your stomach do flip-flops. No more! You need to break up some of that 24/7 sugar cookie and fruitcake bonanza with healthy meals so your body doesn't hate you (even though your 7-year-old self might).
This Red Lentil Cashew Soup fits the bill. It's filling and cozy and it's made with ingredients other than frosting, chocolate and sprinkles. You've got some vegetables, protein-packed red lentils and Silk Cashewmilk. Which is new to me! I've been wondering for years why cashew milk isn't a thing — I mean, you can make it, but why isn't it readily available in stores like almond and coconut milk? Of all the non-dairy milk options out there, cashew milk has always been my favorite, but I only make it for myself once in a while. If you've never had it before, cashew milk is incredibly creamy and rich — much creamier than skim milk, but with fewer calories. It makes the best milkshakes and smoothies, the best hot chocolate and it's even good warmed up with a little cinnamon and maple syrup.
I wanted to add a touch of creaminess to this soup, so I used Silk Cashewmilk. Although other non-dairy milks would work too, I prefer the cashew variety because of its richness and slightly sweet flavor. And to go with the whole cashew theme, I made some curry toasted cashews for the topping. I like having stuff in my soup, so even when I make pureed soups like this one, I usually load them up with toppings to add flavor and texture.
Recipe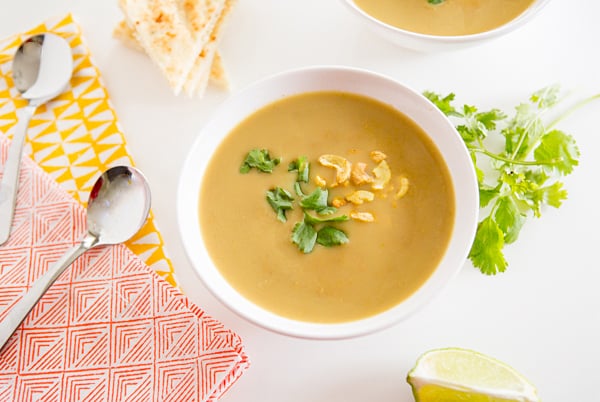 Ingredients
1

tablespoon

olive oil

1

onion

chopped

1

medium carrot

chopped

3

cloves

garlic

minced

1

tablespoon

garam masala

½

teaspoon

turmeric

1

cup

dried red lentils

rinsed

4

cups

vegetable broth

Salt and pepper to taste

Cilantro and lemon or lime wedges for garnish
Instructions
Heat olive oil in a small Dutch oven or pot over medium heat. Add the onion and carrot; cook until softened, 6-8 minutes. Stir in the garlic and garam masala and turmeric and cook until fragrant, about 1 minute more.

Pour in the lentils and broth. Bring to a boil, then reduce heat to simmer. Cook until the lentils are soft, about 12 minutes; remove from heat and let cool slightly. Transfer the soup to a blender and puree until smooth (or use an immersion blender and puree the soup in the pot). Return the soup to the pot and bring to a simmer over medium-high heat, until warmed through. Stir in the Cashewmilk and season to taste with salt and pepper. Serve with Curry Toasted Cashews, fresh cilantro and lemon or lime wedges.
Curry Toasted Cashews
While the soup is cooking, start the cashews. Heat olive oil in a small skillet over medium-low heat. Add the curry powder and cook for about 30 seconds, until fragrant. Stir in the cashew pieces and toss to coat. Cook, stirring often, for 5-7 minutes, or until the cashews are just beginning to brown.
Nutrition
Calories:
333
kcal
Carbohydrates:
41
g
Protein:
15
g
Fat:
13
g
Saturated Fat:
2
g
Polyunsaturated Fat:
2
g
Monounsaturated Fat:
7
g
Sodium:
987
mg
Potassium:
648
mg
Fiber:
16
g
Sugar:
6
g
Vitamin A:
3071
IU
Vitamin C:
6
mg
Calcium:
49
mg
Iron:
5
mg
Craving more veg-friendly recipes?
Shop our collection of vegetarian and vegan cookbooks, including our new Vegan Thanksgiving and Vegan Christmas cookbooks!