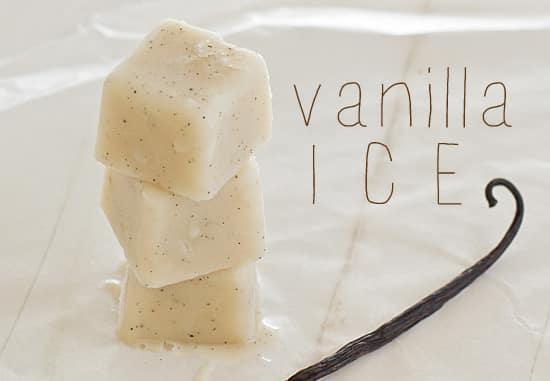 There are a few things you need to know about this Vanilla Ice recipe:
It won't rock a mic like a vandal.
It won't wax a chump like a candle.
It won't cook MC's like a pound of bacon.
But if you have a problem (with drinks getting watery and tasteless after your ice melts), yo, this recipe will solve it.
Okay, I'm done, I promise. This post isn't just a gimmick and it does solve a problem. I'm not a fan of ice cubes because of the way they water down everything you add them to. But flavored ice cubes, well, those are different! As they melt, they add flavor to your drinks instead of taking it away.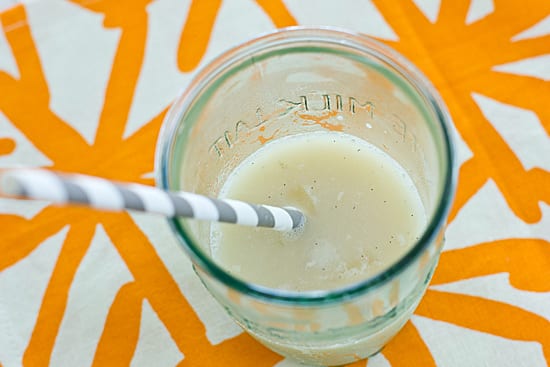 These Vanilla Ice cubes are made with almond milk, sugar, and vanilla. So not only do they add the flavor of vanilla to your drink, they also add some creaminess and a touch of sweetness. They're perfect for iced coffee, tea, chai, or even lemonade.
Alternately, you can add less sugar to the recipe (or omit it altogether) and use these cubes to chill root beer, cola, and other sodas.
And if you're too impatient to wait for them to melt in your drink, you can eat them like popsicles too. (I know this because I'm very impatient and I've had a few of these ice cubes straight from the freezer.)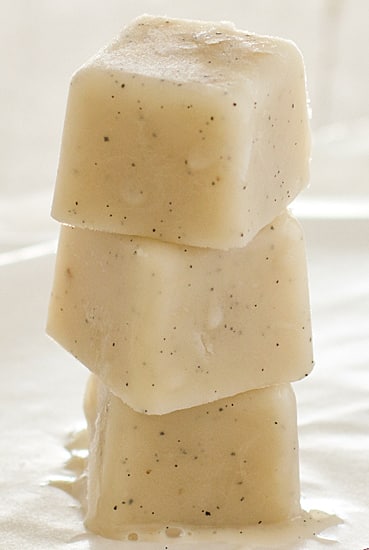 So here are some additional things you should know about Vanilla Ice cubes. First, they don't always melt all pretty, particularly if your drink is a little bit warm.
The vanilla almond milk mixture has a tendency to settle at the bottom of the glass, so give it a little stir. And let the ice melt a little (or a lot!) before you drink--I mean, that's the whole point of these, right?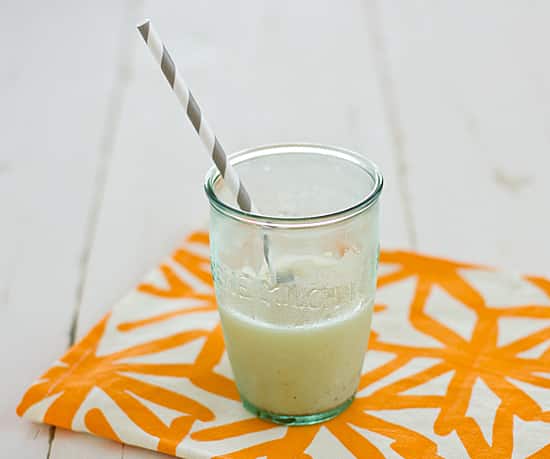 Edited to Add: I've heard from a few people saying that their vanilla ice cubes curdled in their coffee. I couldn't figure out why since that never happened to me or for the majority of people who made these.
After doing some research, I found that occasionally curdling will occur in especially acidic coffees or teas, in drinks made with hard water, or drinks that are very hot.
Some brands of non-dairy milk are more prone to curdling than others; I use Silk. Please also note that if you alter the recipe, you may have different results.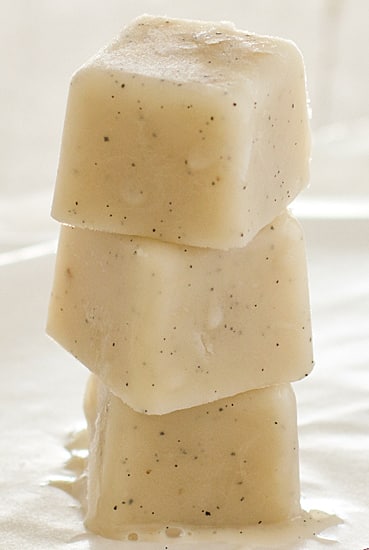 Ingredients
2

cups

 almond or coconut milk

⅓

cup

granulated sugar

1

vanilla bean

1

tsp

vanilla

optional--add for more intense vanilla flavor
Instructions
Combine almond milk and sugar in a large saucepan.

Slice open vanilla bean lengthwise and scrape insides into saucepan, then place empty vanilla bean into mixture. Bring to a simmer over medium heat, whisking to break up clumps of vanilla.

Once mixture has come to a simmer, reduce heat to low and cook 10 minutes more, whisking occasionally.

Allow vanilla mixture to come to room temperature.

Pour through a fine mesh strainer into a bowl with a spout, then pour mixture into ice cube trays.

Freeze until completely solid, 3-4 hours (depending on the temperature of your freezer and size of the cubes).

Serve with iced coffee, tea, or other beverages.
Notes
I've tested this recipe with almond milk and refrigerated Silk coconut milk with good results. Other people have reported using dairy milk and cream and have said that the cubes turn out well. Be aware that if you use soy milk, it's more likely to curdle when added to tea or coffee.
Nutrition
Calories:
97
kcal
Carbohydrates:
7
g
Protein:
1
g
Fat:
8
g
Saturated Fat:
7
g
Polyunsaturated Fat:
1
g
Monounsaturated Fat:
1
g
Sodium:
5
mg
Potassium:
84
mg
Sugar:
6
g
Vitamin C:
1
mg
Calcium:
7
mg
Iron:
1
mg