I generally have a hard time following recipes. I guess that's why I got into creating my own! Generally though, when I set out to follow a recipe from a cookbook or a blog or a friend, I find myself compelled to turn up the spice. I like my food packed with flavor, and that includes all kind of flavor, be it sweet, savory, or hot.
That's why I was immediately intrigued by Bold Flavored Vegan Cooking by Celine Steen. This book doesn't hold back on the seasonings, and the resultant dishes are absolutely delicious and perfect for those of us who like our food to have a little kick.
The book is divided into chapters devoted to savory, spicy, and sweet flavors, but in a way the dishes defy categorization. The sweet and spicy dishes might back a hint of savory (try the miso caramel or the Korean-style soft tacos), or the savory dishes might have a little more heat than normal (like the Asian-inspired fondue), but what's really cool about each of the recipes is how the flavors work together to create some serious deliciousness.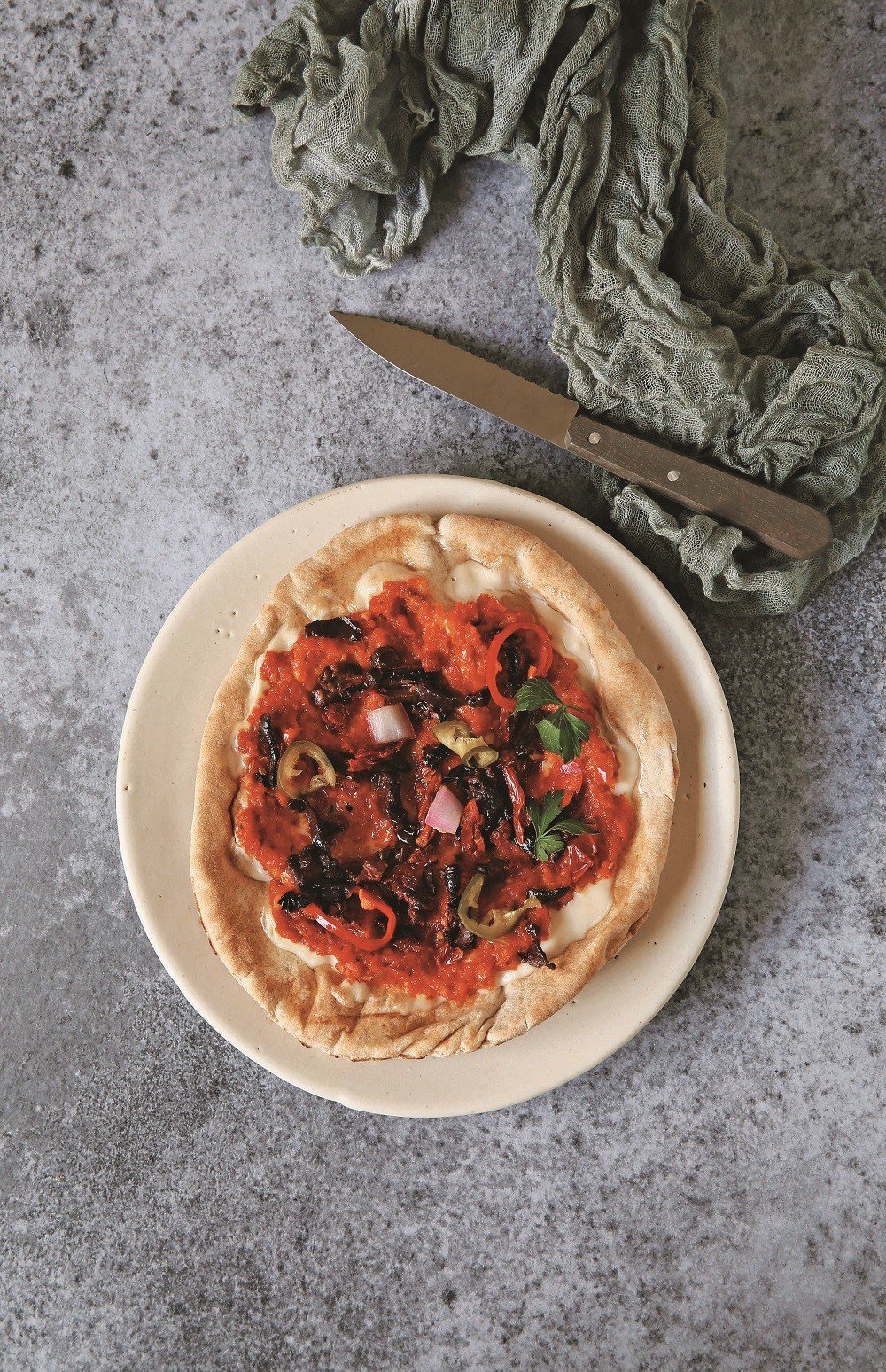 The piri piri pit-za is from the spicy chapter (of course I went for a dish from that one!). But the piri piri sauce also packs sweet and smoky flavors thanks to red bell peppers, smoked paprika, and sugar plum tomatoes, while the creamy cashew sauce gets some extra umami from miso paste. The pizzas were absolutely delicious and pretty darn easy to throw together, with pita bread working out great as an easy premade personal pizza crust. I'm pretty excited about working my way through this entire book.
You can buy Bold Flavored Vegan Cooking on Amazon.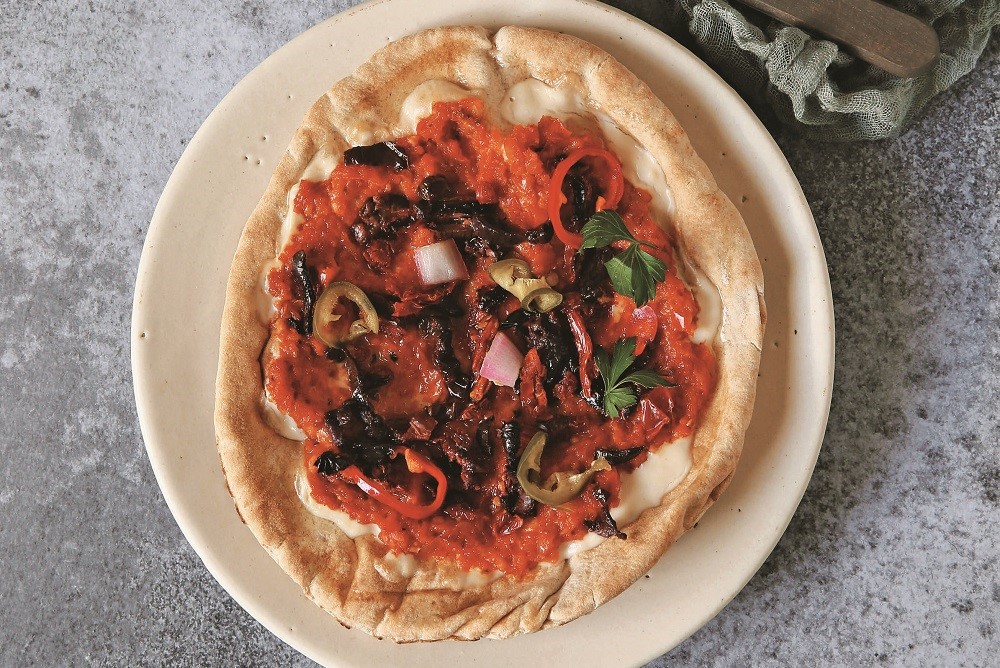 Ingredients
For the Sauce:
1

large red bell pepper

cored and seeded

1

or 2 bird's eye chiles

to taste, cored and seeded

Generous handful sugar plum tomatoes

the equivalent of a medium regular tomato

1

small red onion

trimmed and peeled, quartered

4

cloves

garlic

peeled

½

tsp

smoked sea salt

1

heaping tsp

3 g smoked paprika

1

tsp

1 g dried oregano leaves or

2

tsp

2 g fresh oregano

2

tsp

11 g double-concentrated tomato paste

1

tbsp

15 ml olive oil or grapeseed oil

Juice from 1 lemon

2 tbsp [30 ml]
For the Pit-zas:
8

8-inch [20-cm] whole-wheat or regular vegan pita breads

½

cup

120 g Cashew Spread (page 172) or store-bought vegan cream cheese

2

tsp

12 g white miso
Toppings:
dried kalamata olives

pitted and chopped

soft sun-dried tomatoes

chopped

peppers in a Pickle

page 176

thinly sliced mushrooms

fresh herbs
Instructions
To make the sauce, place the bell pepper, chiles, tomatoes, onion, garlic, salt, paprika, oregano, tomato paste, olive oil and lemon juice in a food processor or blender. Process until combined and mostly smooth. Transfer to a large saucepan and heat on medium-high heat. Once the mixture starts to get bubbly, lower the heat and cook on medium-low for 30 to 35 minutes, stirring occasionally. Adjust the heat as needed. The mixture should lose most of its juices and be quite thick. Set aside.

To make the pit-zas, I like to use the broiler to do what follows, but you really must keep an eye on the pit-zas for it to work without scorching them. Alternatively, preheat the oven to 425°F (220°C, or gas mark 7). Place the pita breads on a baking sheet. Combine the spread with the miso, stirring well to thoroughly combine. Add 1 tablespoon (15 g) evenly on each pita bread. Top with 1 ½ tablespoons (27 g) of piri piri sauce. Apply the toppings that need to be cooked evenly on top of each pita bread.

If using the broiler, baking will take approximately 5 minutes. If using the regular oven, this will take approximately 10 minutes. Keep a close eye no matter which method you choose.

Serve immediately. There will be leftover piri piri sauce. Use it to make more pit-zas, or serve it with roasted potatoes, vegetables and more.
Notes
Alissa's note: I topped my pizzas with Kalamata olives and bell peppers, and they were delicious.