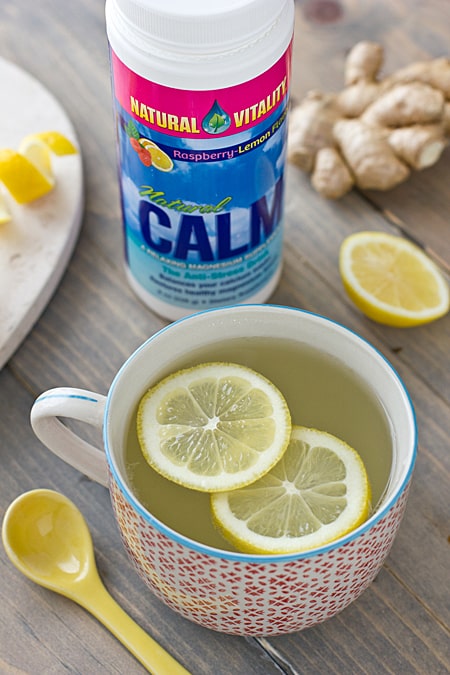 Whenever I mention my migraines on my blog, I get an email or two from people asking me if I've tried taking magnesium. And every time I get one of those emails, I remember that I should post an update about how the magnesium experiment I started last year turned out. Because yes! I do take magnesium for my migraines!
I had a stretch last year where I was getting migraines just about every other day. It was brutal. And I felt completely hopeless because I had tried everything at that point--TMJ treatment, Imitrex, all kinds of supplements, changing my diet. I was even given an epilepsy drug as a preventative, which made me feel exhausted all the time, but did not help my migraines. I don't think people who don't suffer from migraines really understand how debilitating they can be. For me, it's not just a headache--I sometimes lose my vision completely from auras, I can't keep food (or medication!) down, and I've even passed out from them. Despite all that, I had trouble getting doctors to take me seriously.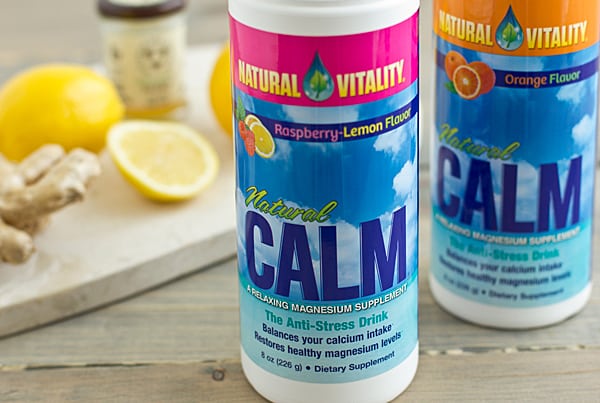 So things were pretty dire when I decided to try magnesium for my migraines. I had a few people suggest it to me, but it was my friend Kelly (who blogs at Texas Type A Mom) who convinced me--she started taking magnesium supplements and hadn't had a migraine since. I started out by attempting to up the amount of magnesium I got in my diet (which I wrote about in my No-Bake Molasses Bites post), but I switched to magnesium pills and then to Natural Calm.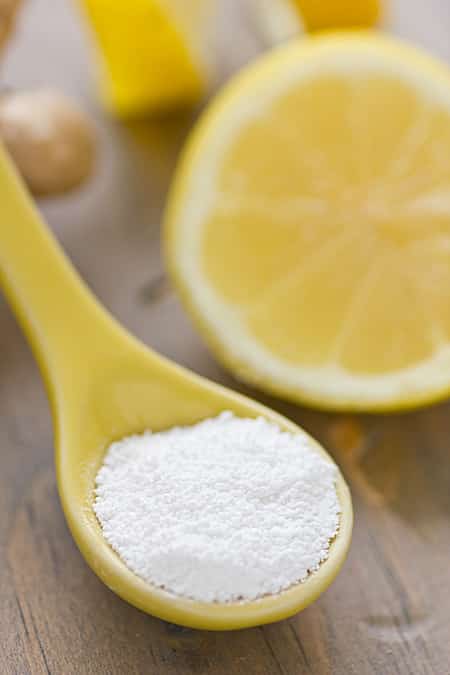 The magnesium in Natural Calm comes in ionic form, which is more easily absorbed by the body. This gives it an advantage over the pills I used to take. I take two teaspoons everyday--at first I did one in the morning and one at night, but now I take them in one larger dose. Since I started supplementing with magnesium, I have gone from several migraines a week to getting them once every month or two. I know this sounds incredibly corny, but magnesium has changed my life. And Natural Calm is my favorite way to get magnesium.
Natural Calm comes in several different flavors and can be mixed into both warm and cold drinks. As the name suggests, Natural Calm also helps you relax, so I like ending my day with a mug of this Lemon Ginger Tea. I often make a ginger herbal tea by boiling pieces of ginger and slices of lemon with a few cups of water--it's great for stomach aches and colds, but I mostly just like the spicy flavor of ginger. Now when I make it, I add Natural Calm. You can add a bit of stevia or honey if the drink is too tart for you, but I like it as-is.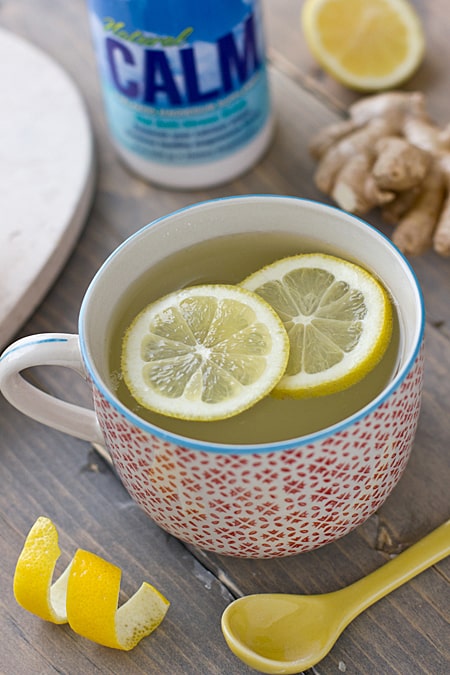 Obviously, there are many causes of migraines and just because magnesium worked for mine, doesn't mean it will work for yours. But if you haven't tried it, it's definitely worth a shot. To learn more about magnesium, check out Dr. Carolyn Dean's magnesium ebook or her print book, The Magnesium Miracle. You can purchase Natural Calm on Amazon or at most retailers of natural products.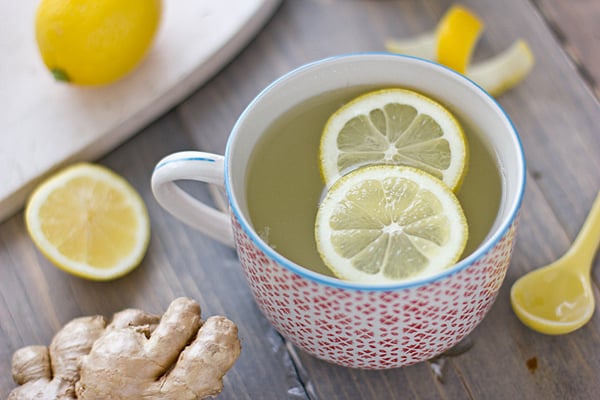 Servings:
1
large mug of tea
Ingredients
2

cups

water

1-

inch

piece ginger

peeled and sliced into rounds

1-2

slices

lemon

optional--for a more lemony drink

2

teaspoons

Lemon or Lemon Raspberry Natural Calm
Instructions
Combine water, ginger, and lemon slices in small saucepan; bring to boil over high heat. Once mixture has come to boil, reduce heat to low and simmer for 10 minutes. Remove from heat and cool slightly.

Place Natural Calm in large mug; pour tea into mug, discarding lemon and ginger. Add sweetener if desired.
Nutrition
Calories:
8
kcal
Carbohydrates:
2
g
Protein:
1
g
Fat:
1
g
Saturated Fat:
1
g
Polyunsaturated Fat:
1
g
Monounsaturated Fat:
1
g
Sodium:
25
mg
Potassium:
39
mg
Fiber:
1
g
Sugar:
1
g
Vitamin A:
2
IU
Vitamin C:
4
mg
Calcium:
17
mg
Iron:
1
mg
Craving more veg-friendly recipes?
Shop our collection of vegetarian and vegan cookbooks, including our new Vegan Thanksgiving and Vegan Christmas cookbooks!
Disclosure: Natural Vitality compensated me for the time spent developing and photographing this recipe. I was excited to have the chance to work with them, because I really believe in their products!