Everything you ever wanted to know about wheat berries!
How to cook them, how to use them, and a recipe for a grain salad made with them.
Did you make any food-related resolutions this year?
I don't have resolutions—I have goals. (I like to pretend there's a difference and that somehow, goals are much more achievable.) I want to eat less sugar. I'm trying to eat more fruit—I've always liked veggies more than fruit, and sometimes it's a struggle to get myself to eat it. (Unless it's in pie form. But I'm cutting down on sugar, remember?) And I want to eat more grains.
Yes, grains! Delicious, nutritious whole grains. So you might see some more grains around here this year. And if you don't see more grains around here, it means that I'm a big failure. I guess grains aren't the most exciting thing to see on a food blog, are they? I mean, if I told you that you'd be seeing more Rolos on Oh My Veggies this year, you'd probably be pretty jazzed. But instead, I'm telling you to be on the lookout for… bulgur! Barley! Wheat Berries! Ooooh.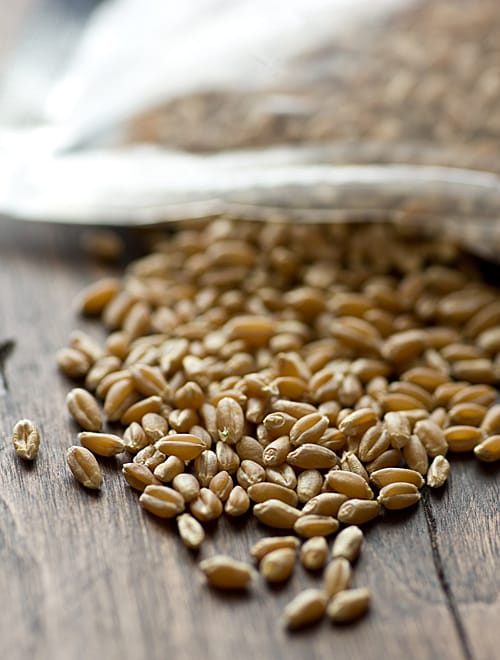 Okay, so what are wheat berries?
I discovered wheat berries by accident last year. I needed farro for a recipe and it was crazy expensive. Sitting next to the farro were bags of wheat berries—much cheaper. So I figured, "These look almost the same. Let's go with wheat berries!" And guess what? They are pretty similar and I've used wheat berries in place of farro in a few recipes.
Wheat berries are the little kernels that grow on wheat plants. When they're milled, they make flour. But they can also be eaten whole, similar to rice, quinoa, and other grains. They're high in fiber and also protein and iron, which makes them very vegetarian-friendly!
What do wheat berries taste like?
They have a whole wheat-y taste—a little bit nutty and earthy. If you like other whole grains, you will probably enjoy wheat berries. But more than the taste, my favorite thing about wheat berries is the texture. They're chewy! (Unless you overcook them. Don't do that!)
How do you cook wheat berries?
My package of wheat berries says to soak them overnight, but I found out by accident (and then confirmed online) that that's not necessary. To make four servings, combine a cup of wheat berries with three cups of water, stock, or broth. (I really like cooking wheat berries in broth!) In a large pot, bring it to a boil, reduce heat to low, and then simmer, covered, for about 50 minutes. Drain off any excess liquid.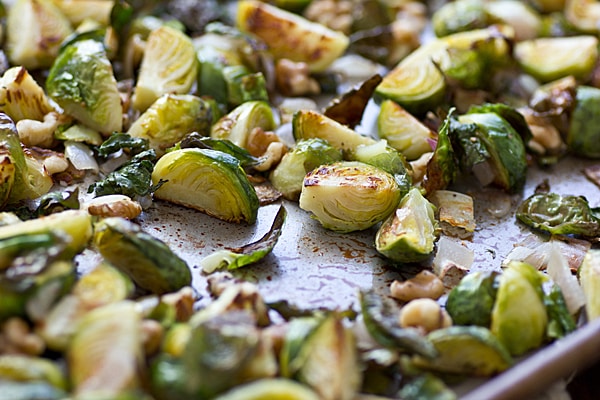 What can you do with wheat berries?
You can add them to salads or soups! Use them instead of rice or other grains! They're great when tossed with a simple vinaigrette, salt and pepper, and roasted vegetables. Just about any vegetable will work, so this is a great way to use what's in season.
In this recipe, I've roasted brussel sprouts with shallots and walnuts and added them to a batch of wheat berries. I used a light lemon vinaigrette, but one made with vinegar and oil would work just as well. You can serve this as a side dish, but it's also filling enough that it can be served as a healthy meal.
So are we excited about whole grains this year?! (I'll pretend you said yes!)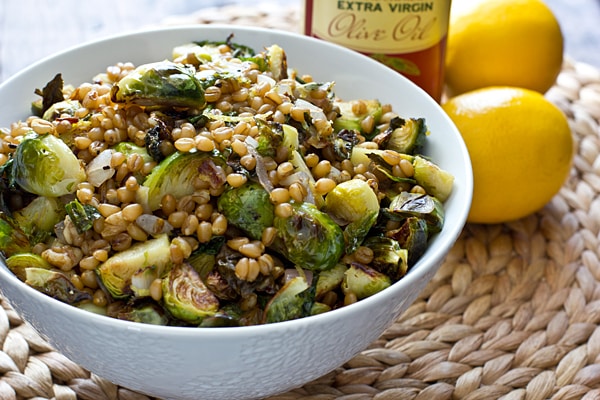 Servings:
4
as main dish, 6 as side dish
Ingredients
1

cup

red wheat berries

3

cups

vegetable broth

1

lb

brussel sprouts

trimmed and quartered

1

large shallot

chopped

2

tbsp

olive oil

divided

¼

cup

walnut pieces

1

tbsp

lemon juice

zest from 1 lemon

salt and pepper

to taste
Instructions
Combine wheat berries and vegetable broth in a large saucepan. Bring to a boil, then reduce heat to low. Cover and cook until tender, about 50 minutes. Drain off excess liquid. Set aside.

Preheat oven to 425°F.

While wheat berries are cooking, start brussel sprouts. Toss brussel sprouts, shallots, and 1 tablespoon of olive oil in a large bowl. Transfer to a rimmed baking sheet. Bake for 15–20 minutes or until browned, stirring halfway through cooking time. Remove from oven and stir in walnut pieces (they will toast on the hot baking sheet!).

Whisk together lemon juice, zest, remaining oil, salt, and pepper in a large bowl. Add wheat berries and roasted vegetables; toss to combine, then serve.
Nutrition
Calories:
256
kcal
Carbohydrates:
32
g
Protein:
8
g
Fat:
12
g
Saturated Fat:
1
g
Polyunsaturated Fat:
4
g
Monounsaturated Fat:
6
g
Sodium:
734
mg
Potassium:
498
mg
Fiber:
8
g
Sugar:
5
g
Vitamin A:
1232
IU
Vitamin C:
98
mg
Calcium:
69
mg
Iron:
3
mg