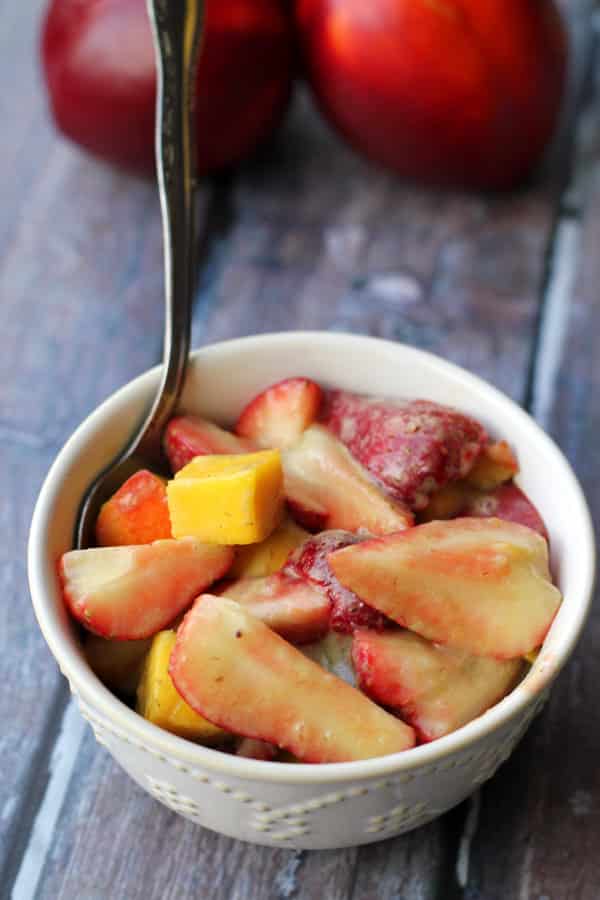 Hello Oh My Veggies readers! My name is Joanne, and I normally write about my kitchen adventures over at my blog, Eats Well With Others. I decided to become a vegetarian about 4 years ago, when one day in March I woke up and realized that I hadn't eaten meat in over a month. And I didn't miss it. Since then, I've embraced a totally whole foods, plant-based diet and haven't looked back.
Today, I am super thrilled to introduce a new monthly feature on OMV -- Ingredient Spotlight. In this series, each post will highlight an out-of-the-box, trendy (vegetarian) ingredient that might just be new to you, and show you how to integrate it into your everyday meals. I love scouring the grocery store for items I've never seen before, bringing them home, and then challenging myself to figure out how to incorporate them into a recipe. Hopefully by the end of each of these posts, these ingredients will feel more familiar to you, and you'll be inspired to experiment with them in your kitchen as well!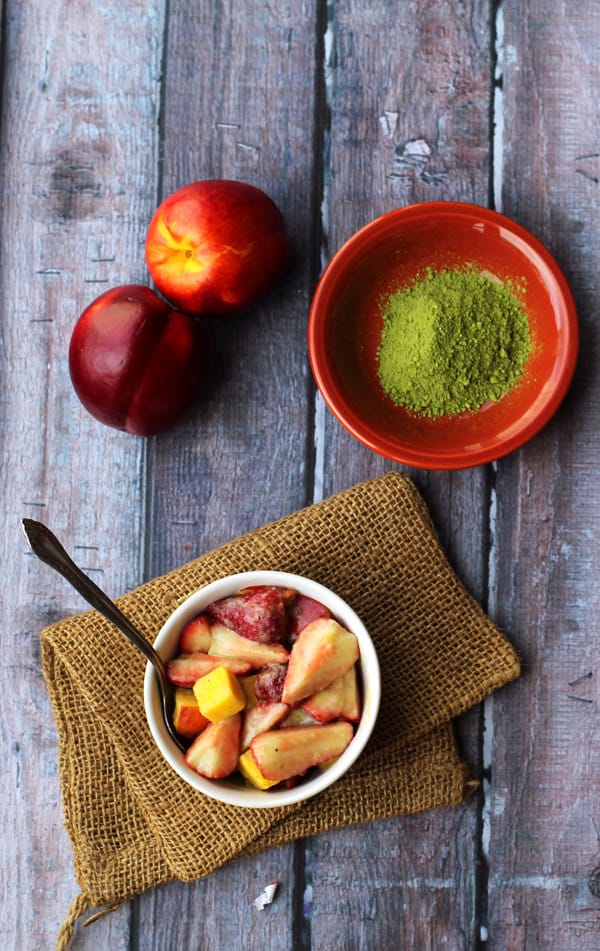 Let's get honest. I am a green food fanatic. I've been known to whisper sweet nothings to the kale display at my local supermarket and may or may not sing lullabies to my windowsill herb garden.
However, I get that not everyone goes as crazy for chlorophyll (and all the nutrients that happen to come with it) as I do. I've heard rumors that there is some evolutionary basis for this disdain, as our predecessors would have wanted to avoid similarly verdant poisonous plants if they wanted to survive, and so our distaste for them is partly instinctual. Better safe than sorry, and all that jazz.
This all seems like fairly sound reasoning until we take into consideration one thing: matcha -- a greener than green and fairly bitter form of powdered green tea that seems to have taken the food world by storm in recent years, winning over even the most insistent of veggie haters.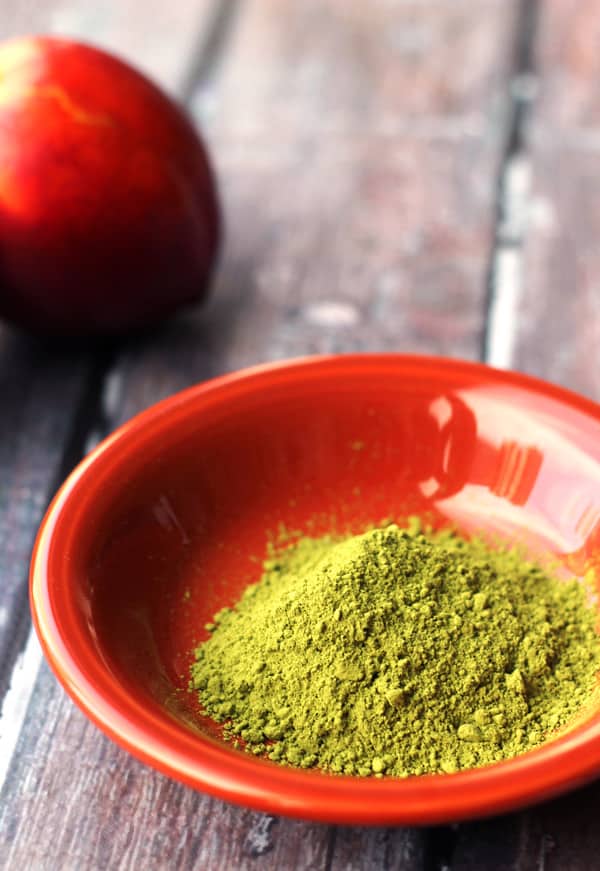 Even though it is relatively new to the Western food scene, matcha has been used in both Chinese and Japanese tea ceremonies since the late 1st century. Green tea's health benefits are well-known, and because it is made of the entire tea leaf, the nutrition level in matcha is even more concentrated than in your standard antioxidant-rich cup of green tea.
Its flavor is simultaneously bitter and sweet, the balance of which is determined by how carefully the leaves are grown, dried, and ground into powder. Matcha powder is a bit pricier than most other teas on the market, but that is largely because of the great care that is taken to ensure that it is prepared properly. Its flavor is quite strong, however, and so a little bit really does go a long way. You can find it at your local Asian supermarket, or at a higher end supermarket like Whole Foods in the international foods or tea section.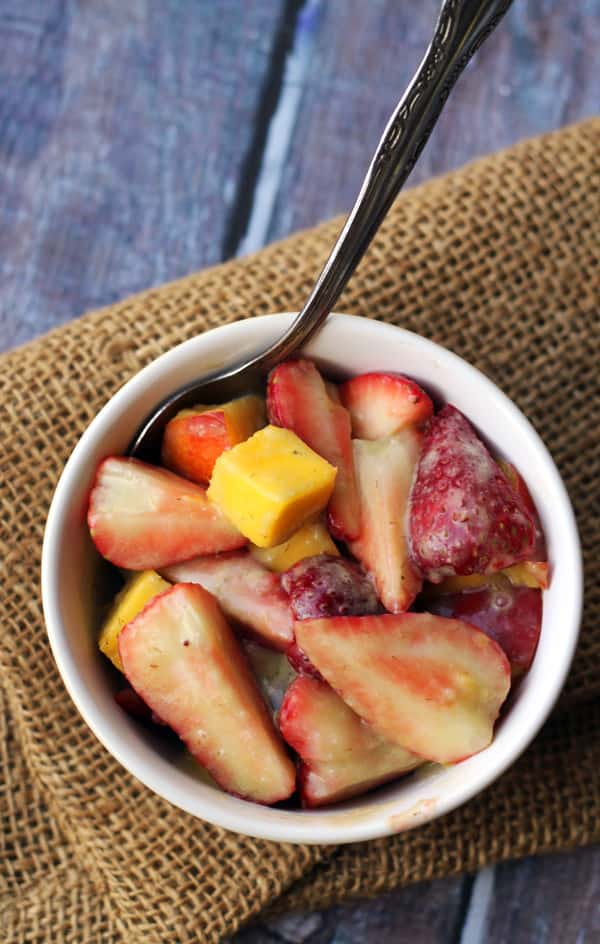 As I said, matcha can be pretty bitter, and so it is traditionally served with or in sweets. In the past, I've used it to add some herbal undertones to some sweet almond mini muffins, but being that summer is approaching and I seem to have fruit on the brain (and on my countertop) at all times, I thought it would be fun to pair a fruit salad with a matcha-infused dressing. Sticking with an Asian-influenced flavor profile, the dressing has a coconut milk base and is flavored with some ginger for spice, white balsamic vinegar for tang, and the matcha to add a bit of earthiness into the mix. Tossed with your favorite summer fruits, the end result is an explosion of sweet, tart, bitter, tangy juicy flavor that will feel oh so refreshing on a warm summer day. And if you eat enough of it, it's almost the same as eating your greens - WIN.
You might notice that the recipe only calls for a mere half teaspoon of matcha, and while you may be tempted to add more, I'm going to beg you not to. Matcha has a very strong flavor and you want to add just enough that you can taste it, but not so much that the bitterness is overwhelming. Best to start small, and then add more if you want than to add too much and wish you had added less.
Recipe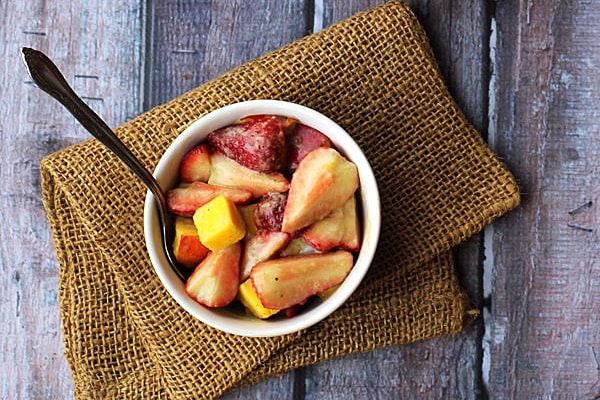 Ingredients
1

pound

strawberries

hulled and quartered

2

nectarines

pitted and chopped into 1-inch chunks

2

mangoes

peeled, pitted and chopped into 1-inch chunks

½

cup

full-fat coconut milk

2

tablespoons

white sugar (organic for vegan-friendly)

2

tablespoons

white balsamic vinegar

½

teaspoon

minced ginger

½

teaspoon

matcha powder

Pinch

of salt
Instructions
Cut up the strawberries, nectarines, and mangoes and toss together in a large bowl.

In a smaller bowl, whisk together the coconut milk, sugar, white balsamic vinegar, ginger, matcha powder and salt until well combined.

Add the dressing to the fruit and toss to combine. Refrigerate until ready to serve.
Notes
If you don't have white balsamic vinegar on hand, feel free to substitute a light, sweet rice wine vinegar or lemon juice, but make sure to adjust the sweetness since these are both a bit more tart than white balsamic.
Lite coconut milk can be substituted for the full-fat, but it won't impart the same creaminess to the dressing.
Nutrition
Calories:
145
kcal
Carbohydrates:
27
g
Protein:
2
g
Fat:
5
g
Saturated Fat:
4
g
Polyunsaturated Fat:
1
g
Monounsaturated Fat:
1
g
Sodium:
5
mg
Potassium:
375
mg
Fiber:
3
g
Sugar:
22
g
Vitamin A:
929
IU
Vitamin C:
72
mg
Calcium:
27
mg
Iron:
1
mg
Craving more veg-friendly recipes?
Shop our collection of vegetarian and vegan cookbooks, including our new Vegan Thanksgiving and Vegan Christmas cookbooks!