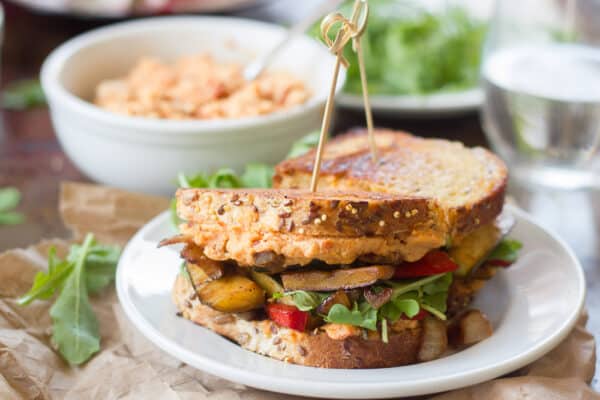 For a few years this was my go-to quick and easy vegetarian dinner: cook up some veggies in a skillet, douse them in balsamic vinegar, then stuff everything into a sandwich. It's a meal that you kind of can't go wrong with because it's easy, takes all of five minutes to make, and it always turns out delicious.
Eventually I started branching out and experimenting with different variations on the sandwich, because even delicious dishes can get tedious if you eat them multiple times a week, which I totally did. One night I might add in some herbed mayo, another night I might throw some cheese on top and stick my sandwich under the broiler, or grill it up to make a Hummus Panini.
Alas, all of my favorite variations involved some type of dairy, and I don't eat much dairy these days. So I set out to create a vegan spin on my trustee balsamic veggie sandwich, and this is what I came up with. My secret weapon: hummus!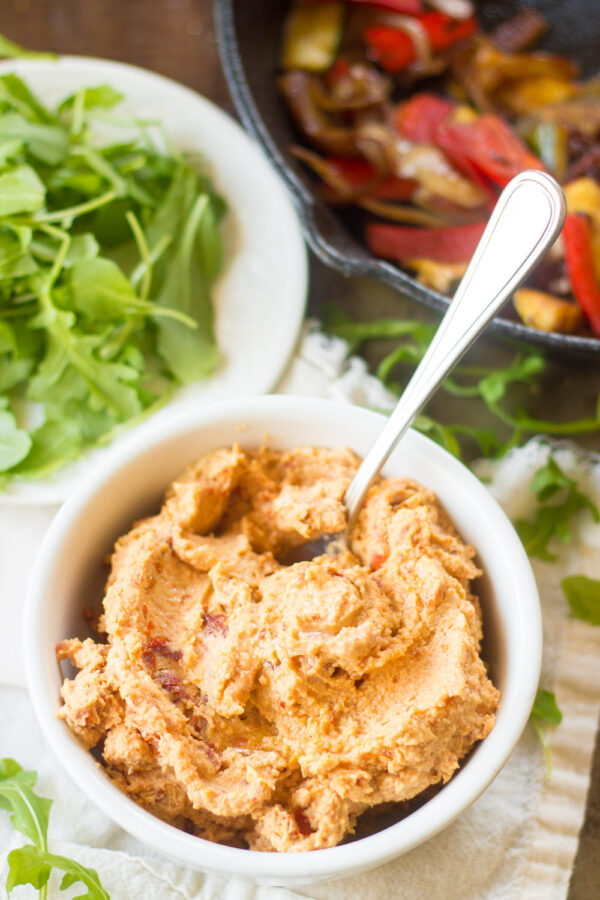 The great thing about hummus in recipes like this is that it works to take the place of dairy, without necessarily trying to replicate dairy. Hummus is delicious in it's own right, but it does a lot of the same things as cheese and mayo by adding creaminess and flavor. In the case of a vegan panini, hummus also holds everything together like cheese otherwise would.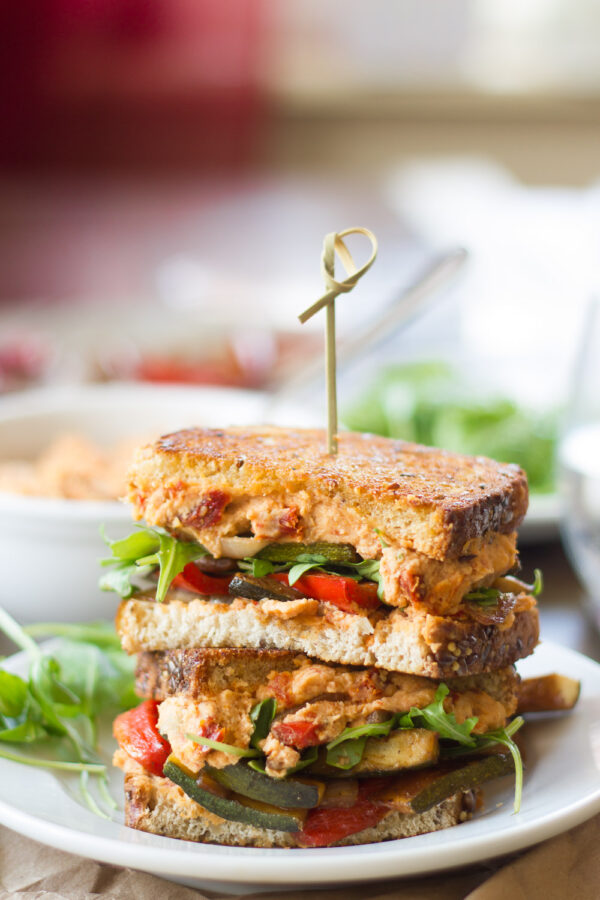 To give this sandwich some extra flavor, I used a sun-dried tomato hummus. The sun-dried tomatoes add an awesome smoky flavor with a hint of sweetness that goes great with the tangy balsamic flavor of the veggies.
Recipe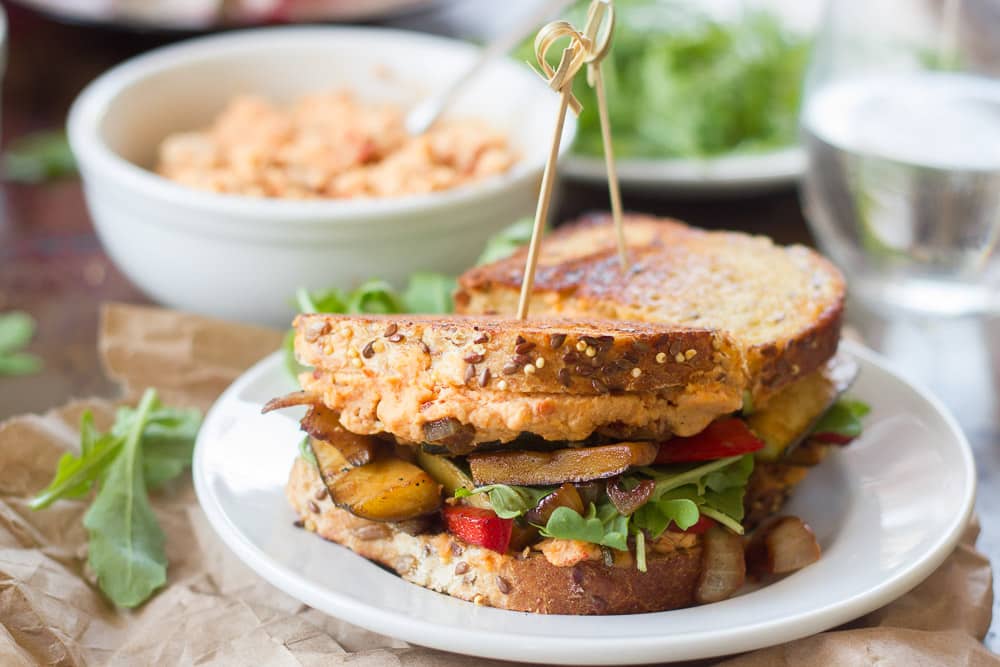 Ingredients
Instructions
Make the sun-dried tomato hummus:
Place the chickpeas, olive oil, lemon juice, tahini, and garlic into the bowl of a food processor fitted with an S-blade. Blend until smooth, stopping to scrape down the sides of the bowl as needed. You can thin the mixture with 1 to 2 tablespoons of water if needed, but you'll want to keep it relatively think so it works to bind the sandwich. Add in the sun-dried tomatoes and pulse until they're finely chopped. Season with salt to taste.
Make the balsamic veggies:
Coat the bottom of a large skillet with olive oil and place it over medium-high heat. Add the bell pepper, zucchini, and onion. Cook, flipping occasionally, until the veggies just begin to become tender and brown in spots, about 2 to 3 minutes. Pour the balsamic vinegar over the veggies and cook until it thickens and forms a sticky coating on the veggies, about 2 to 3 minutes more. Sprinkle with salt and pepper to taste. Transfer the veggies to a plate.
Make the sandwiches:
Slather one side of each bread slices with sun-dried tomato hummus. Pair up the slices and stuff each pair with a fourth of the balsamic veggies and a small handful of arugula or baby spinach.

Wipe out the skillet that you cooked the veggies in, then lightly apply a fresh coating of olive oil and place it over medium heat. Cook the sandwiches, in batches if needed, until browned on each side, about 4 minutes per side.

Serve.
Notes
This recipe makes a nice sized batch of hummus, so use as much as you'd like for the sandwiches. Snack on the leftovers with pita bread and veggies, or store it in a sealed container and it freeze for later.
Nutrition
Calories:
527
kcal
Carbohydrates:
68
g
Protein:
18
g
Fat:
23
g
Saturated Fat:
3
g
Polyunsaturated Fat:
5
g
Monounsaturated Fat:
13
g
Trans Fat:
1
g
Sodium:
666
mg
Potassium:
1490
mg
Fiber:
12
g
Sugar:
19
g
Vitamin A:
1293
IU
Vitamin C:
63
mg
Calcium:
178
mg
Iron:
7
mg
Craving more veg-friendly recipes?
Shop our collection of vegetarian and vegan cookbooks, including our new Vegan Thanksgiving and Vegan Christmas cookbooks!