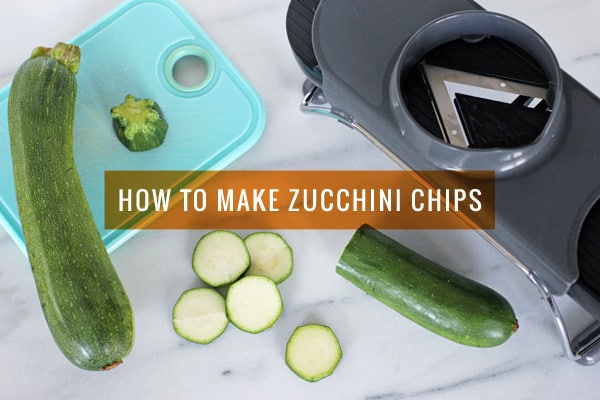 Do you have an overabundance of zucchini in your garden? If so, I'm totally jealous. I seem to be one of the few people who cannot keep a zucchini plant alive no matter what. Instead, I make up for it by buying a few too many at the grocery store and farmers market. I always have good intentions, but at the end of the week there they are, still sitting in my fridge. Zucchini chips are the perfect solution for an overabundance of summer squash, whether you've grown them yourself or just went a little overboard at the market.
But take note: you need to go into this knowing that you are going to have to watch the zucchini chips. This is not a "walk away and forget it" type of recipe. It's easy and uncomplicated, but you will need to keep an eye on them while they bake since different ovens and different sized zucchini will all impact cooking time. If you have a food dehydrator, that method of making zucchini chips is a little more hands-off, but since I don't have one, I've worked on perfecting them in the oven. So grab a magazine, play some music and hang out in the kitchen for a while!
Choosing Zucchini for Chip Making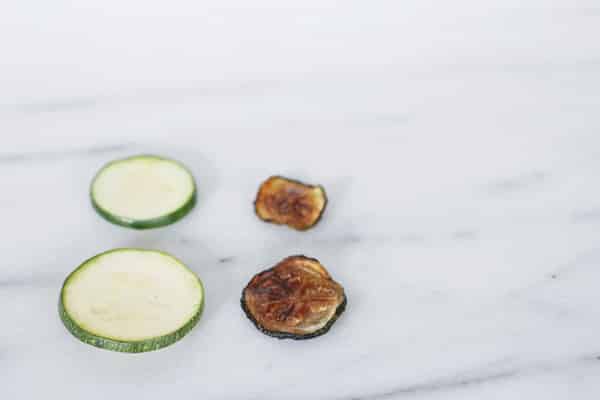 While you can use a skinnier zucchini, you can see that the chips shrink significantly while baking. A smaller zucchini will result in quarter-sized chips, while a larger, wider one will give you a more substantial chip -- any size you use is fine, just keep in mind that whatever size you start out with will end up smaller when the chips are done baking.
Slice the Zucchini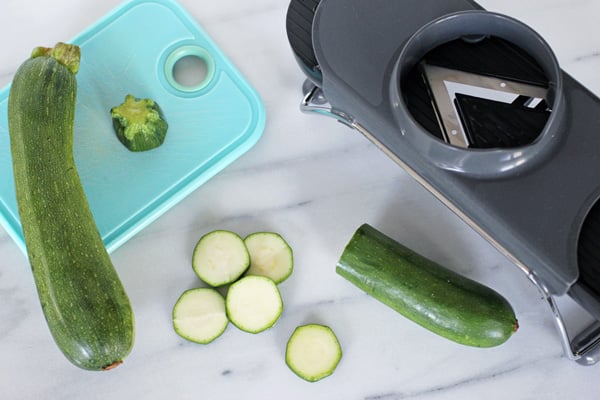 It's important for your slices to be uniform in size, so I'd highly suggest using a mandoline slicer. If the chips are all cut to a different thickness, the baking times will vary even more and you won't have consistent chips.
You want the slices to be 3/16th of an inch thick. On my mandoline, this is setting number three, but yours may vary.
Dry with a Paper Towels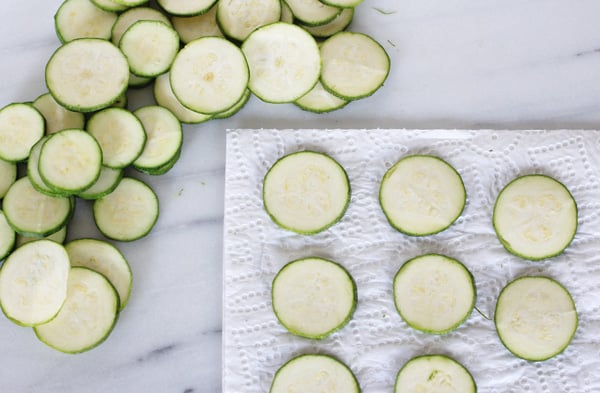 Sandwich the zucchini between two layers of paper towels and press down on the top to get rid of some of the excess moisture. This will help the zucchini crisp up better in the oven.
Prep and Season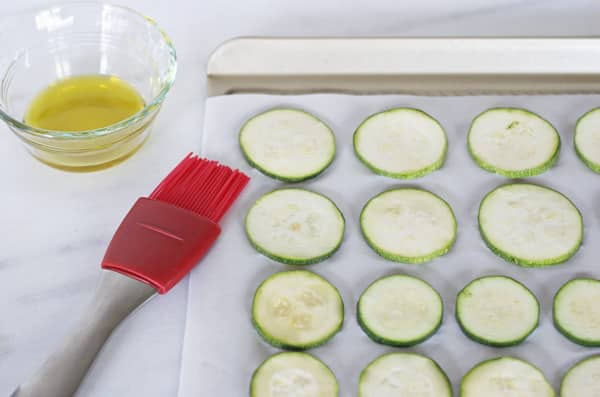 Preheat your oven to 250ºF and adjust the oven rack so it is in the center. Line a large baking sheet with parchment paper and then set the zucchini slices on the pan in an even layer, making sure none of the chips overlap. You can space them pretty close together because they'll shrink once they start baking.
Brush the tops of the slices lightly with olive oil. For a small zucchini, use ½ tablespoon. For a medium zucchini, use ¾ tablespoon. For a large zucchini, use 1 tablespoon and no more! You don't want to be heavy-handed with the oil; this will result in greasy chips.
Next, sprinkle the tops very lightly with salt. Less is more here and you can always add some later on. If you use more than a small pinch they will be pretty salty after baking since they shrink so much in the oven.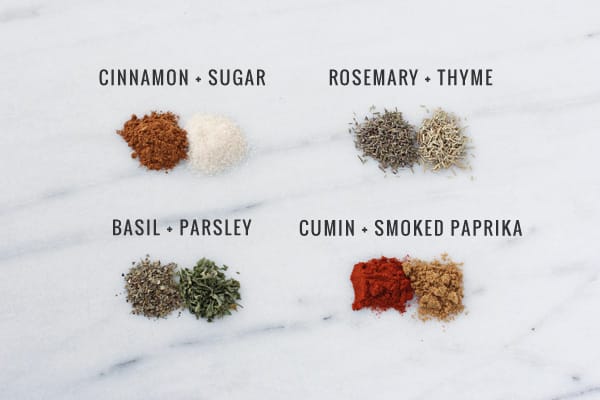 You can also try different seasonings, too. Again, just sprinkle lightly -- don't go overboard! Here are a few combinations to try out:
Bake Your Zucchini Chips

In my oven, I flip the chips once after the first 30 minutes (shown in the photo above), then again at 1 hour. After the first hour, I need to keep a much closer eye on them, flipping individual chips as needed so they brown evenly on both sides and then taking them out as they are done.
Don't expect the chips to all be done at the same time -- you'll have to take some out before others. Some of my chips are typically done around the 1 ½ hour mark, while others take closer to 2 hours and 15 minutes to finish. This may vary in your own oven, so just watch them throughout the baking time.
Let the Chips Cool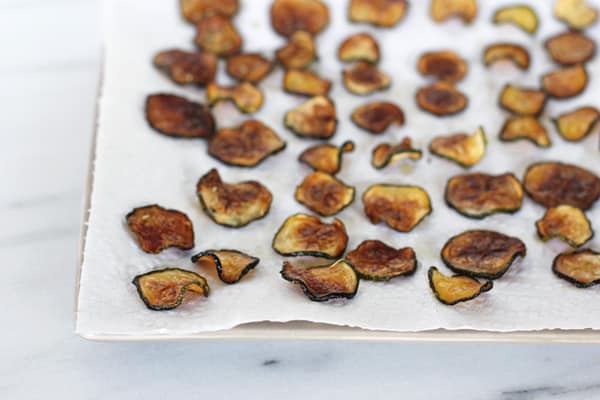 As the chips finish baking, place them on a paper towel-lined plate and let them sit for about 5 to 10 minutes. This will get rid of any extra oil and they also crisp up just a tad more as they cool.
Enjoy!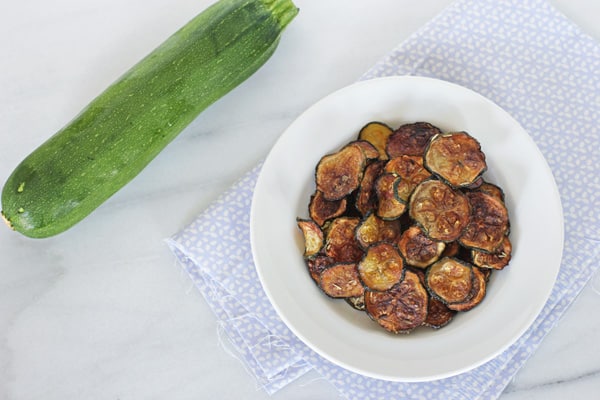 Taste and sprinkle on a touch more salt if needed.
This post was originally published on July 22, 2014.