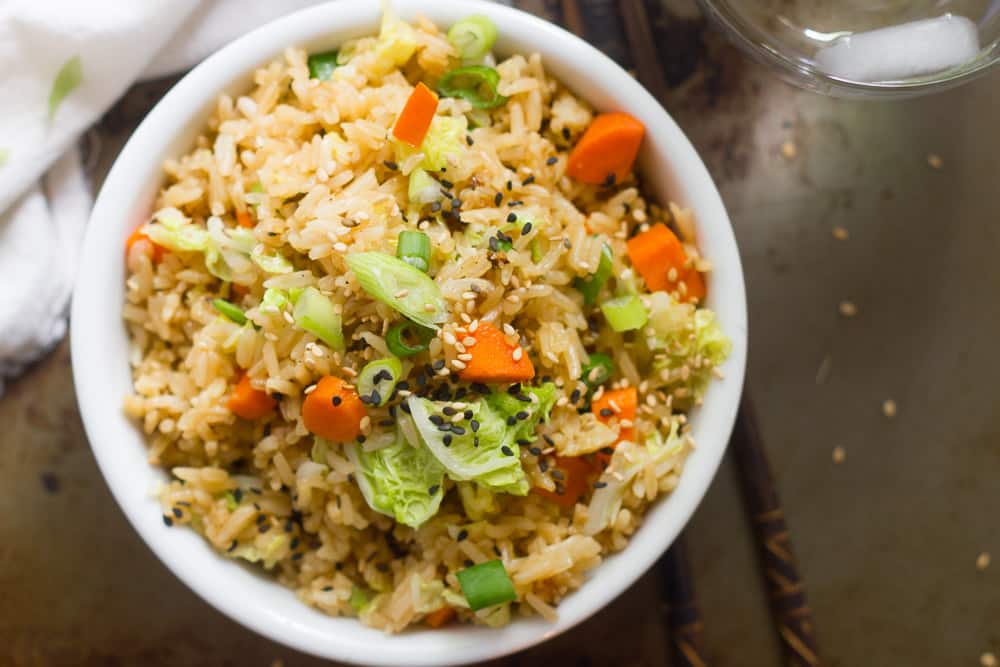 Fried rice is one of those dishes I feel like everyone should know how to make—without a recipe! It's delicious, super easy, and it can function as either a main dish or a side. Best of all, fried rice is very customizable, which is why you don't actually need a recipe to make it perfectly, just a basic working knowledge of the main ingredients and steps, which are exactly what I'm about to go over.
Serve your fried rice on it's own, alongside a delicious veggie stir fry, or even try your hand at making a full-blown hibachi dinner with all the fixings.
Use Leftover Rice
Yeah, you read that correctly! Leftover rice works better than freshly cooked, because it's had some time to dry out in the refrigerator, so it crisps-up really well. Two days old rice is about the sweet spot you want to shoot for, but one day old rice is fine too.
I usually plan ahead and cook a double batch of rice whenever I make a curry or stir-fry, so a day or two later I'm set to make fried rice. Just take your extra rice, fluff it up a bit, stick it into a container and chill until you're ready to make fried rice.
You can work with just about any variety of rice, but my favorite rice variety for frying is jasmine.
Prep Everything Before Cooking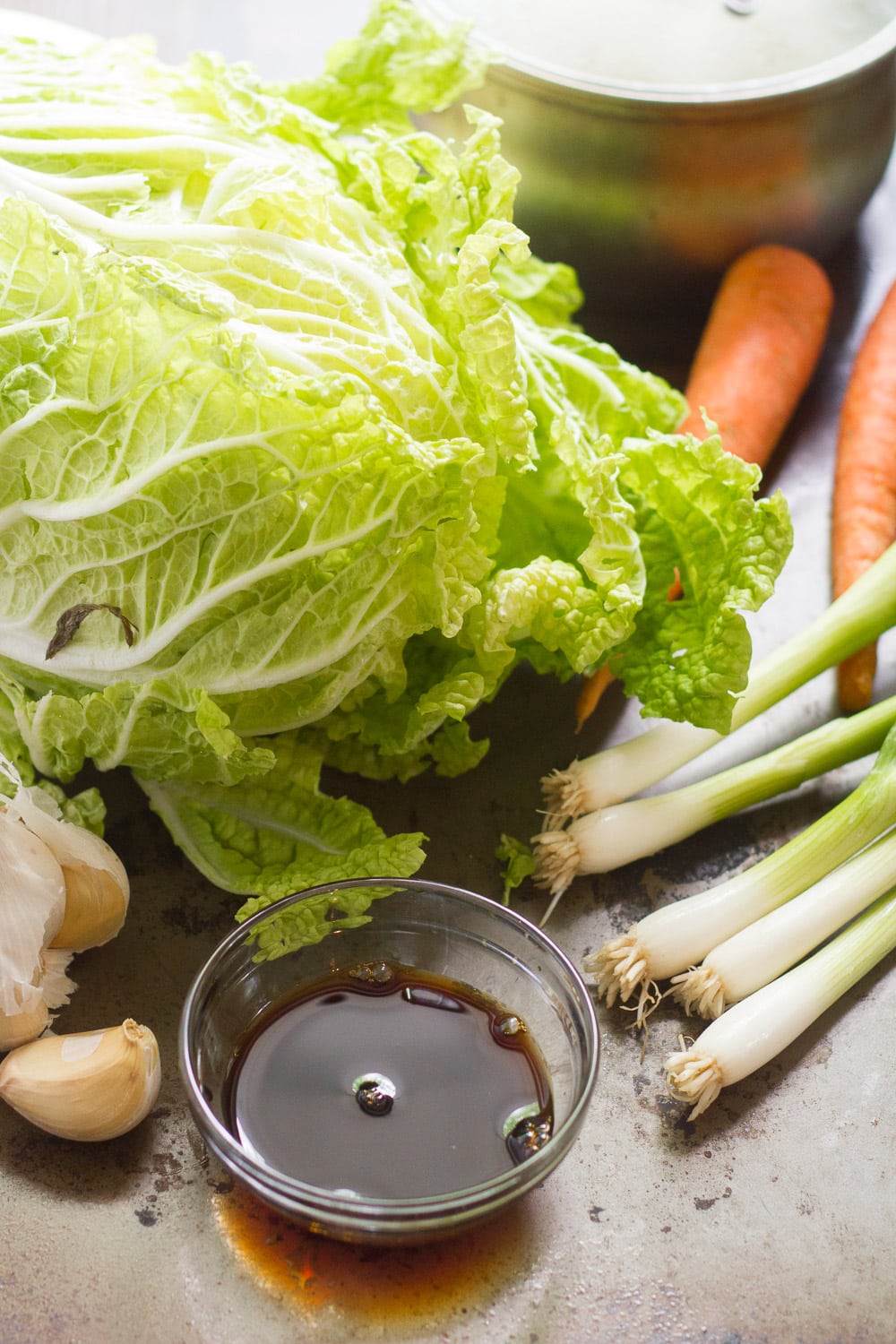 As is the case with stir-frying, fried rice gets cooked up quickly over high heat, so you'll need to move fast and give it your full attention while cooking. Have everything you need ready to go.
The Veggies
Start by selecting and chopping any veggies you want to include. Most anything that works in a stir-fry is fair game for fried rice, just avoid going overboard—you want the rice to be the star of the show here. Carrots, broccoli, snow peas, edamame, and napa cabbage are a few of my favorites. You'll want them in bite-sized or smaller pieces.
The Sauce
Mix your sauce up before getting started as well. The sauce can literally be a simple as soy sauce or tamari, in which case I guess there's no mixing required, but you'll want to have it ready to go when you start cooking. If you're up for something a little more creative, try adding some seasonings like garlic, ginger, hot sauce, or ground pepper. The only real thing to watch out for is that you don't make the sauce too thick. Something you'd normally use for a stir-fry would probably be to heavy for fried rice and you'd end up with a clumpy mess rather than a bunch of perfectly crispy little grains.
You'll want about 1 to 2 tablespoons of sauce for each serving of fried rice that you're cooking.
Make the Fried Rice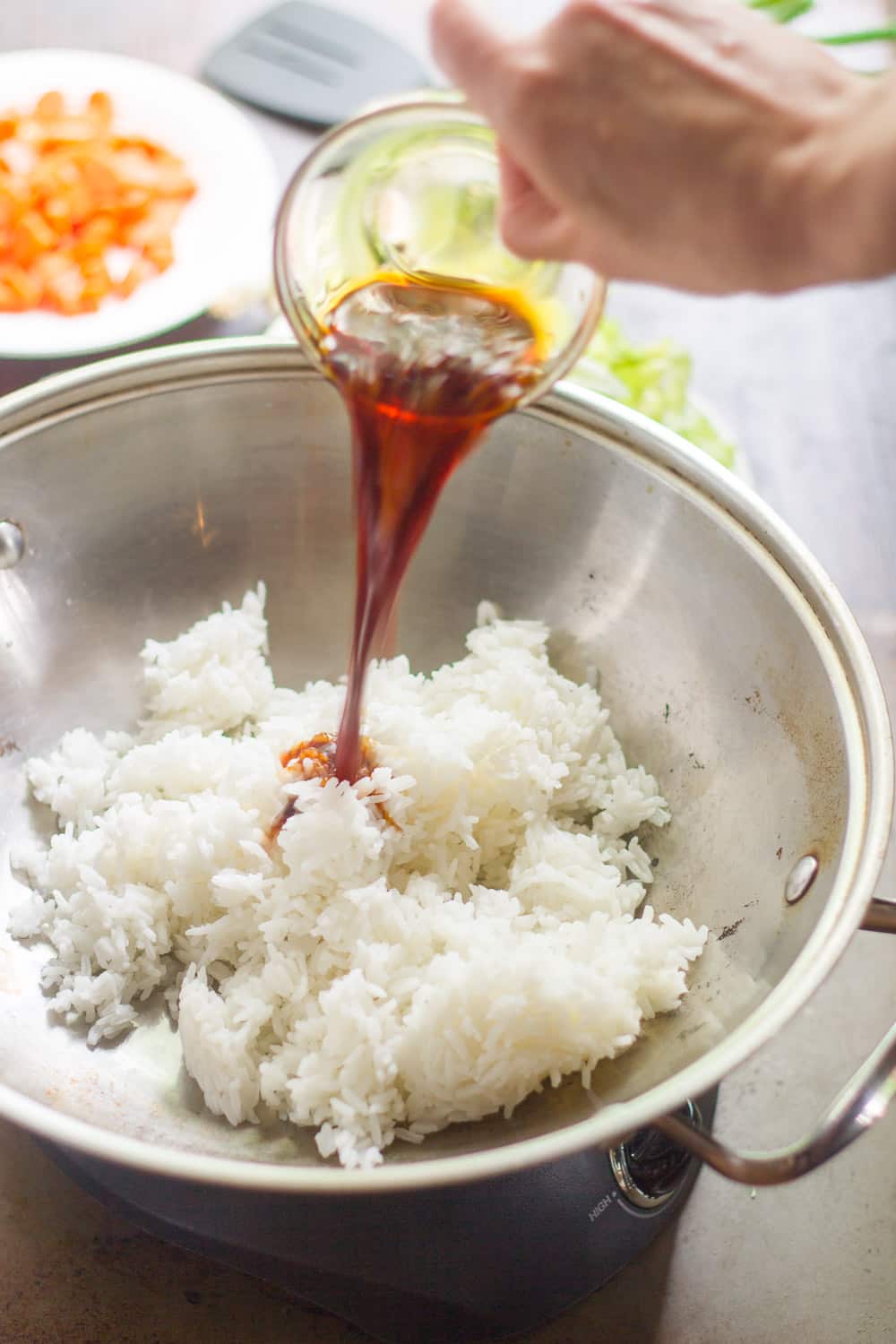 Grab your cooking vessel. A wok is preferable because it gives you the best heat distribution for rice-frying, but a nice big skillet works too. Place it over high heat and add some high heat oil—about 1 tablespoon per serving, and then add the rice—about a cup per serving, and then the sauce. Harder veggies like carrots and broccoli can go in a this point too.
As the rice cooks you'll want to flip it constantly to keep it from burning. Keep this up until the rice starts to get crisp, which should take anywhere from 5 to 10 minutes. I like to add softer veggies like cabbage at this point and give them about 1 or 2 minutes to cook, just so they start to wilt.
I keep my fried rice vegan, but if you'd like to add an egg, just push the rice to the side of your wok or skillet and add an egg or two. Scramble them up and the push the rice back into the center of the vessel and flip everything a few times to mix it all up.
Finish the Fried Rice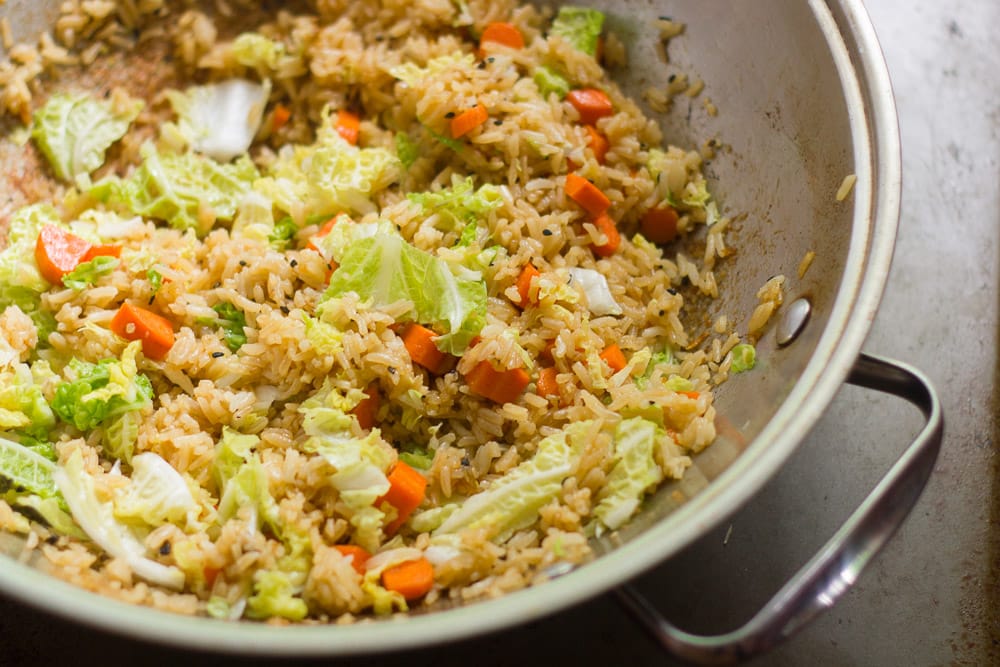 Take your wok or skillet off the heat and stir in anything else you'd like to add. Sesame seeds, chopped scallions, nuts and cooked tofu or tempeh are all great choices.
Fried Rice Recipes
In case you're still nervous about working without a recipe, here are a few of our favorites to try: