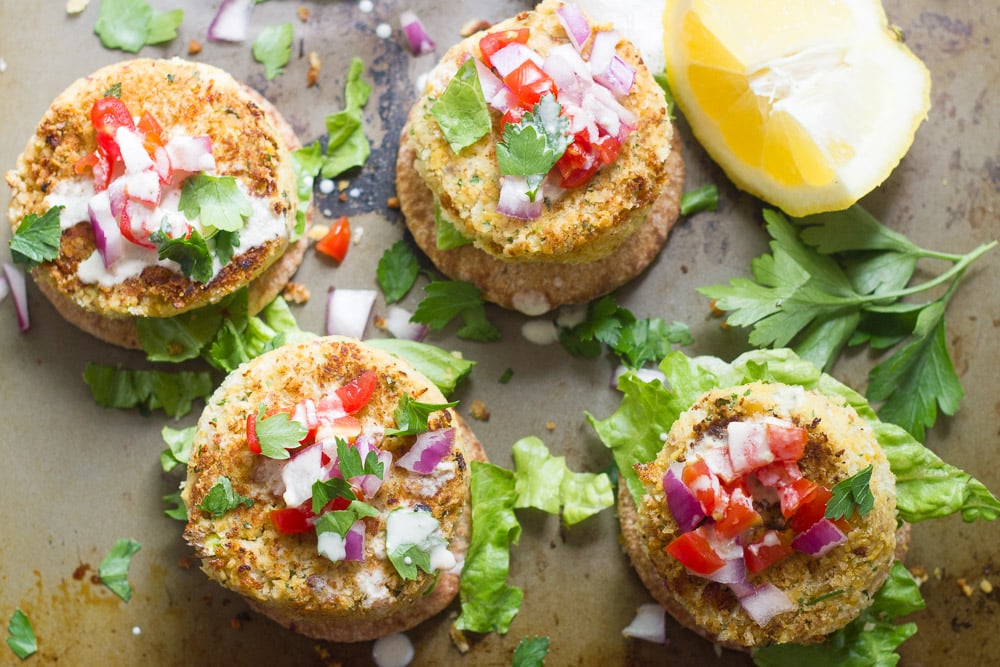 Falafel is one of my guilty pleasure foods, and it's kind of deceiving. On the one hand, falafel is vegan by default, made from healthy chickpeas, and served with loads of raw veggies. This all kind of screams "healthy." On the other hand, it's fried. Not just fried, but so fried, with a thin crispy coating you need to break through to unleash falafel's spicy deliciousness. So even though there's lots to love about it, I try to enjoy conventional falafel in moderation.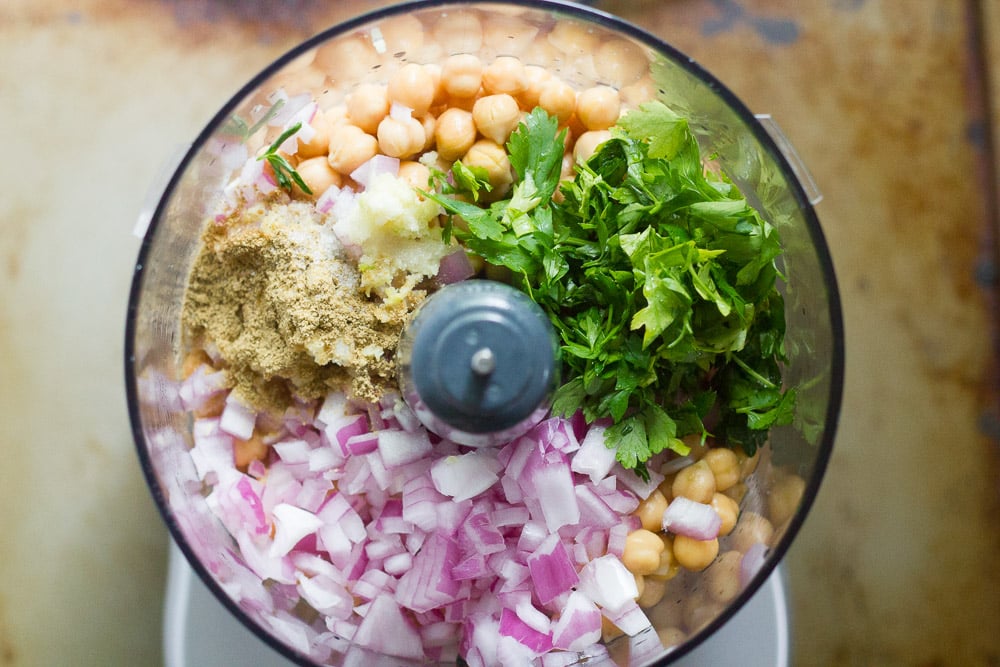 Healthy falafel, however, I'm always down with.
Fortunately it's not that hard to make a batch of extra healthy falafel without sacrificing flavor. These open-faced falafel burgers include all the good, i.e. healthy and delicious, stuff that you find in falafel, but are considerably lighter than what you'd get at your local falafel joint. Pan-frying the patties keeps the oil content to a minimum, while crispy panko breadcrumbs do a great job of mimicking the crispy coating we're all so fond of. They're also served on mini pitas which are generally lower in calories than your typical burger bun or full-sized pita.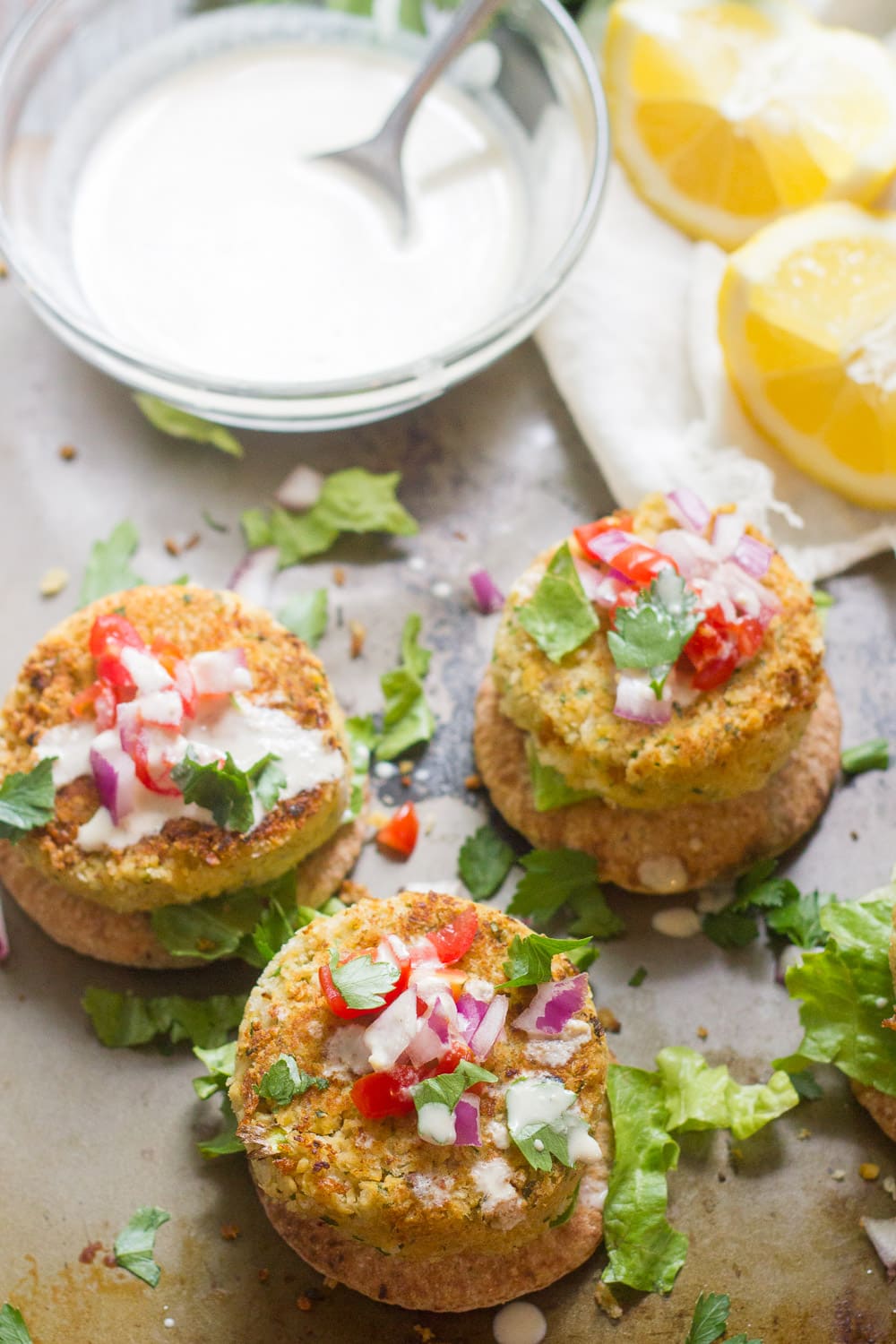 The recipe for these falafel burgers comes from Everyday Vegetarian by the editors of Cooking Light. I've been a big fan of Cooking Light for a while, because I love their ability to make healthy versions of dishes that are just as delicious and appealing as their not-so-healthy conventional counterparts. This book is packed with just those types of recipes! As I flipped through the pages of the book, none of the recipes seemed like low calorie or diet food, and I'm guessing that if you tasted them without knowing you'd have no idea they were light.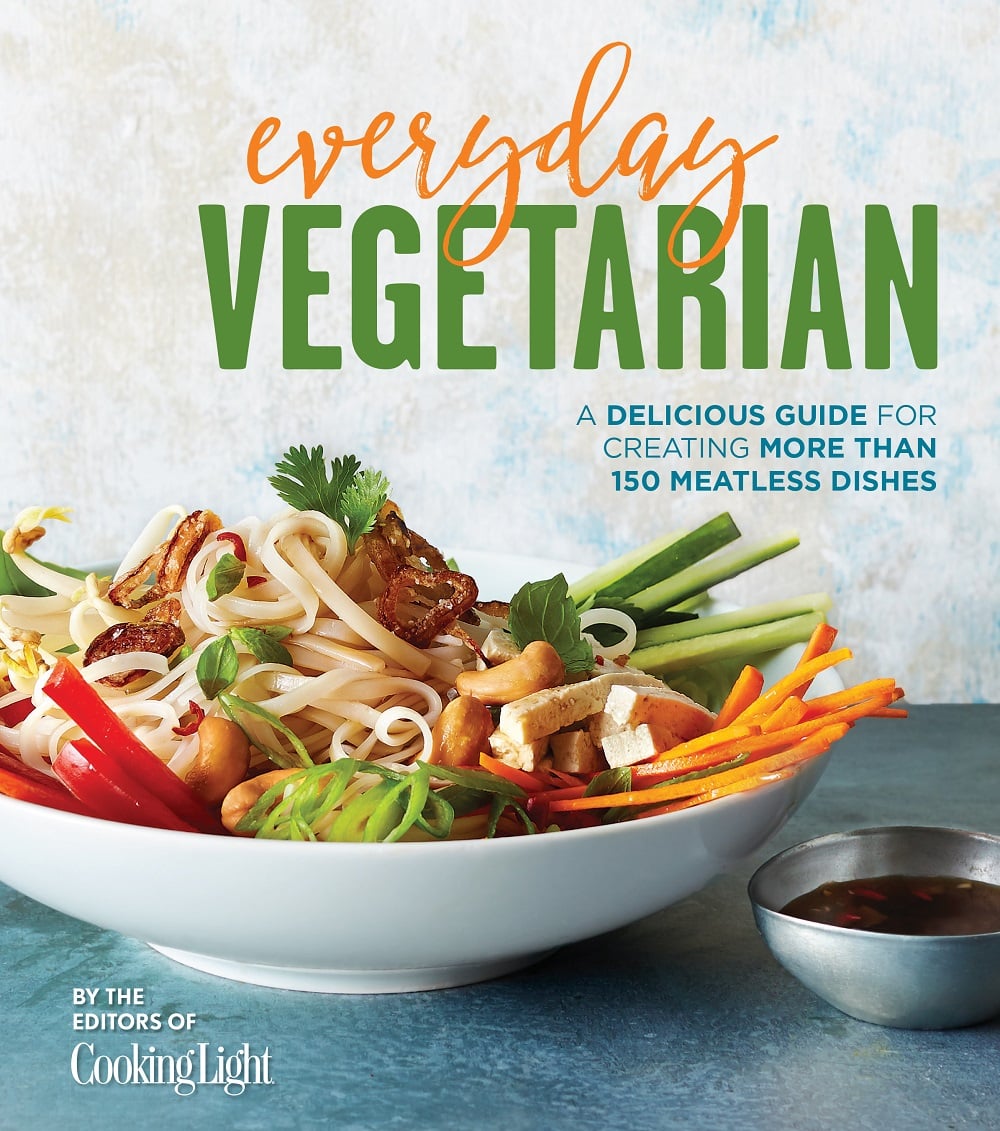 The next few recipes I'm planning to try are the Quinoa-Stuffed Heirloom Tomatoes with Romesco, Spaghetti with Spinach Avocado Sauce, and Grilled Eggplant and Tofu Steaks with Sticky Hoisin Glaze.
You can buy Everyday Vegetarian on Amazon.
Open-Faced Falafel Burgers
These healthy falafel burgers are made with a crispy panko coating, pan-fried until crisp and served over mini pitas with veggies and tahini sauce.

Notes
Excerpted from Everyday Vegetarian by the Editors of Cooking Light. Copyright © 2017 Oxmoor House. Reprinted with permission from Time Inc. Books, a division of Time Inc. New York, NY. All rights reserved.

Ingredients
Sauce:
1 cup hot water
1/4 cup tahini (sesame seed paste)
3 tablespoons fresh lemon juice
1/8 teaspoon salt
2 garlic cloves, minced
Patties:
1 cup chopped red onion
1/2 cup chopped fresh parsley
2 tablespoons fresh lemon juice
1 teaspoon ground cumin
1 teaspoon ground coriander
1/4 teaspoon salt
2 (15-ounce) cans chickpeas (garbanzo beans), rinsed and drained
4 garlic cloves, minced
1/2 cup dry breadcrumbs
1 tablespoon plus 1 teaspoon olive oil
Remaining ingredients:
6 mini pitas (about 5 inches wide)
3 cups chopped romaine lettuce
2 cups chopped tomato
2 cups sliced peeled cucumber
1/2 cup finely chopped red onion
Instructions
Make the sauce: Place the first 5 ingredients in a blender, and process until smooth.
Make the patties: Place 1 cup onion and the next 7 ingredients (through 4 garlic cloves) in a food processor; process until smooth, scraping sides of bowl occasionally. Place the bean mixture in a large bowl; stir in 1/4 cup of the breadcrumbs. Divide the bean mixture into 6 equal portions, shaping each into a 1/2-inch-thick patty. Place the remaining breadcrumbs in a shallow dish. Dredge the patties in the breadcrumbs.
Heat a large nonstick skillet over medium-high heat. Add 2 teaspoons of the oil to the pan; swirl to coat. Add 3 patties to the pan; cook 3 minutes on each side or until browned. Repeat procedure with the remaining oil and patties.
Warm the mini pitas according to package directions. Top each pita with 1/2 cup lettuce, 1/3 cup tomato, 1/3 cup cucumber, and 4 teaspoons onion. Drizzle each serving with about 3 tablespoons of the sauce; top with 1 patty.