Protein powders are an easy and convenient way to boost the protein content of your smoothies, and if you've found a protein powder you like, that's great. However, many people find the taste, texture, or idea of protein powders displeasing. Fear not! There are several ways you can boost the protein content of your smoothies using whole foods.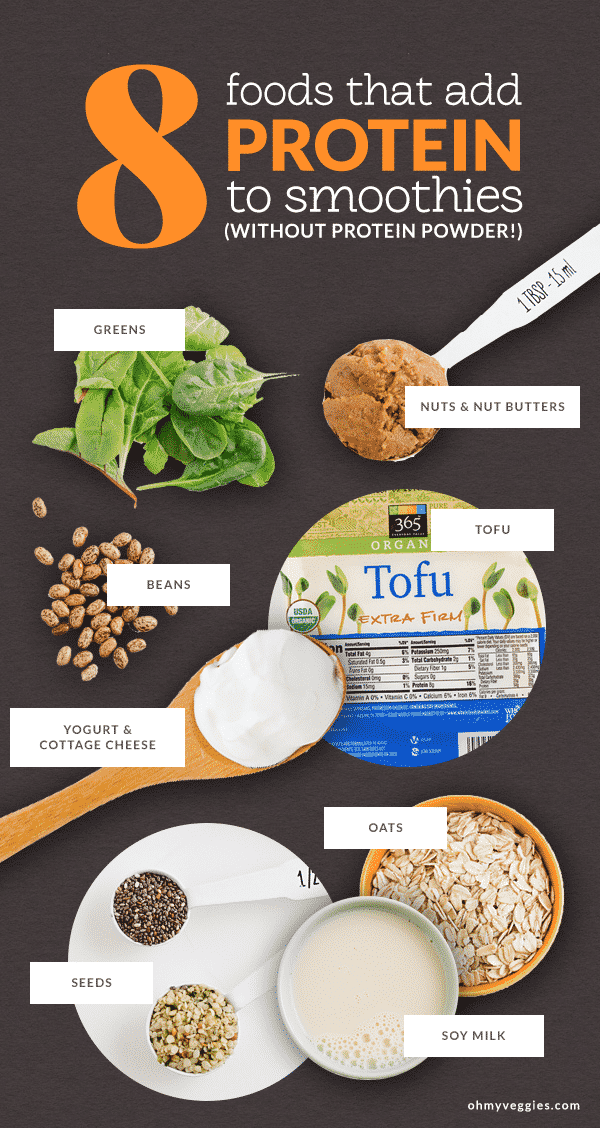 Protein-rich bases
Starting with a protein-rich liquid base is a surefire way to boost the protein content of your smoothie. Good high-protein options include cow's milk or soymilk, both of which boast 8 grams of protein per cup. Greek yogurt is a protein superstar with an average of 17 grams in a single (6-ounce) serving. Oat milk also contains a moderate amount of protein, usually around 4 grams per cup. Nut milks such as almond milk contain less protein—only around 1 gram per cup—but can still make a great base for a protein-rich smoothie depending on what else you add in.
Protein-packed mix-ins
Many of the mix-ins we love in our smoothies for taste and texture can also help to increase the protein content.
Nuts, nut butters and seeds comprise some of the more obvious add-ins. A couple of tablespoons of peanut butter, for example, contain 8 grams of protein, while two tablespoons of hemp hearts or almond butter each contain around 7 grams.
Speaking of seeds, have you ever blended quinoa into your smoothie? Try it! Adding half a cup of cooked quinoa to your smoothie provides 4 grams of complete protein, along with adding fiber, which will help fill you up.
A half-cup of oats will add about 5 grams of protein to your smoothie. Soaking them overnight, or even for just a couple of hours, will make them blend easily and helps turns your smoothie into a filling and protein-rich drink.
Beans, beans, good for your heart… and they're good for your smoothie, too! Yes, beans! Try blending black beans into a chocolate-flavored smoothie or cannellini beans into a smoothie with vanilla as the flavor base. I promise you, it blends into a smooth and creamy shake and you won't taste the beans at all. Half a cup of black beans provides 15 grams of protein.
Tofu is also a good choice for adding plant-based protein to your smoothies. I recommend silken tofu if you have it, but any kind will do. I've been known to toss a bit of leftover extra-firm tofu into the mix and it blends up nicely, although the taste is a little more 'tofu-y' than with silken tofu. The protein content in tofu ranges by firmness, but a good ballpark figure is around 10 grams of protein per 100 grams of tofu.
Greens! Love green smoothies? Good news! The protein in the greens you're blending in totally counts! Depending on what greens you choose, you'll be adding an extra 1 to 3 grams of protein per cup. For example, one packed cup of kale has nearly 3 grams of protein.
In the dairy world, with around 12 grams of high-quality protein per 100g (about half a cup), cottage cheese is a definite winner in the protein department.
Combinations for maximum protein
Depending on how you combine some of these ingredients, you can end up with a mighty powerful protein smoothie based entirely on whole foods.
Start with 1 cup of almond milk (1 gram of protein), half a cup of black beans (15 grams of protein) and 2 tablespoons of hemp seeds (7 grams of protein) and your smoothie already contains 23 grams of protein! Add in a banana, a couple of dates and a tablespoon of cocoa powder, and you've got a delicious chocolate smoothie.
Try 1 cup of Greek yogurt (17 grams of protein), half a cup of soaked oats (5 grams of protein) and 2 packed cups of kale (6 grams of protein) and you're already at 28 grams of protein. Just add some fruit and you're good to go!
Start with a cup of soy milk (8 grams of protein), 2 tablespoons of almond butter (7 grams of protein) a tablespoon of chia seeds (3 grams of protein) and you're at 18 grams of protein before you've added anything else. Adding a couple of handfuls of your favorite greens would bump it up to 20 grams of protein.
So, as you can see, building a protein-rich smoothie entirely from whole foods can be just as easy and convenient as using a protein powder—and, dare I say, even more delicious!
More Protein Smoothie Ideas
Chocolate Black Bean Brownie Smoothie
This chocolate smoothie from The Muffin Myth is protein-powered with beans, but we promise you won't taste them one bit! It's all chocolatey goodness going down.
Chocolate Hemp Seed Smoothie
Hemp seeds are the magic ingredient for boosting the protein content in this chocolate smoothie from The Roasted Root.
Blueberry Mango Smoothie
This Blueberry Mango Smoothie from Cookie Monster Cooking uses both Greek yogurt and milk for a blast of protein that'll keep you satisfied.
Mexican Chocolate Breakfast Shake
Oats are the magic ingredient in this Mexican Chocolate Breakfast Shake. Combined with a bit of almond milk, it's vegan protein power for the win!
Chocolate Peanut Butter Chia Smoothie
This delicious chocolate smoothie from Connoisseurus Veg uses peanut butter AND chia seeds for a quick 1-2 protein punch.
Strawberry Coconut Lime Smoothie
Soaked cashews + hemp hearts turn this strawberry lime smoothie into a creamy and protein-rich delight.
Power Pumpkin Seed Smoothie
Pumpkin seeds, vanilla yogurt, and almond milk make for a protein-rich trifecta in this delicious fall smoothie from Hello Natural.
Quinoa Smoothie
Quinoa + Greek yogurt + milk means that this smoothie from My Fussy Eater really packs in the protein.
Peanut Butter Protein Power Smoothie
This Peanut Butter Protein Power smoothie from Kitchen Treaty is seriously proteined up! With peanut butter, yogurt, chia, AND flax seeds, who needs protein powder?
Strawberry Coconut Super Smoothie
Oats, almond milk, and hemp seeds come together in this Strawberry Coconut Super Smoothie from The Muffin Myth for a stick-to-your-ribs start to your day.
Spinach Almond Smoothie
Don't forget that greens count too! This Spinach Almond Smoothie from Dishing Up The Dirt combines spinach, almond butter, and almond milk for a healthy and protein-rich smoothie.
This post was originally published on August 31, 2014.