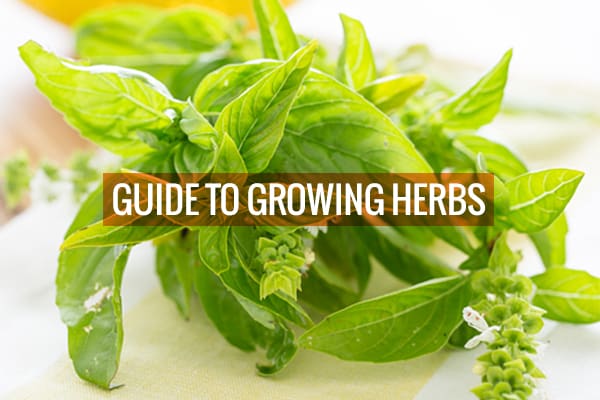 To me, there's something so annoying about finding a recipe you want to make—and then seeing that it calls for two sprigs of rosemary, or a few leaves of mint. Not because I hate herbs (au contraire!), but because getting fresh ones to last more than a few days is virtually impossible. So every time I want to make something that includes them, a special trip to the farmers market or grocery store is pretty much a given.
There's an easy way to fix that, though: grow your own herbs! You don't need to convert your lawn into crops, or your kitchen into a greenhouse to do so, either—a few pots on your front stoop, balcony or a south-facing windowsill is more than sufficient. And no worries if you're in a colder climate; as long as you have access to a sunny spot indoors, you can grow herbs year 'round.
What Herbs to Grow
Basil: Choose from Thai (great for pad Thai, stir-fries and other Asian-style dishes) or Sweet (works for marinara, pesto and caprese).
Mint: Mint and its cousin lemon balm are super hardy, but spread like a weed—so make sure you keep then in their own container if that's a problem. Catnip is also a form of mint; this can be planted as a decorative—and recreational for the neighborhood kitties—plant.
Cilantro: Cilantro is fussy. It loves sun (but not too much) and doesn't do so well in the heat. I'm in Minnesota and it can even get too hot here for it in the summer. You may have to move it around a bit until you find the right spot, or just keep it indoors.
Rosemary: Rosemary is a pretty self-sufficient herb. It loves dry weather and lots of sun; you'll hardly need to water it.
Lavender: Lavender needs tons of sun and good airflow to grow, so place it outside or near a sunny window you keep open.
Tarragon: Tarragon will get extremely tall (about 3 feet), so make sure it has room to grow. It likes a combination of sun and shade.
Oregano: The most flavorful leaves of this hardy plant can be harvested right before its flowers bloom, in mid-summer. This is a very low-maintenance herb.
Sage: Sage is a perennial, but it doesn't love heat or humidity—so if you're in a southern climate you may need to replant every year.
Thyme: Like rosemary, thyme needs drier soil. It's difficult to grow from seed outdoors, so you may want to find a cutting or start it indoors first.
Parsley: Like oregano, parsley is a hardy plant that thrives in almost any climate as long as it gets enough sun. Plus, it's a pretty addition to gardens or containers.
Supplies You Need
Potting soil
Containers/planters with drainage holes (you can also plant directly in the ground outdoors; just make sure your climate and soil type will work and watch out for critters and bugs)
Plant markers
Seeds or cuttings
Planting
Most herbs benefits from starting indoors, either via cuttings or seeds. Some (like thyme) won't do well if started as seeds, so it might be worth using a cutting instead.
You can give seeds a headstart by sprouting them indoors. Place them on a plate covered with a damp paper towel, then cover with another damp paper towel and a second, upside-down, placed on top to keep out air and light. Keep in a dark, cool place for up to 3-4 days, checking every 24 hours to see if they've started sprouting. (Make sure to leave them undisturbed in between checks.) Once you see tiny sprouts, handle and plant seedlings using a utensil, not your hands.
If you're using cuttings, it's usually beneficial to start in containers, transplanting to the ground later as the plant grows bigger. Although hardier herbs like mint and oregano will do fine right in the ground.
Herb Society has a great step-by-step tutorial for planting herbs!
Tips for Growing Herbs
Make sure to prune and trim your plants regularly so they can thrive
Many herbs, including lavender, basil and mint, are natural bug repellents
Most herbs require a good 5 to 8 hours of sunlight per day, so select a south-facing window or area of your yard if possible
Pay attention to water needs—keep the soil moist, but not overly damp. Some plants, like rosemary and thyme, need less water.
You don't need to buy planters—mason jars, old tins and other containers can be upcycled into herb garden planters
If the container you're using doesn't have drainage holes on the bottom, make sure to either drill one or place a layer of rocks in the bottom before you add soil
Water the soil, not the actual plant, in order to avoid mold and bugs
Sometimes it's beneficial to rotate herbs if they're sitting in a windowsill and only getting light from one direction
If herbs in pots grow too large, harvest and dry any extra, or take a cutting and start a new plant
If growing outdoors in the ground or raised bed, you may want to install a fence or netting to keep bugs, rabbits and other pests out
What to Do with Extra Herbs
If you've picked more than you can use, store sprigs in a glass of water in the fridge to postpone wilting a few days
Make compound butter 
DIY dish soap, sachets perfume and tons of other household uses
Make pretty, homemade bars of glycerin soap
Watch: How to Dry Herbs
Drying and storing herbs for later use (or decoration) is a great way to get the most out of your garden. If you have bunches of herbs to spare—but no extra hanging space—try drying them in the microwave. This super-easy tutorial from Food & Wine shows you how.
[uliveplayersingle id="239ead83-5eba-494c-822e-1953e481c50f"]
What herbs do you grow? What are your favorite ways to use them?