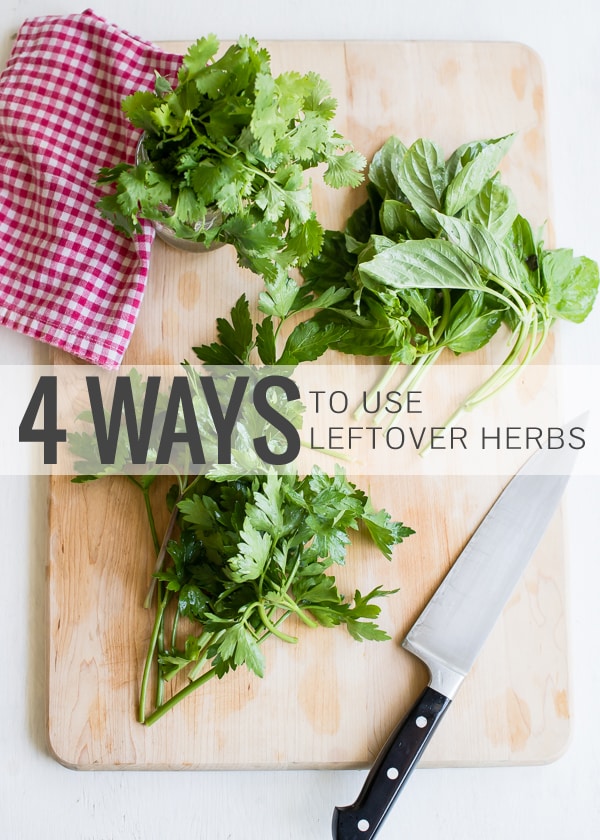 Photos by Lindsey Johnson
Fresh herbs are a great way to add flavor, color, and nutrients to countless dishes. But what do you do when your recipe calls for a just couple of tablespoons, and you've still got a big bunch of herbs left over? Don't throw them away or let them go bad in the fridge! Here are four simple ideas for using them up.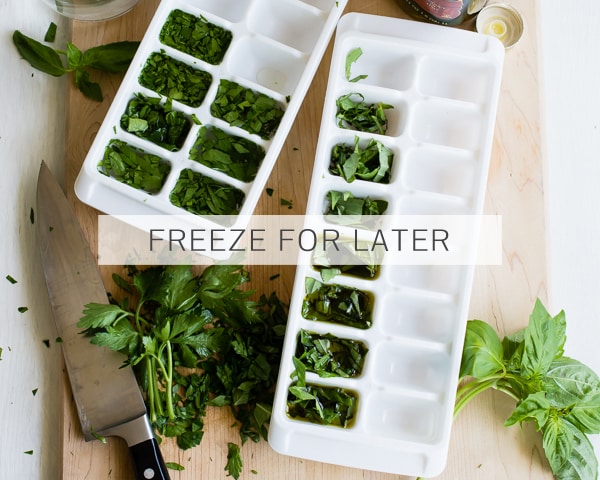 Chop up your leftover herbs and freeze them in ice cube trays! You'll be surprised how well the color, flavor, and texture stays intact when preserving herbs this way.
Just press chopped herbs into ice cube tray cups to about ¾ full, cover with either boiling water (this will blanch the herbs before freezing and help retain color and flavor) or olive oil, and then place in the freezer until frozen solid. At this point, you can pop the frozen cubes into a freezer bag for easy storage. Voila -- herbs on the ready!
Frozen herbs can be used in the same proportion as fresh herbs, so if you packed 1 tablespoon of basil into an ice cube tray, you'll have the equivalent of 1 tablespoon of basil to work with later. Herbs frozen in olive oil are great for adding at the beginning of a recipe when you'd be adding oil, whereas herbs frozen in water are best for adding in later stages of cooking. Try them both and see which method you prefer!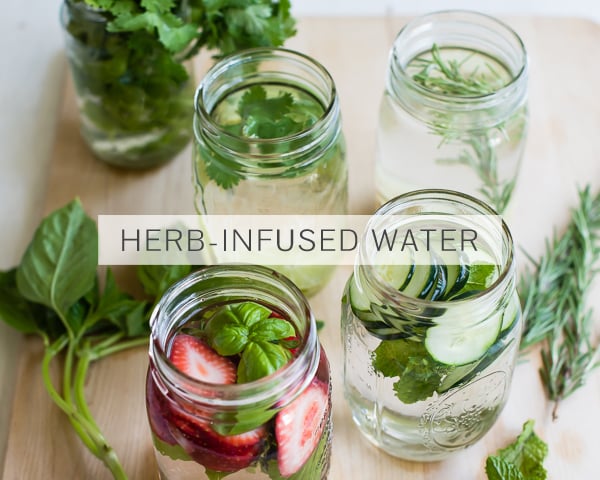 That fancy infused water isn't just for the spa! Just add a handful of fresh herbs to a glass, jug, or carafe, then fill with water and wait for the magic to happen! Herb-infused water should keep in the fridge for up to a week, and the flavor will develop over time.
You can keep it simple with just one herb, or mix and match a variety. Or use up a few leftover fruits and veggies while you're at it! We especially love these combos:
Cucumber + mint
Strawberries + basil
Cilantro + lime
Rosemary + ginger
For an instant herbal infusion, place fresh herbs into the bottom of a glass or jar, muddle slightly with a wooden spoon to break down and release flavor, then fill your glass with sparkling water.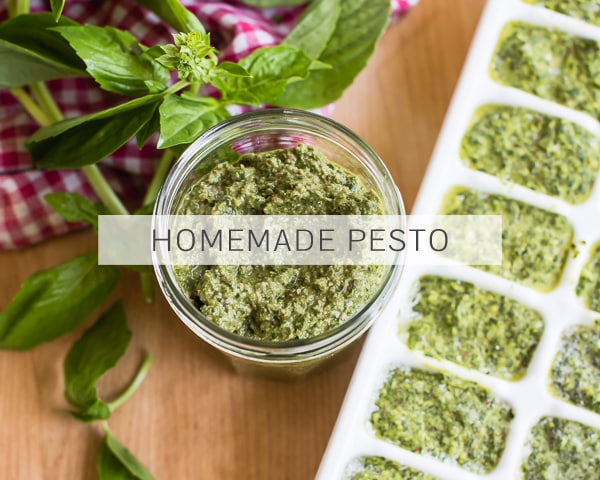 Pesto is an easy and delicious way to use up a lot of leftover herbs at once. For the most basic pesto, simply place about 2 cups of leftover basil leaves into the bowl of a food processor along with with a clove of garlic, half a cup or so of grated Parmesan cheese, a handful of toasted pine nuts, a drizzle of olive oil, and a squeeze of lemon. Whirl, drizzling in a little more olive oil if necessary, until you have a deliciously smooth sauce.
You're not limited to using basil when it comes to pesto, though! We love pesto made with cilantro, mint, and parsley as well. You can get creative and make pesto from spinach, arugula, or even beets -- just toss in a few of your leftover herbs for extra flavor.
Don't put those ice cube trays away just yet! Pesto also freezes really well. Just fill the cubes ¾ of the way full, place the filled tray in the freezer, freeze, then pop the cubes of frozen pesto into a freezer bag. Or you can use a muffin tin, too!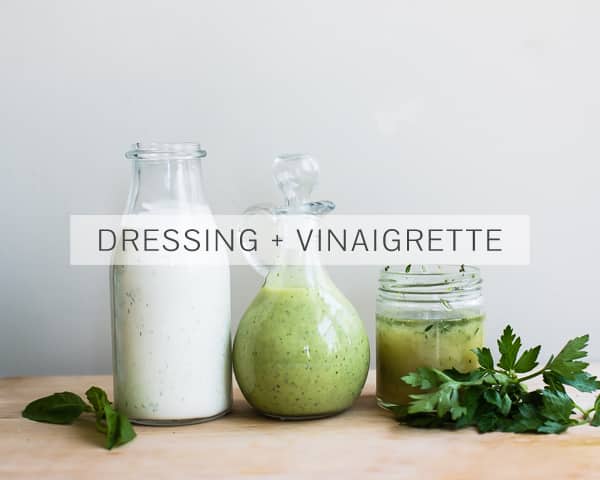 There's no question that fresh herbs liven up a salad! Use up your leftover herbs by making flavor-filled salad dressings to use throughout the week.
Vinaigrettes, blended dressings, or herb-filled Ranch dressings come together quickly, and should last about a week in your fridge.
To make a quick vinaigrette, simply start with one part vinegar to three parts olive oil and add to a mason jar. Throw in whichever chopped herbs you like, along with a dash of salt and pepper, seal the jar, and shake. That's all it takes for a gourmet-tasting herb vinaigrette.
Homemade salad dressings also make great gifts -- so be sure to share the herb love with friends and family!