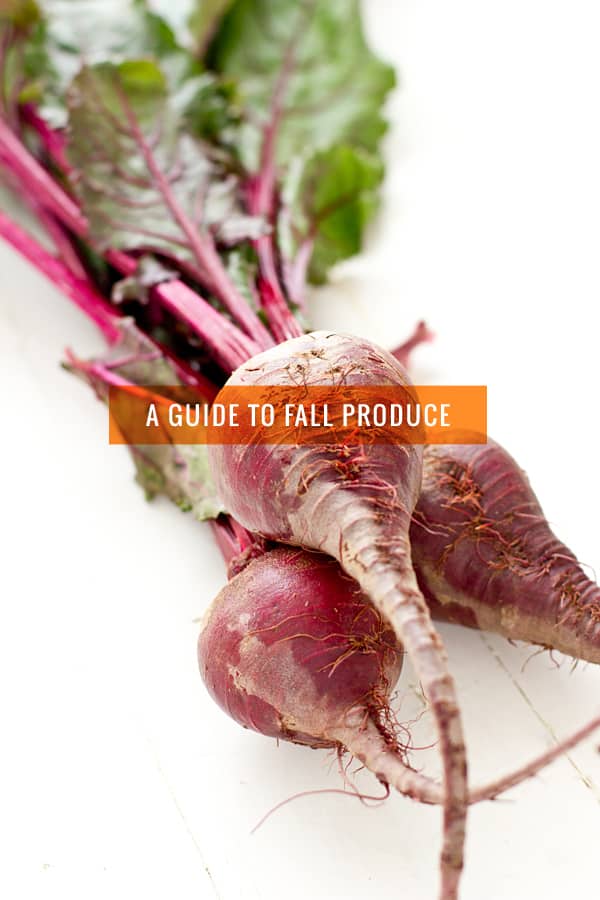 Apples and pumpkins get all the love and attention every fall, but what about beets? And turnips? Won't someone please think about the turnips?! If you're not sure what's in season during fall, this guide is for you--not only does it list what's in season, it also contains buying and storage tips, cooking suggestions, and recipe ideas. It's everything you need to conquer fall cooking! And if you still need more ideas, click on over to my list of fall-inspired recipes from Oh My Veggies.
Apples
Peak Season: September-October
Buying Tips: Apples should be firm, without blemishes or bruises.
Storage: Store apples in a cool place or in your refrigerator. Because apples release gases that can cause other produce to overripen, they should be kept in a separate drawer in the fridge.
Preparation & Cooking: The skin is the healthiest part of the apple, so keep them unpeeled when possible for the maximum benefit. Apples can be made into sauces, diced and added to salads, and baked into sweet treats like pies, muffins, and tarts. Different apples are better suited for different uses, so try to get the specific type of apple that your recipe calls for. Apples start browning as soon as you cut into them, so make sure not to cut them until you're absolutely ready to use them!
Recipe Ideas: Healthy Apple Cobbler Muffins from Two Healthy Kitchens, Apple Pie Quinoa Breakfast Bowl from The Vegan Chickpea, Cheddar & Apple Winter Salad from Bake Your Day
Beets
Peak Season: Fall-spring
Buying Tips: Beets should be firm and round, not wilted or soft.
Storage: If your beets still have the leaves attached, cut them off and store them separately. Both the beet root and the leaves should be stored in the refrigerator; the roots will last for up to 3 weeks.
Preparation & Cooking: Keep the skin on when cooking beets (after you scrub the dirt off!). This helps the beets retain their flavor. You can peel the skin off after they're cooked and cooled. Beet juice will stain, so make sure to protect your cutting board and other surfaces with wax paper. Beet leaves are also edible and can be prepared like other greens.
Recipe Ideas: Quinoa and Roasted Beet Salad from Ingredients, Inc., Roasted Beet and Lacinato Kale Salad with Lemon Vinaigrette from Food For My Family
Broccoli
Peak Season: October-March
Buying Tips: Look for broccoli crowns with compact buds--they shouldn't be loose or have any yellow flowers on them.
Storage: Broccoli should last approximately 3 days in a plastic bag in the refrigerator.
Preparation & Cooking: Broccoli can be steamed, roasted, or just eaten raw. It's also great when pureed with potatoes!
Recipe Ideas: Roasted Cauliflower, Broccoli, & Sun-Dried Tomato Salad with Chickpeas from Dishing Up the Dirt,  Fire Roasted Pepper, Zucchini, Broccoli and Mixed Olive Frittata from Greek Vegetarian
Brussels Sprouts
Peak Season: October-December
Buying Tips: Avoid Brussels sprouts with loose leaves or slimy brown spots. They should be firm and green.
Storage: Brussels sprouts can last several days if they're kept refrigerated in an open container. If you buy them on the stalk, you can remove them before refrigerating.
Preparation & Cooking: Brussels sprouts taste best roasted, but you can also steam them or slice and saute them. Slice off the surface of the stem end and peel off any wilted leaves before preparing them.
Recipe Ideas: Roasted Brussels Sprout Chips from Jeanette's Healthy Living, Brussels Sprout Curry with Pumpkin and Pomegranate from Angie's Recipes
Cabbage
Peak Season: November-April
Buying Tips: Heads of cabbage should be firm. A few blemishes on the outside are okay since you can throw those leaves away.
Storage: Keep whole cabbage refrigerated in a plastic bag for about 1-2 weeks. Sliced or shredded cabbage lasts several days.
Preparation & Cooking: Remove the hard outer leaves and cut out the white core before preparing. Cabbage can be eaten raw, shredded, steamed, boiled, and stir-fried. Cabbage leaves are great for stuffing too!
Recipe Ideas: Crunchy Asian Chopped Cabbage Salad with Peanut Dressing from The Spicy RD, Raw Kale, Cabbage and Carrot Chopped Salad with Maple Sesame Vinaigrette from Gourmande in the Kitchen
Carrots
Peak Season: Late fall-early spring
Buying Tips: Carrots should be firm and brightly colored.
Storage: Carrots can last for weeks in a plastic bag in the refrigerator.
Preparation & Cooking: Carrots are quite versatile and can be used in both savory and sweet recipes. I like mine roasted with a little maple syrup and cayenne pepper. They're also great in soups and salads and, of course, in carrot cake too.
Recipe Ideas:  Marinated Carrot + Halloumi Salad from The Fig Tree, Steel-Cut Carrot Cake Oatmeal from Kitchen Treaty
Cauliflower
Peak Season: September-June
Buying Tips: Look for compact, firm florets.
Storage: Cauliflower can last about a week if kept refrigerated in a plastic bag.
Preparation & Cooking: Cauliflower is commonly broken into florets and roasted, steamed, or served raw in a salad, but it can also be mashed, pureed, or even made into a pizza crust or rice using a food processor or grater.
Recipe Ideas: Crispy Orange Cauliflower from Vegan Richa,  Cajun Roasted Cauliflower Steaks from Food Doodles
Cranberries
Peak Season: October-December
Buying Tips: Cranberries should be plump and firm, with a deep red color.
Storage: Cranberries should keep in the refrigerator for about a month, or they can be frozen for about a year.
Preparation & Cooking: Pick through your cranberries before using them, discard any mushy or discolored berries, and rinse the rest. Cranberries are very tart, so sweeter fruits or sugar are typically added to balance out the tartness. In addition to cranberry sauce, you can use dried cranberries in baked goods and even some savory dishes too--I love adding a few tablespoons of dried cranberries to roasted Brussels sprouts, for example.
Recipe Ideas: Chipotle Cranberry Sauce from Following In My Shoes, Cheddar Herb Cranberry Muffins from The Messy Baker, Roasted Sweet Potato & Chickpea Salad with Warm Cranberry Chutney Dressing from Vanilla & Spice
Kale
Peak Season: December-February
Buying Tips: Look for leaves that are green, not yellowish, and avoid kale that is wilted or that has insect damage.
Storage: Get rid of any excess water, then keep the kale in a loose plastic bag in the refrigerater for up to several days.
Preparation & Cooking: When ready to use, remove the stems and tough ribs, and slice, shred, or tear the leaves. Kale is often cooked because it's so bitter when raw, but you can massage the sliced leaves for a few minutes to tenderize it and reduce the bitterness.
Recipe Ideas: Sweet Potato Kale Bites from Running to the Kitchen, Sesame Noodles with Edamame and Kale from Aggie's Kitchen, Kale Hemp Tabbouleh from Nutrition Stripped
Leeks
Peak Season: September-April
Buying Tips: Leeks should be firm, not soft or wilted. The top should be bright green; since the tops are discarded, superficial blemishes are okay.
Storage: Leeks can last for a week or more in a loose plastic bag in the refrigerator.
Preparation & Cooking: You'll only need the white and light green parts of the "neck" of the leek, so slice off and discard the top and the white root end. Dirt commonly collects between the leaves, so it's super important to thoroughly clean your leeks before preparing them. One method is to slice the leek as directed, then place the slices in a large, deep bowl or other container filled with cold water. Separate the slices into individual pieces with your hands, then swish them around to loosen any dirt and grit. The grit will sink, so you can remove the clean leeks by skimming the surface with a slotted spoon. You may need to repeat this a few times with fresh cold water each time until all dirt is removed.
Recipe Ideas: Leek, Potato and Rosemary Pizza from London Bakes, Apple, Butternut Squash and Leek Gratin from Kitchen Treaty, Swiss Chard Leek Quiche from MJ's Kitchen
Pears
Peak Season: Late fall-winter
Buying Tips: Pears should be firm, but not hard--too hard, and the pears won't be ripe, but too soft and they'll be mushy.
Storage: Pears can be stored in a paper bag at room temperature for a few days, or until ripe. Once they start to ripen, you can put them in a plastic bag in the fridge to slow down the process.
Preparation & Cooking: Pears are delicious poached, tossed in a salad, or made into a dessert, and they also pair very well with cheese. Pears will start to discolor once you cut them, so don't cut them until you're absolutely ready to use them. To avoid discoloration, you can toss sliced pears with diluted lemon juice.
Recipe Ideas: Pear, Blue Cheese, & Caramelized Onion Panini from Once Upon a Cutting Board, Granola-Crusted Pear and Almond Butter Panini from Panini Happy, Fluffy Sweet Potato and Pear Pancakes from Ricki Heller
Pomegranate
Peak Season: September-January
Buying Tips: Look for deep red pomegranates that feel heavy for their size. They should have unbroken skin and no mold on the crown.
Storage: Pomegranates can be left on the counter for up to a month--you don't need to put them in the fridge.
Preparation & Cooking: Only the seeds are eaten from the pomegranate; the rest should be discarded. My favorite way to get the seeds out is to use a pomegranate deseeder
, but if you don't have one, you can cut the pomegranate in half, immerse it in a big bowl of water, and pull the seeds from the rest of the fruit.
Recipe Ideas: Quinoa with Acorn Squash and Pomegranate from A Thought For Food, Healthified Double Dark Chocolate Pomegranate Cookies from Mom Foodie, Pomegranate & Pear Salad from Katie at the Kitchen Door
Pumpkin
Peak Season: October-February
Buying Tips: The exterior should be unblemished and tough and the squash should feel heavy for its size.
Storage: Pumpkins can be kept for about a month in a cool, dry location. Once cut, you can wrap any extra slices tightly in plastic and keep them in the fridge for several days.
Preparation & Cooking: Yes, pumpkin makes a mean pie. But pumpkin can also be diced and added to soups, salads, or casseroles, or made into breads, custards, cakes, and other non-pie desserts. You can also rinse the seeds and roast them for a tasty snack. Make sure to wash the outside of the pumpkin before you cut into it.
Recipe Ideas: Whole Grain Pumpkin Pancakes from Texanerin Baking, Pumpkin Polenta with Browned Butter & Sage from So Let's Hang Out, Pumpkin Fritters with Rosemary and Cheese from What About Second Breakfast?
Sweet Potatoes
Peak Season: November-December
Buying Tips: Sweet potatoes should be firm and the skin should be free of cuts, mold, and decay.
Storage: Sweet potatoes should be stored in a dark cool location, but not refrigerated.
Preparation & Cooking: Sweet potatoes have a multitude of uses in both sweet and savory dishes, especially casseroles, soups and pies, and you can also make fries and chips with them. Wash and scrub the outside of the potato before you bake or cut it. I usually remove the skin before eating sweet potatoes, but it can be eaten.
Recipe Ideas: Roasted Sweet Potato, Kale & Sage Skillet Quinoa from With Food + Love, Sweet Potato Latkes with Spiced Thyme Applesauce from Henry Happened, Sweet Potato, Black Bean and Quinoa Cakes from Grab A Plate
Turnips
Peak Season: September-April
Buying Tips: Look for turnips that are small, round, and firm.
Storage: Turnips can last about two weeks in a cool location, or keep them refrigerated in a tightly closed plastic bag for a week.
Preparation & Cooking: Turnips can be used as a lower carb replacement for potatoes in some recipes. When pureed, it makes a delicious, creamy soup. The leaves can also be cooked and are full of nutrients.
Recipe Ideas:  Turnip and Feta Fritters from Greek Vegetarian, Creamy Turnip Soup with Croutons & Fried Sage Leaves from In Jennie's Kitchen
Winter Squash
Peak Season: October-December
Buying Tips: The exterior should be unblemished and tough and the squash should feel heavy for its size.
Storage: Winter squashes will typically last several weeks in a cool, dark place. Don't refrigerate winter squash unless it's been cut.
Preparation & Cooking: Many winter squashes have a tough outer layer that needs to be removed. For others, like acorn, you can leave the outer layer on and roast the squash to soften the peel and make it edible. Wash the outside of any winter squash until it's clean before cutting into it. Different types of squashes have different uses. The insides of spaghetti squash are long and stringy and can be used like pasta noodles. Acorn squashes are often baked and stuffed. Butternut squash is great cubed and roasted, or made into soup or fries.
Recipe Ideas: Butternut Squash and Chickpea Chili from The Roasted Root,  Curried Delicata Squash Fries with Spicy Ketchup from Gen Y Foodie
I have other produce guides too! If you liked this post, check out my Guide to Summer Produce and Guide to Spring Produce.