Kitchen gadgets are a fun way to get a lot accomplished. Some gadgets are multifunctional and offer many uses. Some are decorational, and some are just super cool. But too many gadgets can make your kitchen feel a bit cramped, so make sure you don't go too overboard on this list of the coolest kitchen gadgets under $25!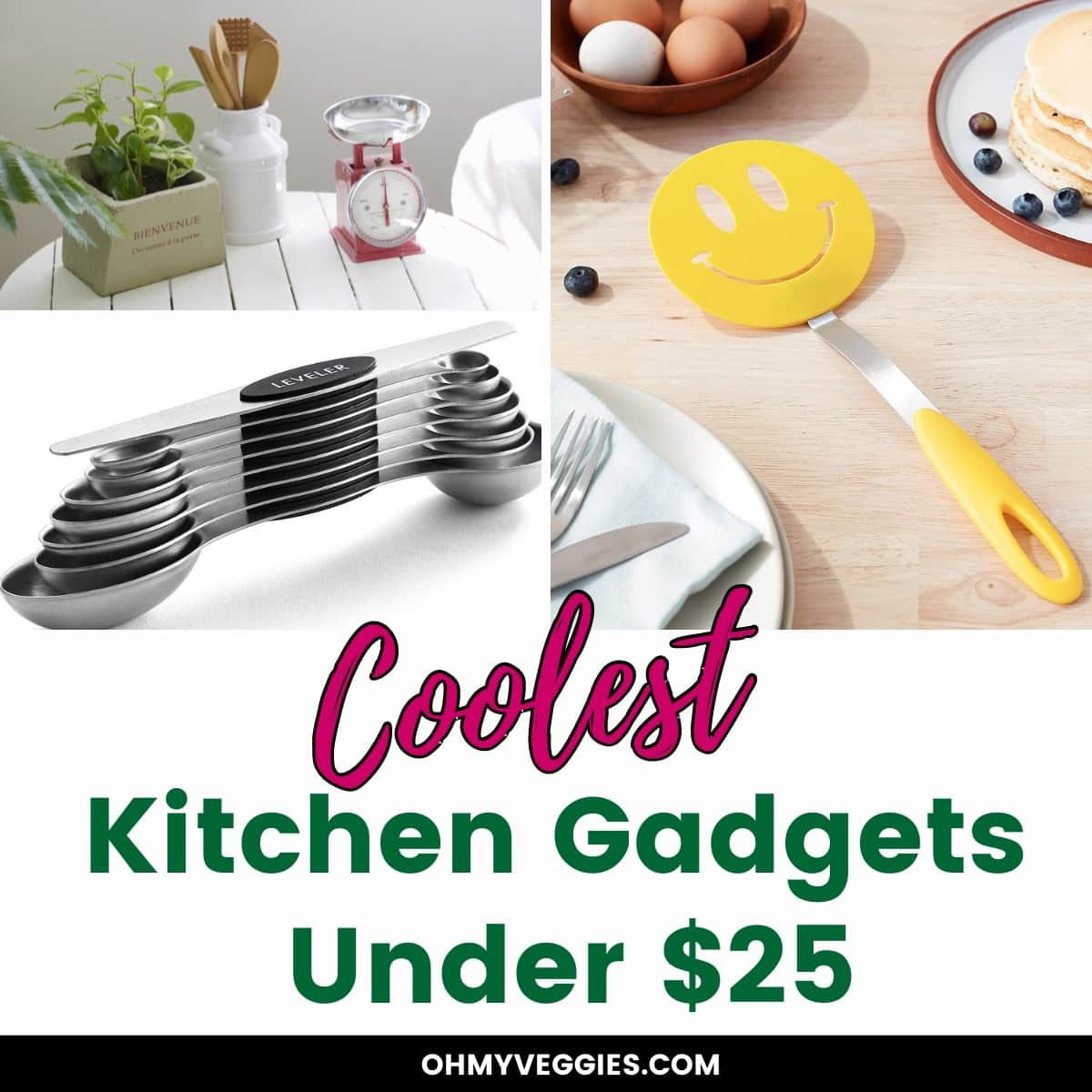 A few things to consider when picking a kitchen gadget are what its purpose is, if it matches your current décor, and whether it is affordable or not. Additionally, keep in mind where you will store the kitchen gadget after you've finished using it.
Coolest Kitchen Gadgets Under $25
Check out some of the coolest kitchen gadgets under $25 that are not just functional, but can add tons of personality into your kitchen.
A kitchen gadget like this will make feeding veggies to your children so much easier! With the Fullstar Vegetable Spiralizer & Slicer, make vegetables look like noodles or slice beautiful garnishes. This vegetable spiralizer is easy to clean and comes with a removable container to catch the spirals. (Mess free—YAY!) The Fullstar Vegetable Spiralizer & Slicer is perfect for all textures of vegetables and will add a fun twist to eating healthy!
This Oil Sprayer for Cooking can be used with any kind of oil, vinegar, soy sauce, and both lemon and lime juice. The sprayer produces a gentle mist, evenly coating whatever you are spraying. It is easy to clean and has a detachable straw for easy cleaning of obstructions. This gadget is the perfect addition to your cooking regime and will add some incredible flavors and colors to your food.
This KPKitchen Pancake Batter Dispenser is a must-have for every single kitchen. Think of all the things you make with batter—this dispenser can help with all of them: cupcakes, pancakes, cakes, and so much more! This dispenser will make your next batter-pouring experience mess-free. Finally, you can pour your muffins without getting the batter all over the muffin tin!
This Spring Chef Magnetic Measuring Spoons Set is made with heavy-duty stainless steel and made to last a lifetime. The measuring spoons look beautiful, are clearly labelled, and are magnetic so they all nest together tightly. Easy to store and keep together, these measuring spoons also come with a leveler to ensure that you get the exact measurement!
Enjoy your sushi nights with these exciting Lightsaber Chopsticks! These chopsticks are a must-have for all kitchens that like to have a little fun. Made with BPA-free plastic and food-grade LED lights, these chopsticks are the perfect kitchen gadget for those of us who long to visit a galaxy far, far away!
This Learja Collapsible Colander is perfect for those of us with limited kitchen space. Since this colander is collapsible, it can hang or be stored in a drawer or cupboard. This collapsible colander comes as a set of two and in several colors.
This silly mama is here to help you clean that disgusting microwave! The Angry Mama Microwave Cleaner is easy and fast to use and doesn't use any chemicals. Simply take off her head and hair, and then fill her up with vinegar, water, and lemon juice. Pop her in the microwave and—voila!—your microwave is sparkling clean!
Stop throwing out half-eaten bags of crackers, and keep all your food fresh and airtight with this cool kitchen gadget. This Mini Handheld Bag Sealer is perfect for cereal bags, chips, crackers, and so much more. It plugs in, so it doesn't need batteries. This awesome little kitchen gadget not only looks sleek and chic, but it will also help you reduce your food waste!
Imagine the expressions on everyone's faces the next time you pull this cool kitchen gadget out of the drawer! Bright yellow and smiley, this Tovolo Spatulart Smiley Face Spatula is made with flexible nylon and has smooth sides so it won't scratch or ruin any of your pans. The head of the spatula is also textured to ensure your food does not slip off. This smiley face spatula is a really cool kitchen gadget that every kitchen needs!
These Silicone Kitchen Cooking Utensils are sturdy and come with their own Rack. The utensils are made with food-grade silicone and are safe to use in all cooking environments. Additionally, they come in a few different colors so you can make sure that your set matches your kitchen's atmosphere.
Kitchen gadgets are a fun way to add personality into your kitchen's atmosphere. Some gadgets have really cool uses, some are silly, and some are just plain cute! But with all of these kitchen gadgets under $25, you don't have to choose just one.