Searching for the best copper induction cookware for your new induction cooktop? Then, you've arrived at the right place!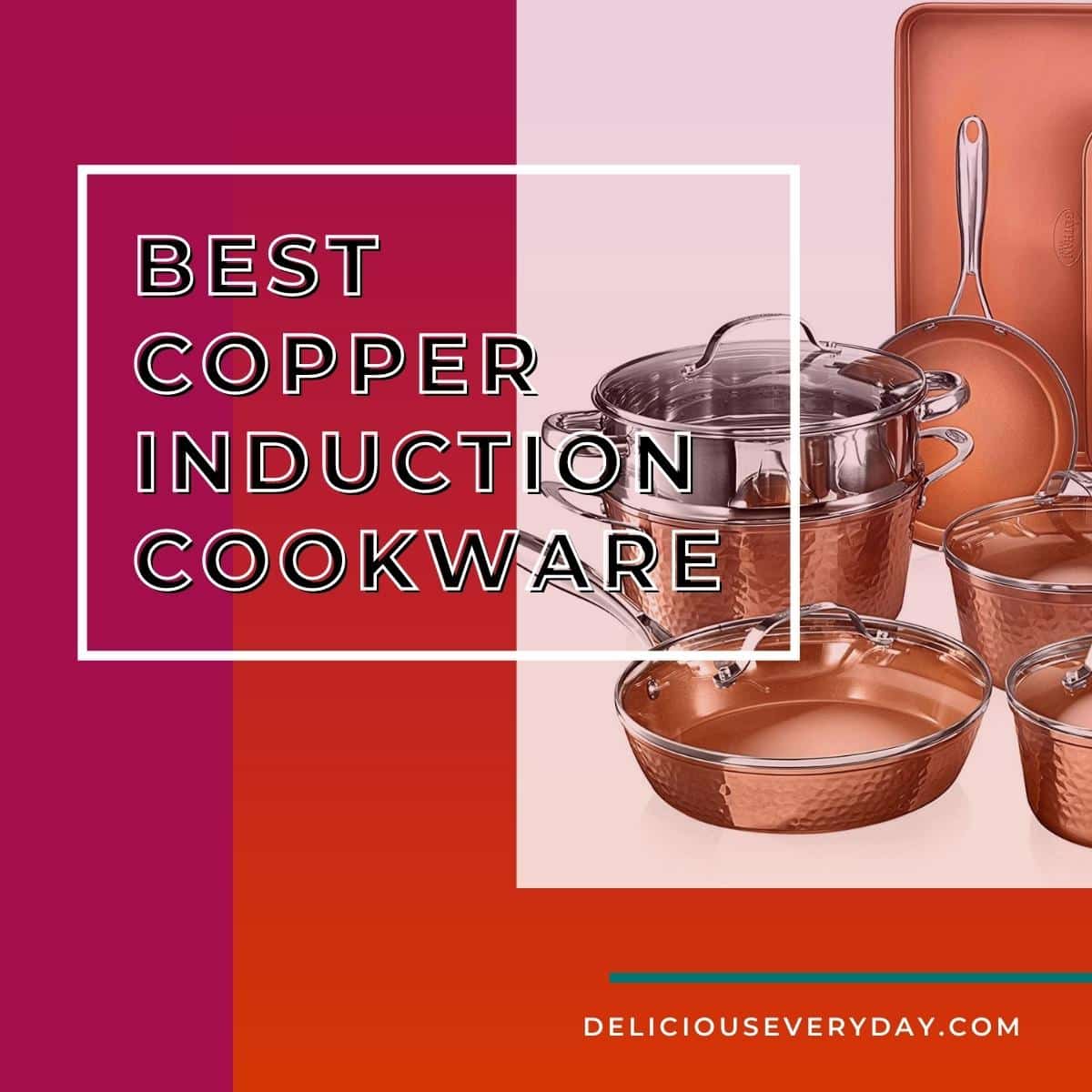 Whether you're renovating your entire kitchen top to bottom, or just adding in an induction cooktop, copper induction cookware is a must-have for all chefs!
An induction cooktop is a fantastic addition to your kitchen, however, they do require induction-compatible cookware.
After searching high and low and doing a ton of research, I'm coming at you today with the best of the best for copper induction cookware sets. I've gone through many sets and completed a bunch of research, and now I'm ready to share the results!
Best Copper Induction Cookware
Here are my top two picks for copper induction cookware. Keep reading for full reviews for each—and more!
Gotham Steel Hammered Copper Cookware Set
Anolon Nouvelle Copper Cookware Set
Beautiful copper color

Non-stick and lightweight

Oven safe to 500°F

Even heat distribution

Elegant, rich sable color

Fitted pot lids

Dishwasher safe

Looks beautiful

$$$
$$$
Check Price
Check Price
---
Gotham Steel Hammered Copper Collection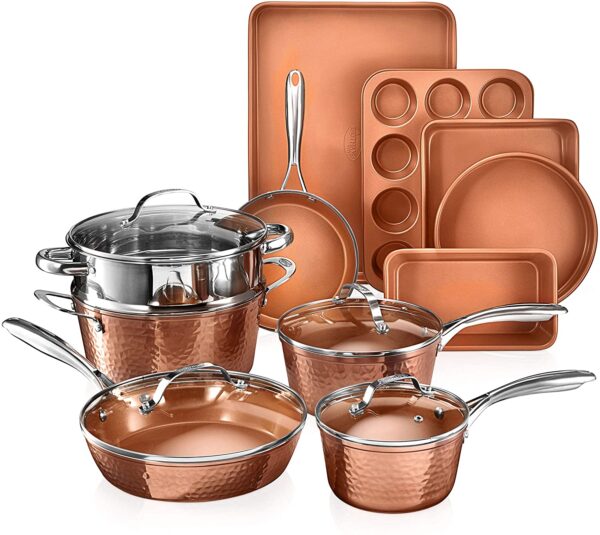 It would be pretty tough to beat the value of this set. It's a 15 piece set that includes everything you need. Gotham Steel is a fantastic kitchen brand that produces exceptionally high-quality cookware.
Gotham Steel carries various cookware ranging from grills and griddles to bakeware and pots and pans. This particular Gotham Steel copper set includes 15 pieces and is under $200. It's also very elegant and practical.
Gotham Steel hammered copper collection is made with their award-winning ceramic coating. This set encourages healthy and toxic-free cooking.
This set includes: 8.5" fry pan, 10.25" fry pan with a lid, 1.5 qt saucepan with lid, 2.5 qt saucepan with lid, 5 qt stockpot with lid, stainless steel steamer, cookie sheet, round baking pan, square baking pan, loaf pan, and muffin pan.
Additional pieces can be purchased, such as the 14" fry pan with a lid.
This copper induction set is lightweight, scratch-resistant, and dishwasher safe. In addition, each piece is oven safe up to 500°F and has tempered glass lids for easy food monitoring.
---
Anolon Nouvelle Copper Hard-Anodized Non-Stick Cookware Pots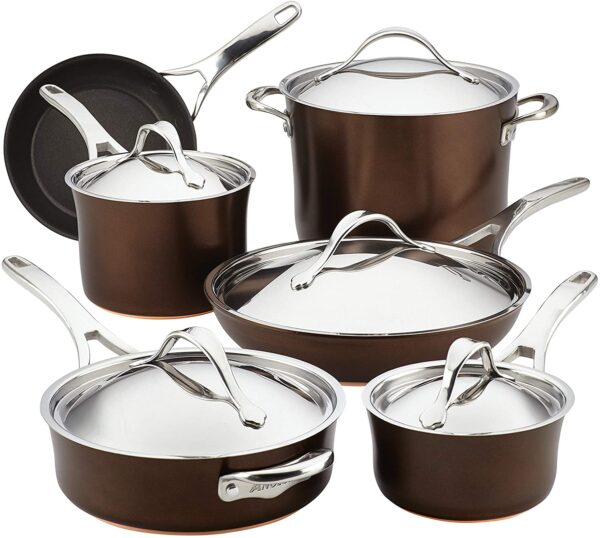 Anolon has been creating beautiful cookware for nearly 4 decades. They create cookware that are functional, durable, and look great. This particular set has 11 pieces and features a beautiful, rich brown color.
Anolon Nouvelle Copper cookware is a very high-quality cookware set. It allows for even cooking and heat distribution.
This set includes: 1.5-quart saucepan with lid, 3-quart saucepan with a lid, 8-quart stockpot with lid, 3-quart sauté with a lid and helper handle, 8.5-inch skillet, 12-inch skillet.
Like the Gotham Steel cookware set above, Anolon Nouvelle also carries other great products to add to your kitchen, such as cooking utensils and an excellent skillet set.
This set of pots features fitted lids and strong handles. They also are oven safe to 500°F and dishwasher safe.
---
Home Hero Copper Pots and Pans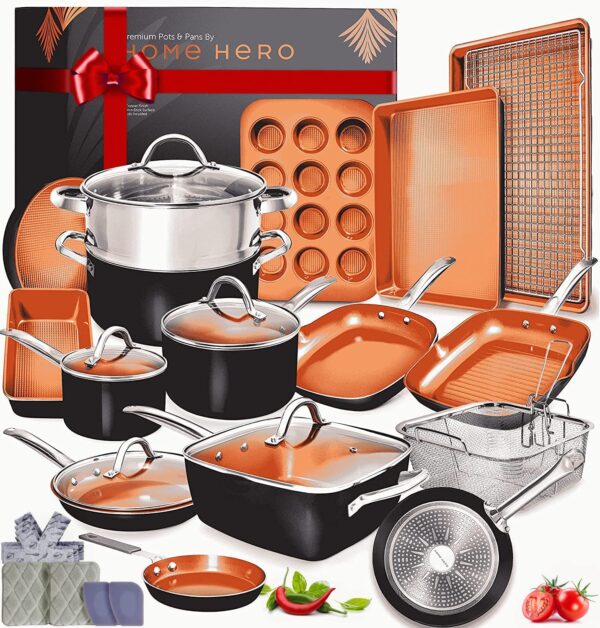 Home Hero is a beautiful kitchen brand that tons of home chefs across the world trust and love. They make various kitchen items ranging from utensils to knife sets to incredible pots and pans. This copper pot set comes with everything your kitchen needs!
These pots and pans have a special non-stick coating, making them easy to clean and fantastic to cook with. They allow for even cooking and feature a design that never warps.
This set includes: 8.5" frying pan, 10.25" frying pan with lid, 1.5 qt saucepan with lid, 2.5 qt saucepan with lid, 5.5" egg-pan (this one is not induction friendly), 4.8" qt deep-fry with steamer rack, 9.5" qt grill pan, 9.5" square pan, 5 qt casserole and steamer, 17.7" tray with a grid, 15.4" baking tray, 16" muffin tray, 9" deep tray, 9" round tray, 3 pan protectors, 2 cleaning sponges, and 2 scrapers.
Although this set comes with everything one would need and would make an excellent gift, Home Hero sells a few other products that would further compliment the cooking experience! Their 17 piece knife set and 25 piece kitchen utensil set are two that are definitely worth checking out!
This cookware is specifically designed with the user in mind. You can expect longevity and durability with the Home Hero Copper Pots!
---
Each of these sets is wonderful and has immense value. They are high-quality cookware sets, and I'm excited to add pieces to my collection!
I hope this post helped you find the best copper induction cookware for your induction stovetop!
Happy Cooking!