A fresh, vibrant vegan chickpea fritter sandwich loaded with avocado, fresh greens and easy panfried tomatoes. The chickpea fritters are crispy, fuss-free and delicious to eat by themselves, too! Serve with a side salad as a healthy dinner or make-ahead lunch.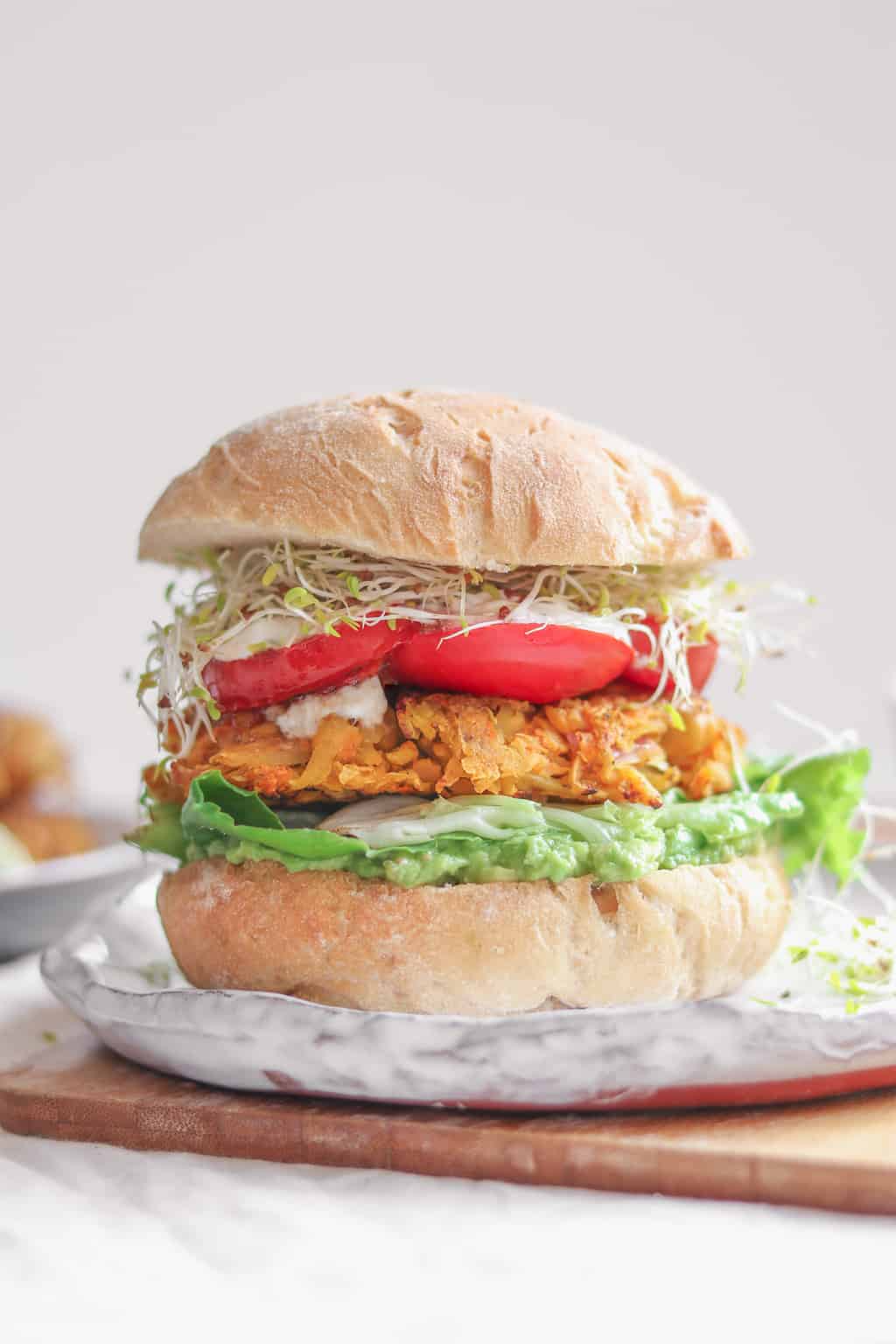 Disclosure: some of the links in this post are affiliate links. This does not result in any extra cost for you, but it does mean that I make a commission if you click through and make a purchase.
Hello to an all-time favourite of mine! That is, fritters. I used to eat these all the time as a kid, typically made from potato as a base, sometimes zucchini. I always make different variations of this dish and just watching them on the frying pan brings back countless positive memories, often related to summers in our family holiday home (or 'datcha', as they're known in Russian).
Anyway, let's not get too sentimental, even though sentimentality is a wonderful thing! At this moment, we're better off celebrating these vegan chickpea fritters and the concept of using them as a filling for a sandwich.
I didn't know whether to call these a sandwich or a burger, but because a fritter is quite different from a burger patty, I ended up going with the latter after thinking about it for a solid fifteen minutes. Decisions, decisions...
About these vegan chickpea fritters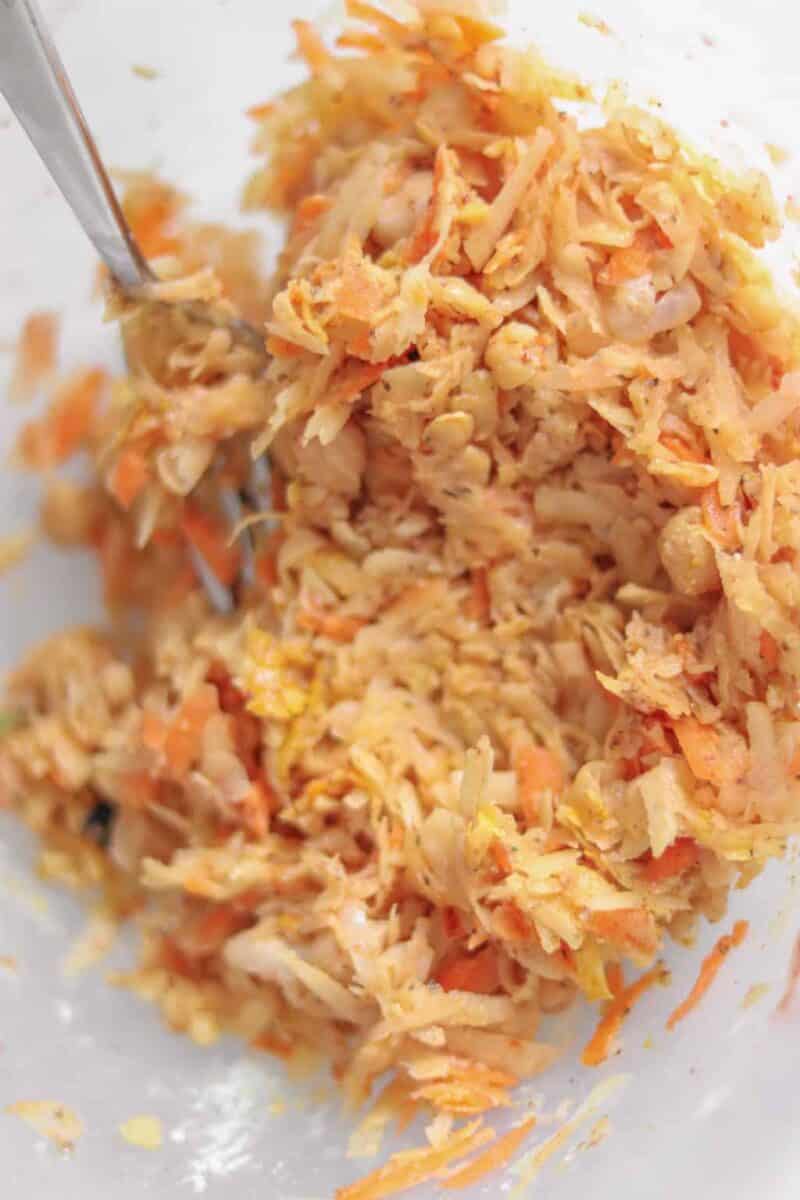 They are, of course, the star of the show here. I think that a good fritter is mostly crunchy, with a bit of softness on the inside, which is precisely what these achieve without much effort. The three main ingredients are:
Potatoes: yep, just any variety of white potato will do. However, sweet potatoes make exceptional fritters too, so feel free to switch things up if you feel adventurous!
Carrots: once again, simple but ideal for a hint of sweet flavour (and a great way to add 'hidden' veggies to your meals too).
Chickpeas: I used fresh chickpeas that I batch cooked for the week because I feel like they taste the best, but using canned works too in this recipe. With a pinch of Himalayan salt, I crushed them in a small mixing bowl before adding into the fritter mixture to make them easier to combine with the other ingredients.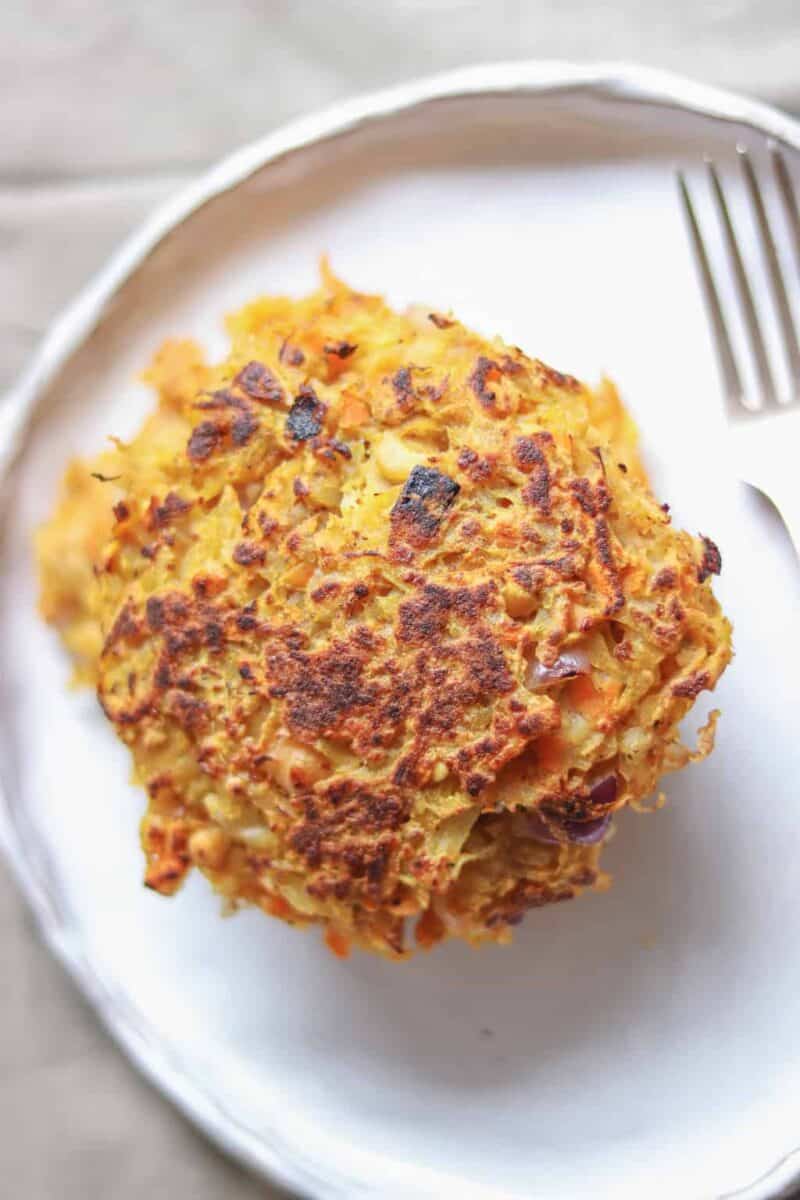 As you can see, these three kitchen staples come together into a recipe that's simple, but couldn't be further from boring.
How do you make these vegan chickpea fritters crispy (and ensure they don't fall apart)? You have to squeeze as much water out of the grated potatoes as possible using a kitchen towel.
Then, in a mixing bowl, flavour everything with garlic, ginger, paprika and turmeric. Add a few tbsps of chickpea flour and a flax egg (1 tbsp ground flaxeed and 2 tbsp water) to keep them together. After that, you're ready to start frying!
Serving suggestion: chickpea fritter sandwich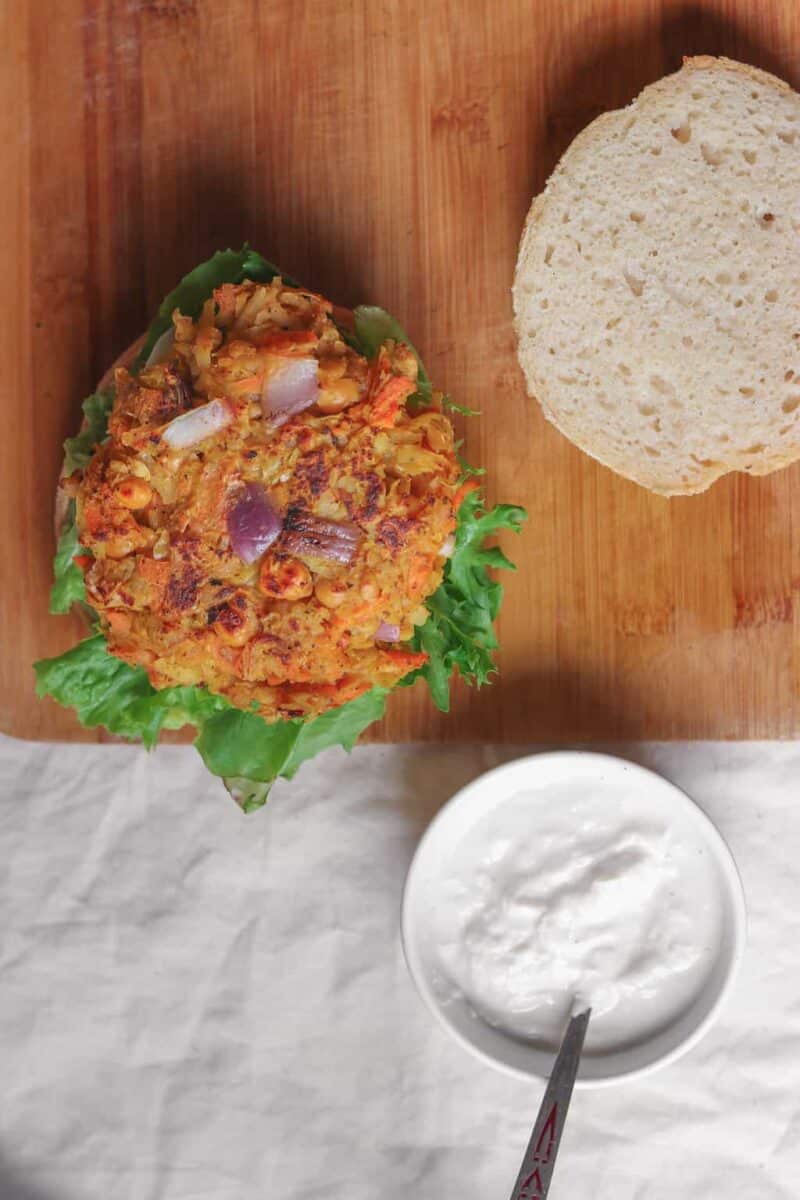 Of course, the fritters are delicious to eat by themselves with a dipping sauce (or by themselves full stop - that's how good they are). But being the bread lover I am and a pretty *extra* human being in general, I chose to turn them into a sandwich filling.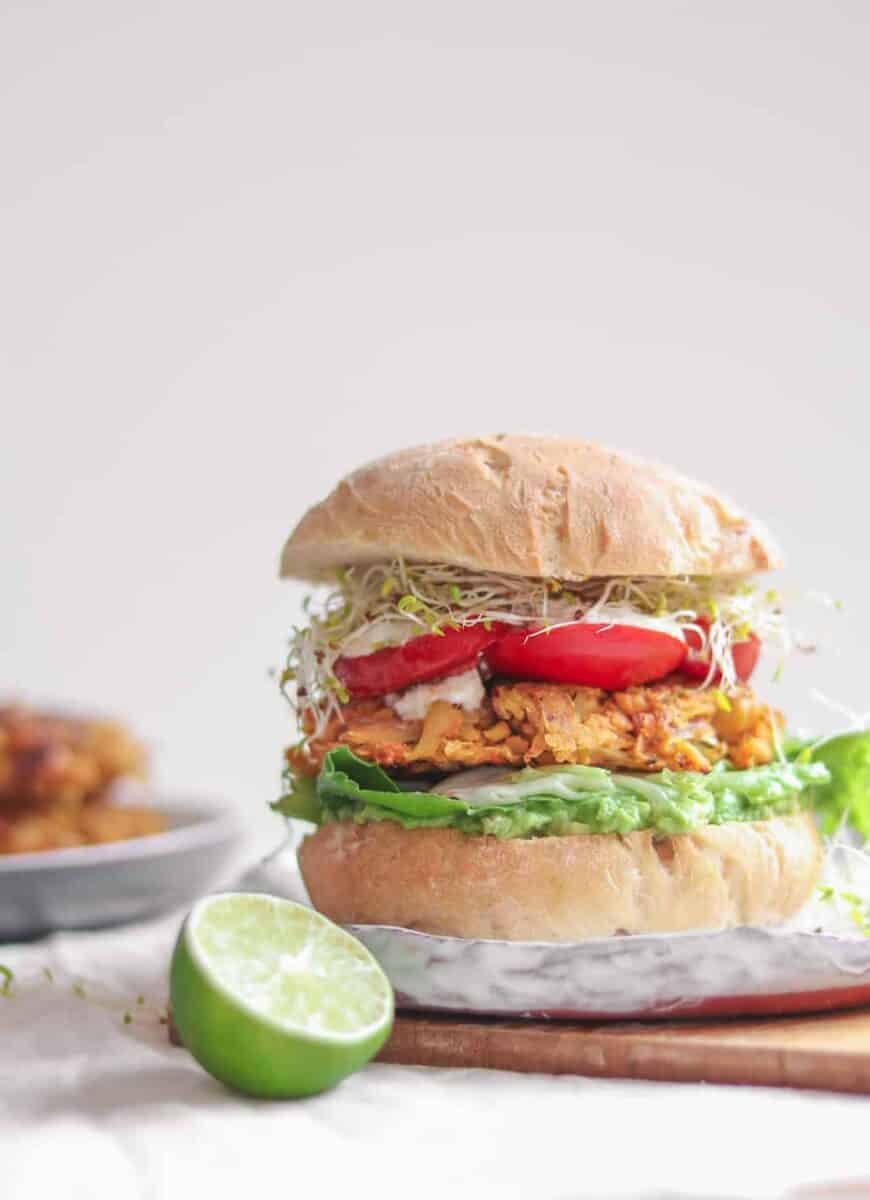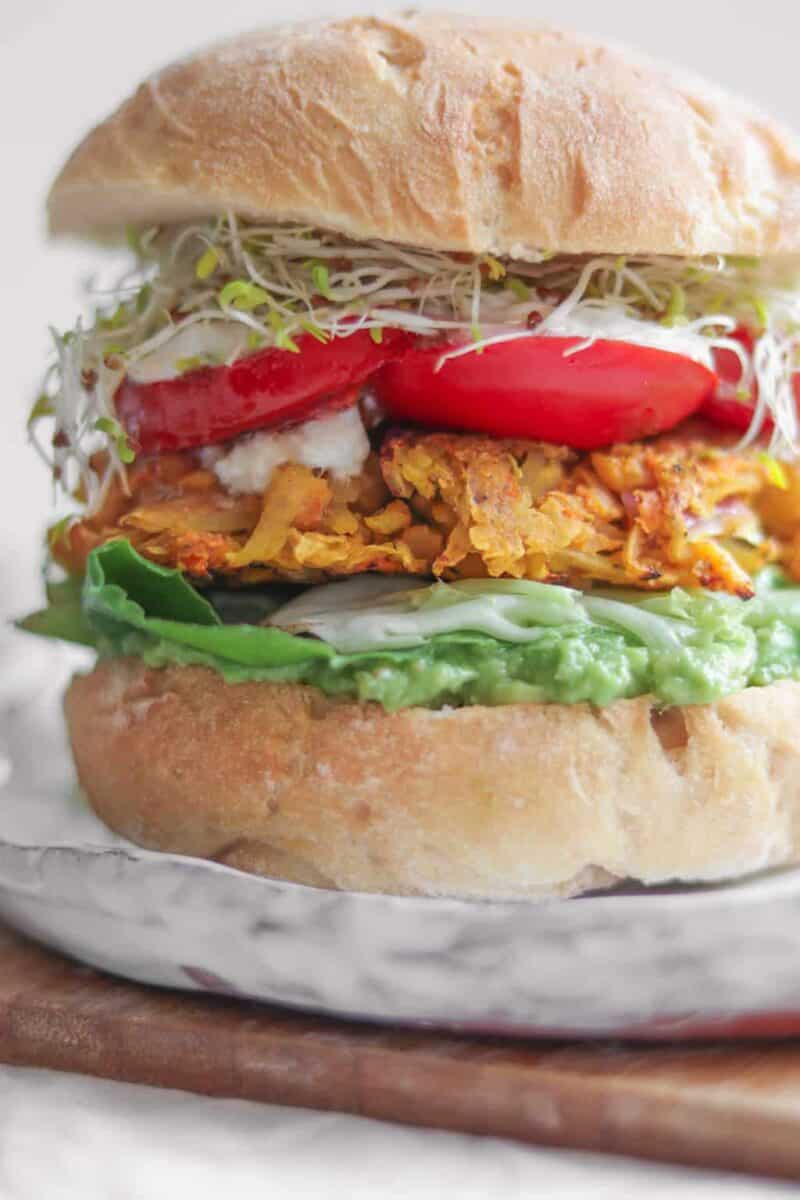 I used gluten-free bread rolls I brought from a local bakery, but any buns of your choice will work for this recipe - even better if you bake them yourself! Alternatively, if you want more of a classical sandwich feel, these are exceptional between two slices of bread. Or how about making a 'nourish bowl' with a handful of mixed greens and a side of rice/noodles?
The other fillings I used are:
Pan-fried tomatoes: arguably, no good sandwich is complete without tomatoes. More precisely, panfried tomatoes that are zero-fuss and take minutes to cook while you prepare the chickpea fritter mixture.
An easy avocado sauce.
Mixed greens.
Alfalfa sprouts.
A drizzle of soy yoghurt for a hint of freshness.
Why do I love these chickpea fritter sandwiches so much?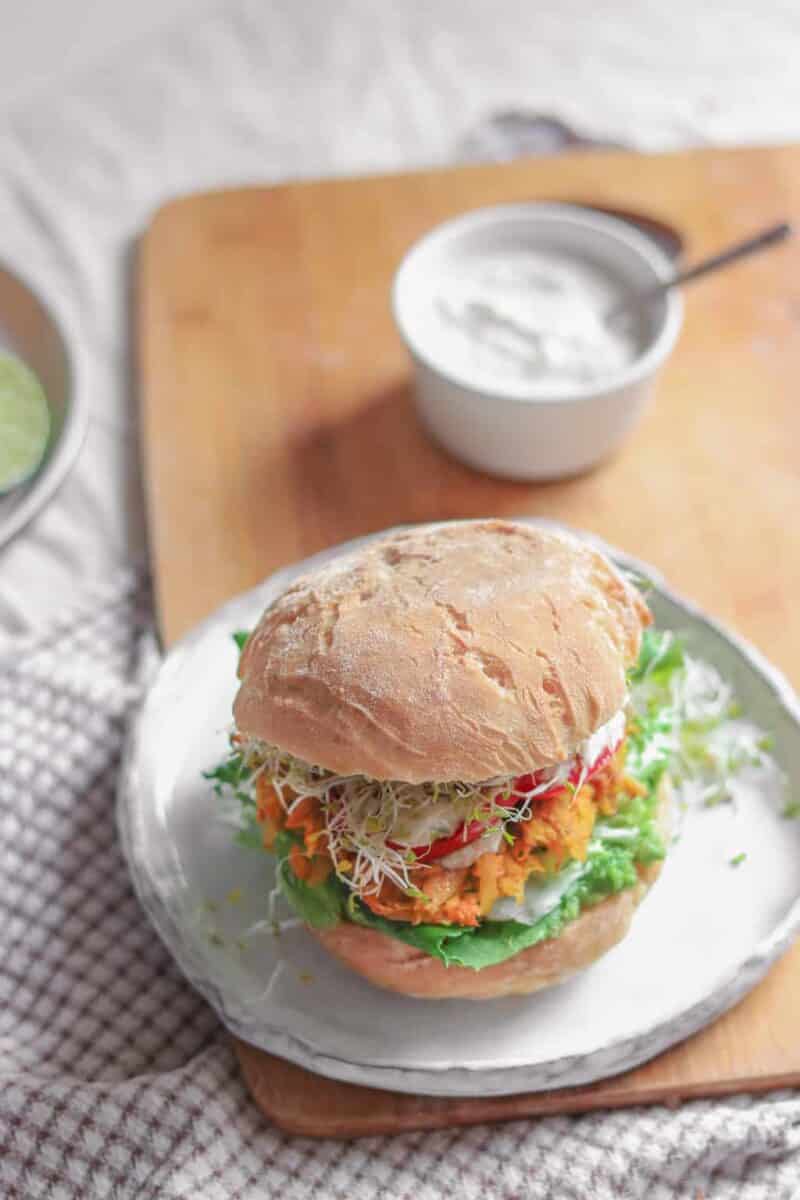 Apart from being super fun to make, they're:
Easy. From drying out too much in the oven to falling apart, traditional vegan burger patties can be hard to perfect. These fritters, however, are 100% beginner friendly.
Ready in under twenty minutes and fuss-free. No fancy equipment needed, just a mixing bowl and a frying pan!
Customisable. Add other vegetables of your choice, such as bell peppers, sweetcorn and zucchini to the fritter batter, and switch up the spices to make the flavour your own. Likewise, add any of your favourite ingredients to the finished sandwich. Vegan mayo and/or ketchup can work exceptionally well in place of the soy yoghurt.
Non-vegan approved!
Oil-free. Just remember to use a good non-stick frying pan, such as the one I use by Circulon.
Just as good for your body as it is for the tastebuds, and perfect after a tough workout.
Mealprep and lunchbox friendly.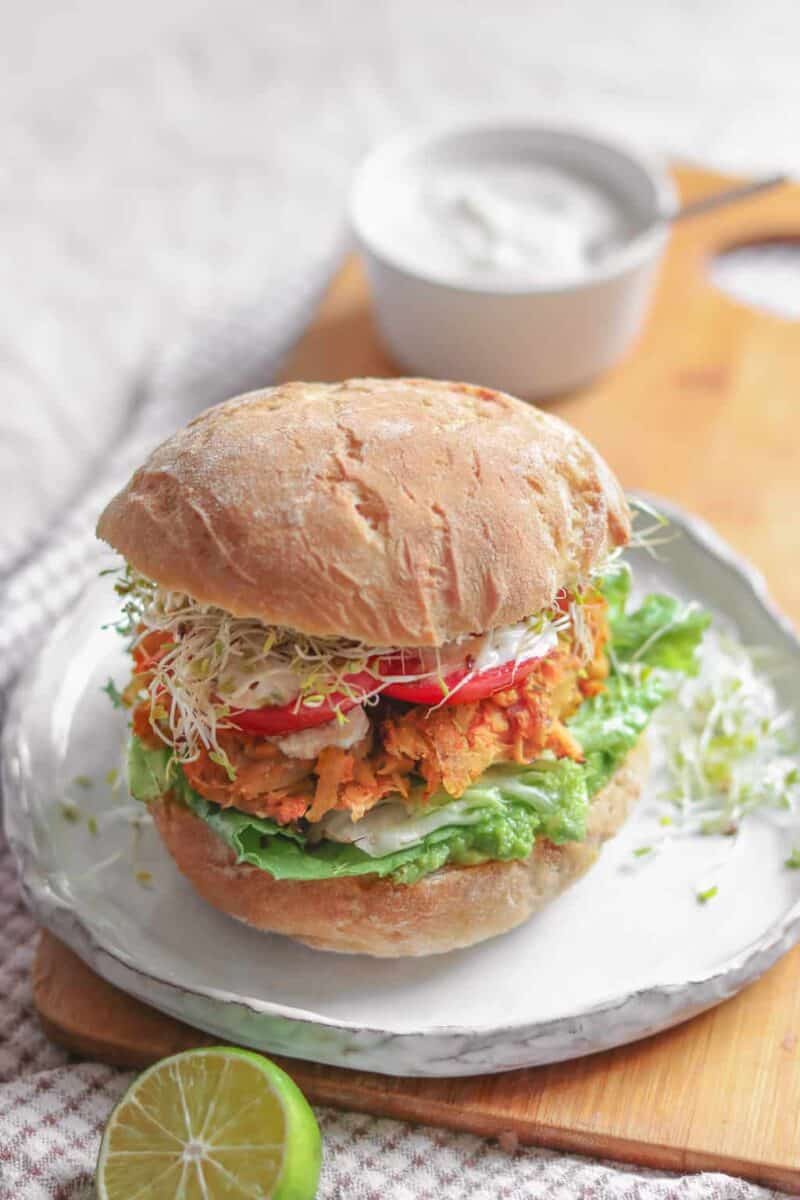 Serve with a generous portion of salad as a side (being honest here, I had mine with fries because potato twice in one meal is always a brilliant idea).
Other recipes you might enjoy...
Let me know in the comments: what's your favourite way to cook with potato? If you give this recipe a go, be sure to tag me on Instagram (@ohmyveggies) so I can see your creations, and leave a rating below to let me know your thoughts.
Recipe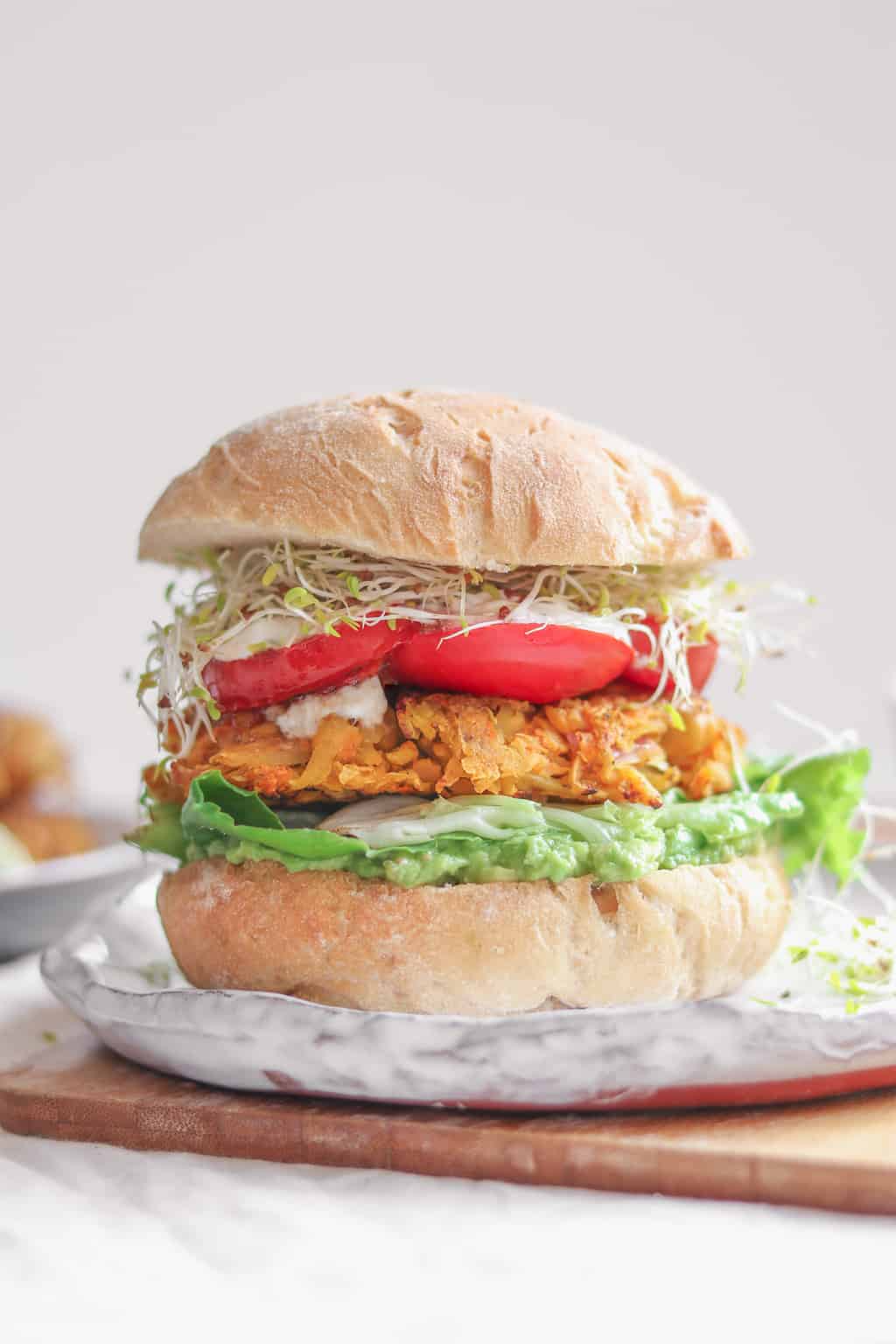 Ingredients
4

large

vine tomatoes

cut into circles

¾

cup

cooked chickpeas

pinch

pink Himalayan salt

1 ⅓

cups

grated potato

2

medium

carrots

grated

1

clove

garlic

minced

1

1 inch piece

ginger

peeled and grated

½

large

red onion

finely chopped

½

tsp

paprika

½

tsp

garlic powder

½

tsp

turmeric

3

tbsp

chickpea flour

1

flax egg

1 tbsp ground flax seeds + 2 tbsp water)

black pepper

to taste
To serve (optional):
4

gluten-free burger buns

2

small

avocados

pinch

pink Himalayan salt

large handful

mixed greens

alfalfa sprouts

soy yoghurt
Instructions
Heat a non-stick frying pan over a medium-high heat. Cook the tomatoes for around 2 minutes on each side.

In a small bowl, lightly crush the chickpeas using a fork and add a pinch of pink Himalayan salt.

In a large mixing bowl combine the chickpeas, grated potato, carrot, garlic, ginger, red onion, paprika, garlic powder, turmeric, chickpea flour, flax egg and black pepper. Stir until the ingredients are thoroughly combined.

Remove the tomatoes from the heat and set aside. Spoon ¼ of the fritter mixture into the same frying pan and flatten down into a roughly circular shape, repeating with the rest of the batter. Cook the fritters for around 3-4 minutes on each side. Meanwhile, mash the avocados in a mixing bowl, adding pink Himalayan salt to taste.

Assemble the sandwiches by firstly layering on the avocado sauce, followed by the mixed greens, fritters, tomatoes, soy yoghurt and alfalfa sprouts. Serve straight away. The fritters can be stored in the fridge in an airtight container.
Nutrition
Calories:
492
kcal
Carbohydrates:
72
g
Protein:
10
g
Fat:
21
g
Saturated Fat:
3
g
Sodium:
518
mg
Potassium:
1437
mg
Fiber:
16
g
Sugar:
10
g
Vitamin A:
6900
IU
Vitamin C:
46
mg
Calcium:
102
mg
Iron:
4.7
mg
Craving more veg-friendly recipes?
Shop our collection of vegetarian and vegan cookbooks, including our new Vegan Thanksgiving and Vegan Christmas cookbooks!