Sometimes I think I might have missed my life's calling, which was obviously to be a pizza-topping-thinker-upper. The options are ENDLESS! And somehow always tasty. Funny how that works.
Maybe it's because I come from a long lineage of pizza bakers, but I've never felt particularly tied down by the traditional tomato sauce + mozzarella + basil combo. There are just too many other flavors out there that need to be piled on top of a disc of dough for me to stick with just one for the rest of my life...instead I want to try them ALL. And I'm taking you along with me.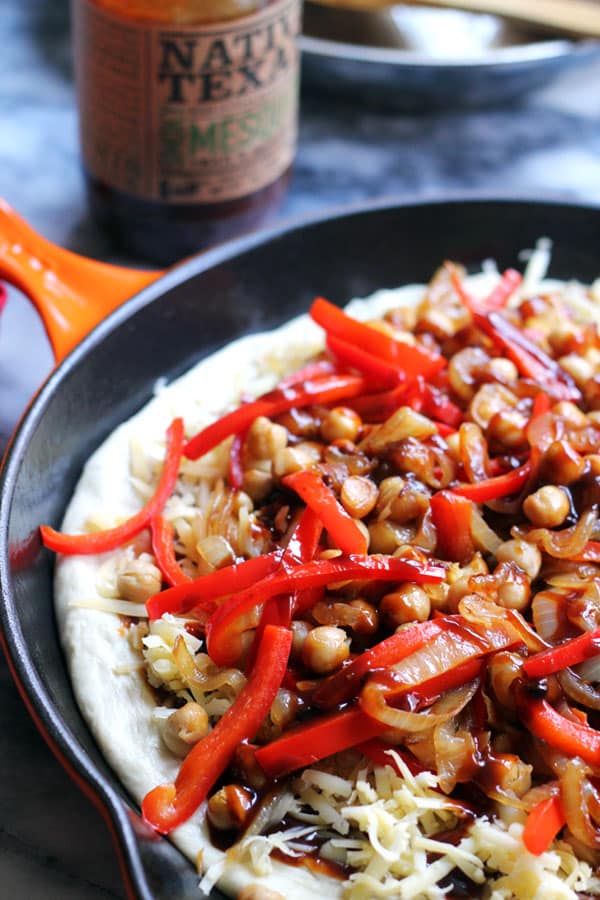 This BBQ sauce and chickpea medley has actually been lurking around my brain for a while as a potential pizza topper. It's modeled after a BBQ chicken pizza from California Pizza Kitchen that I ate way too much of in college and have been jonesing to vegetarianize ever since! Barbecue sauce serves as the sauce and it's topped with layers of gooey gouda, caramelized onions and peppers, and chickpeas. I highly recommend going spicy with the barbecue sauce that you use for this, otherwise it comes off as a little bit too sweet with the sweet caramelized onions and the sweet peppers.
Because I love a good thick crust, I made this deep dish style. The advantage of this is that deep dish dough only takes about a half hour to rise instead of the two hours required for thin crust dough. However, if you're using storebought dough (which is totally fine!), you can go either way as long as you adjust the baking time and temperature accordingly (see instructions in the recipe below).
Recipe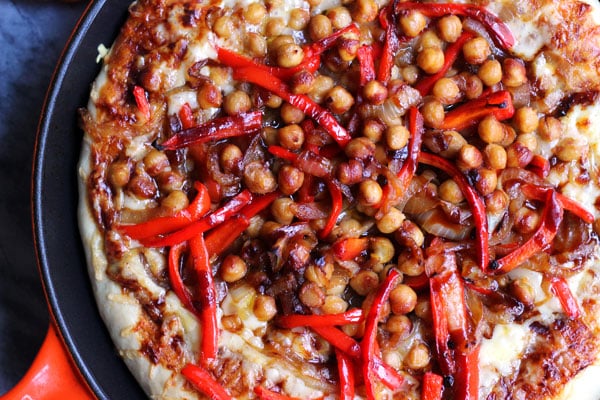 Ingredients
For the pizza crust:
For the pizza toppings:
2

tablespoons

olive oil

1

large yellow onion

thinly sliced

Salt and black pepper

to taste

1

tablespoon

water

1

red bell pepper

seeded and thinly sliced

1

14.5-ounce can chickpeas, drained, rinsed, and dried

⅓ - ½

cup

barbecue sauce

8

ounces

gouda

grated
Instructions
For the crust, in a small bowl whisk together the yeast, ¼ cup of water, and a pinch of sugar. Let the mixture sit while you prepare the rest of the dough. Meanwhile, in the bowl of a stand mixer fitted with the bread hook attachment, combine 2 cups of bread flour, olive oil, salt, and remaining water. When the yeast becomes foamy, add it into the bowl with the flour. (If the yeast doesn't become foamy, it may be dead and you'll have to start over with new yeast.)

Mix the dough on medium speed until well-combined. If the dough is still sticking to the sides of the bowl after a minute or mixing, then add in more flour. Mix on medium-high speed for 4 minutes. Cover lightly with plastic wrap and let the dough rise in a warm, draft-free place until doubled in size, about 30 minutes.

Meanwhile, heat the oven to 425ºF.

In a large skillet, heat the remaining olive oil over medium heat. Add the onions to the pan along with a sprinkle of salt. Saute for 8-10 minutes, stirring every 2 minutes, until starting to caramelize and brown. Add a tablespoon of water to the pan and saute for another 3-4 minutes. Stir in the bell pepper slices and saute until tender and starting to brown, about 3-4 minutes. Stir in the chickpeas. Season to taste with salt and black pepper.

Grease a 12-inch oven-proof pan or cast-iron skillet. Spread the dough in the skillet so that it reaches the sides. Top with ⅓ cup of the barbecue sauce, spreading it around the dough and leaving a ½-inch edge for the crust. Top with the grated cheese and the vegetable chickpea mixture. Drizzle with 1-2 tablespoons of additional barbecue sauce, or to taste.

Put the pan in the oven and bake for 15 minutes or until the cheese is bubbling and the bottom of the dough is golden brown. Let cool for 5 minutes, then slice and serve.
Notes
To save time, you can always use storebought pizza dough to make this recipe! Just make sure it comes to room temperature before using it.
Additionally, this pizza can be made thin crust instead of deep dish by making it on a 14-inch pizza pan. In that case, bake at 500ºF for 10 minutes.
Nutrition
Calories:
753
kcal
Carbohydrates:
89
g
Protein:
27
g
Fat:
32
g
Saturated Fat:
12
g
Polyunsaturated Fat:
3
g
Monounsaturated Fat:
15
g
Cholesterol:
65
mg
Sodium:
1669
mg
Potassium:
453
mg
Fiber:
5
g
Sugar:
24
g
Vitamin A:
1386
IU
Vitamin C:
40
mg
Calcium:
441
mg
Iron:
2
mg
Craving more veg-friendly recipes?
Shop our collection of vegetarian and vegan cookbooks, including our new Vegan Thanksgiving and Vegan Christmas cookbooks!