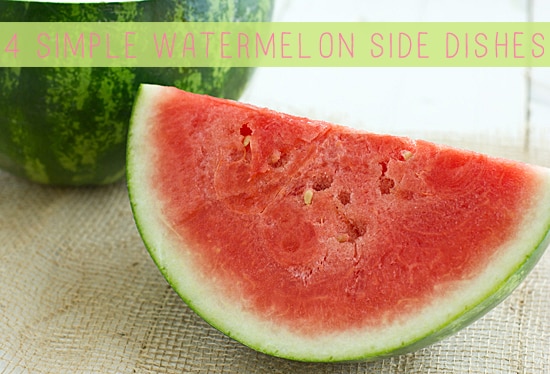 Do you have more watermelon than you know what to do with? Try one of these 4 simple watermelon side dish ideas. They're easy & healthy too!
Watermelon Season
It's almost the end of summer. Watermelon is cheap and at its peak of deliciousness, so when you see a ginormous watermelon at the farmers market for $4, you buy it. And then you realize that you have a LOT of watermelon on your hands. What are you going to do with it?
(Oh, and by you, I mean me. That was me that bought the ginormous watermelon.)
Well, here's your answer: 4 simple watermelon side dish ideas. They're healthy and easy too!
Kalamata Olives & Basil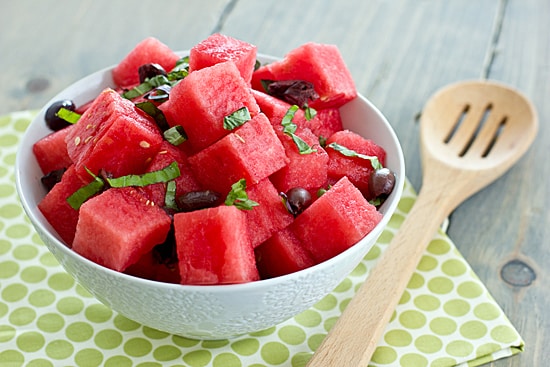 Okay, I know most people would be inclined to add feta to this. Well, I don't like feta! Toss some cubed watermelon with fresh basil leaves and some halved kalamata olives. If you're a fan of sweet-and-salty, you will love this salad.
Mint & Lime Juice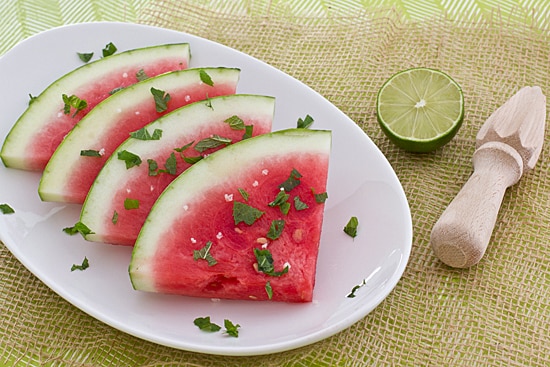 Squeeze fresh lime juice over watermelon slices and sprinkle with coarsely chopped mint leaves and a few pinches of sea salt. Watermelon slices never tasted so good!
Cilantro & Jalapeno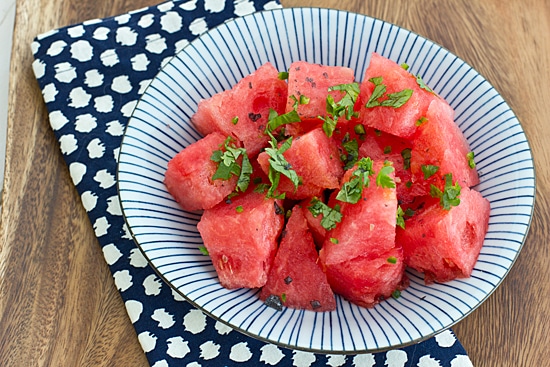 The perfect side dish for taco night! Seed and mince a jalapeno and chop some cilantro, then toss it with cubed watermelon and a drizzle of extra virgin olive oil. Sprinkle with a dash of salt (I used black sea salt, in case you were wondering what those little black flecks are in the photo).
Ginger Syrup & Lime Zest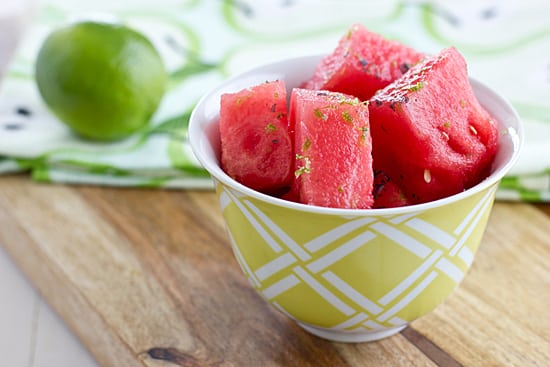 Is your watermelon a wee bit under-ripe? It's okay! You can fix that! Combine ¼ cup of sugar, ½ cup of water, and a 2-inch piece of ginger (peeled and sliced into coins) in a small saucepan. Bring to a boil over medium-high heat, then decrease the heat to low. Simmer for 10 minutes, then remove from heat. Once mixture has come to room temperature, pour it through a fine mesh strainer over about 6 cups of cubed watermelon. Stir in zest from one lime and serve.
What's your favorite way to serve watermelon?