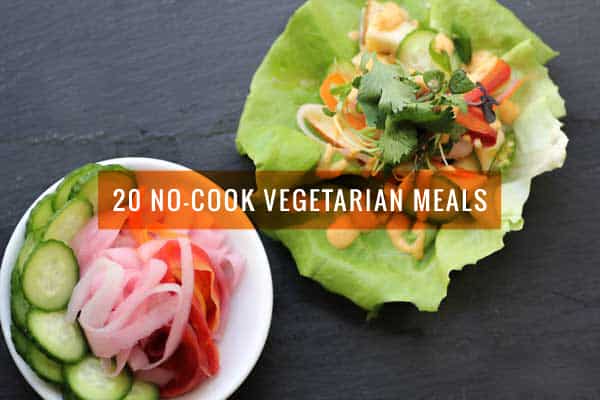 Once the summer heat hits, who wants to spend a bunch of time hovering around the stove? Not us! For this reason, we love no-cook vegetarian meals that are satisfying, easy to throw together at a moment's notice, and healthy to boot. Why use the oven when you can enjoy meals in the raw?
From bountiful bean salads to vegetable "noodle" entrees to wholesome raw tacos, here are 20 no-cook vegetarian recipes and ideas to help you keep your cool all summer long.
Mango Tempeh Lettuce Wraps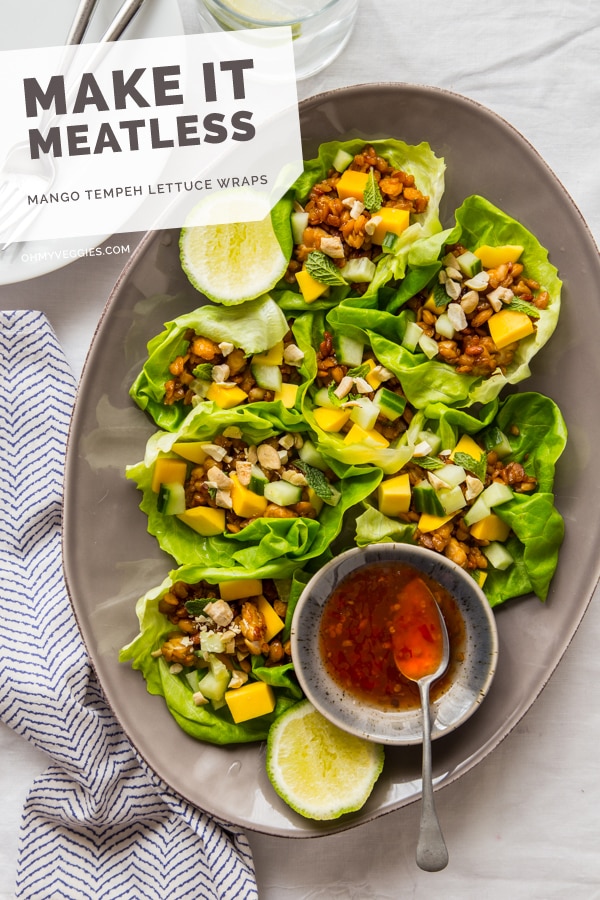 Crumbled tempeh and sweet champagne mangoes make a perfect filling for these easy vegetarian lettuce wraps. Inspired by Williams-Sonoma's Pork and Mango Lettuce Wraps.
Smashed Chickpea & Avocado Salad Sandwiches
This no-mayo chickpea salad from Two Peas and Their Pod makes for excellent sandwiches, and can also double as a dip! Perfect for easy dinners al fresco or picnics at the beach.
Raw Carrot Pasta with Ginger-Lime Peanut Sauce
Vegetable "noodles" made with a spiralizer are a super stove-free solution, perfect for scorching summer days. Here, The Roasted Root serves up raw carrot noodles with cashews and ginger-lime peanut sauce for a fast and healthy meal.
Raw Nori Rolls with Red Cabbage
This Rawsome Vegan Life offers up rolls packed with carrots, zucchini, cucumbers, avocado, and more. Served with a delicious miso tahini sauce, these raw nori rolls truly are rawsome!
Meze Platter
Here's an idea - instead of cooking, put together a spread of Mediterranean favorites like olives, hummus, and pita bread and let everyone fill up their plates with deliciousness! Kitchen Treaty shows you how.
Black Bean and Feta Tacos with Strawberry Mango Salsa
Who says tacos have to take a lot of effort and time? These simple - yet tasty - tacos from Eats Well with Others not only make for the perfect no-cook summer dinner, but the pretty salsa makes the most of fresh in-season fruit.
Cucumber Chickpea Salad with Lemony Tahini Dressing
With fresh mint and a bright lemon-tahini dressing, this cucumber chickpea salad makes a hearty, healthy entree. But we love that it can also do double duty as a super-satisfying side!
Shaved Cauliflower Salad

Try your hand at shaved cauliflower for this veggie-packed dish from Happyolks. Radicchio joins up with parsley, walnuts, cauliflower, and a tangy Dijon dressing for a satisfying meal. The recipe calls for oven-glazed walnuts, but you can leave them raw!
Sprouted Quinoa Bowl with Kale Almond Pesto
Tasty Yummies shows us how to sprout quinoa and dress it up with delicious kale almond pesto. Along with the kale, sprouted quinoa is also packed with nutrients, so this one is an especially healthy no-cook option.
Radish and Cabbage Salad with Peanut Dressing
Dishing Up the Dirt brings us a farm-fresh cabbage salad with radishes, carrots, cilantro, avocado, and a creamy peanut dressing. Bonus: This crisp, satisfying salad takes just 10 minutes to make!
Green Zebra Gazpacho with Cucumber and Avocado
Heirloom Green Zebra tomatoes are the star of this chilled soup from Kalyn's Kitchen. Usually gazpacho is on the light side, but avocado makes this version more of a meal.
Roasted Red Pepper and Mozzarella Sandwiches with Arugula Pesto
These hearty vegetarian sandwiches are the perfect summer fare. To keep away from the oven, just use jarred, store-bought roasted red peppers. Or skip the peppers entirely and slice up a juicy, fresh-from-the-vine heirloom tomato to use instead!
Green Goddess Detox Salad
Pinch of Yum serves up this incredible salad that includes detoxifying veggies along with creamy feta and crunchy almonds. And then it's all dressed up with a vibrant homemade green goddess dressing. Three cheers for going green!
Zucchini Pasta with Two-Tomato Pesto
To Her Core spirals up zucchini noodles and serves it with a tangy tomato-basil pesto and pine nuts for crunch. This flavor-packed no-cook option is delicious, healthy, and oh-so easy to prepare.
Cauliflower Couscous with Cherries and Sumac-Lemon Vinaigrette
With sweet-tart cherries, fresh herbs, and raw cauliflower "couscous," this creative salad from Dolly and Oatmeal is sure to steal the dinnertime show. The clincher? That lemony sumac vinaigrette that couldn't be more summery if it tried.
Greek-Flavored Butter Bean Salad
An Edible Mosaic offers this Greek-inspired butter bean salad bursting with bold flavors. Serve a hearty scoop alongside wedges of pita bread - or better yet, stuff it inside the pitas for grab-and-go goodness!
Mango Black Bean Salad
Fight fire with fire! With jalapeno peppers in the mix, this light, fresh black bean salad features a nice hit of heat to go along with the weather. We love it as a filling for tacos or lettuce wraps.
Avocado Smash Wrap
These wraps from The Spicy RD make an especially great meal-on-the-go. Filled with creamy avocado chickpea spread and all your favorite raw veggies, they might just make you forget you own an oven!
Spicy Asian Slaw Summer Rolls
Filled with fresh bell peppers, crunchy radicchio, spinach, and more, these raw summer rolls from The View from the Great Island are fresh, tasty, and fun. As if the rolls themselves weren't spectacular enough, the cool coconut dipping sauce really seals the deal.
Swiss Chard Wraps with Raw Walnut Taco "Meat"
These vegan tacos from Tasty Yummies are made with a hearty raw walnut "meat," and served up with creamy avocado and a smoky tomato vinaigrette. Yum indeed!