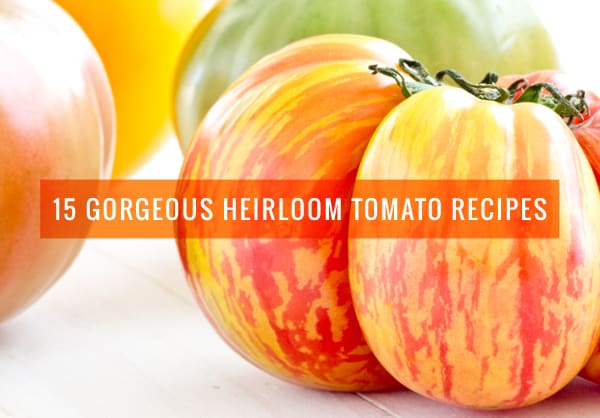 Heirloom tomatoes are beloved for their seemingly endless range of colors, their wide variety of shapes and sizes, and -- of course -- their unparalleled flavor. And we're right there, front and center -- proud card-carrying members of the Heirloom Tomato Fan Club. In fact, we didn't think we could love them any more, until we laid eyes on these stunning recipes, each one showcasing the summer gems in a different way. We have a feeling you'll agree, so without further ado, here are 15 Gorgeous Heirloom Tomato Recipes.
Smoked Cheddar Grits with Broiled Heirloom Tomatoes
These creamy and cheesy Carolina grits are topped with juicy heirloom tomatoes and then broiled until perfectly blistered. We adore this versatile Southern-style summer dish.
Ratatouille Pizza
We're having another "why didn't we think of that?" moment. Classic ratatouille veggies - zucchini, tomatoes, and eggplant - make an appearance on this inspired pizza from Cafe Johnsonia. And it also just happens to be gluten-free and dairy-free!
Polenta Tart with Heirloom Tomatoes
Both heirloom and cherry tomatoes top seasoned polenta in this stunner from The View From Great Island.
Black Bean Falafel with Heirloom Tomato Salsa
Falafel meets Tex-Mex in this creative recipe from Little Ferraro Kitchen. But the clincher, of course, is the colorful (and spicy!) heirloom tomato salsa topper.
Heirloom Tomato & Avocado Farro Salad with Mint Lime Dressing
Creamy avocados and juicy heirlooms are a natural pair, and here, The Roasted Root brings them together in this satisfying farro salad. Fresh mint and zippy citrus further highlight those sensational summer flavors.
Sauteed String Beans with Heirloom Tomato Marinara Sauce
Heirloom cherry tomatoes burst with flavor in this bright marinara-and-green-bean dish from With Food + Love. Plus, it only takes 20 minutes to make!
Tomato Rainbow Bruschetta with Basil Ricotta
Who cares about a pot of gold?! We're perfectly happy with this rainbow of deliciousness from Leaf + Grain.
Chilled Tomato Peach Soup with Pistachio Basil Pistou
Yellow heirlooms, perfectly ripe peaches, and fresh basil - pureed and then topped with a pistachio-basil blend. This chilled golden soup from Gourmande in the Kitchen is pretty much summer-in-a-cup.
Heirloom Tomato Pasta Salad
There's a healthy secret lurking in this pasta salad's seemingly decadent sauce -- but we're not telling! We're too busy imagining ourselves dining on this creamy heirloom tomato salad from Eats Well With Others.
Grilled Caprese Naan Pizza
No fuss, no muss. Tasty naan forms the "crust" of these easy grilled caprese-inspired pizzas made with colorful heirloom cherry tomatoes.
Tomato Chèvre Tart
Simply-seasoned tomatoes top a golden all-butter crust - and then it's all dotted here and there with creamy chevre. This tantalizing tart from Brooklyn Supper has us very, very tempted.
Fried Green Heirloom Tomatoes
The View From Great Island gives us ripe, juicy, perfectly sweet green heirlooms in fried-green-tomato form. We love the spike of cayenne.
Heirloom Tomato, Peach & Burrata Salad
With only five ingredients, it's a breeze to make this simple seasonal stunner from Two Peas and Their Pod. Summer-sunset colors paired with creamy burrata cheese and a drizzle of balsamic reduction make for one sensational salad.
Cabernet Portabella Burgers
The mascot of veggie burgers, the portabella mushroom burger, gets classy with both a douse of red wine and juicy slabs of perfectly ripe heirloom tomatoes. Here, here!