Is there anything more satisfying than soup? (No. No, there is not.) Whether you enjoy a lazy Sunday-night supper, or you're making it in bulk for cheap, healthy lunches, here are our go-to product picks for making the best vegan and vegetarian soups and stews.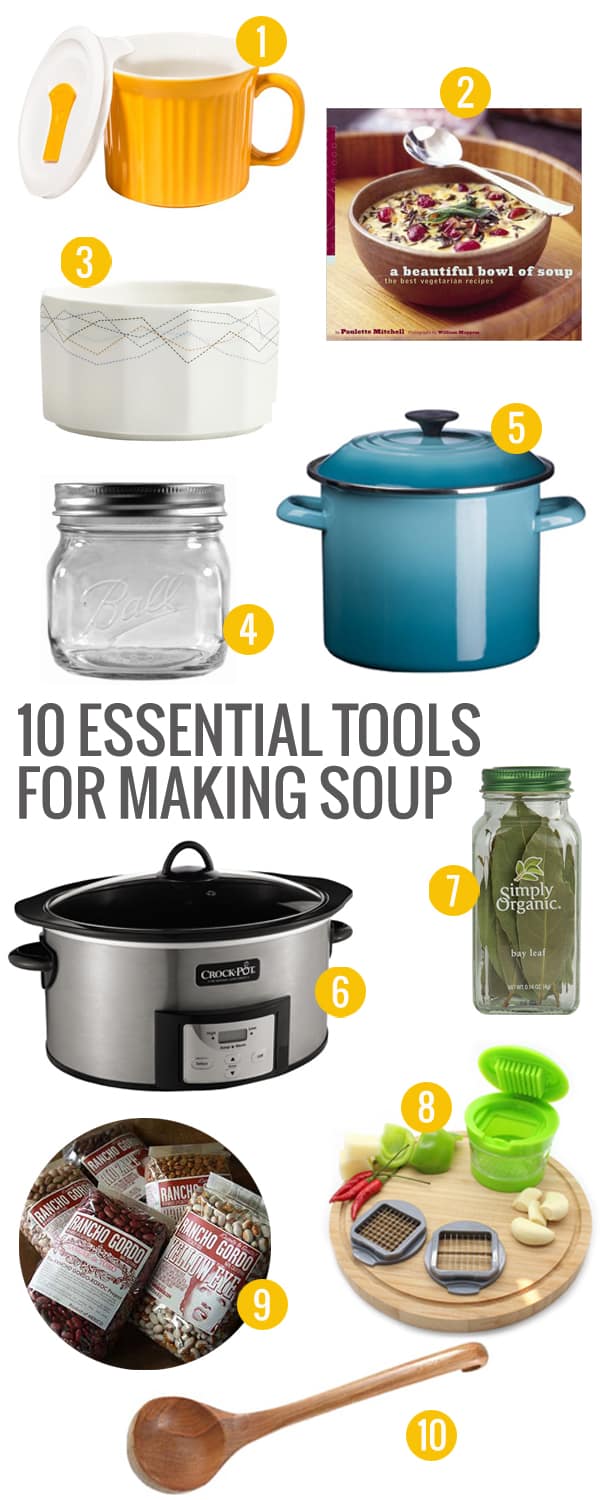 1. Stoneware Mug with Vented Lid
// Freeze soup in this mug, then reheat it (either in the oven or the microwave) right in the same container. The vented lid helps minimize microwave splatters.
2. A Beautiful Bowl of Soup: The Best Vegetarian Recipes
// Dozens of delicious soup recipes, and not a drop of chicken stock to be found.
3. Noon China Deep Soup Bowl // Savor your soup in style with a modern-looking, sturdy, deep china bowl.
4. Wide-Mouth Screwtop Glass Jars
// Is there anything worse than leaky soup in your lunch bag? Avoid any liquid mishaps by packing your soup in a screwtop glass jar. They're great for the freezer, too!
5. Le Creuset Stockpot
// Make 12 glorious quarts of whatever soup your heart desires (perhaps one of these 50 vegetarian soups!)—and make your stovetop look super cute doing it. It's also perfect for making homemade vegetarian chicken stock or veggie broth.
6. Countdown Slow Cooker
// The ceramic pot in this classic Crock-Pot model can be used on the stove to cook onions and garlic before pouring in the rest of your soup ingredients, and there's a programmable timer. Use it to make one of these vegetarian slow-cooker soups and stews!
7. Bay Leaves // Bay leaves are responsible for that earthy je ne sais quoi in soups and stews. Just make sure to remove the crunchy dried leaves when you're done.
8. Dried Beans
// If you're seriously into soup, dried beans are the best—and the most cost-effective—way to add protein.
9. Easy Garlic Chopper
// Everyone knows garlic is key to great soup. Save yourself a whole lot of mincing with this easy, BPA-free garlic press/chopper that also works on ginger, chiles and turmeric.
10. Wood Soup Serving Set
// Doesn't matter if you're making a tiny, medium or family-size batch—you'll always have the right ladle at the ready.