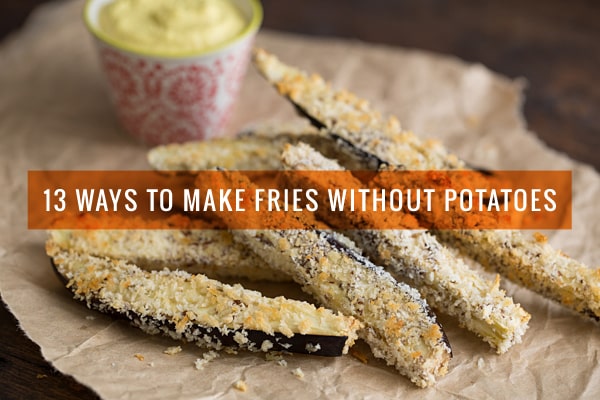 French fries might possibly be the world's greatest snack -- but deep-fried potatoes don't exactly rank high on the nutritional scale. You don't have to forgo fries, though! From butternut squash to zucchini, there are plenty of other veggies that taste downright irresistible in crunchy stick form. Here are 13 ways to make fries without potatoes.
Panko-Crusted Baked Eggplant Fries with Curried Cashew Aioli
Tender on the inside, crispy on the outside and vegan to boot!
Oven-Baked Pumpkin Chipotle Fries
Smoky spiced pumpkin - yes, pumpkin! - in fry form? Yep! The View from Great Island shows us it's not only possible, but scrumptious.
Garlic Za'atar Baked Carrot Fries
These crunchy-tender carrot fries from Connoisseurus Veg are on the table in under 20 minutes. That pretty much had us convinced, but the za'atar clinches it.
Lemon Dijon Crusted Asparagus Fries
From Running to the Kitchen: Lemony panko and a stint in the oven turn these tender asparagus stalks into crunchy fries.
Baked Sriracha Butternut Squash Fries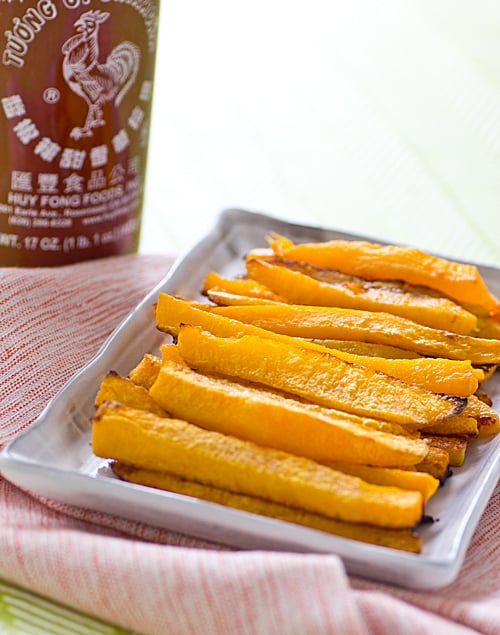 Baked Sriracha Butternut Squash Fries are now my favorite butternut squash fries! To me, they're just spicy enough, but you can always drizzle some extra sriracha onto the fries after they're done baking.
Crispy Carrot Fries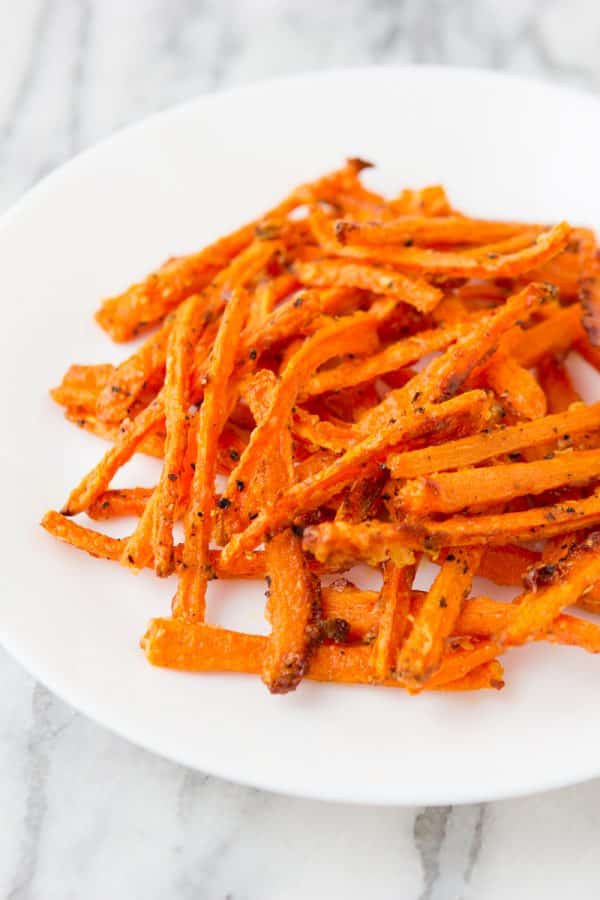 They are good. So good. They're crispy, cheesy and completely addictive. They're perfect for pairing with your next veggie burger or grilled cheese, but they're so simple to make, you might just want to whip them up as a healthy weekend snack too.
Spicy Baked Zucchini Fries
From Kitchen Treaty comes zucchini cut into sticks, coated in a spicy panko, then baked until crispy. Not a fan of heat? Not to worry - the creamy dill dip will cool the fire!
Roasted Daikon French Fries
Winning the prize for most unique veggie fry of all: The blog Cooking on the Weekends! The Asian radish is transformed into addicting spicy roasted goodness.
Baked Portabella Mushroom Fries
Mushrooms as fries?! Jeanette's Healthy Living says yes - and we agree! Creole seasoning and whole wheat panko crumbs give these meaty fries irresistible flavor and crunch. We're there.
Fried Green Beans with Lime Aioli
When we think of veggie fries, green beans are often the first that come to mind. This example from The View from Great Island is proof why. Beer-battered beans, deep fried and served up with a lime aioli. Holy yes.
Curried Parsnip Fries with Cilantro Hummus Dip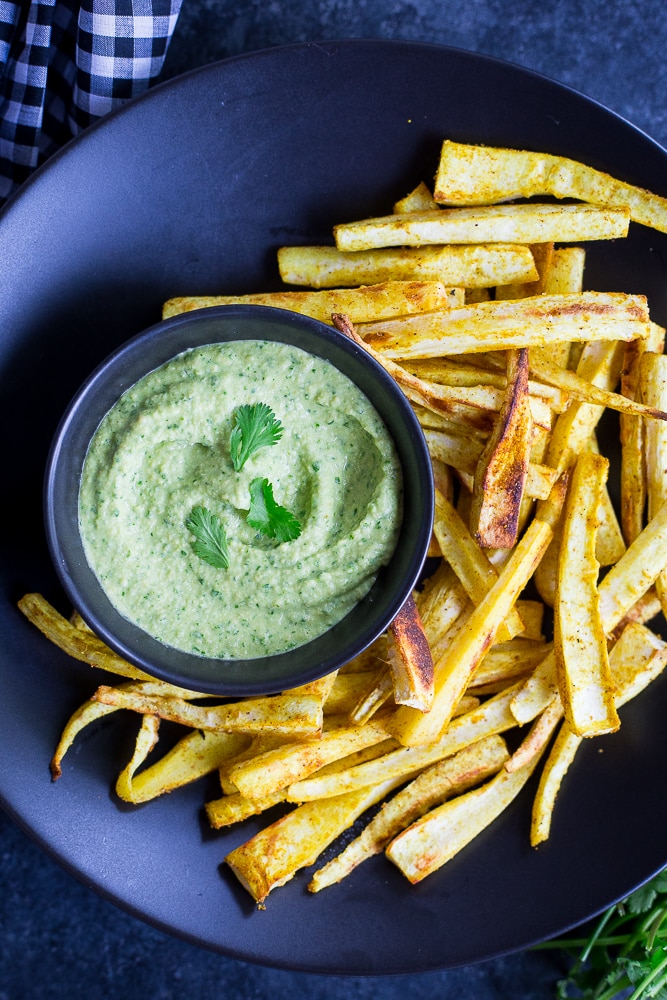 These curried parsnip fries are baked until crispy and served with a creamy cilantro hummus dipping sauce.
Parsnip Fries with Garlic Rosemary Aioli
Winter's favorite root veggie, the parsnip, gets the fry treatment in this recipe from Dishing Up the Dirt. We love the garlic rosemary aioli for dipping!