Want to make your own pizza at home? Whip up this vegan pizza dough, pile on all your favorite pizza toppings, and bake.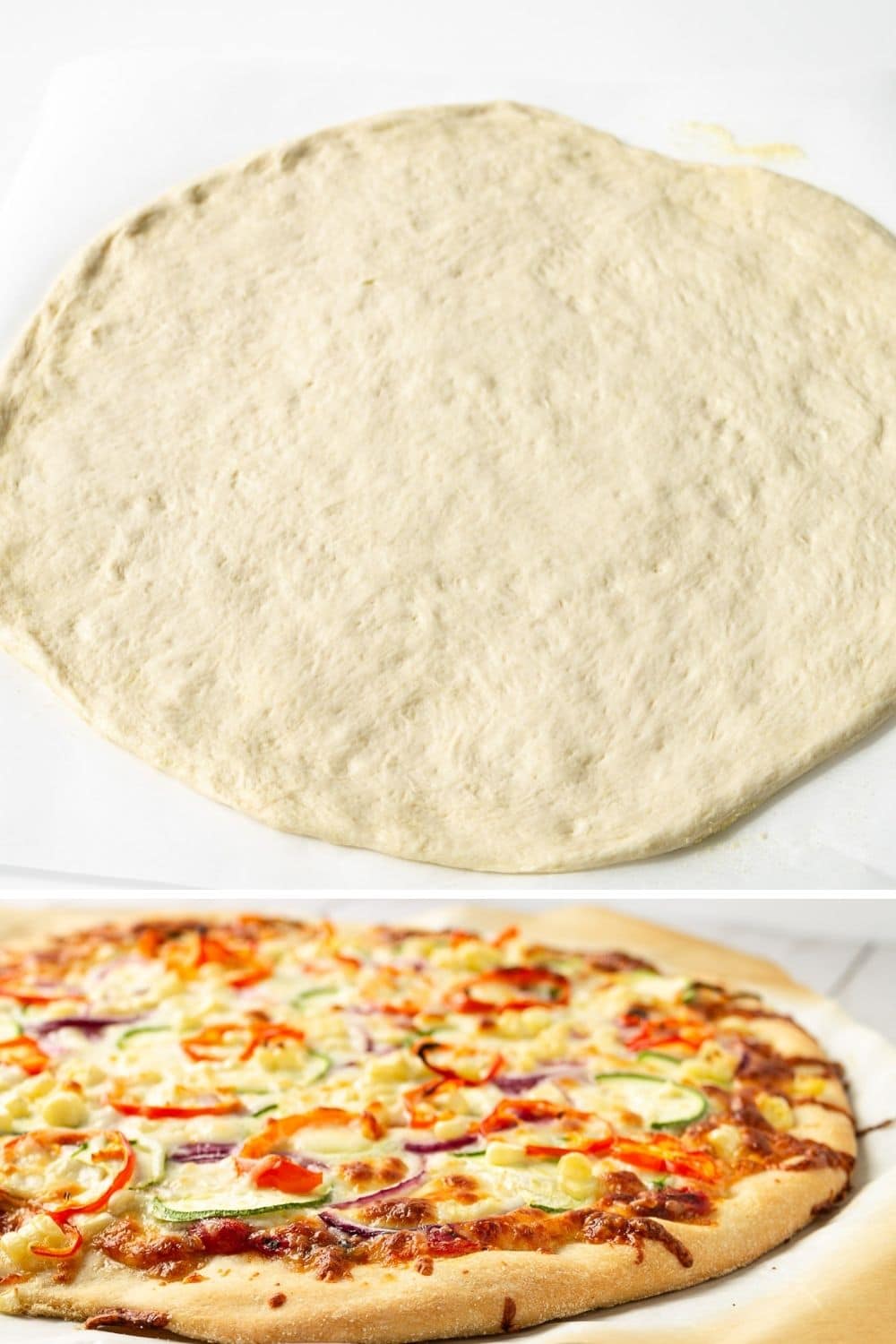 Jump to:
This simple pizza dough recipe makes a soft, tender, and delicious homemade pizza crust. It is super simple to whip up, and only needs minimal ingredients.
Give this yeast pizza crust recipe a try, and let me know how you enjoy this fresh and flavorful dough as the base to your pizza.
This Vegan Pizza Dough is...
Simple 
Vegan 
Vegetarian 
Dairy-free
Delicious 
Top this simple dough with some homemade vegan pizza sauce, and you're in for a real family friendly feast!
And don't forget to grab a copy of my free vegan cheat sheet too! It's packed with my favorite easy substitutions to help you make just about any recipe vegan!
How to Make Vegan Pizza Dough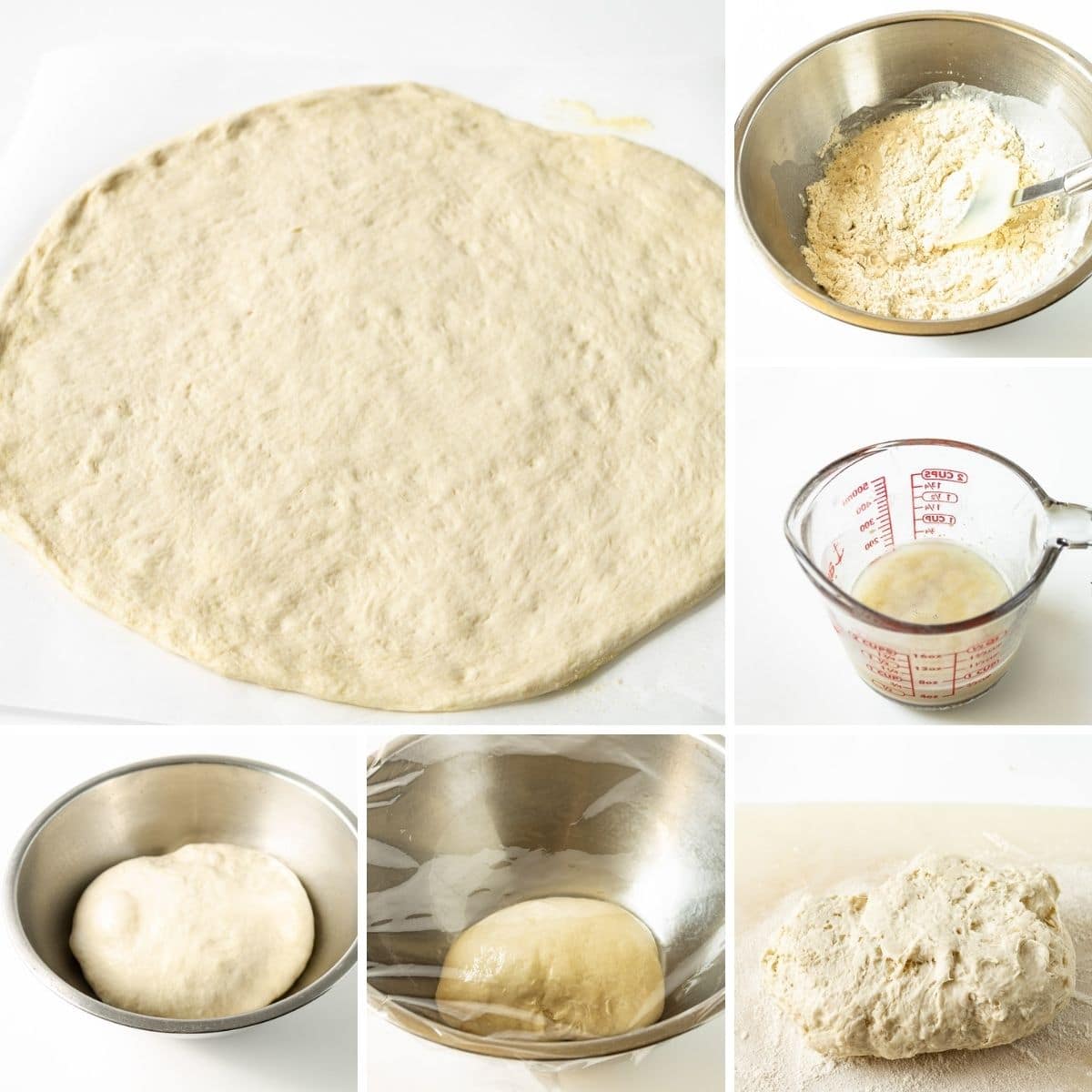 First, combine 1 tbsp flour, warm water, and sugar. Stir and let it sit for 15–20 minutes to give the yeast time to bloom.
Grab another bowl and mix together the rest of the flour and salt. Then make a well in the center and add in the water and yeast mixture.
Mix until the dough begins to soften and forms a ball. Place dough in a greased bowl, cover, and let it sit.
Once the dough has risen, roll it out and knead it for 5 minutes.
Let the dough rise again, roll, and then bake as you would with your pizza toppings.
Tips and Tricks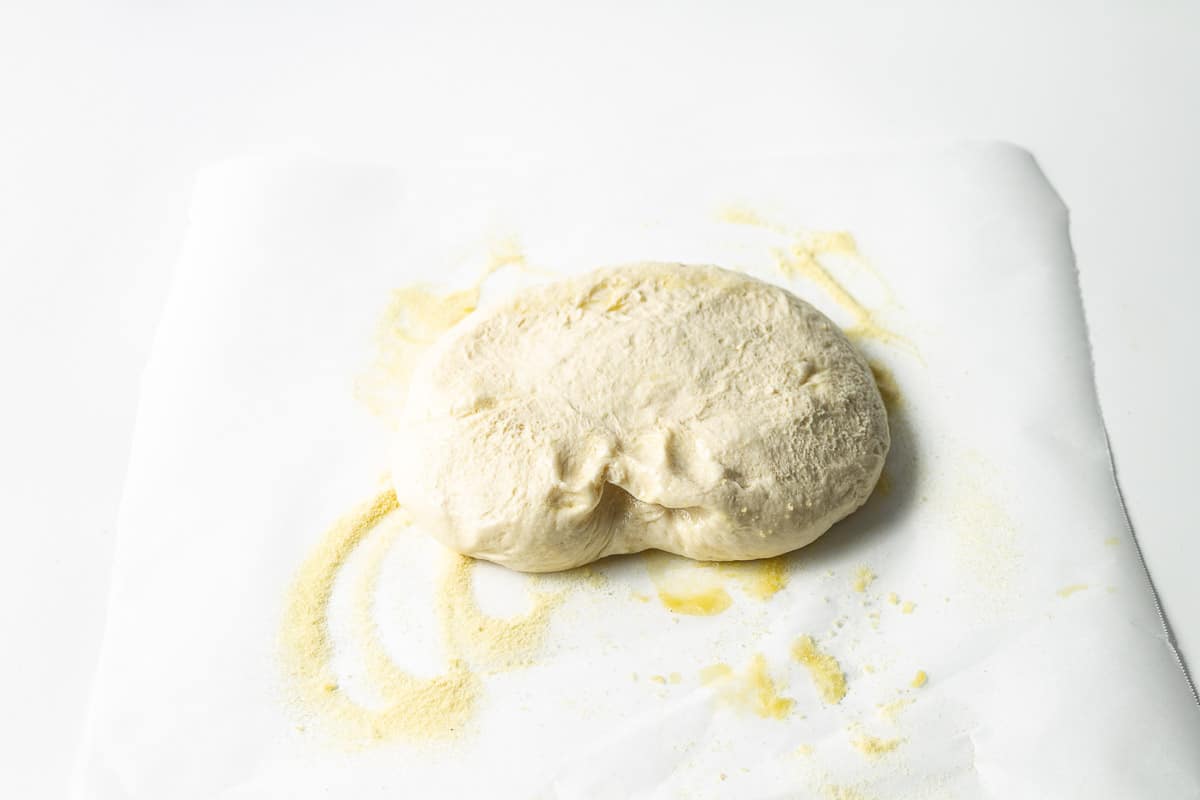 Texture
When working with any type of bread dough, it is important to pay attention to how the dough feels. You want the dough to be soft but not sticking to your hand.
Let the Yeast Activate
It is important that you use water around 100–105°F. Anything much hotter can kill the yeast. Once you mix together the water with the yeast and sugar, and let the mixture sit.
You will see the mixture begin to foam and rise up; this is called blooming. When your yeast blooms, it means your yeast is working, and you can move on to the next step.
If your yeast doesn't foam, that means it is not activated, and it has probably gone bad. You will need to throw it out and start again.
Timer
If you tend to forget, make sure to set a timer to remind you check on your dough while it's rising. You don't want to let it rise too long!
Variations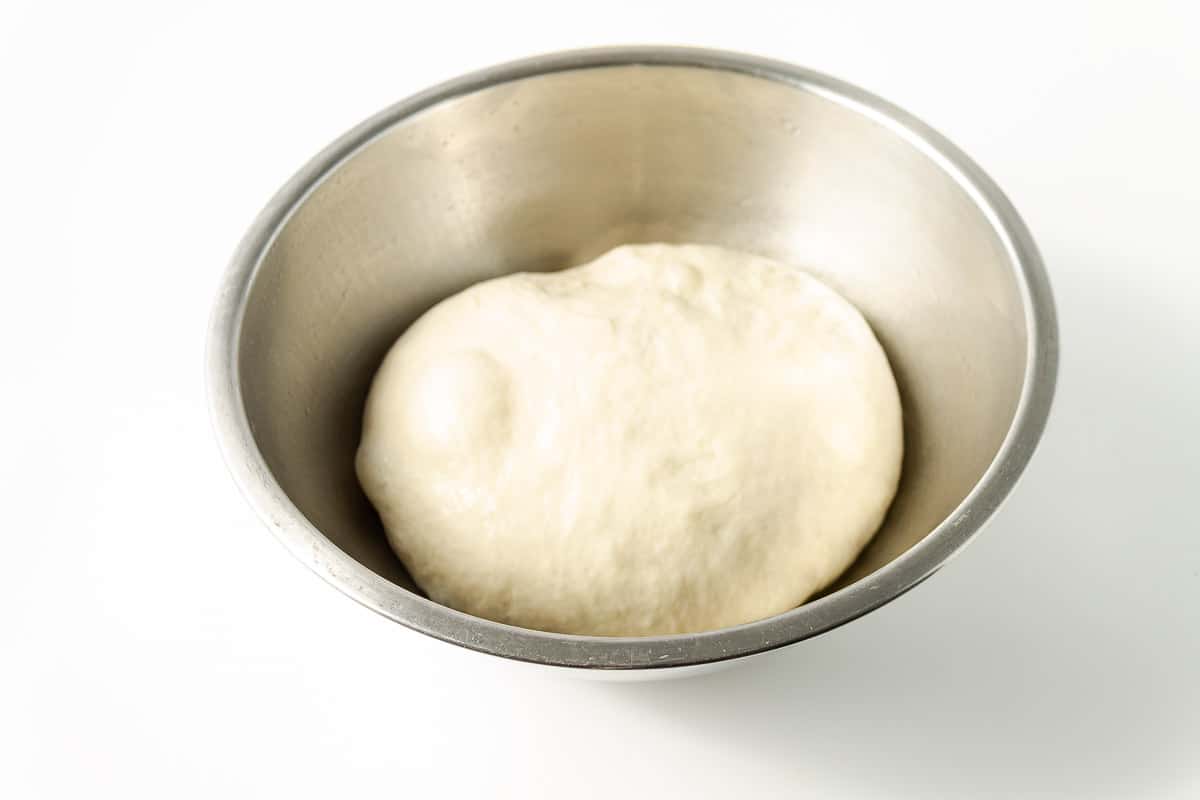 Herbs and Spices
Feel free to add some buttery herbs, spices, etc around the edge of the pizza crust to add flavor. Just like takeout pizza, you can add flavor to the crust.
Toppings
The sky is the limit when it comes to pizza toppings. Some of my favorite vegan pizza toppings are:
Mushrooms
Pineapple (don't judge me!)
Pan Fried Peppers and Onions
Black Olives and Plant-Based Sausage
Dairy-free Cheese
Check out this complete vegan pizza recipe for a veggie-packed pizza. Or try it with this tasty vegan pesto for a more unusual spin. Pile on your favorite toppings and enjoy!
Vegan Pizza Dough FAQs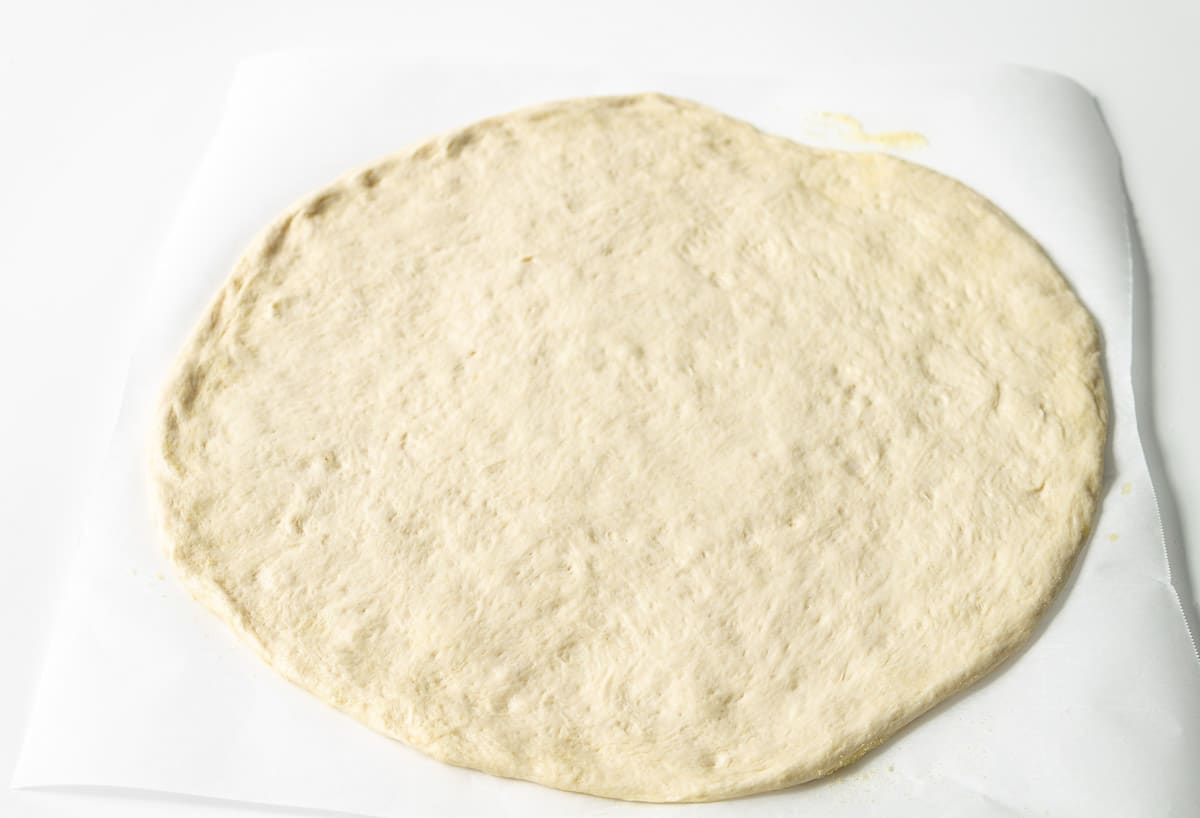 Can you make pizza dough in advance?
You can make your pizza dough up to two days in advance. Just make the dough, roll it tightly in plastic wrap, and place in a sealable bag. Store your dough in the fridge. Then when you are ready to use it, roll it out and bake your pizza.
Can you freeze raw pizza dough?
Yes, you may freeze your raw pizza dough as well. This is a wonderful way to meal prep and stock your freezer. Once you're done making the dough, just shape it into a ball and put it in the freezer.
This Vegan Pizza Dough can be frozen up to 2–3 months. When you're ready to use the dough, place it in the fridge overnight and allow it to thaw so you can shape it.
While you're here, be sure to grab our FREE 5-Day Meatless Meal Plan. It's packed with tasty recipes to make vegetarian cooking easy and delicious!
Recipe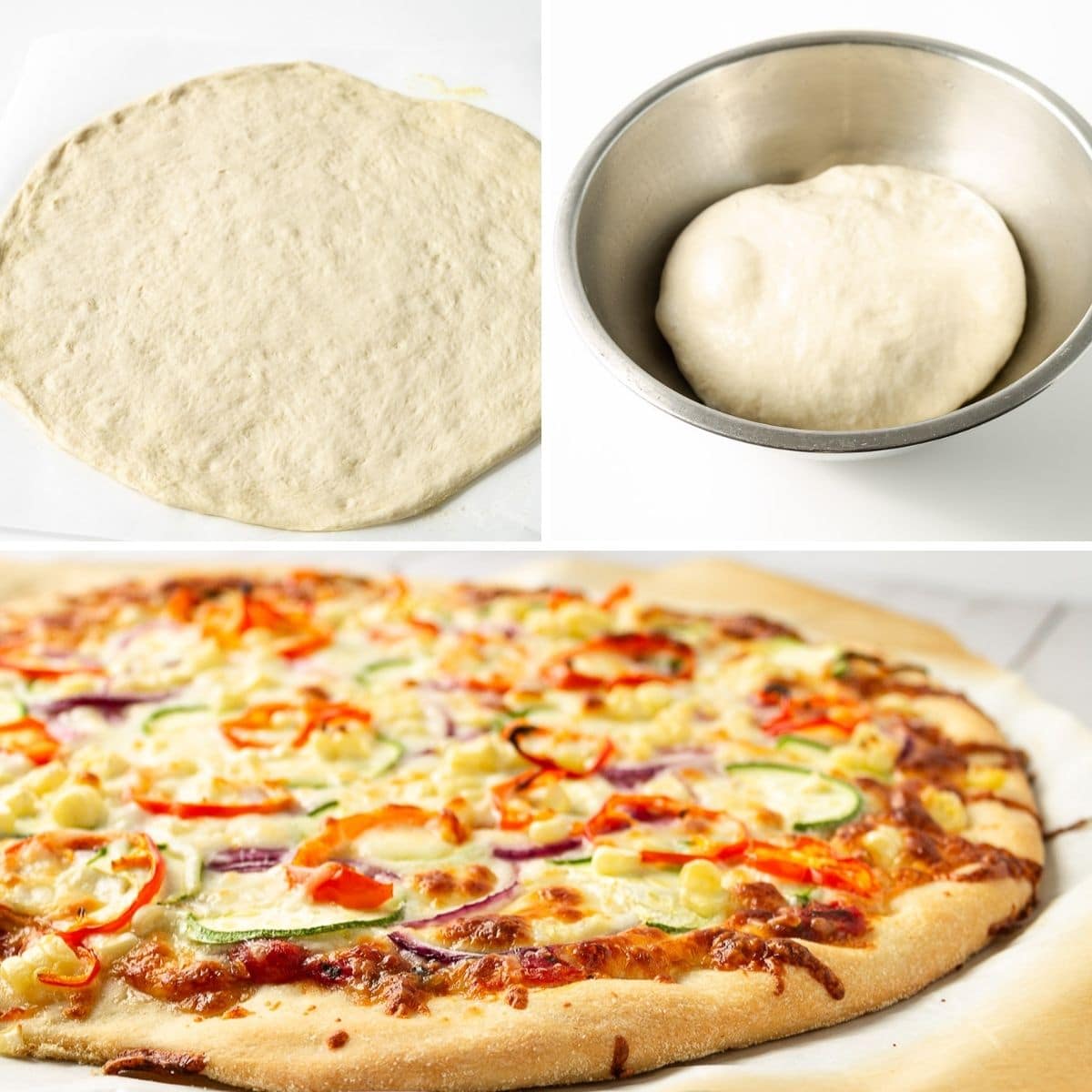 Ingredients
1

tsp

active dry yeast

¾

tsp

salt

1 ¾

cup

all-purpose flour

½

cup

+ 1 tbsp luke-warm water

1

tsp

sugar (optional)

Oil, for bowl
Instructions
Mix 1 tbsp/8g of flour with luke-warm water, sugar (if using), and yeast in a cup or bowl. Allow to sit for 15–20 minutes until bubbly.

Combine salt and remaining flour in a large bowl. Create a well and add water and yeast. Mix until combined and all of flour is moistened. If dry, add 1 tbsp/15ml of water at a time.

Gather into a ball, cover, and allow to rest for 15 minutes.

On a lightly floured surface, knead the dough for 5 minutes until smooth and elastic.

Place the dough in an oiled bowl. Roll to cover all sides.

Cover the bowl with plastic wrap or a damp towel. Allow to rise in a warm area until tripled in size, about 1 ½ hours. (The warmer the area, the faster it will rise.)

Use hands to stretch one portion of the dough to a 14"/35cm circle on a floured piece of parchment. (This makes transfer easier.) Brush olive oil on dough.

Place parchment and dough on a baking sheet if not using a pizza stone. Spread tomato sauce evenly and top with your favorite toppings.
Nutrition
Calories:
851
kcal
Carbohydrates:
176
g
Protein:
27
g
Fat:
3
g
Saturated Fat:
1
g
Sodium:
1761
mg
Potassium:
349
mg
Fiber:
9
g
Sugar:
5
g
Vitamin C:
1
mg
Calcium:
41
mg
Iron:
10
mg
Craving more veg-friendly recipes?
Shop our collection of vegetarian and vegan cookbooks, including our new Vegan Thanksgiving and Vegan Christmas cookbooks!