These vegan lemon bars are creamy, tangy, and totally delicious. A coconut oil shortbread crust is baked to perfection and topped with a luscious coconut cream lemon curd. Yum!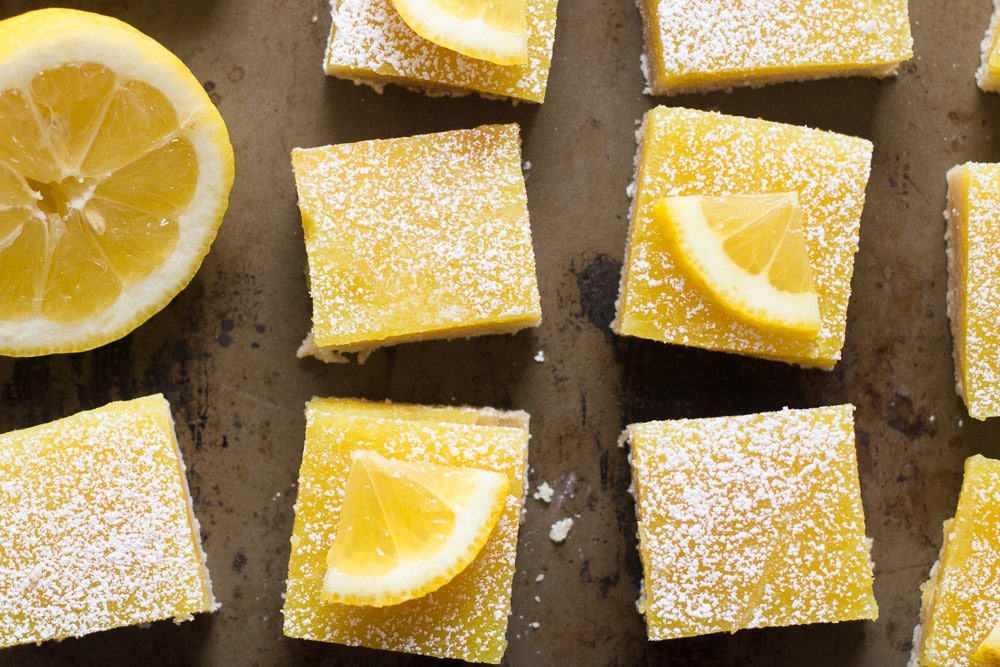 I love bringing vegan desserts to social gatherings. I usually don't mention that what I've brought is vegan, and nobody is the wiser. However, people that know me well know that whatever I bring will be vegan, so I do occasionally get grilled on ingredients.
And I do occasionally come across a friend or family member who won't try something on account of the fact that it contains tofu, agar, or some other thing only a vegan would put into their dessert.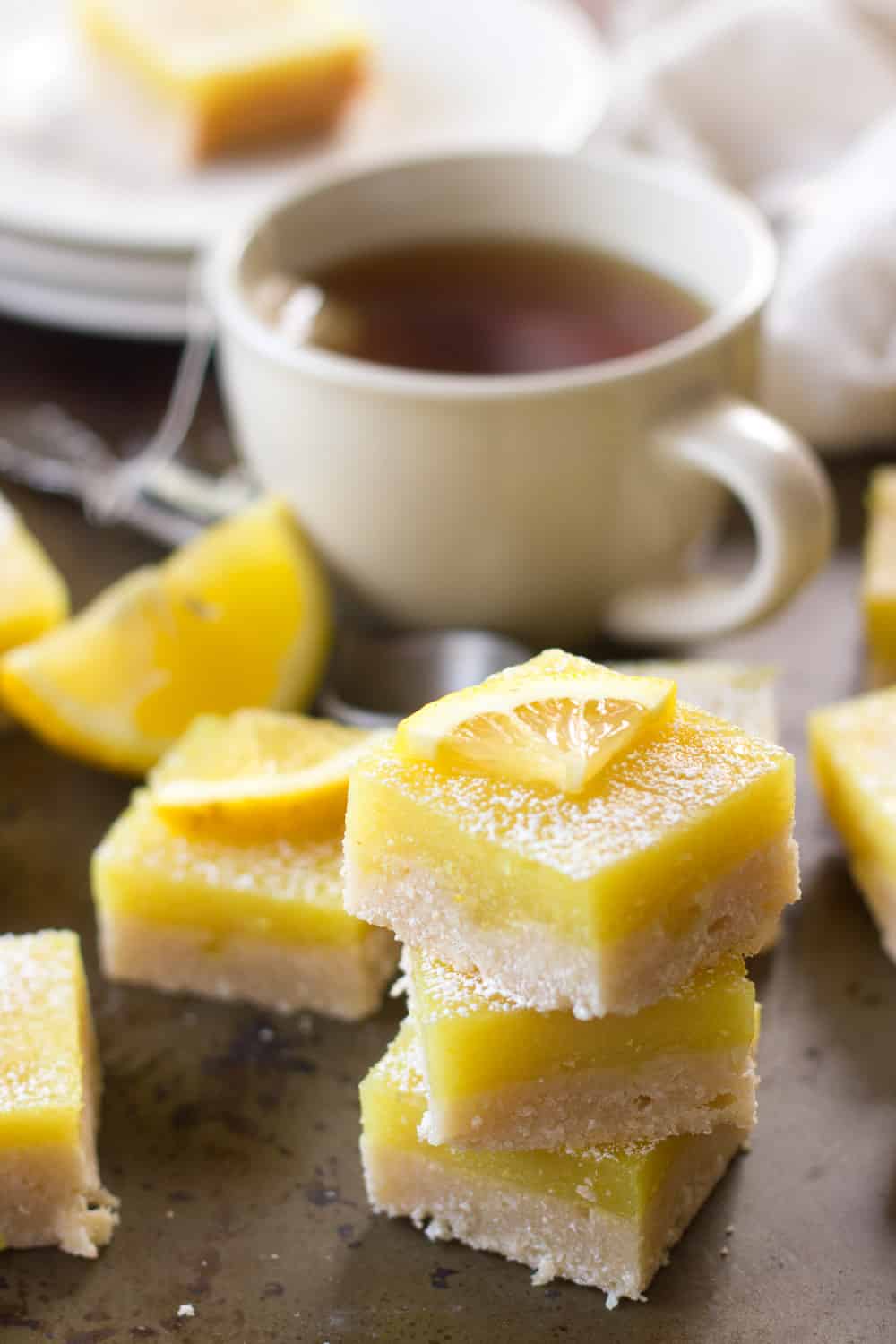 It's awesome when it works out that I don't have to put anything unusual in. This is especially true when I go and develop a recipe expecting it to be super complicated and require some serious kitchen engineering, only to find that it comes together simply and easily with a bunch of ingredients that (relatively) normal people are likely to be familiar with.
These lemon bars are one example of such a dessert. Honestly, I expected to have to throw in some tofu, or agar, or something, because the lemon curd filling you find in lemon bars is typically made with a bunch of eggs.
I did a trial run using plain old coconut cream and cornstarch instead of eggs, and was totally delighted when it worked. I was even more delighted when my husband brought them to work and everyone was shocked that they were vegan.
The crust is equally void of non-weird vegan ingredients, unless you consider coconut oil to be weird, which I don't. A conventional crust would be made with butter, but the coconut oil and a splash of almond milk did a fantastic job of replacing that.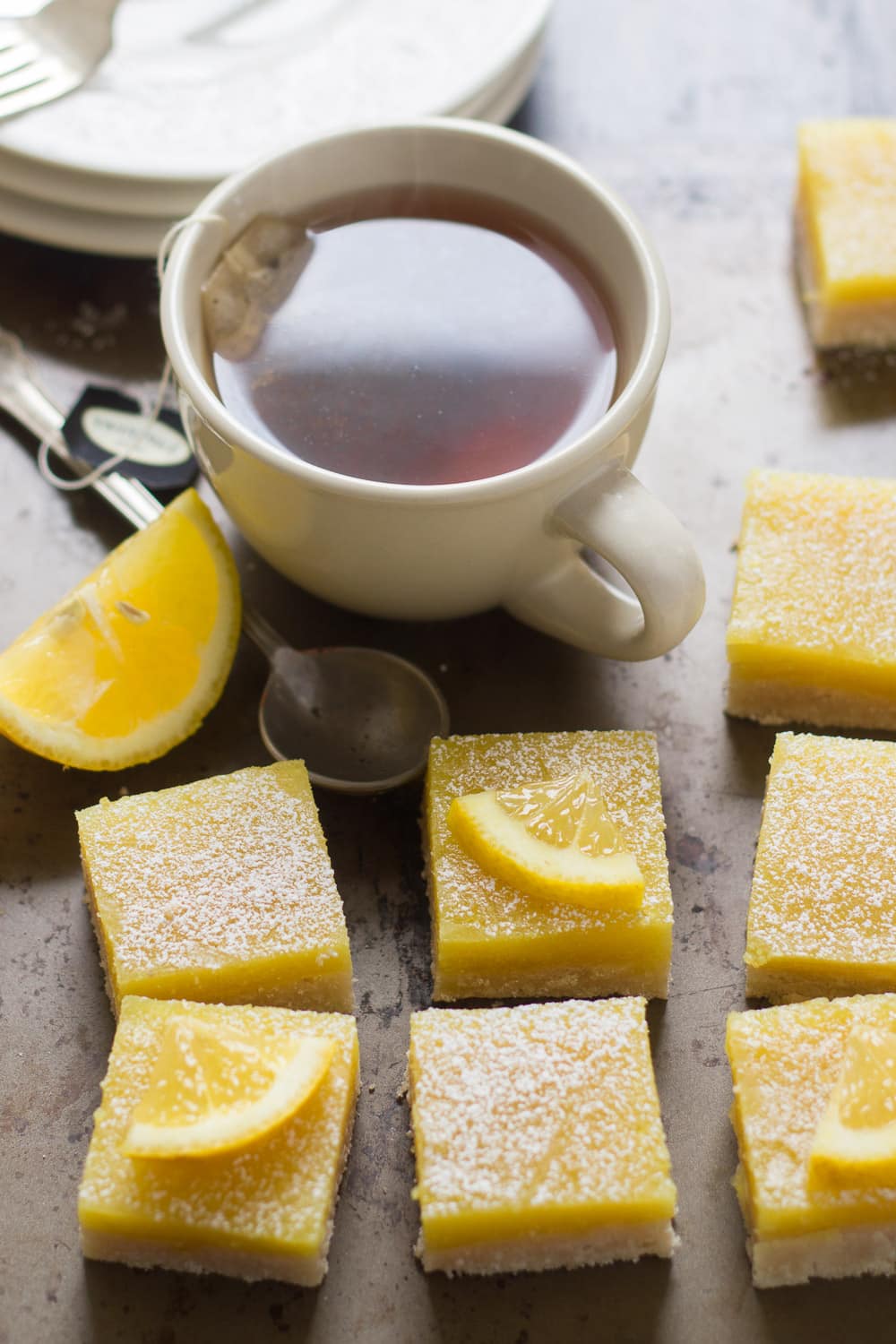 The bars do take some time to set, but I promise if you're patient, they'll do their thing. If you're bringing them to a social gathering you may want to make them a day in advance so they have plenty of time for that.
More Tasty Vegan Treats
If you love these vegan lemon bars, be sure to check our full vegan dessert collection, and these other tasty treats:
Recipe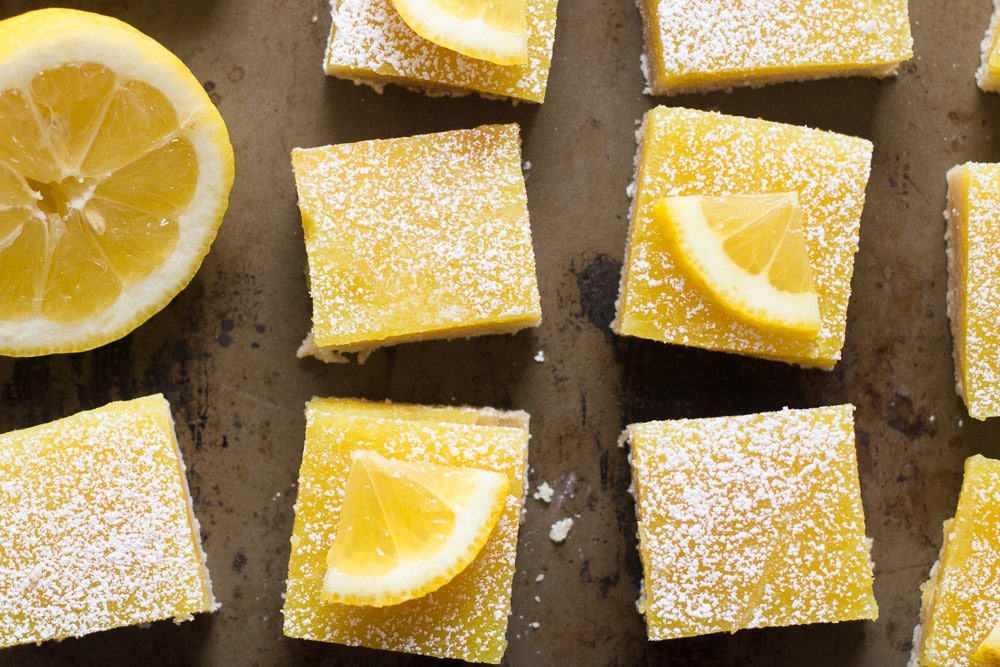 Ingredients
Instructions
Preheat the oven to 350°F and lightly oil a 9 x 9 inch square baking pan.

Make the base by stirring together the flour, sugar and salt together in a medium mixing bowl. Add the coconut oil and cut it in using a pastry cutter or a fork, until the mixture resembles fine crumbs. Stir in the milk to form a dough, continuing to stir or mix with your hands until it's nice and uniform.

Press the dough evenly into the bottom of the prepared baking pan. Place it into the oven and bake just until the edges begin to brown, about 20 minutes.

While the base bakes, make the curd. Place the the lemon juice, sugar, cornstarch, lemon zest, lemon extract, salt, and turmeric (if using) into a small saucepan. Whisk until uniformly combined. Place the saucepan over medium heat and whisk in the coconut cream. Continue to whisk the mixture constantly as it heats up. The mixture should thicken up quickly once it gets to a simmer. Cook about 1 minute more, continuing to whisk vigorously, then remove the saucepan from the heat.

Once the base comes out of the oven, pour the lemon mixture over it, and smooth it out into an even layer. Return the pan to the oven and bake about 15 minutes longer. You should see a few bubbles forming in the curd by this time.

Remove the pan from the oven and transfer it to a cooling rack to cool. The curd will continue to set as it cools. Once it has cooled completely and the curd has set, slice into 16 bars.

Sprinkle with powdered sugar and serve.
Notes
Look in the international foods section for coconut cream, right next to the canned coconut milk. Trader Joe's and Thai Kitchen are two popular brands. If you can't find it, simply place a can of full fat coconut milk in the refrigerator overnight to chill. When you open the can, it should have separated into solids and water. The solids are the coconut cream.
Nutrition
Calories:
200
kcal
Carbohydrates:
25
g
Protein:
2
g
Fat:
11
g
Saturated Fat:
9
g
Polyunsaturated Fat:
1
g
Monounsaturated Fat:
1
g
Sodium:
77
mg
Potassium:
71
mg
Fiber:
1
g
Sugar:
13
g
Vitamin A:
30
IU
Vitamin C:
6
mg
Calcium:
15
mg
Iron:
1
mg
Craving more veg-friendly recipes?
Shop our collection of vegetarian and vegan cookbooks, including our new Vegan Thanksgiving and Vegan Christmas cookbooks!