I grew up in a part-Italian family, so I have lots of fond memories of spaghetti sauce simmering on the stove and lasagna baking away in the oven. What I don't have are memories of stuffing cannolis. Cannolis didn't happen in my family, and I'll wager a guess that, except for those whose families owned bakeries, most of my Italian-American friends reading this can say the same. Cannolis were always a special thing. You know, something you get at a restaurant after a big pasta dinner, or that you pick up from the Italian market. They require special equipment and frying. Frying things is definitely reserved for special occasions.
Photos by Emily Caruso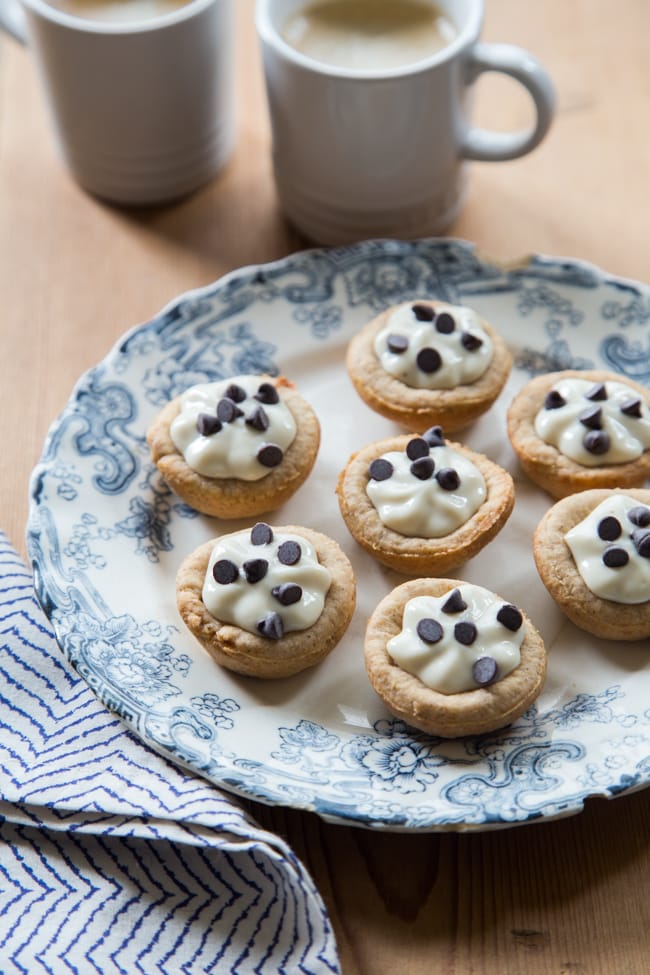 These are all things I failed to consider when I decided to create a vegan cannoli in my own kitchen. Yup, you read right. I went and tacked on a whole other challenge of making these suckers dairy- and egg-free. Of course, I make vegan food all the time, so when my brain went to cannoli, I immediately started thinking of dairy substitutes and decided it was doable, foregoing the whole frying little pastry shells around metal tubes thing. This, of course, resulted in a delicious bowl full of sweet cashew-tofu ricotta and a big wad of useless dough.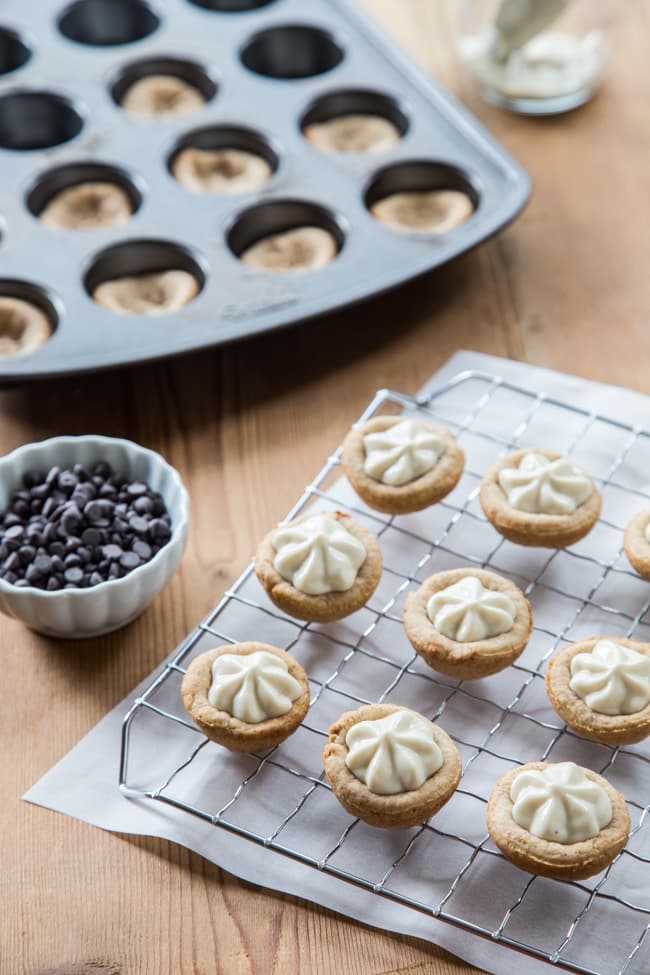 So that's the story of how we ended up with vegan cannoli bites, conveniently baked up in mini-muffin tins. Let's face it, if I'm not up for a session of rolling and frying, I'm betting most of the people reading this also aren't. Baking cannoli shells has its own challenges though, as you've still got the whole "making the dough into tubes" thing to deal with. As luck would have it, you don't have to deal with that, as these little guys prove. I got the inspiration for cannoli shell cups from this recipe, went and created a vegan cannoli-esque dough, rolled and pressed it into mini muffin cups, and voila, vegan cannoli bites were born. They were totally easy, extremely cute, very not fried, and delicious enough to fool your Italian family members. Most likely. Okay, even if grandma isn't fooled, I'm sure she'll love them.
Recipe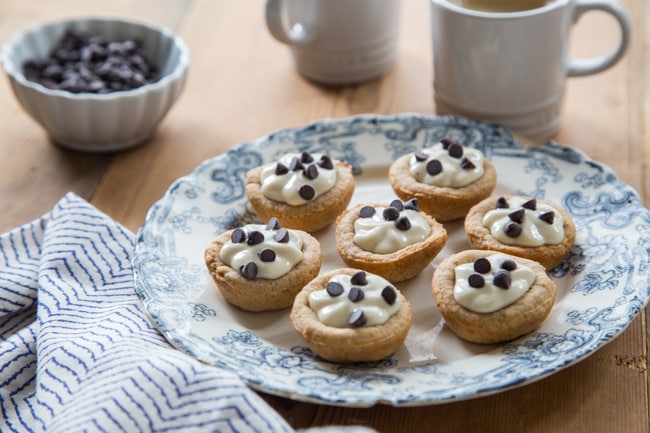 Ingredients
For the Vegan Cannoli Filling:
For Topping:
1

cup

mini vegan chocolate chips or shavings
Instructions
To Make the Shells:
Preheat oven to 400º. Lightly oil two mini-muffin tins.

In medium mixing bowl, stir together flour, brown sugar, flax, cinnamon, salt and baking powder. Add soy or almond milk and oil, and stir well with a fork to incorporate. Work into a dough and gently knead a few times until smooth and elastic. Divide dough into 2 balls. Lightly flour a work surface and use a rolling pin to roll each ball into about a 12-inch square, about ⅛ inch thick. Using a pastry cutter or drinking glass, cut 2 ½-inch circles into dough. Gently lay circles into prepared mini muffin tin, lightly pressing down if needed to ensure the circles conform to the inner surfaces of muffin cups.

Bake 10-12 minutes, until lightly browned. Remove from oven and transfer to a cooling rack. Allow to cool completely.
To Make the Vegan Cannoli Filling:
Place cashews, tofu, milk, lemon juice, vanilla and salt into food processor bowl and blend until relatively smooth, stopping to scrape down sides of bowl as needed. Add powdered sugar and continue to blend until smooth, adding a bit extra powdered sugar if the mixture seems too thin, and a bit extra milk if it seems too thick.

Transfer to a bowl, cover and chill for at least 30 minutes.
To Make the Vegan Cannoli Bites:
Transfer filling to a piping bag or a plastic bag with the corner snipped off, and pipe into shells, or simply spoon the filling into shells. Sprinkle with mini chocolate chips or shavings.
Notes
Work in batches if you don't have two mini muffin tins. Just allow the tin to cool a bit before starting your second batch.
Enjoy Life brand mini chips are vegan and the perfect size for these cannoli bites. If you can't get your hands on vegan chips or chocolate shavings, feel free to finely chop up a vegan chocolate bar or simply dust the tops of your bites with some cocoa powder.
Be sure to make a full batch of the filling, to ensure that it blends up well. If you'd like to scale down the recipe size, simply freeze any unused filling and thaw it out for later use.
Nutrition
Calories:
119
kcal
Carbohydrates:
15
g
Protein:
3
g
Fat:
6
g
Saturated Fat:
3
g
Polyunsaturated Fat:
1
g
Monounsaturated Fat:
1
g
Sodium:
62
mg
Potassium:
64
mg
Fiber:
1
g
Sugar:
8
g
Vitamin A:
18
IU
Vitamin C:
1
mg
Calcium:
24
mg
Iron:
1
mg
Craving more veg-friendly recipes?
Shop our collection of vegetarian and vegan cookbooks, including our new Vegan Thanksgiving and Vegan Christmas cookbooks!