Each week, I feed a family of 4 on a gluten-free vegetarian diet and I am always on the hunt for meals that cook up fast and make a lot! Everyone in our house has a completely different type of food that qualifies as their favorite and I try to keep a rotation going of meals with flavors that we know and love and at least one new flavor, vegetable, or type of food each week. We tend to spend a little more at the grocery store each week than the typical family since we rarely eat out. When 2 of the 4 people have limited diets, it's just easier and tastier to make our meals at home.
Here's this week's meatless meal plan:
Monday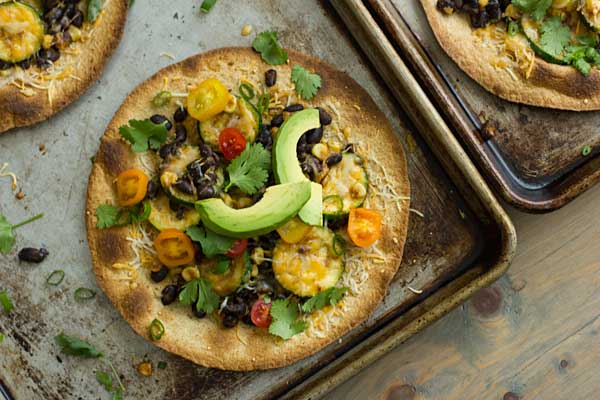 Black Bean and Veggie Baked Tostadas from Oh My Veggies // For some reason, Monday nights are always the hardest for me to pull my act together so I usually opt for a meal that is fast and fun for the entire family. I change the veggies out from week to week depending on what is currently in season and sometimes I simply use what I have on hand in the fridge and pantry. This dinner is so easy to make and clean up that I am left with plenty of time to help with homework, get lunches ready for the next day, and actually relax with my family a bit.
Tuesday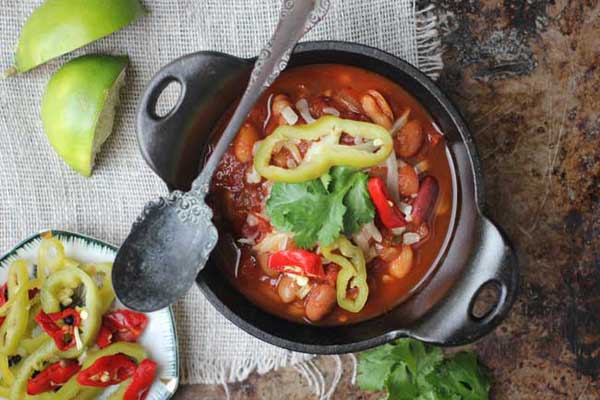 Fire-Roasted Slow Cooker Chili from Beard and Bonnet // I adore soups and stews in the winter especially a rich hearty chili like this one! The fact that it cooks on its own in the slow cooker is a huge bonus! This chili also travels really well for Todd's lunch at work the next day, and it's great served over rice too.
Wednesday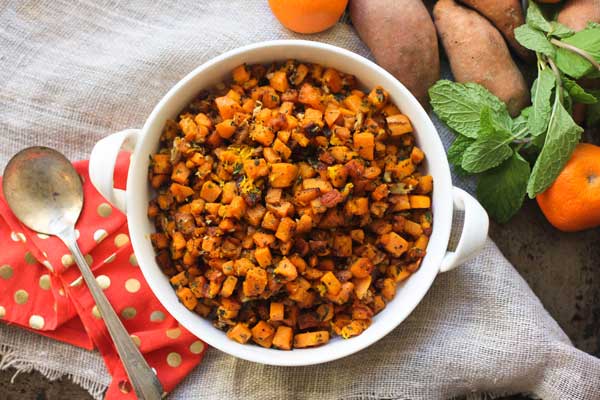 Sauteed Sweet Potatoes with Orange-Mint Gremolata from Fine Cooking + Roasted Vegetables // Every Wednesday I go through and clean out my crisper drawers to prepare for the delivery of my CSA box. So Wednesday usually means a meal of sides for us, AKA the vegetable plate, which just happens to be my favorite meal of the week. Woo hoo, go veggie plate! This particular week I decided to try a new-to-us sweet potato recipe to go along with our roasted crisper drawer veggies. This would be a great meal to use up any leftover peppers, zucchini, or corn you have from the last 2 days worth of meals.
Thursday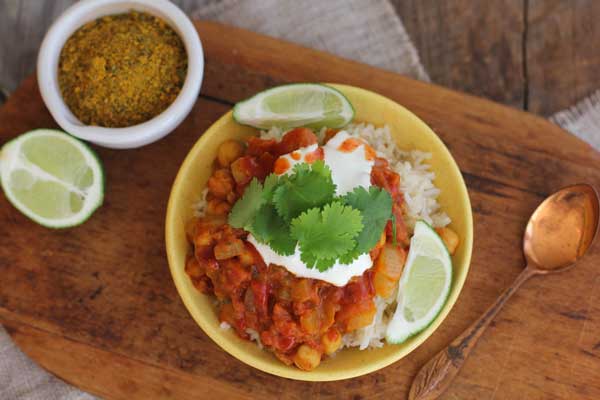 Chickpea Indian Bowl from The Faux Martha // My husband Todd loves curry and I love that this recipe only takes about 30 minutes to pull together. Did I mention it's delicious? I substituted the half-and-half in this recipe for full fat canned coconut milk which makes this curry vegan, it was sublime! Todd and I seasoned our bowls with a hefty serving of sriracha, but the curry on its own was mild enough for our kids to eat. Leftovers of this meal pack really nicely for lunch the next day too, which means that it will be making regular appearances at our house in the weeks to come.
Friday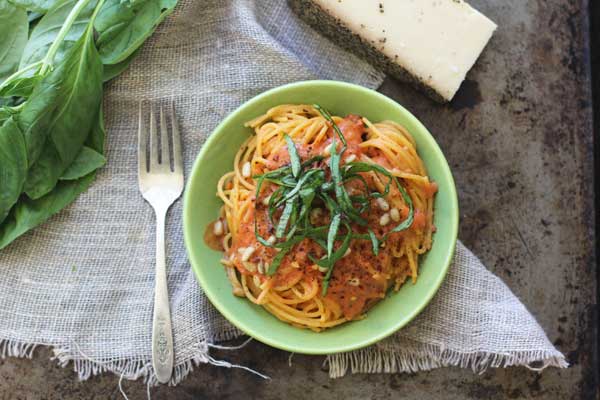 Vodka Pasta from Cook Like A Champion // Although we are on a gluten-free diet it doesn't mean we don't love pasta! If you have ever tried gluten-free pasta, you may have been disappointed, but it's not all bad! I only use a few different brands in our home, because not all gluten-free pastas stack up the same. Try either Jovial or Schar and you may just find that you enjoy gluten-free pasta too. I have been making this vodka sauce for years now, at least once or twice a month, and it is always a huge hit. I regularly make a double batch of it in preparation for the next week's meal plan. It's great in lasagna, perfect stirred into a bowl of steamed rice, and makes a killer sauce on homemade pizza.
Tips for This Week's Plan
Leftover pecans and the flesh from the navel orange that we zested for Wednesday's meal make great snacks to take to work during the week.
There are a lot of optional add-ons for the tostadas; I've marked them with an asterisk on the shopping list. If you decide to buy them, use the leftovers to make a salad to go with Tuesday's chili.
The tostadas use homemade fajita seasoning; if you have fajita seasoning on hand or prefer to buy it, you can use that instead.
My slow cooker fire roasted chili freezes really well, so if you have a lot leftover simply allow it to cool all of the way, put it in a freezer bag, and lay it flat in the freezer to freeze.
If you don't have leftover veggies to roast for Wednesday's veggie plate dinner, store-bought veggie burgers (like Hilary's Eat Well, which are all-natural, gluten-free and vegan!) would be great with the sweet potatoes on the side.
I opted to make the Chickpea Indian Bowl dairy-free by using coconut milk, so that's what I've put on the shopping list. If you prefer, use half-and-half.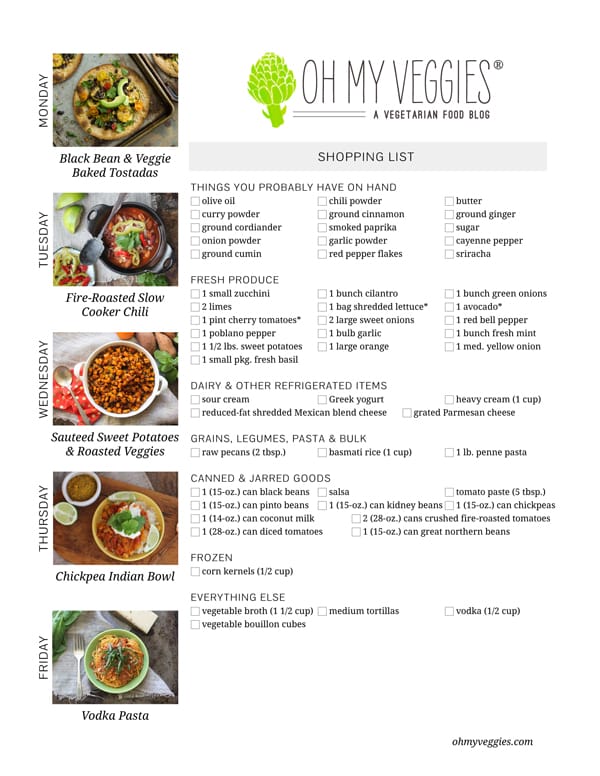 Click here for a printable version of this week's meatless meal plan and shopping list, then click on the links above to print out each recipe. Now you're set for the week!