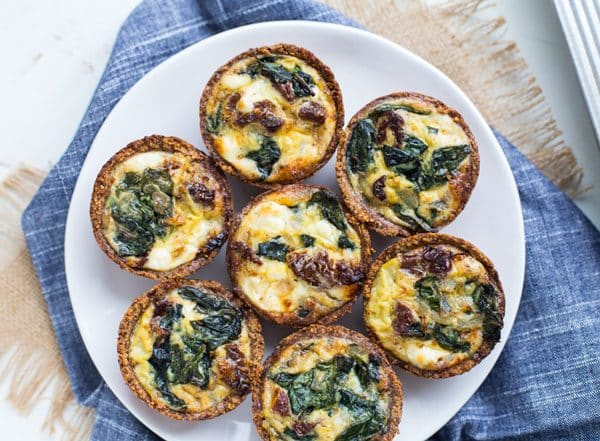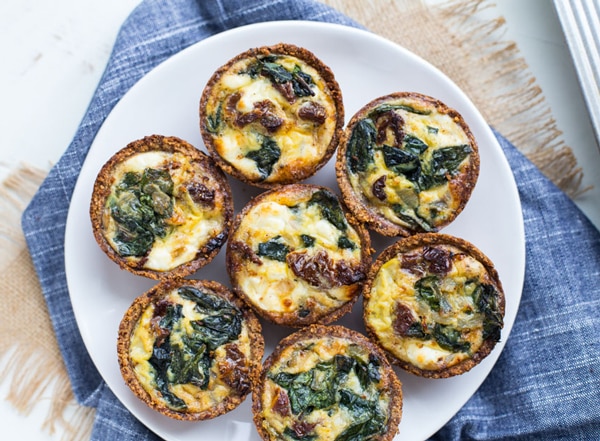 Who doesn't love the flavor blend of fresh spinach and mushrooms?  Rich in potassium, vitamin A, and calcium as well as delicious in almost anything, this duo is especially perfect when vegetarians want to add something hearty to egg dishes like quiche. We've searched the archives for the best spinach-mushroom skills around, and found a few superb recipes for those who agree - spinach & mushroom quiche is a *must* for any breakfast or brunch spread!!
Try this one for starters. It's got all the basics for a lovely first quiche, and the term 'blind-baking' is explained
here
. Be sure to save a little of the grated cheese to sprinkle on top of the finished pie!
Here's one for the vegans. Extra firm tofu and plenty of dijon mustard make this version a keeper!
Just gorgeous. If you grow (or otherwise have access to) mini heirloom tomatoes, give these tarts a shot. (We know some folks who've had good luck growing
these
 tasty beauties in their backyard, for one example) When you need to impress the neighbors, have them over for these with coffee one late morning!
The crusts on these are full of seeds, oats and nuts for the healthiest quiche recipe we've seen so far. It's also dairy-free and heavy on the garlic. Delish!
If you prefer your quiche without the crust, here's one for you! Each step involved has its own picture so you can follow along easily. Enjoy!
These are pretty with super flaky crusts and baked in ramekins for easy preparation and serving. Perfect for brunch or breakfasts in bed!
The first way adds asparagus to the spinach & mushroom blend for a more unique taste, while the
second
adds roasted tomatoes to the mix and nixes the mushrooms - take your pic! Note: the creator also has one pie idea with a
tater tot crust
, for those who dare!
Print this one out and save it for Christmas - all the guests' mouths will be watering when they smell these in the oven on Christmas morn - or serve it up on your own favorite holiday instead, or really anytime you like! You can't go wrong serving these.
If you're tired of traditional quiche, check out this baked bread bowl version! These would be stupendous for Saturday afternoon on a cold or rainy weekend, brunch on Sunday, or anytime you want something hot and hearty out of the oven!