These homemade Spiced Sweet Potato Caramels are packed with flavor from cinnamon, ginger, and allspice. They make a delicious holiday treat or a thoughtful gift!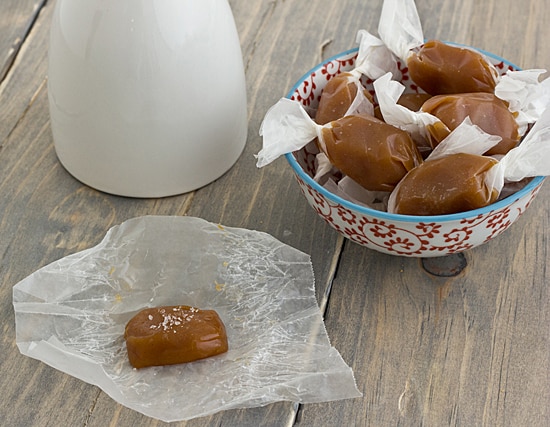 When I did a Google search for "sweet potato caramels recipe," all I found were a bunch of pages about Morinaga sweet potato caramels, which I happened to have bought when we were in Japan a few years ago.
While they're delicious, they're not the buttery, gooey kind of caramels we're used to in the US. They kind of have the texture of a Starburst with a very mild caramel flavor.
I wanted to use sweet potatoes to make crazy decadent caramels. The kind that make you weak in the knees.
Having never made caramels before, I figured it would take me a few tries to perfect them, but I surprised myself and got them right the first time by using the cooking instructions and proportions from this pumpkin caramel recipe and then tweaking them to my satisfaction.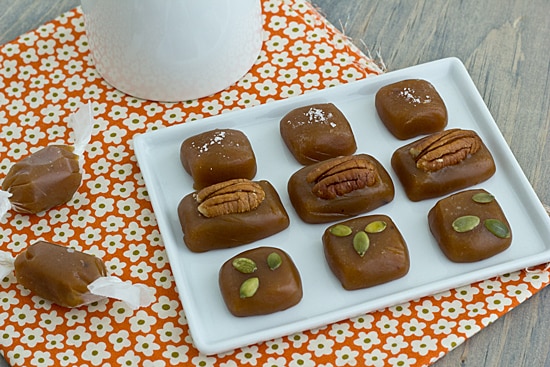 I debated whether I should add cardamom or chipotle powder to my sweet potato caramels, but I settled on the trio of cinnamon, ginger, and allspice instead because I felt that they would appeal to most palates.
This combination of spices makes these caramels almost taste like sweet potato casserole. (Sweet potato casserole, but better!)
For a Japanese-inspired twist, omit the spices altogether and top the caramels with black sesame seeds instead.
I admit that these sweets are time-consuming and labor intensive to make, but they are so worth it. And they are definitely the kind of caramels that make you swoon a little when you eat them.
Recipe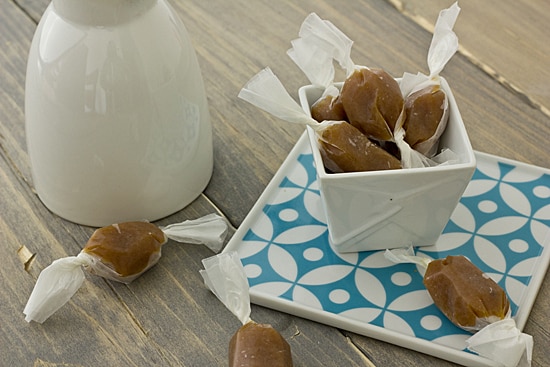 Instructions
Preheat oven to 400°F. Line the bottom and sides of an 8 x 8 inch baking dish with parchment paper. (If you cut a slit in each corner of the paper, lining the sides is easy—for a visual demonstration, check out

Lining Pans with Parchment

on Good Life Eats.) Lightly grease the paper with butter.

Place sweet potato on a small baking sheet lined with aluminum foil. Bake until tender, about 35–45 minutes (depending on size and shape of potato). Allow to cool slightly.

Once potato has cooled, remove the skin and cut into large chunks. Add potato pieces to food processor; process until smooth and no chunks remain. Measure ⅔ cup of the puree; if there's any puree remaining, save it for something else or eat it now. It's delicious!

Transfer puree to a small saucepan. Stir in cinnamon, ginger, and allspice until well-combined. Stir in heavy cream and heat on medium, continuing to stir. Bring to a simmer and set aside.

In a heavy 4-quart saucepan, stir together sugar, corn syrup, maple syrup, and water with a wooden spoon and bring to a boil over medium-high heat. Use a heat-proof pastry brush dipped in warm water to brush sugar crystals from side of saucepan. Once mixture has come to a boil, place

candy thermometer

into sugar mixture and continue to cook until temperature reaches 244°F (don't stir it!). Remove from heat.

Gradually (and carefully!) add cream mixture to sugar mixture, stirring as your pour. The mixture will bubble up at this point, so please be careful and pour the cream in slowly. Return to a boil, then reduce heat to medium-low. Continue cooking until mixture reaches 240°F (this could take up to 30 minutes). As temperature rises, begin to stir more frequently.

Once caramel mixture reaches 240°F, remove saucepan from heat. Stir in butter and and lemon juice until well-combined. Pour into lined baking dish. (If you're topping your caramels with nuts, salt, or pepitas, press them into the top of the caramel after it has cooled for about 15 minutes.) Cool to room temperature before cutting into individual pieces. (I cut them into 36, but make them as big or as small as you like!) Wrap in waxed paper and store in an air tight container or refrigerate.
Notes
Note that caramels are very temperamental--too much humidity, sugar crystals on the side of the pan, and even slight variations in temperature can make them too hard, too soft, or crystallized.
Nutrition
Serving:
1
caramel
Calories:
115
kcal
Carbohydrates:
18
g
Protein:
1
g
Fat:
5
g
Saturated Fat:
3
g
Polyunsaturated Fat:
1
g
Monounsaturated Fat:
1
g
Trans Fat:
1
g
Cholesterol:
17
mg
Sodium:
11
mg
Potassium:
36
mg
Fiber:
1
g
Sugar:
17
g
Vitamin A:
1075
IU
Vitamin C:
1
mg
Calcium:
13
mg
Iron:
1
mg
Craving more veg-friendly recipes?
Shop our collection of vegetarian and vegan cookbooks, including our new Vegan Thanksgiving and Vegan Christmas cookbooks!