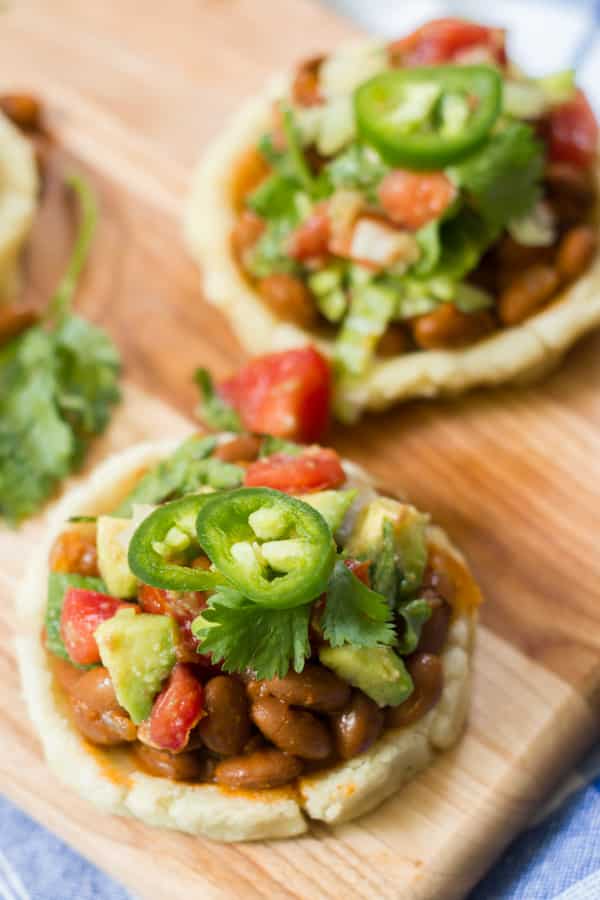 Like many of my favorite foods, I discovered sopes while visiting a restaurant where they were the only vegetarian thing on the menu. It really is one of the advantages of having dietary limitations, you know, being coerced into trying new foods that you otherwise might not, and in this case having them turn out to be awesome.
In case you aren't familiar, sopes are an incredibly delicious Mexican treat – crispy fried little corn cakes, topped with pretty much anything your heart desires. When that first order of sopes was placed in front of me, tostadas were the first thing to come to mind, but instead of a thin tortilla shell, what I got was more like little corn cakes, with some thickness to them and lots of crispy edges. I was in love, enough so that I repeatedly returned to a restaurant even though I knew they'd be the only thing I could order.
It took me a really long time to work up the nerve to make my own sopes, but when I did, it was so worth it. They are a bit tricky, but also fun, if you don't get too hung up on each one being super perfect and try to enjoy the process.
Masa harina is the key ingredient you'll need to get your hands on for the shells, and fortunately, it's available at most supermarkets. This actually came as a big surprise to me, but once I headed into the international foods section, there it was, right between some rice and cornmeal. Who knew?
You'll be making a simple dough out of the masa harina, and keeping it moist is one of the main challenges. Try to work quickly and make sure you have some damp towels or plastic wrap handy, so you can cover the dough while you're not working with it. It also helps to keep a small jar of water handy, so you can add a bit here and there as needed. Also, if you live in an area where the humidity gets really high this time of year, that could help too – it certainly did in my case.
After whipping up the dough, you'll create some nice little rounds and quickly pan-fry them up in oil. The other tricky part comes next. Once the shells are cool enough to handle, you'll be folding or rolling up the sides to create a lip to hold your fillings in. The time window for this is pretty narrow, because once they get too cool they'll start to set. One trick I found that worked was placing a drinking glass in the center of my shell and using a spoon to roll up the sides. This allowed me to get started sooner than I would have otherwise, without burning my fingers.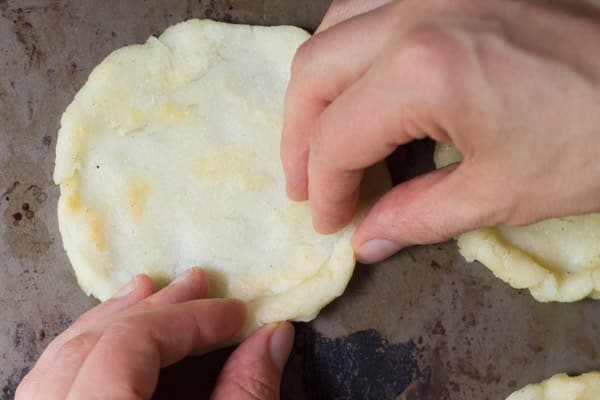 Stuffing and eating are the fun parts (of course). I went with a filling of some smoky pinto beans and avocado salsa, but feel free to go crazy with as many other toppings as you'd like.
Recipe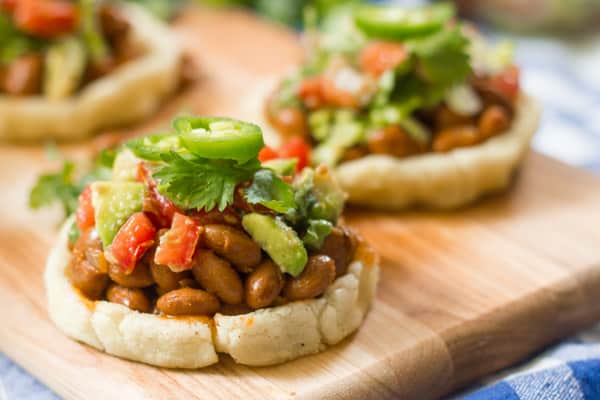 Ingredients
For the avocado salsa:
1

avocado

diced

1

cup

diced tomato

about 2 Roma tomatoes

1

small onion

diced

1

garlic clove

minced

¼

cup

chopped fresh cilantro

1

tablespoon

red wine vinegar

Salt and pepper to taste
For the smoky pinto beans:
For the shells:
1

cup

warm water

¼

teaspoon

salt

1

cup

masa harina

2-3

tablespoons

canola or another high smoke-point oil
Additional toppings (optional, pick your favorites):
Hot sauce

Sour cream or cashew cream

Shredded cheese or vegan shredded cheese

Jalapeño slices

Chopped scallions

Fresh cilantro
Instructions
To make the avocado salsa:
Stir all the ingredients together in a small bowl.
To make the smoky pinto beans:
Coat the bottom of a medium skillet or saucepan with oil and place it over medium heat. Add the onion and sauté until it's soft and translucent, about 5 minutes. Add the garlic and cook until it's fragrant, about 1 minute more. Add the beans, ¾ cup water, vinegar, cumin, smoked paprika, cayenne pepper and maple syrup. Bring to a simmer, then lower the heat. Simmer, stirring occasionally, until the sauce thickens and the beans become soft and just begin to fall apart, 10 to 15 minutes, adding more water if needed during cooking. Remove from heat and season with salt and pepper to taste.
To make the shells:
While the beans simmer, preheat oven to 200°F and line a baking sheet with parchment paper. Line a plate with few paper towels.

Pour the water into a medium mixing bowl, then stir in the salt. Slowly stir in the masa harina, adding about ¼ cup at a time. Once the masa harina has all been added, knead the dough a few times with your hands. The dough should be soft and elastic. If it seems dry or cracks during kneading, add a bit more water. If it feels sticky, add a bit more masa harina.

Divide the dough into six balls. Place them on a work surface and cover them with a damp towel or plastic wrap.

Coat the bottom of a large skillet with about a tablespoon of oil and place it over medium-high heat. Uncover one of your dough balls and flatten into a four-inch circle. You can use just your hands for this, or press it down with a large flat object, like a cutting board. Repeat for one or two more of your dough balls, depending on how many will fit into the skillet without overcrowding.

Place the dough circles into the skillet and fry for about 1 minute on each side, until lightly browned and beginning to crisp. Remove the shells from the skillet and transfer them to a paper towel-lined plate. Cool for a few minutes, and once they're cool enough to handle, gently pinch or roll the outer edges upward to create a lip. Transfer the shells to the parchment-lined baking sheet and place in the oven while you make the rest of the shells.

Repeat until all of the dough is used, adding oil to the skillet between batches as needed.
Make the sopes:
Stuff the shells with smoky pinto beans. Top with the avocado salsa and your toppings of choice. Serve hot.
Nutrition
Calories:
216
kcal
Carbohydrates:
24
g
Protein:
3
g
Fat:
13
g
Saturated Fat:
1
g
Polyunsaturated Fat:
3
g
Monounsaturated Fat:
8
g
Trans Fat:
1
g
Sodium:
112
mg
Potassium:
378
mg
Fiber:
5
g
Sugar:
4
g
Vitamin A:
470
IU
Vitamin C:
11
mg
Calcium:
64
mg
Iron:
3
mg
Craving more veg-friendly recipes?
Shop our collection of vegetarian and vegan cookbooks, including our new Vegan Thanksgiving and Vegan Christmas cookbooks!