These salted caramel cupcakes are any sweet-lover's dream. From the fluffy cake to the caramel frosting, every bite of this sweet and salty cupcake will leave you wanting more. The slightly tart apple cake is the perfect compliment to the sweet and salty caramel.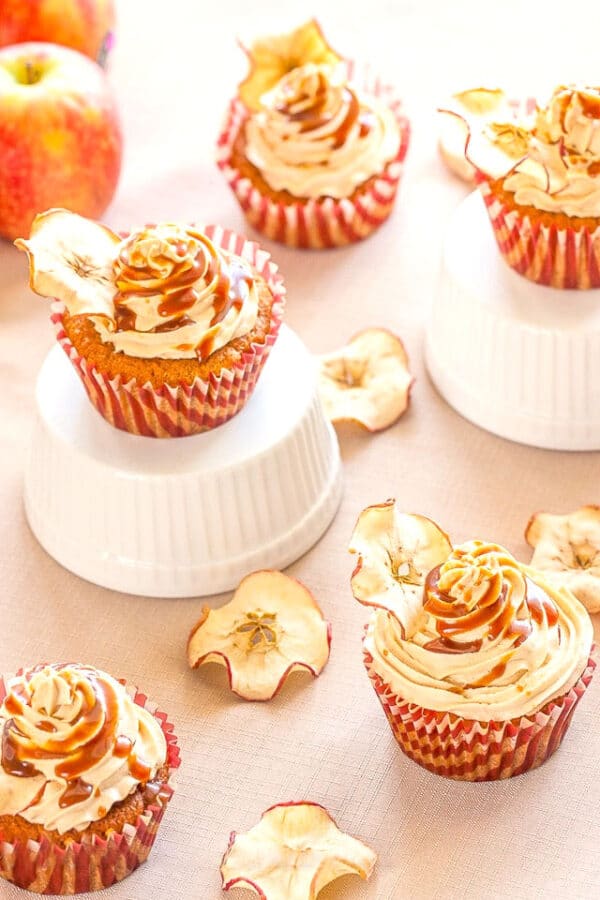 On a diet? Then you might want to look away now because these Salted Caramel Cupcakes are completely unapologetic in their calorific magnificence.
I've taken things up a notch...or three and instead of simple apple cupcakes, I have something much, much more decadent to share with you. It's time to indulge with this one!
With the addition of salted caramel, spices, salted caramel buttercream frosting, dehydrated apple wafers and yet more salted caramel drizzling down the sides, these cupcakes pack a ton of flavor. I present to you my Salted Caramel Cupcakes!
One thing I will warn you about is that there is no delicate, ladylike way to enjoy these Salted Caramel Cupcakes. You will probably end up with either caramel or frosting on your face - probably both. But what fun is life without a bit of mess and a bit of indulgence?
Oh, and did I mention that these are made with fresh apples? I adore cooking with apples and they always taste so much more amazing when they're fresh.
So let's get on to baking these beauties!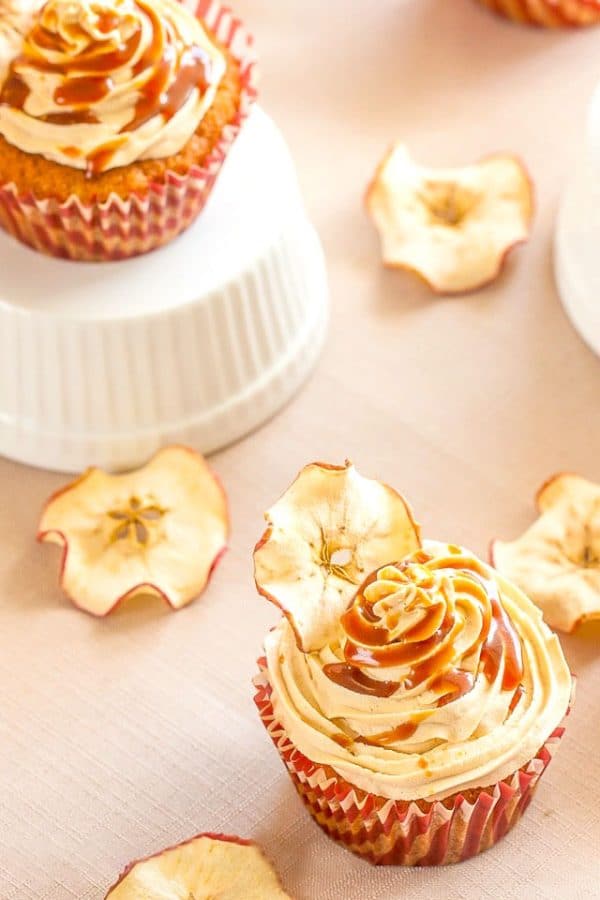 Making Salted Caramel Cupcakes
The first step to making these tiny masterpieces is to make the caramel sauce — which isn't as hard as it sounds.
To make the sauce, you simply dissolve 1 ¼ cups of sugar into ⅓ cup water, add 6 tbsp butter and increase the heat to medium for 15 minutes. Then, just add ½ cup of cream and a bit of salt. In just 3 minutes the sauce will be nice and thick, and ready to cool.
Then because we're using delicious, fresh apples in our cupcake batter, you'll need a food processor to make the magic happen.
Add all your ingredients to the food processor, and process until you have a thick, but smooth batter. Then pick some cute cupcake liners and pour that batter in. I recently discovered these reusable silicon cupcake liners, that would be perfect for this. I love that they are more sustainable - and economical for someone who is always baking cupcakes!
Bake the cupcakes for 15 to 20 minutes, and then let the salted caramel cupcakes cool.
Garnishing Salted Caramel Cupcakes
Next comes the cute apple crisp to garnish these already mouth-watering salted caramel cupcakes. Just slice the apples thinly and put them in the oven on low heat for two hours.
You can forget about them for an hour - go do laundry or watch your favorite TV show, but then revisit the kitchen and flip the apple slices over, and bake them for another hour. Then set them aside to cool.
Hint - if you want to get your apple slices REALLY thin and crunchy - you are going to need the help of a mandoline for slicing. These little devices are amazing. I use mine all the time to make homemade chips.
And as we all know, no cupcake would be complete without the frosting, so get that piping bag ready!
Beat the butter until it is creamy, and slowly start adding the powdered sugar and milk. Then just add the caramel, beat it some more, and it's ready to top these delectable cupcakes.
Now all you have to do is drizzle on some caramel, stick the apple wafer in the frosting, and enjoy!
If you're looking for a drink to go with these salted caramel cupcakes, mulled sparkling apple cider will be the perfect complement.
And if you're inclined to make a full size apple cake - take a look at my Apple Cider Cake, Apple Spice Cake, or Caramel Apple Cake!
Recipe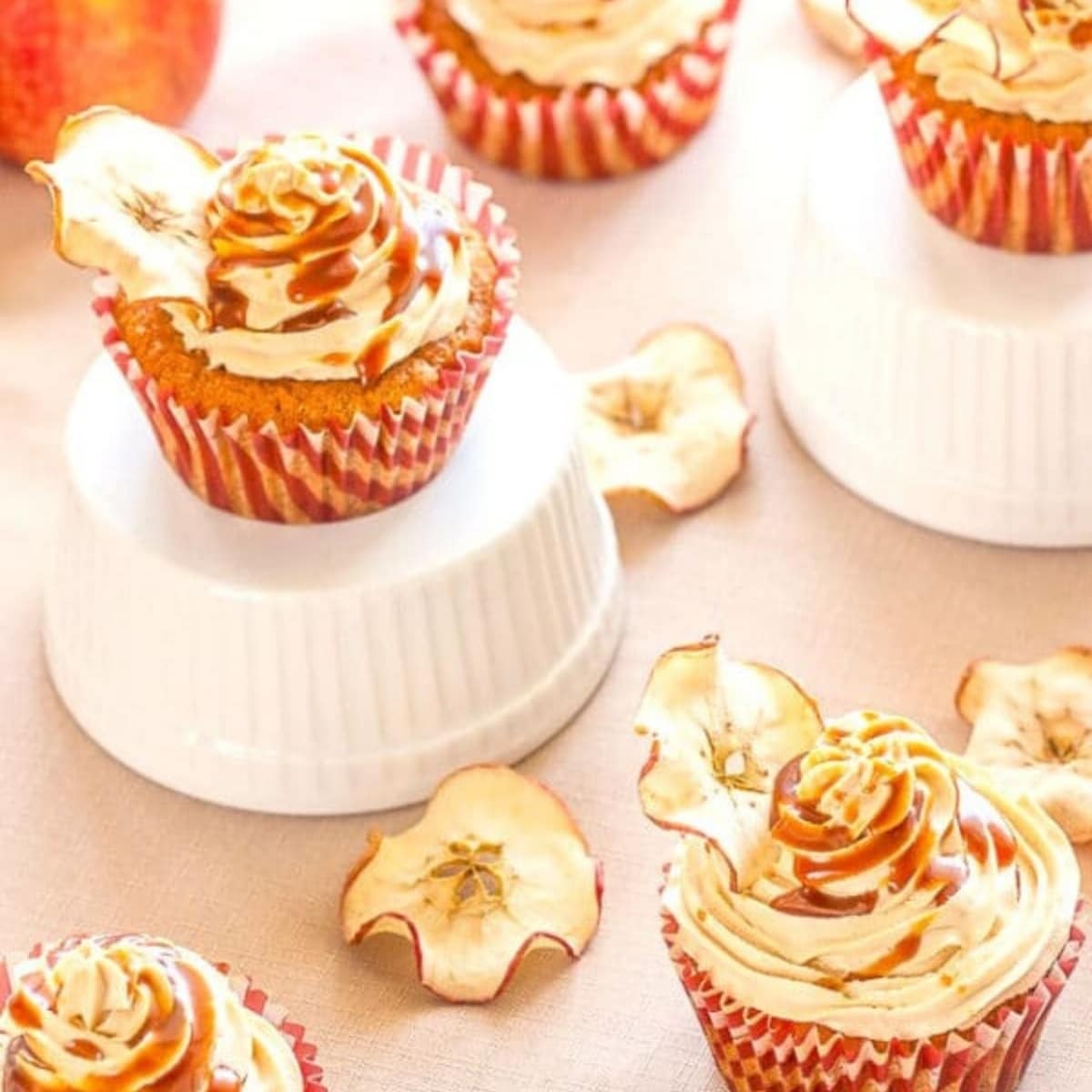 Ingredients
SALTED CARAMEL:

1 ¼

cup

caster sugar

⅓

cup

water

6

tbsp

butter

½

cup

heavy cream

1

tsp

sea salt

CARAMEL APPLE CUPCAKES:

3

small apples

peeled and cored

2

cups

all-purpose flour

1

cup

caster sugar

1

tsp

baking powder

½

tsp

baking soda

½

cup

butter

softened

2

eggs

large

¾

cup

sour cream

1

tsp

ground cinnamon

¼

tsp

ground cloves

¼

tsp

ground ginger

1

tbsp

salted caramel sauce

from above

APPLE WAFER:

2

apples

SALTED CARAMEL BUTTERCREAM FROSTING:

½

cup

butter

2

cups

confectioners sugar

sifted

¼

cup

milk

2

tbsp

salted caramel

from above
Instructions
Start by making the caramel. To make the salted caramel place the sugar and water in a medium sized saucepan over a low heat.

Stir until the sugar dissolves and then add the butter. Stir until the butter melts and then increase the heat to medium and allow the mixture to cook until it reaches a light toffee color, around 15 minutes.

Add the cream and sea salt, stir to combine and then cook for another 2 to 3 minutes or until the sauce has thickened slightly. Set aside to cool.

Preheat the oven to 350 degrees (F). Line a 12 hole muffin tin with cupcake liners.

Remove the butter and eggs from the refrigerator and allow them to come to room temperature before making the cupcake batter.

Using a food processor with a grater attachment fitter grate the apples. Swap the grater attachment for a chopping blade and add all of the cupcake batter ingredients into the bowl of the food processor and process until you have a smooth, thick batter.

Divide the batter between the cupcake liners. Bake for 15 to 20 minutes or until cooked and remove from the tray and place on a wire wrack to cool.

To make the apple wafers, reduce the oven to 210 degrees (F). Use a mandoline, or very sharp knife, to cut the apples into very thing slices.

Arrange the apple slices on a baking tray lined with baking paper and place in the oven and bake for 2 hours, turning the apples over after an hour. Remove from the oven and set aside to cool.

To make the frosting beat the butter in the bowl of a stand mixer fitted with the paddle attachment on medium-high speed until light in color and fluffy, roughly 3 minutes.

Reduce the mixer speed to low, and gradually add the confectioners sugar and milk, and mix until completely incorporated.

Add the caramel while the mixer is low and then increase to medium-high and beat until airy and thoroughly mixed, about 2 minutes.

To decorate the cupcakes fill a piping bag fitted with a star tip with the frosting and pipe onto the cupcakes.

Drizzle with some of the remaining caramel sauce and decorate with an apple wafer. Enjoy!
Notes
The salted caramel can be made 2 to 3 days ahead. Apple wafers can be made 1 day ahead. Store in an airtight container once cool.
Nutrition
Calories:
577
kcal
Carbohydrates:
78
g
Protein:
4
g
Fat:
28
g
Saturated Fat:
17
g
Cholesterol:
104
mg
Sodium:
462
mg
Potassium:
141
mg
Fiber:
1
g
Sugar:
60
g
Vitamin A:
950
IU
Vitamin C:
1.5
mg
Calcium:
64
mg
Iron:
1.2
mg
Craving more veg-friendly recipes?
Shop our collection of vegetarian and vegan cookbooks, including our new Vegan Thanksgiving and Vegan Christmas cookbooks!