Here we are again, the past year in the rearview mirror and already thinking about how we'll be healthier, better people in the new year. After a busy, often stressful holiday season, it's easy to fall into bad habits, like lack of exercise, fewer hours of sleep, and especially buying take-out food. So when it comes time to write our New Year's resolutions, we're eager to change so many things about our lives!
Well, you're not alone if you find yourself time and time again failing to meet all your New Year's resolutions by mid-February. Most people aim to eat healthier, cleaner diets in the new year, but life happens, we get busy, and eating clean and healthy isn't as easy as we imagined—seriously, we can't even make it two full months?! Enter Burt's Bees™ Plant-Based Protein Shakes.
Burt's Bees™ is known for their natural health and beauty products, so it's only natural their protein shakes would be plant-based formulas, allowing you to drink all the benefits of nature's most powerful ingredients. Burt's Bees™ Plant-Based Protein Shake's will meet your nutritional needs in one shake so you don't feel pressured to prepare complicated, time-consuming meals every morning. As ambitious as we may be at the beginning of the year to cook every meal, by February we've realized we have to give ourselves breaks from time to time. Swap one of Burt's Bees™ Plant-Based Protein Shakes for your breakfast or lunch, save time, and be confident that you're making your resolutions stick this year.
With Burt's Bees™ Plant-Based Protein Shakes, you're receiving the plant-based protein you desire, whether it's for refueling after a workout, or to meet your protein needs as a vegetarian or vegan (note that some of the Burt's Bees™ formulas contain honey). In addition to protein, Burt's Bees™ Plant-Based Protein Shakes provide organic and non-GMO ingredients that deliver even more nutritional benefits, like antioxidant benefits, vitamins, and probiotics.
The plant-based protein formula is crafted from five protein sources—pea, rice, flaxseed, sunflower seed, and oat. These sources achieve high digestibility and a complete essential amino acid profile. Vitamins included in the powder are extracted from fruits and vegetables. Burt's Bees™ Plant-Based Protein Shakes are dairy, soy, and gluten free.
Burt's Bees™ Daily Protein is crafted with a great mix of plant protein and vitamins to kickstart your day with a nutritional boost. If you're aiming for a more radiant and healthy glow this year, try Protein +Healthy Radiance with Antioxidant Vitamins A, C & E. Protein +Gut Health with Probiotics contains prebiotics and probiotics to support digestive health, which is essential to a balanced diet and healthy lifestyle.
Burt's Bees™ Plant-Based Protein Shakes are silky smooth, and come in delicious flavors that lend themselves to be nutritional smoothie add-ins. I tried the +Healthy Radiance Antioxidant Vitamins A, C & E Vanilla protein powder and made a Dairy Free Tropical Protein Smoothie (not pictured). I love adding tropical frozen fruit to my smoothies in the winter months because it brightens my mornings and is a nice contrast to all the fresh and local winter vegetables I prepare for other meals.
So whether your new year's resolution is to eat healthier and cleaner, reach your fitness goals, or simply to get more done each day, Burt's Bees™ Plant-Based Protein Shakes can help you stick to your new year's resolutions.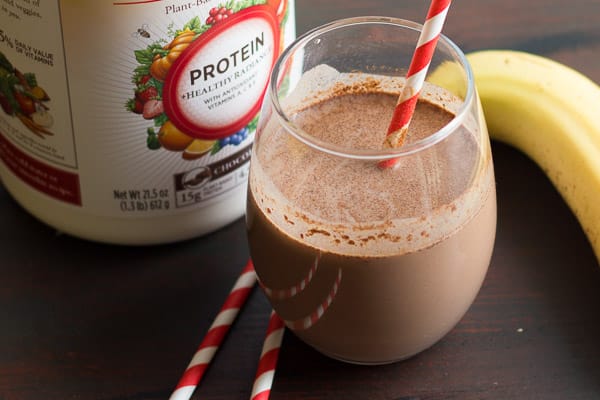 Ingredients
15

grams

+Healthy Radiance Antioxidant Vitamins A

C & E Vanilla Burt's Bees protein powder

3

tablespoons

unsweetened coconut milk yogurt

1 ½

cups

unsweetened vanilla almond milk

1

tablespoon

chia seeds

2

tablespoons

shredded coconut

½

cup

frozen strawberries

1

cup

frozen diced mango

1

teaspoon

hemp seeds
Instructions
Blend all of the ingredients together in a blender, except for the hemp seeds.

Add more almond milk as needed for easier blending.

Pour in a glass and sprinkle with hemp seeds.
This is a sponsored conversation written by me on behalf of Burt's Bees . The opinions and text are all mine.