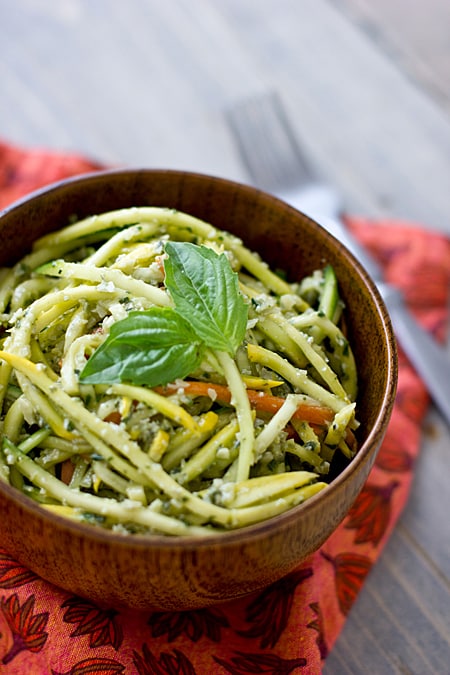 One misconception I always had about raw foods was that it was all either terribly boring or way too involved for me to bother with. I had no interest in schlepping all over town for weird ingredients and buying special equipment online or spending 8 hours sprouting seeds and another 4 hours dehydrating them for an afternoon snack. While these things are definitely true sometimes, I've started dabbling a little in eating more raw food and I've realized that it's definitely doable.
So what exactly does raw mean? Although there are varying definitions, it's usually a vegan diet that consists of food that hasn't been heated above 104 to 115 degrees. (Different people have different preferences for the temperature.) Because some heating is allowed, dehydration is often used to "cook" raw foods.
I'm not a nutritionist, but the reason I've decided to incorporate more raw foods into my diet is because I believe that some foods are healthier when raw, while other foods are healthier when cooked. I'm not looking to go entirely raw, just seeking a little more balance, so I've been eating more raw lunches, snacks, and desserts lately. And guess what? I still don't have any special equipment or strange ingredients. There are lots of beginner-friendly raw recipes out there if you know where to look and, failing that, there are more and more prepared raw foods on the market today. Here are some of the resources I've been using:
Ordering Raw Food Online
Triangle Raw Foods // I have to mention my local favorite, Triangle Raw Foods! If you don't live in the Raleigh/Durham area, you can order their raw protein bars, salad dressings, sprout nut butters, and sweet, sweet candy online.
Raw Food Books
Annelie's Raw Food Power by Annelie Whitfield // I received a review copy of this book and I've been enjoying it, although there are a lot of recipes in here that require a dehydrator or ingredients I don't generally have on hand. My favorite recipe from the book, Pumpkin Pesto, is posted below. I toss it with raw vegetable noodles made with julienned yellow squash, zucchini, and carrots--so delicious! (And super easy too.) You can enter to win a copy of Annelie's Raw Food Power on the Marketplace this month too.
In The Raw: Small Indulgences from The Sweet Life // This ebook by Sarah from The Sweet Life is the second raw cookbook I bought. I am loving raw desserts right now and this book is full of them. There's also a guide to raw kitchen necessities, which is a great resource.
Practically Raw: Flexible Raw Recipes Anyone Can Make by Amber Shea Crawley // If, like me, you are a dabbler when it comes to this whole raw food thing, this book is for you. Flexible? Anyone can make? Yes, I clearly needed this book.
Going Raw by Judita Wignall // Another raw food book for beginners with lots of information on raw food preparation techniques like dehydration and sprouting.
Raw Food Blogs
Rawmazing // I love Rawmazing for its beautiful photography and unique recipes. Guess what else? Rawmazing has a store! So if you do feel inclined to buy some raw food equipment, you can buy it there.
Chef Amber Shea // Well, I love Practically Raw, so is it a surprise that I love the author's food blog too? This is another blog that includes some cooked dishes too, but the raw recipes have their own category.
See? Raw food doesn't have to be intimidating and it can definitely be more interesting than a handful of celery sticks or almonds.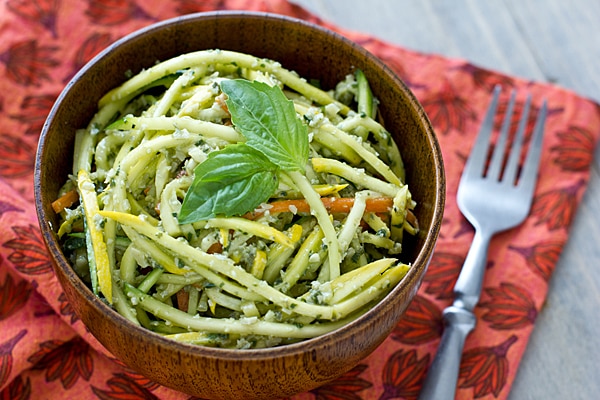 Ingredients
1

c.

pumpkin seeds

pepitas, soaked for 2 hours then drained

½

c.

olive oil

2

garlic cloves

1

tsp.

apple cider vinegar

1

tsp.

raw honey

1

c.

fresh basil leaves

1

tsp.

sea salt
Instructions
Put all the ingredients into a food processor and process until very smooth. (I like my pesto a little chunky, so I kind of ignored the very smooth part.)
Notes
Reprinted with permission from Ivy Press.
Nutrition
Calories:
1224
kcal
Carbohydrates:
19
g
Protein:
40
g
Fat:
118
g
Saturated Fat:
18
g
Polyunsaturated Fat:
32
g
Monounsaturated Fat:
62
g
Trans Fat:
1
g
Sodium:
970
mg
Potassium:
1322
mg
Fiber:
9
g
Sugar:
4
g
Vitamin A:
6259
IU
Vitamin C:
24
mg
Calcium:
271
mg
Iron:
15
mg
Craving more veg-friendly recipes?
Shop our collection of vegetarian and vegan cookbooks, including our new Vegan Thanksgiving and Vegan Christmas cookbooks!
Disclosure: The links to Amazon in this post are affiliate links, so if you were to make a purchase, I'd receive a small percentage of the sale price.