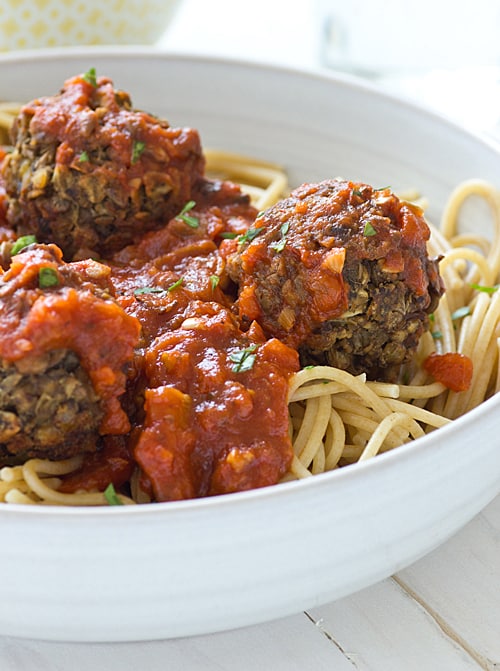 Yesterday I was browsing through my pins on Pinterest and I came upon a corn recipe.
Corn. It looked so good. So fresh. Yellow. Delicious. I wanted to cry a little. I could almost taste it, but the almost part made it even worse--almost, but not really.
We're on the cusp of winter, which means that summer is six months away. It is not going to be corn season anytime soon. No, it's winter--winter, the time to eat… well, I guess the same things we've been eating since fall? More sweet potatoes? More winter squash? Mushrooms and broccoli and all those things that might have a season, but don't really have a season because we buy them year-round?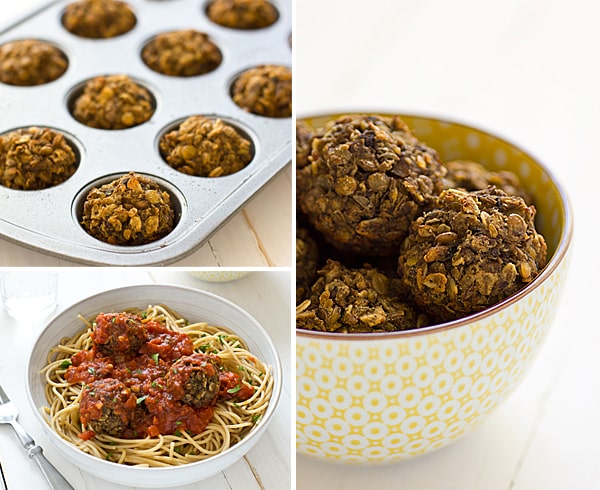 Lentil Mushroom Meatballs have been on my recipe to-do list since last spring, but somehow they seem appropriate for winter. If a big bowl of spaghetti topped with marinara sauce and meatballs could have a season, it would be winter, right?
These meatballs took a lot of trial and error. The first time I made them, I used French lentils. The meatballs were almost perfect, but needed a little adjustment in the seasoning department. So the second time, I used brown lentils. Disaster! The meatballs were mushy in the center, although the seasoning was right this time.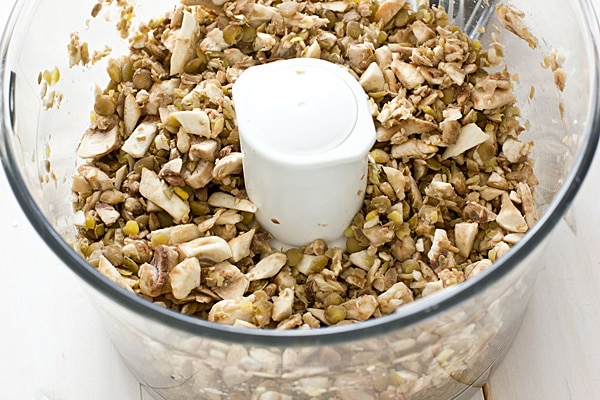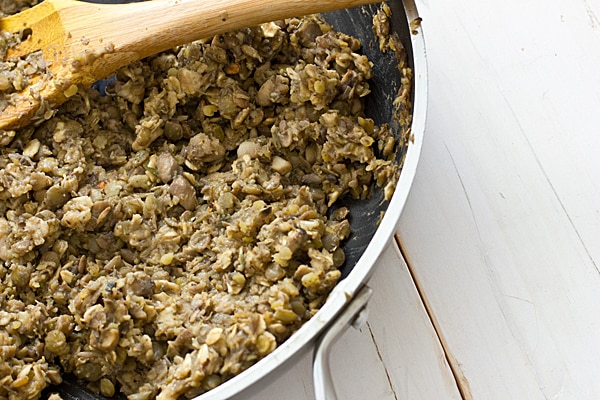 Lesson? The lentils need to be undercooked. I didn't want to call for French lentils in the recipe since they're not available at all supermarkets. So in order to use brown lentils, I cooked them for a shorter amount of time than you normally would. After cooking, they get pulsed with mushrooms in the food processor until the mixture is coarsely chopped. This mixture is then browned in a skillet before forming the meatballs. (Does this sound complicated? I swear, it's not!)
I also baked the meatballs instead of frying them, so in order to help them keep their shape, I put them in mini muffin tins. Oh sure, they get a little flat on the bottom, but don't they look like perfect little meatballs on top?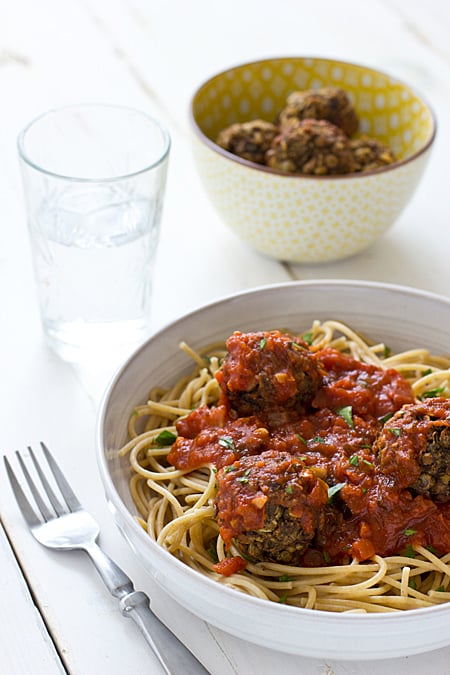 Chris loves the frozen soy meatballs and I think I've finally come up with a good alternative--well, at least, according to him, I have. They're savory and delicious and made with real, whole ingredients like lentils, mushrooms, and oats. Although they are perfect in a big bowl of spaghetti, they'd also make fantastic meatball subs or sliders.
I guess winter isn't so bad, huh? Maybe I can wait that six months for corn...
Recipe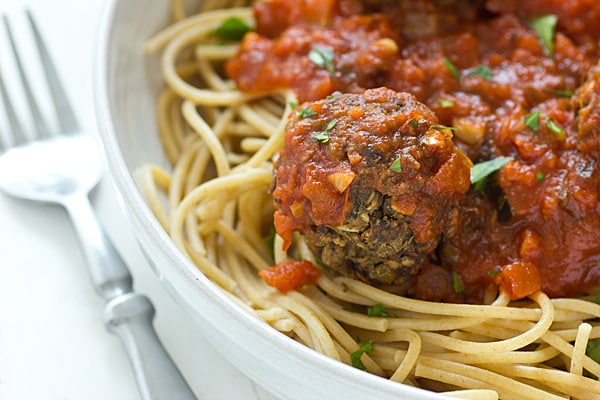 Instructions
Combine lentils, bay leaf, and water in a small saucepan. Bring to a boil, then simmer over low heat for 10 minutes. (Yes, the lentils will be undercooked--don't cook them for the time indicated on the package!) Remove from heat, drain, and cool slightly. Discard bay leaf.

Add mushrooms and lentils to food processor. Pulse until coarsely chopped.

Heat olive oil in a large skillet over medium-high heat. Add garlic and cook until fragrant (about 30 seconds), stirring constantly. Stir in mushroom-lentil mixture. Cook for about 4 minutes or until browned, stirring constantly.

Add red wine to skillet and cook until evaporated. Stir in broth, soy sauce, oats, and Italian seasoning. Continue to cook, stirring constantly, until liquid has been absorbed. Remove from heat. Season with salt and pepper to taste and allow to cool.

Preheat oven to 350 degrees.

Once mixture is cool enough to work with, shape it into 12 uniformly-sized meatballs. Place each in a mini-muffin tin that's been coated in oil or cooking spray. Bake for 40 minutes, or until golden brown.
Nutrition
Serving:
3
-4 meatballs
Calories:
92
kcal
Carbohydrates:
14
g
Protein:
5
g
Fat:
2
g
Saturated Fat:
1
g
Polyunsaturated Fat:
1
g
Monounsaturated Fat:
1
g
Sodium:
112
mg
Potassium:
203
mg
Fiber:
4
g
Sugar:
1
g
Vitamin A:
32
IU
Vitamin C:
1
mg
Calcium:
20
mg
Iron:
1
mg
Craving more veg-friendly recipes?
Shop our collection of vegetarian and vegan cookbooks, including our new Vegan Thanksgiving and Vegan Christmas cookbooks!