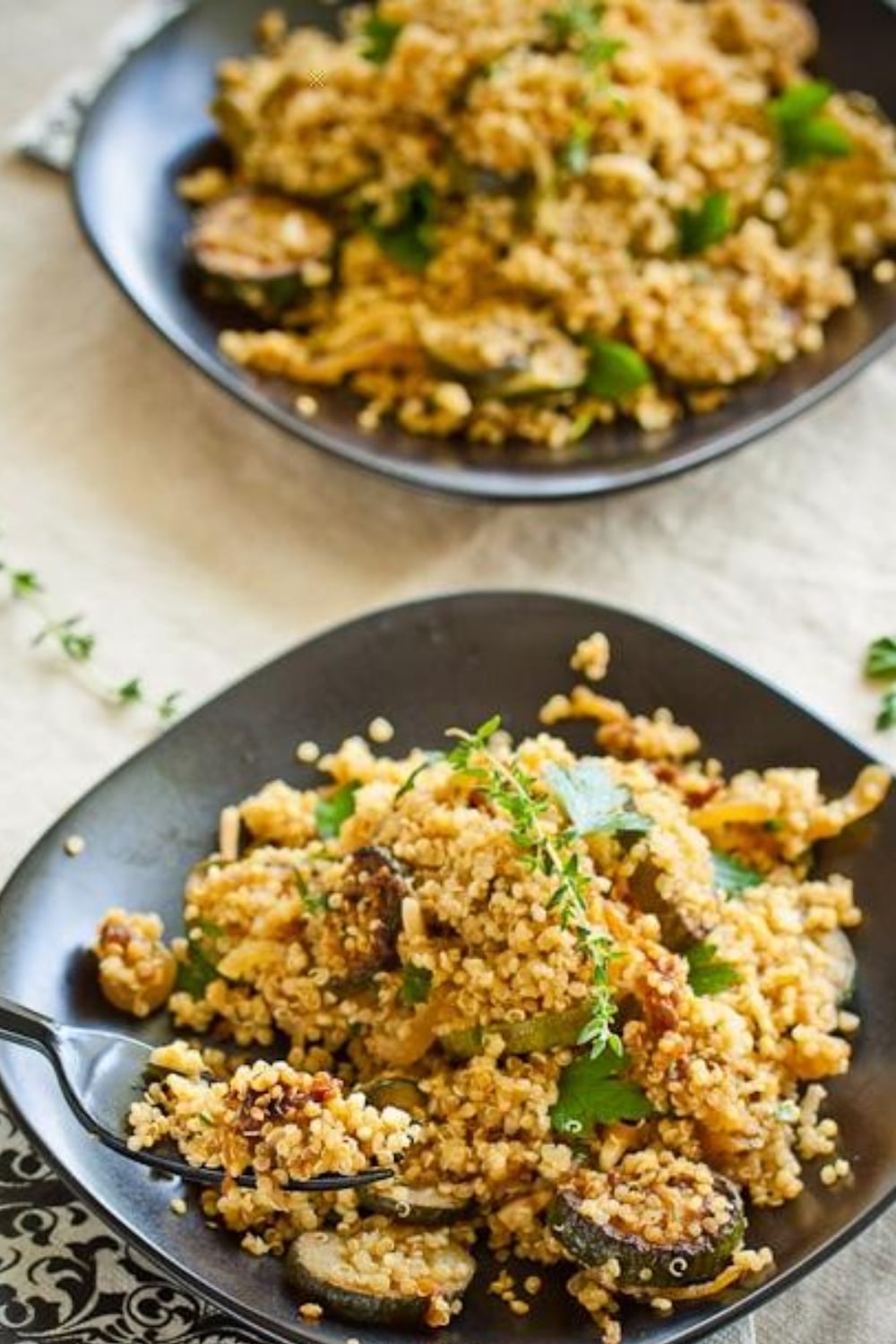 Welcome to my third post in the [amazon_link id="1408812126" target="_blank" ]Veg: River Cottage Everyday[/amazon_link] series celebrating the launch of Hugh Fearnley-Whittingstall's new book, River Cottage Veg Everyday. The first two recipes I tried were Mushroom Risoniotto and Lettuce and Spring Onion Tart, and today it's Quinoa with Zucchini and Onions.
While I've used Quinoa Flakes in a number of recipes in the past, I hadn't actually cooked with Quinoa before. So when I came across a recipe for Quinoa, Zucchini and Onion in River Cottage Veg Everyday I knew I had to give it a try.
I'm sure you've all heard about Quinoa and what a wonderful superfood it is as it's use seems to become more and more widespread these days.  Even so, I thought I would share a few facts about Quinoa that you might not be aware of.
10 Facts About Quinoa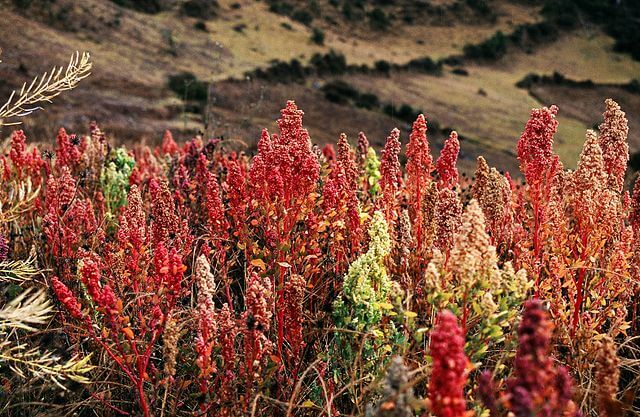 1. It's not a grain
While Quinoa is often referred to as a grain, it is in fact a seed.  Botanically it's related to spinach, beetroot and chard, and like it's relatives, in addition to the edible seed, the leaves can be eaten as well.  Quinoa grows on stalks (as you can see in the image above) of between three to nine feet tall. The large seed heads can vary in colour, from red, purple and orange to green, black or yellow.  Having said that, I've only ever seen white and black varieties for sale here in Australia.
2. Quinoa origins
Quinoa is believed to have originated from the Peruvian Andes and has been cultivated for over 5,000 years by local cultures. Most notable of which was the Incan's, who referred to it as the "mother of all grains".
3. Quinoa was almost wiped out by Spanish conquerors
The Incan's had always treated Quinoa as a sacred grain, and as a result almost all of their ceremonies involved the use of Quinoa. When the Spanish set out to conquer the Incan empire in 1532 they destroyed the crops in order to undermine it. The conquerors then also made it illegal to grow Quinoa. As a result, only small crops of Quinoa at high altitudes survived, and Quinoa was all but forgotten about until it's rediscovery in the 1970's.
4. It's considered a super crop
With just 500 grams of seeds a full acre of the crop can be planted which will produce between 1.2  to 2 tonnes of new seeds.  Since quinoa is also drought resistant, and grows well on poor soils, without irrigation or fertiliser, it has been designated as a "super crop" by the United Nations, for its potential to help feed the hungry poor of the world.
5. It has a funny name
Not sure how to pronounce Quinoa? It is pronounced "keen-wah".
6. It's nutritionally rich
One cup of cooked quinoa contains 222 calories and provides the following nutrients:
8.2 g protein
40 g carbohydrate
31 mg calcium
2 mg Zinc
2.75 mg Iron
120 mg magnesium
5.2 grams dietary fiber
Given it's protein and iron content it's especially good for vegetarians and vegans.
7. Quinoa is gluten free
If you are on a gluten free diet it's worth trying Quinoa.  It's also easy to digest.
8. Unwashed Quinoa can taste bitter
Quinoa is coated in a natural compound called saponins (a soap like substance). This compound help protect it while it is growing and ensures the seed is not eaten by birds, as saponin produces a bitter taste. As a result Quinoa needs to be washed before being eaten. While most commercially sold Quinoa is pre-washed, it's worthwhile rinsing Quinoa before cooking just to make sure it contains no saponins.
In South America, the saponin coating on Quinoa is used as a detergent to wash clothes and also as an antiseptic.
9. Quinoa can be cooked in a rice cooker
While most recipes tend to refer to stovetop cooking, Quinoa can in fact be cooked in a rice cooker, using the same water quantities and setting that you would use to cook rice. I haven't tried this method yet, but will the next time I make Quinoa.
10. Quinoa can be germinated to boost it's nutritional value
Germinating Quinoa activates natural enzymes and multiplies the vitamin content. Better yet, the germination period is short, requiring only 2 to 4 ours soaking in water to make it sprout.  Germination makes Quinoa soft, making it great for use in salads.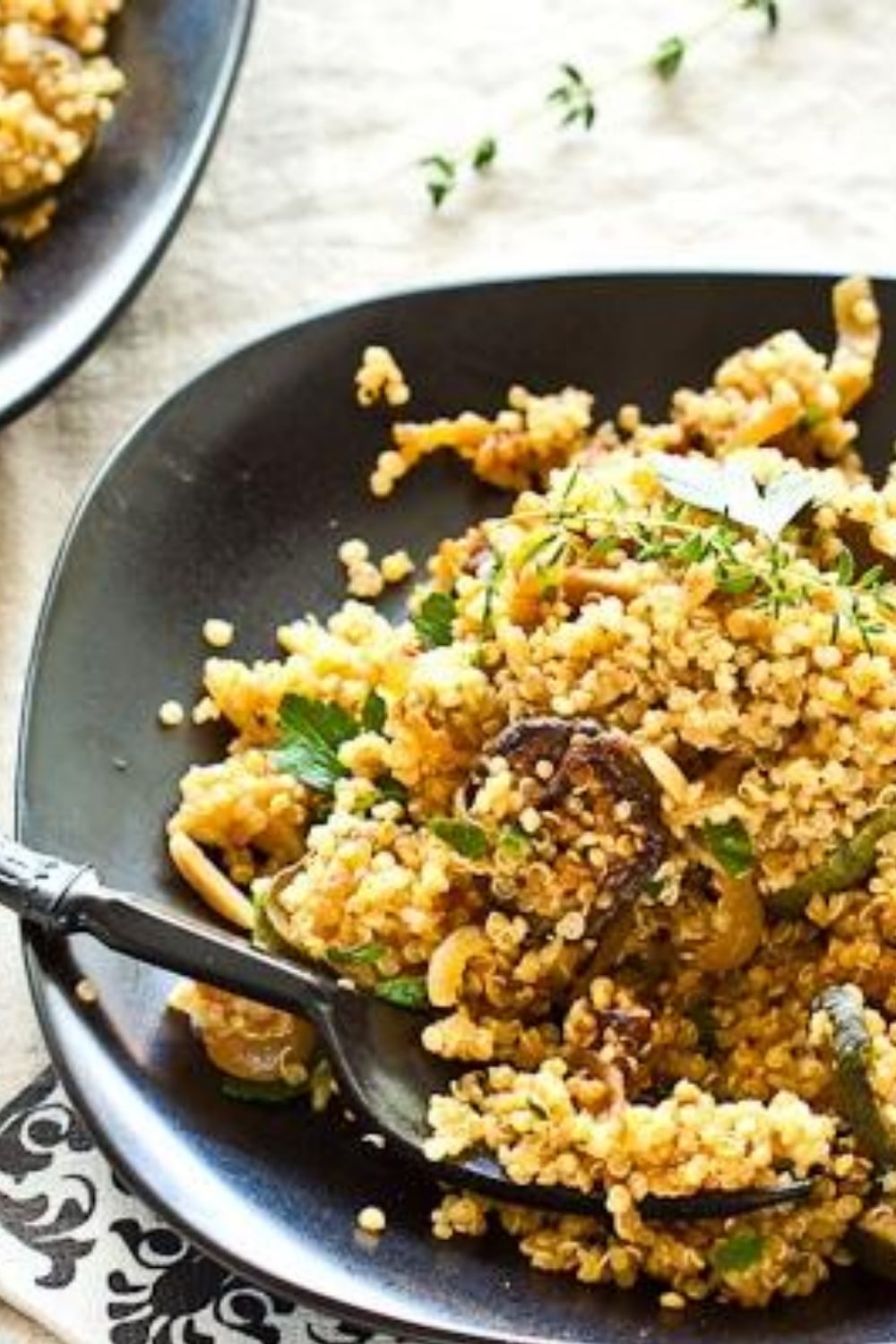 The great thing about Hugh's recipe for Quinoa with Zucchini and Onions is that this dish can be served hot or cold. The other night I made this as a side dish, and the next day I enjoyed the leftovers for lunch (and probably will today too). In addition to it's versatility, this recipe is easy to prepare, involving cooking the Quinoa and frying the Zucchini and Onions and then combining it all together with some parsley, lemon juice and pine nuts. I didn't have pine nuts to hand, so I substituted toasted slivered almonds, which worked just as well.
So tell me, have you tried Quinoa?
If you've enjoyed the recipes in this series, and would like to try more, I have great news for you because I'm giving away a copy of River Cottage Veg Everyday thanks to Bloomsbury Publishing. If you would like to enter this great giveaway click here to submit your entry. Don't forget you can enter more than once to increase your chances of winning, and there are also daily entry options.
Recipe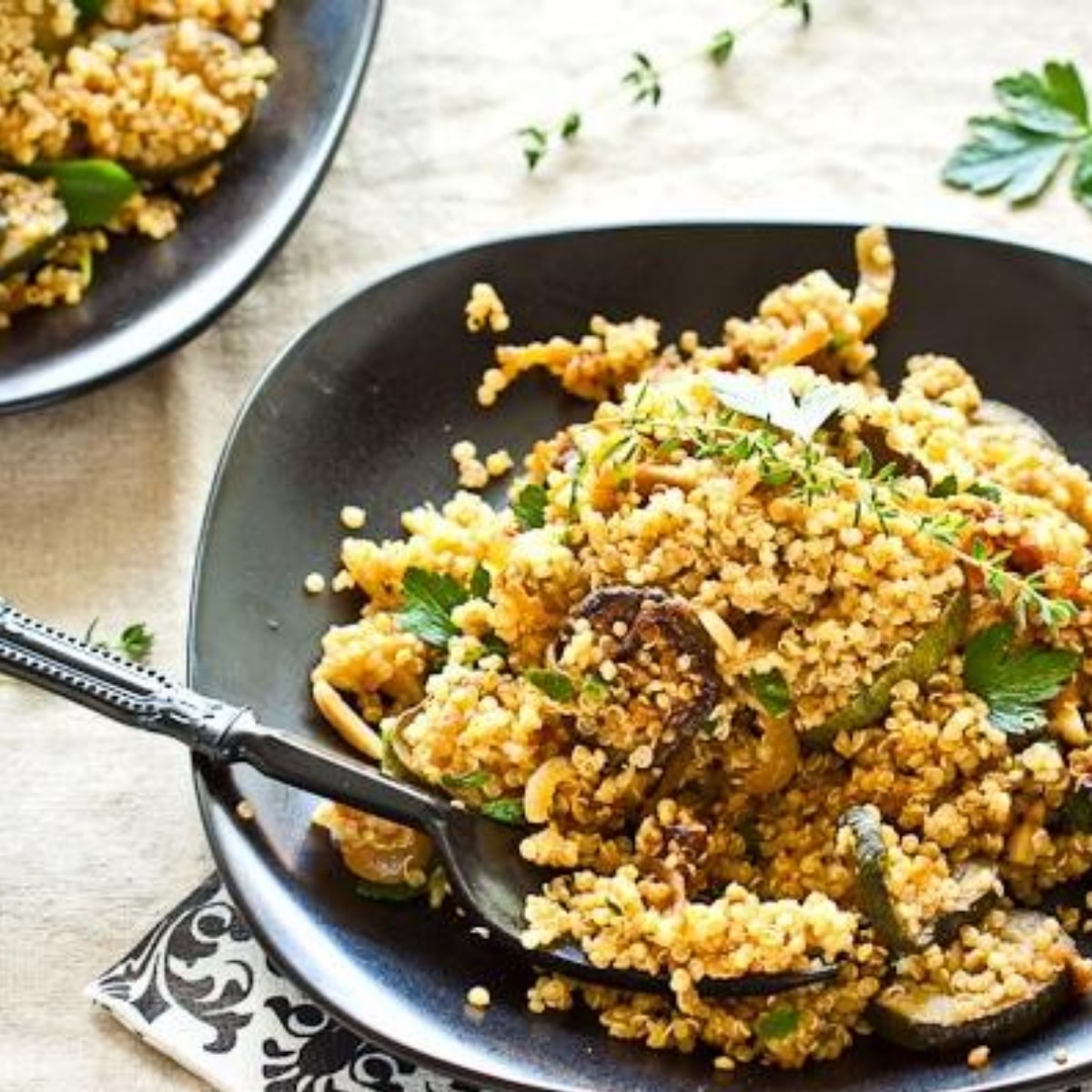 Ingredients
800

g

of zucchini

cut into 5mm thick slices, courgettes

a knob of butter

2

tablespoons

of rapeseed or olive oil

3

in

onions

peeled, cut half and then sliced thinly

leaves

a few sprigs of thyme

only

3

cloves

garlic

finely chopped

200

g

of quinoa

a good handful of flat leaf parsley

roughly chopped

a squeeze of lemon juice

50

g

of pine nuts

lightly toasted

sea salt and freshly ground pepper
Instructions
Place a large frying pan over a medium heat, add the oil and butter and once the butter has melted add the zucchini, onions, thyme and salt and pepper. Cook for 20 to 25 minutes, stirring from time to time, until the zucchini and tender and starting to turn golden. Add the garlic and fry for another couple of minutes.

While the zucchini and onions are cooking, rinse the quinoa in several changes of cold water and then place in a saucepan along with plenty of cold water and a pinch of salt. Bring to the boil and then reduce the heat and simmer for 12 minutes or until the quinoa is tender and the long white kernels are coming away from the seeds. Tip into a sieve and leave to drain and steam.

Combine the quinoa and zucchini and onions and toss to mix well. Add the parsley, lemon juice, salt and pepper and stir well. Check the seasoning and adjust as necessary. Serve topped with toasted pine nuts.
Notes
You will need to ensure you have a very large frying pan to cook the zucchini and onions so that they cook properly rather than steam. I didn't have pine nuts to hand so substituted slivered almonds, which worked well.
Nutrition
Calories:
368
kcal
Carbohydrates:
40
g
Protein:
11
g
Fat:
19
g
Saturated Fat:
2
g
Sodium:
19
mg
Potassium:
887
mg
Fiber:
5
g
Sugar:
5
g
Vitamin A:
400
IU
Vitamin C:
36.5
mg
Calcium:
60
mg
Iron:
3.7
mg
Craving more veg-friendly recipes?
Shop our collection of vegetarian and vegan cookbooks, including our new Vegan Thanksgiving and Vegan Christmas cookbooks!