Don't leave your pups out of your next celebration! Your dog will love these easy, homemade pumpkin dog treats. They're packed full of pumpkin flavor with juicy chunks of fresh apple. Woof! (That's dog for "yum"!)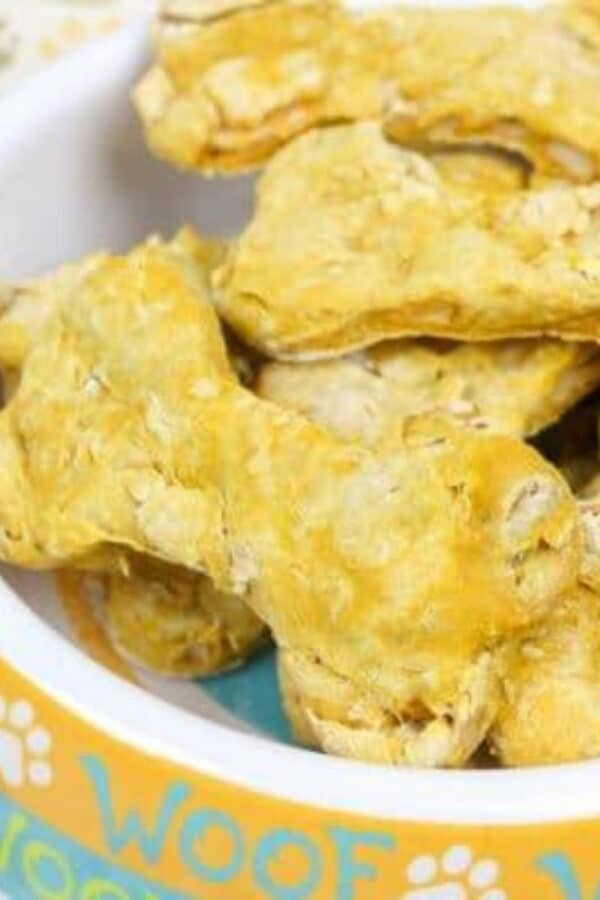 Who's man's (or woman's) best friend? Obviously, your pup.
Our dogs have always been part of our family - and every bit as special to us as the human ones.
So with the holiday season coming around, I figured it was only fair to create a special dog friendly treat. These pumpkin dog treats are sure to be a hit with your favorite canine.
Are pumpkin dog treats good for dogs?
Yes! Pumpkin is a healthy choice for dogs.
In fact, pumpkin offers many health benefits for dogs, including:
Weight Management
Digestive Health
Urinary Health
Our pumpkin dog treats also contains big chunks of fresh apple, which is another healthy dog-friendly treat. Just make sure to remove all the seeds!
What is the best flour to use for dog treats?
Unless your dog has any particular allergies or food sensitives, most types of flour are safe to use for dog treats.
I typically use a regular, all-purpose flour when I make treats for my pup.
But if you think your dog may be sensitive to gluten, feel free to use a gluten-free baking flour or a substitute like almond flour.
How do you make pumpkin dog treats?
These pumpkin dog treats are super easy to make, and your dog will love them!
You'll need cookie cutters, a large baking sheet, a rolling pin, and something to mix with.
You can grab these dog-bone shaped cookie cutters on Amazon. But I'm confident your pup will eat these no matter what shape you make them!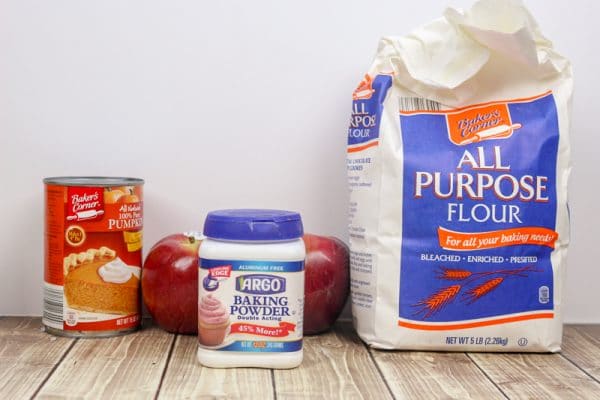 First start by gathering up all your ingredients: flour, baking powder, apples, pumpkin puree, and an egg.
If you want to make vegan dog treats, you can replace the egg with about ¼ cup of applesauce or mashed banana.
Now it's time to peel those apples and slice and dice 'em! If you want to cut down your time even more, try a fruit dicer.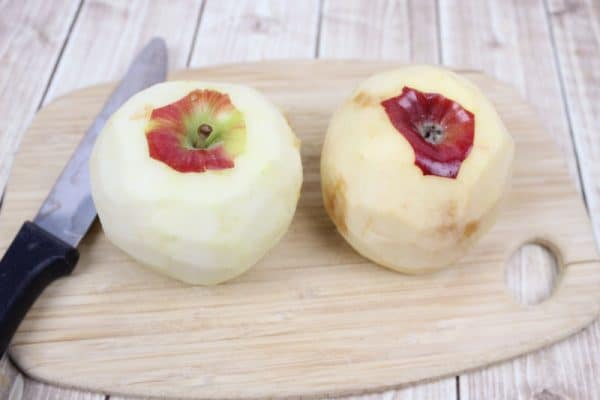 Once your apples are diced, combine all your ingredients and mix everything together until the mixture is the consistency of cookie dough.
You can mix this just fine by hand - I would use a wooden spoon or a spatula because of the big apple chunks.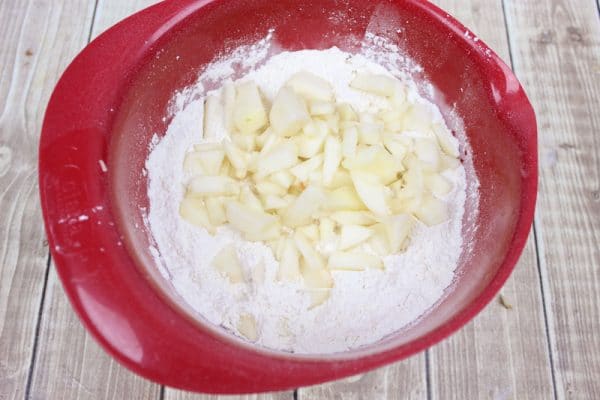 You'll have a beautiful, orange mixture that looks so yummy, you just might want to eat it yourself.
Try to save some for your dog!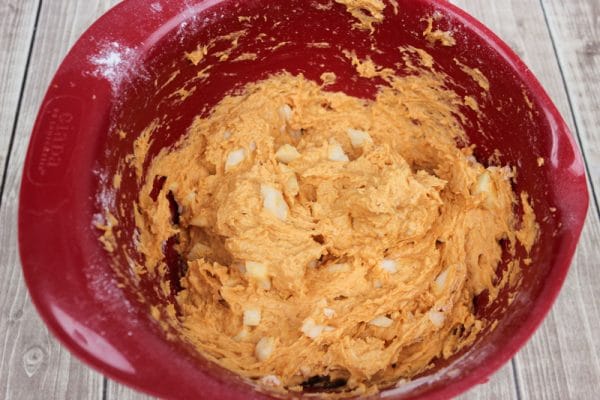 Once your dough is ready, grab your dog bone cookie cutters, and get ready to make your pumpkin dog treats!
If you are making these for Christmas or Thanksgiving, you could even try out some holiday shapes for some really festive dog treats.
Sprinkle a bit of flour on a flat surface, roll out your dough, and start cutting out your pumpkin dog treats.
Make sure to use all the batter! If you have a small amount leftover, just roll it out into a circular or rectangular shape. Your pup won't mind.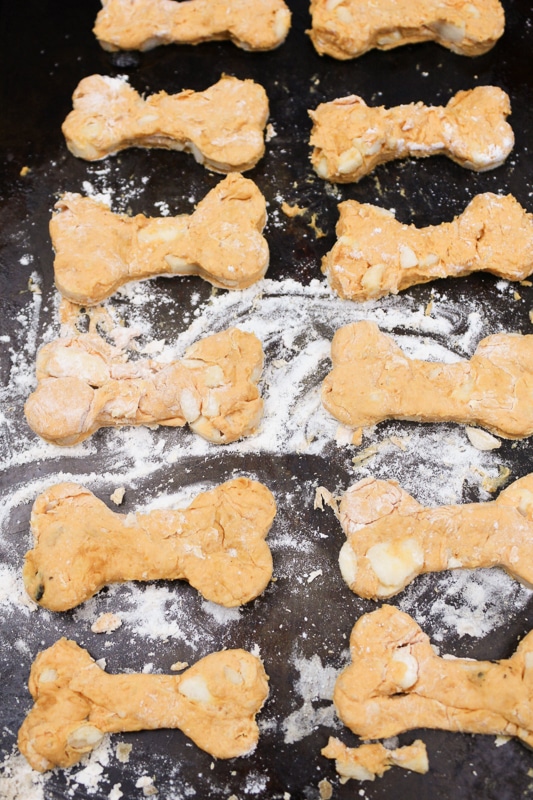 Now, pop those pumpkin dog treats into the oven for 30 minutes. Let them cool completely before serving to your furry friend.
How pretty do these pumpkin dog treats look?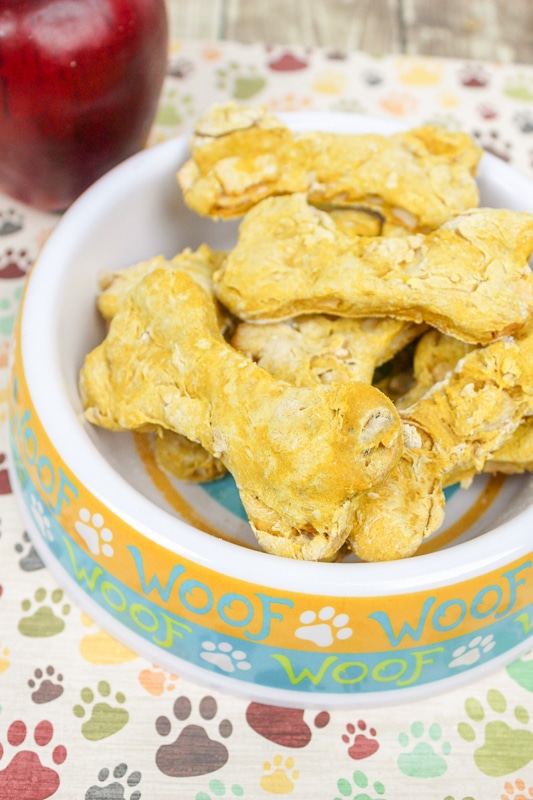 Your pup is going to think you are the coolest.
You can even give these pumpkin dog treats out as gifts for your friends' dogs for the holidays. Just put them in a clear baggie and tie it off with a holiday-themed ribbon!
I hope you give these dog treats a try. And if you do - please post a picture of your dog's happy face on Instagram to share it with me. Just tag me @deliciouseveryday so I don't miss it!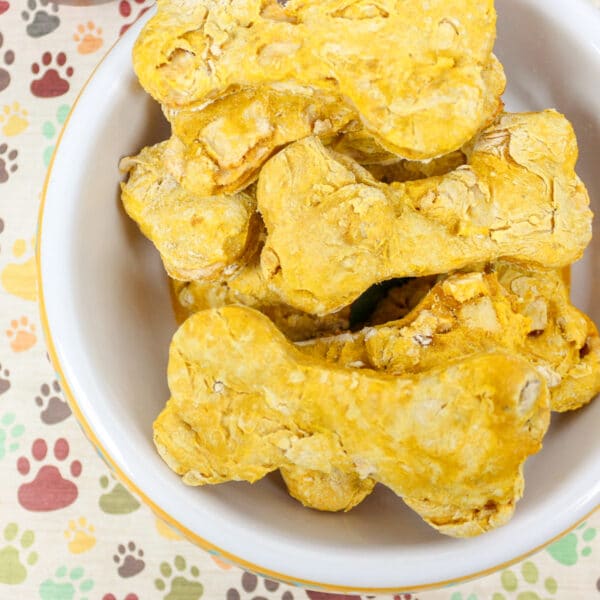 More Tasty Ideas
If you want to get in on pumpkin spice season as well, be sure to check out my favorite pumpkin recipes for people while you're here!
If you're here planning your holiday menu, don't miss our new Vegan Christmas and Vegan Thanksgiving cookbooks. They're packed with all my favorite holiday-worthy recipes for a plant-based feast.
Recipe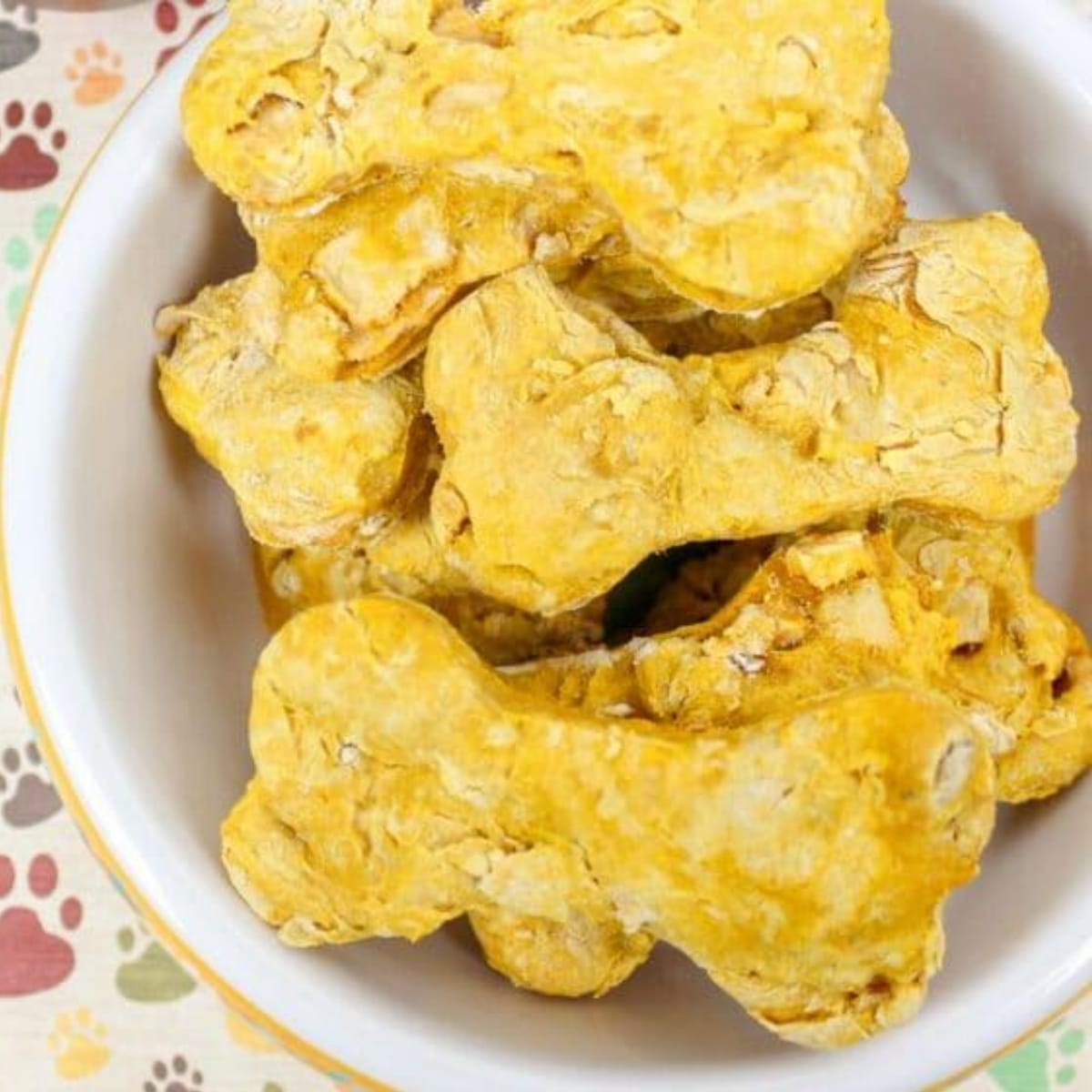 Instructions
Preheat oven to 350 degrees.

In a large bowl, combine all of the ingredients together until they are thoroughly mixed and the mixture is dough like.

On a large surface, roll the dough out flat, and use a dog bone cookie cutter to cut out shapes.

Place the dog bones on a greased baking sheet.

Remove from oven and let completely cool.
Nutrition
Calories:
100
kcal
Carbohydrates:
21
g
Protein:
2
g
Cholesterol:
13
mg
Sodium:
7
mg
Potassium:
122
mg
Fiber:
1
g
Sugar:
3
g
Vitamin A:
1625
IU
Vitamin C:
1.8
mg
Calcium:
28
mg
Iron:
1.2
mg
Craving more veg-friendly recipes?
Shop our collection of vegetarian and vegan cookbooks, including our new Vegan Thanksgiving and Vegan Christmas cookbooks!