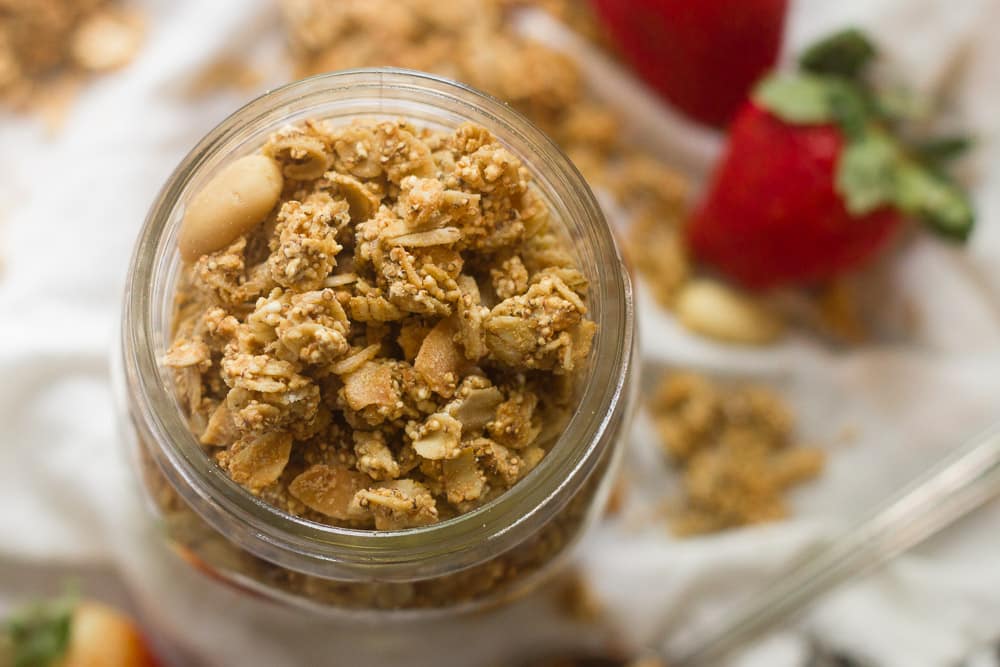 I'm not a morning person. And summer isn't my favorite season. So as you can imagine, mornings in the summer can turn me into a bit of a grump. Interestingly, the highlight of my mornings and summer months is the same thing: food! Breakfast is my favorite meal of the day, and with all the produce options available during the summer, I'm all about the food. So obviously an awesome breakfast is the way to cheer me up in those early hours on hot summer days.
That's why I got into making granola. It's delicious, best eaten cold (so perfect for hot days), and goes great with summer fruit. Best of all, you can make a big batch and have breakfast at the ready for days.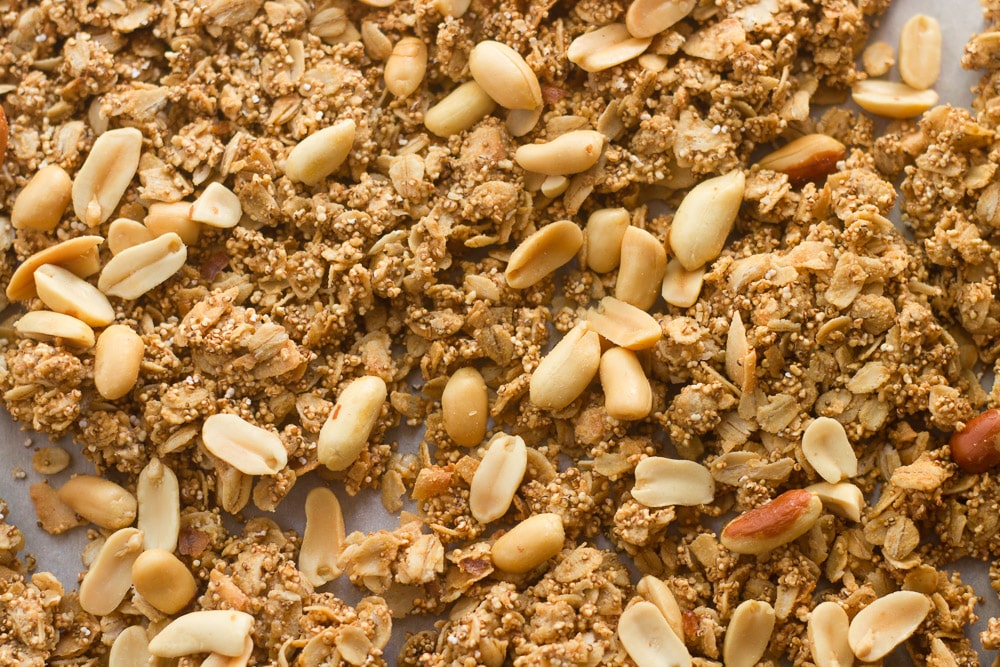 I like to play with all kinds of flavor variations when it comes to granola making, and I have a basic formula that I like to follow, so it's pretty easy to switch things up. My basic formula, like most granola recipes, is oat based. But other grains work great in granola too! I find the best granola is usually a mix of oats and some other grain, and amaranth if my favorite alternative granola grain to date.
Amaranth grains (which are actually seeds) are super tiny, and great for popping, just like you'd do with pop corn. They're still super tiny after popping, but also light and just a bit crunchy, like tiny little pop corn kernels. Mix puffed amaranth up with some oats and peanut butter and you're got a granola with an amazing texture and lightness to it. Perfect for summer.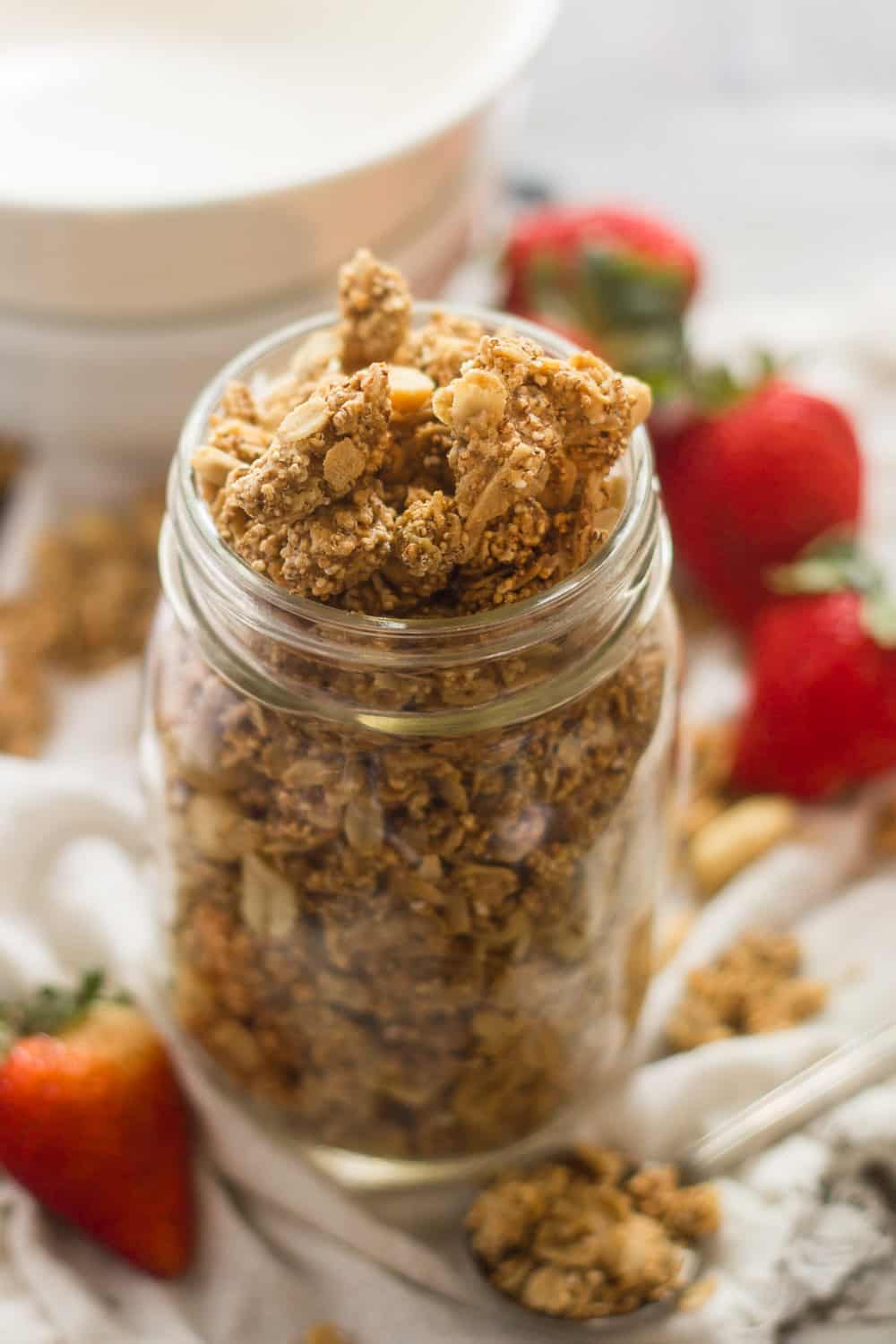 Popping the amaranth might be a bit tricky at first, so you might want to start with a small amount to see how you do and make adjustments. I've burned a batch or two, and learned a few things along the way. I find this basic technique to be the best. Basically, use a nice large pot, and shake and stir the amaranth constantly while it cooks.
Recipe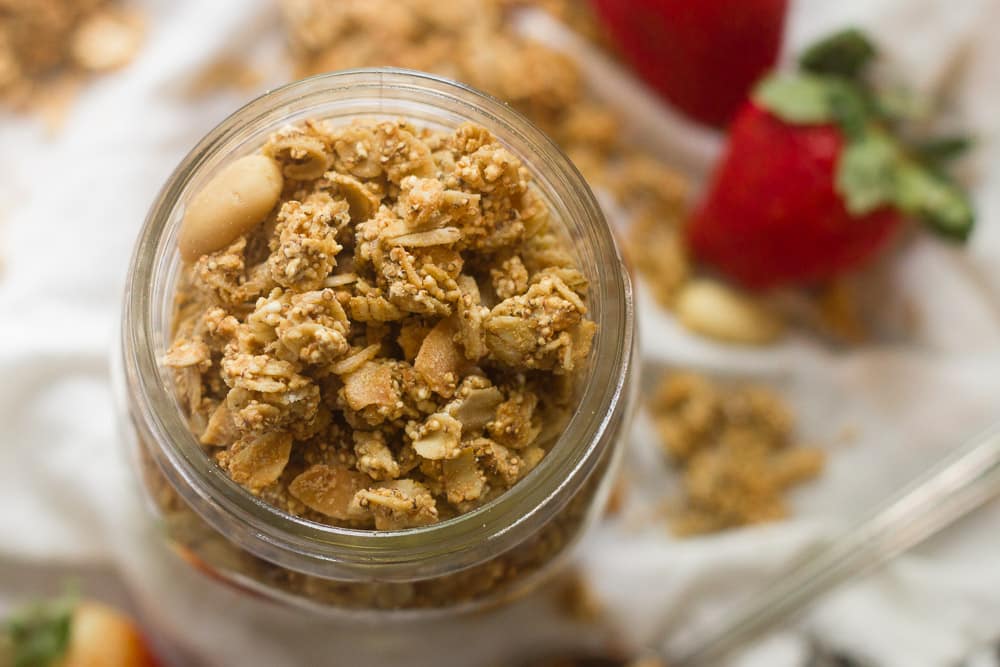 Ingredients
6

tablespoons

uncooked amaranth

2

cups

rolled oats

½

cup

unsweetened flaked coconut

½

cup

roasted and salted peanuts

½

cup

creamy natural peanut butter

⅓

cup

maple syrup

¼

cup

melted coconut oil

1

teaspoon

vanilla extract

¼

teaspoon

salt
Instructions
Place a medium saucepan over medium-high heat and allow it to heat up for a minute. Once the pan is hot, add 2 tablespoons of amaranth. Heat, stirring constantly and shaking the pan gently. After a few seconds the amaranth seeds should start to pop. Cook until most have popped, about 2 minutes. They'll start to burn before they all pop, so once the popping begins to slow down or you see some burned seeds, remove the pan from the heat and pour the amaranth into a bowl. Repeat with the remaining amaranth, popping 2 tablespoons at a time.

Preheat the oven to 300°F and line a couple of baking sheets with parchment paper.

Place the popped amaranth into a large mixing bowl with the oats, coconut, and peanuts, and stir until evenly mixed. In a small bowl or liquid measuring cup, stir together the peanut butter, maple syrup, oil, vanilla, and salt. Add the peanut butter mixture to the bowl with the oats and stir until evenly mixed.

Spread the mixture in even layers on the prepared baking sheets. Bake until lightly browned around the edges, about 30 minutes. Remove from the oven and allow to cool. Serve or store in an airtight container for later use.
Notes
If you find the amaranth burns at first, try popping just one tablespoon at a time.
Nutrition
Calories:
794
kcal
Carbohydrates:
72
g
Protein:
22
g
Fat:
50
g
Saturated Fat:
23
g
Polyunsaturated Fat:
10
g
Monounsaturated Fat:
14
g
Sodium:
382
mg
Potassium:
730
mg
Fiber:
11
g
Sugar:
21
g
Vitamin A:
1
IU
Vitamin C:
1
mg
Calcium:
121
mg
Iron:
5
mg
Craving more veg-friendly recipes?
Shop our collection of vegetarian and vegan cookbooks, including our new Vegan Thanksgiving and Vegan Christmas cookbooks!