First of all - thank you! Thanks for bringing my new cookbook, Weeknight One-Pot Vegan Cooking, into your home and your life. It means so much to me, and I truly hope that you will enjoy the recipes just as much as I enjoyed creating them!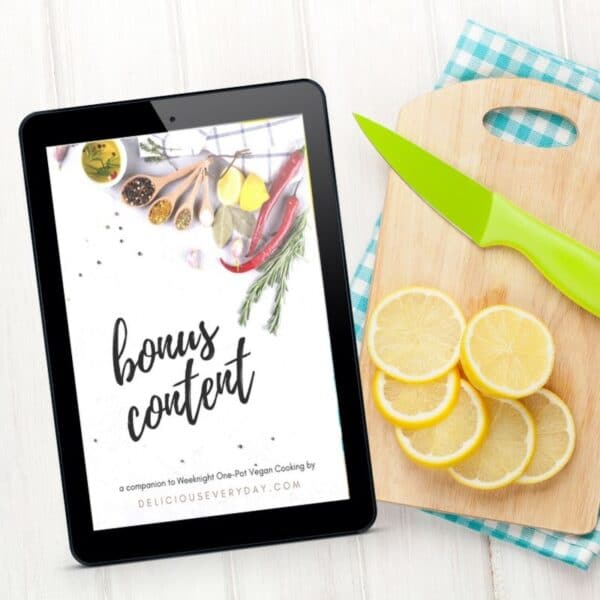 And if you somehow ended up on this page without buying the cookbook - than you for being here also - and go check out the cookbook over here!
As a token of my appreciation, I've pulled together some bonus content for you. It's just a few things that will help make your cooking experience even better.
There are bonus one-pot recipes, a vegan substitution cheat sheet, product recommendations, printable meal planners, and more.
Jump to:
If you want to grab the printable version of the bonus content, sign up here and I'll email you a pretty copy that you can print out and keep in your kitchen.
Bonus One-Pot Vegan Recipes
The wild popularity of the one-pot vegan recipes I've shared on my food blog were the initial inspiration for the cookbook you have today!
And so it's only fair that I round up a few of my favorites to share with you in the bonus content.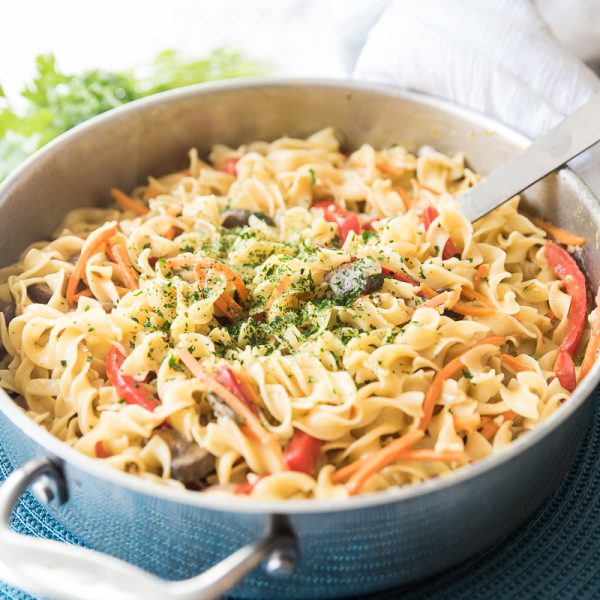 These One-Pot Thai Green Curry Noodles are one my favorite easy dinners. It's loaded with veggies and bursting with flavor from coconut milk, lemongrass, ginger, and garlic. 
The original recipe uses egg noodles, but when you swap them for your favorite noodles (like fettuccine), this one is completely vegan.
I've gone ahead and vegan-ized it completely in the free printable bonus content.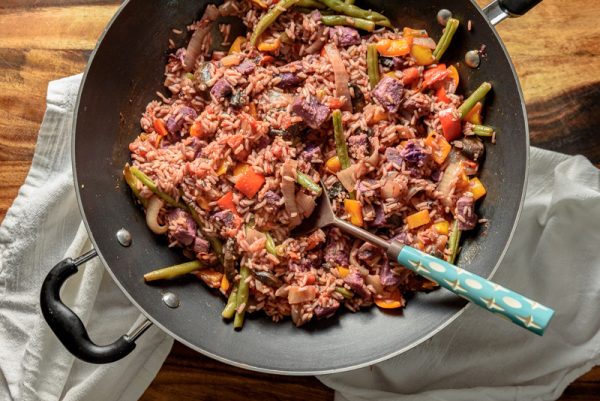 This Vegan Jambalaya is another family favorite, that's packed with flavor from fresh veggies and tons of spice!
I just love spicy food and the flavorful spices in traditional jambalaya are amazing.
It's loaded with tomatoes, onions, paprika, oregano, cayenne pepper, thyme, and garlic. Doesn't that sound divine?
Grab the printable version with the free cookbook bonus content.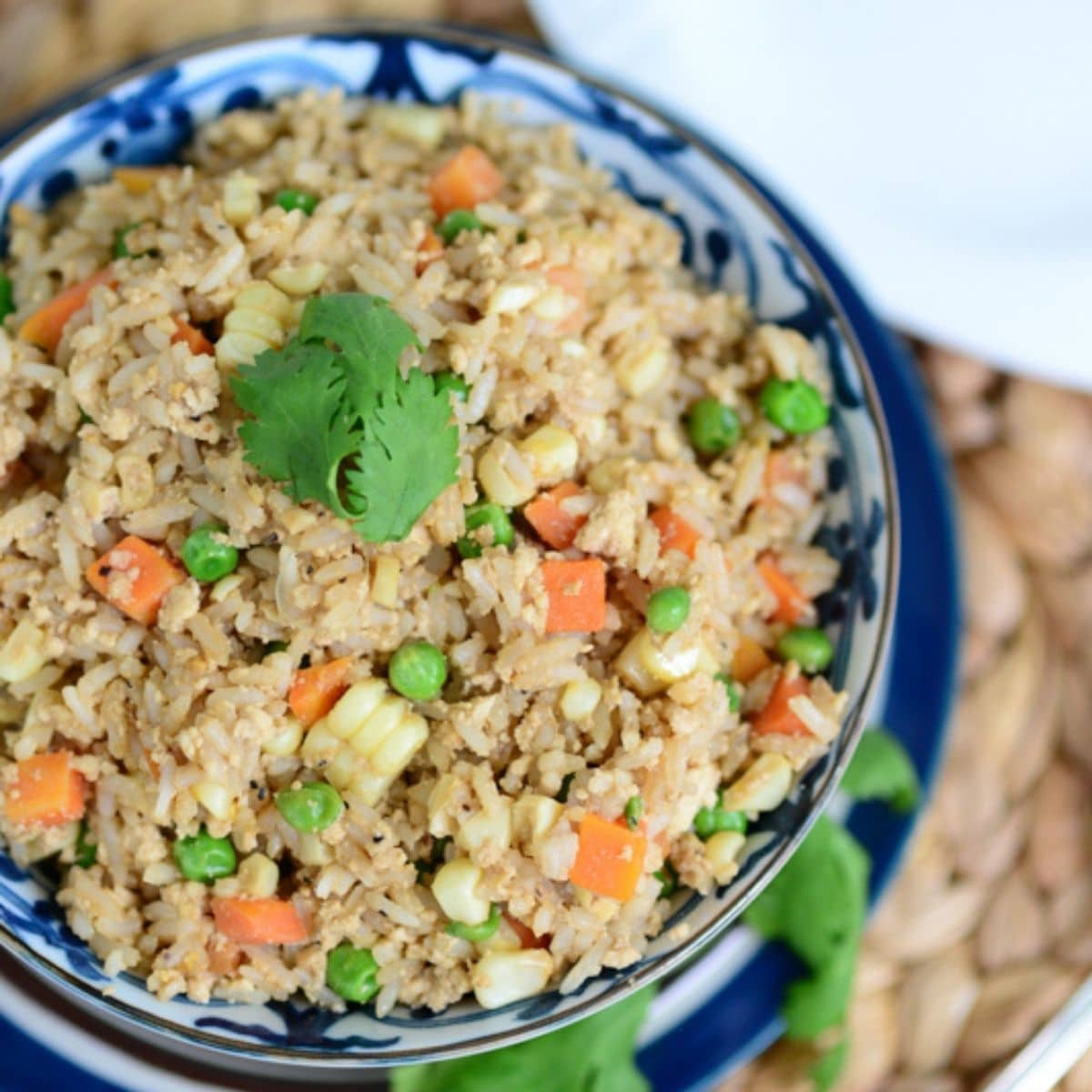 I love Asian cuisine of all varieties - Indian, Thai, Chinese - you name it.
So of course I had to create my own vegan version of some of the classics. And what could be more classic than fried rice?
This vegan fried rice makes for a quick and easy weeknight dinner.
It's packed with nutritious flavor from fresh veggies, brown rice, and tofu, then topped with a spicy sriracha-soy sauce. Yum!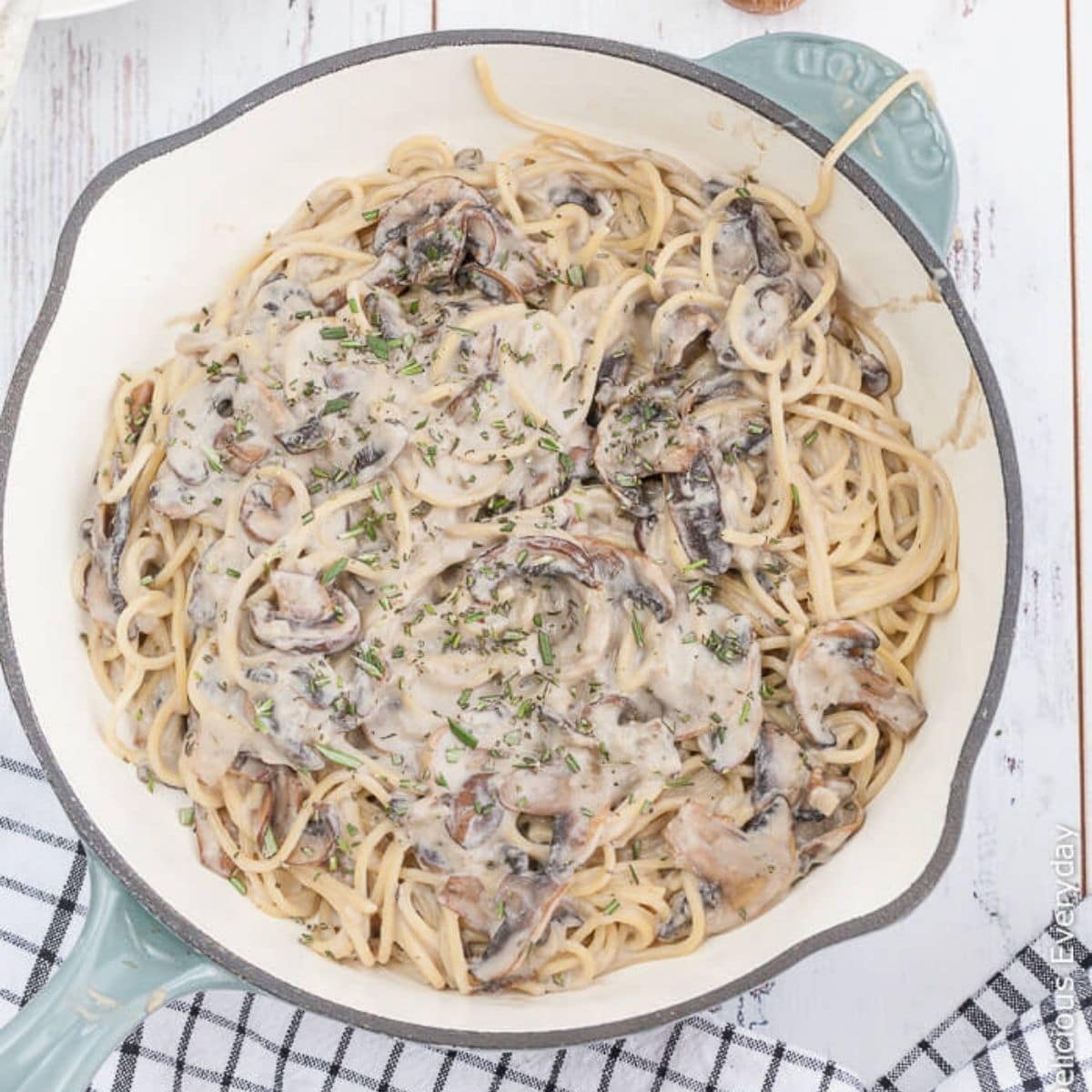 This One-Pot Creamy Mushroom Pasta is one of the oldest, and most popular, recipes on the blog.
All it takes is 15 minutes and a handful of simple ingredients to pull together this totally delicious vegan pasta.
No wonder it's been share over 70k+ times by readers!
Grab it in the free printable bonus content!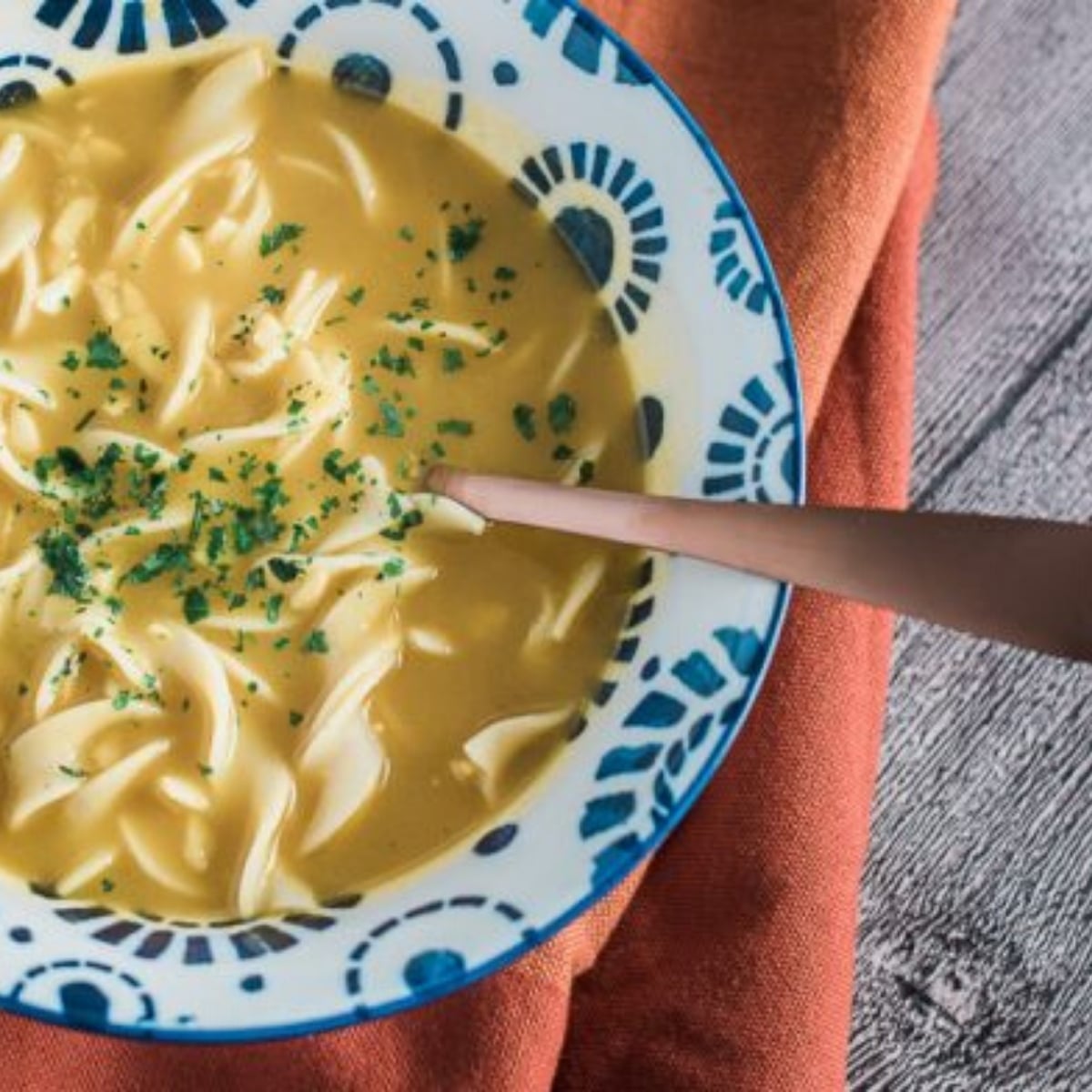 This Ginger Garlic Soup has become one of my favorite quick and easy meals to cook on cold winter evenings.
It's warm, comforting, and packed full of delicious flavors.
Plus, it's incredibly easy to prepare - all you need are noodles, broth, ginger, garlic, and a little salt and pepper. You probably have all that in your pantry right now!
This original recipe was also made with egg noodles, but you can swap in your own favorite noodles for the same result. I went ahead and vegan-ized it in the downloadable bonus content.
And for even more one-pot recipe ideas, be sure to check out this post with my favorite one-pot recipes from all around the web.
Easy Vegan Substitutions
Vegan cooking can be a challenge - but it can also be a ton of fun. I've found that having some go-to substitutions in mind helps keep me prepared, and allows me to vegan-ize just about any recipe I find!
A few of my favorite substitutions are below. And you'll find a printable vegan substitution cheat sheet in the free downloadable bonus content!
Butter - Replace butter with coconut oil, olive oil, or vegan margarine.
Buttermilk - Replace 1 cup of buttermilk with 1 cup of soy milk, plus 2 tbsp of lemon juice.
Eggs - For baking, you can substitute ¼ cup applesauce for each egg. Or for recipes where eggs are the binder, you can use a flax egg (3 tbsp water + 1 tbsp ground flax seed). For quiches, try ¼ cup of silken tofu for each egg.
Heavy Cream - Traditional dairy-based cream can be replaced with coconut cream. Or try replacing 1 cup of cream with ¾ cup of soy milk plus ¼ cup vegan margarine.
Honey - Honey can be replaced with other thick sweeteners like agave syrup, maple syrup, or rice syrup.
Milk - Substitute any plant-based milk in a 1:1 ratio. Almond milk, soy milk, or coconut milk are all good options.
Ingredient Tips & Recommendations
I did my best to use simple ingredients throughout the cookbook. Nonetheless, some ingredients may need a little more explanation or guidance on particular brands that work best.
Since space in the cookbook was limited, here are some tips and recommendations for the ingredients that you see used throughout the book.
Balsamic Glaze - This is another ingredient that I always keep in the fridge. I love drizzling it over bruschetta, pizza, or roasted veggies. In the recipe for Skillet Flatbread, I show you how to make your own. But if you want a shortcut - I love this store-bought version from Alessi.
Chinese Five Spice Powder - Two recipes in the cookbook call for this somewhat unusual spice. It has a very distinctive flavor, which is most recognizable in Vietnamese pho. If your grocer doesn't carry this, you can pick it up on Amazon.
Coconut Milk and Coconut Cream - I use both coconut milk and coconut cream often in the cookbook. And it's important to note that they are NOT the same ingredient. Coconut milk is a thing liquid, the consistency of traditional milk. It's the ingredient used in most Thai curry dishes to get that slightly creamy (but still decidedly broth) consistency. Coconut cream is much thicker, more like a traditional heavy cream. I used it for things like desserts or making my own dairy-free whipped coconut cream.
Curry Paste - I love cooking with Thai flavors, so red and green curry paste make a regular appearance in my recipes. Thai Kitchen is my go-to brand, or you can try your hand at making your own green curry paste.
Dairy-Free Cheese - The world of vegan cheese has really grown over the last several years and the choices are better than ever. The trickiest part is finding a vegan cheese brand that will actually melt well, especially for making dishes like my Vegan Jalapeno Mac and Cheese. Some of the brands I like best are Daiya, Follow your Heart, and So Delicious.
Dairy-Free Yogurt - I typically use a soy-based yogurt, but there are many types of vegan-friendly yogurts on the market today. Cashew, almond, or coconut-based yogurts work well too. You can use the varieties interchangeably throughout the cookbook.
Ginger Paste - I use ginger in many of the recipes in the cookbook. It's one of my favorite flavors! But fresh ginger can spoil more quickly than I'm able to use it. So I always keep a tube of ginger paste in the fridge. It lasts a long time and you can use it as a 1:1 substitute for fresh ginger.
Harissa Paste - This chili-pepper based paste is called for in a few of my recipes, and adds a great depth of flavor to the dishes. I really like this one from Trader Joe's, which I get on Amazon. If you have trouble finding it, you can try substituting a tablespoon of your favorite hot sauce, like Sriracha.
Hoisin Sauce - I love hoisin sauce! It's used in several recipes in the book, and it' something I use often to add a quick burst of flavor to stir fries or other Asian dishes. Most brands are vegan - my favorite is this one from Kikkoman.
Miso - Just one recipe in the cookbook calls for miso, which is apaste made from soybeans and rice. It's typically vegan, but some brands have bonito flakes, so check the label. I like this white miso, which has only soybeans and organic rice as ingredients.
Naan Bread - I suggest serving my Coconut Curry with a warm piece of naan - comfort food at it's best. Traditional naan bread is vegan, but you may find eggs or dairy in some grocery store brands. Be sure to check the label. And if you have trouble finding a vegan brand, you can serve the curry with rice or couscous, or even try your hand at making your own naan.
Sugar - Sugar is one of those sneaky ingredients that most people think is vegan, but isn't always. Traditionally sugar was processed using bone char, and some commercial manufacturers still produce it that way, without any indication on the label. Use an organic sugar brand or one that explicitly states it's vegan, to be sure you're getting a vegan friendly product.
Panko Breadcrumbs - There's nothing quite like panko-style breadcrumbs for adding that perfect little crunch to a dish. Be sure to check the labels on these, as some brands contain some sneaky animal products like eggs or milk. I am a fan of this vegan-friendly variety from Kikkoman.
Pastas & Noodles - Mosy dry pastas available at the supermarket are going to be vegan, but it's always a good idea to check the labels. Take extra care with lasagna noodles which sometimes have egg snuck in. For Chinese-style noodles, KA*ME is a reliable and vegan-friendly brand.
Pie Crusts - My family-style veggie pot pies call for a pre-made pie crust. You shouldn't have too much trouble finding a vegan brand these days, but my personal favorite is Wewalka.
Plant-Based Milks - Almond milk is my preferred substitute for traditional milk, and is called for throughout the cookbook. Both Silk and Almond Breeze are good choices that are widely available. You can also use cashew milk, soy milk, or rice milk interchangeably. Be sure to choose an unsweetened and unflavored variety, unless the recipe states otherwise.
Rice Paper Wrappers - The Samosa Summer Rolls from my cookbook will require the use of rice paper wrappers. This one can be a little tricky to find, so you may beed to check an Asian grocer or you can grab these on Amazon.
Tahini - Tahini, a flavorful paste made from sesame seeds, makes an appearance often in my recipes. It should always be vegan - at least I've never seen a non-vegan version. I like this one from Soom, which has only one single ingredient - sesame seeds!
Tempeh - Tempeh is a protein-packed food made from fermented soybeans. I've only used it for one recipe in the cookbook, but it's definitely worth trying if you're not familiar with this healthy ingredient. It's a super simple way to add a punch of protein to your vegan meals, like chili and stir fries. I really like the Lightlife brand, which you can find in most supermarkets.
Truffle Oil - My Truffled Mushroom Risotto recipe calls for this splurge ingredient. And while it's definitely optional, it's one that I strongly recommend having in your pantry. Just a few drops go a long way adding flavor to all kinds of dishes! Drizzle over pizzas, flatbreads, bruschetta, ravioli, or baked potatoes.
Vegan Butter- A few of my recipes call for vegan margarine, and my unequivocal favorite is Earth Balance. I find it to have the closest taste and texture to traditional butter.
Vegan Pesto - My Mango Tango Pesto Pasta includes instructions for making your very own vegan-friendly pesto. But if you'd like a shortcut, or just want to keep your pantry stocked with this delicious sauce, check out these vegan-friendly varieties from Zest and La Favorita.
Worcestershire Sauce - Worcestershire sauce is great for getting that deep, smoky flavor into a dish. But traditionally, it's made with fish sauce or anchovies. So you'll want to grab a brand that's explicitly vegan. I recommend Annie's Worcestershire or The Wizard's.
Get more in the free download!
Grab the downloadable bonus content for even more freebies. You'll get the bonus recipes mentioned above, a free printable meal planner, a printable shopping list, and my handy vegan substitution cheat sheet!