This One-Pot Vegan Chickpea Curry is fragrant, creamy, and simple to make! Made with a coconut base and full of chickpeas and cauliflower, this is sure to become your favorite vegan, Indian-inspired meal!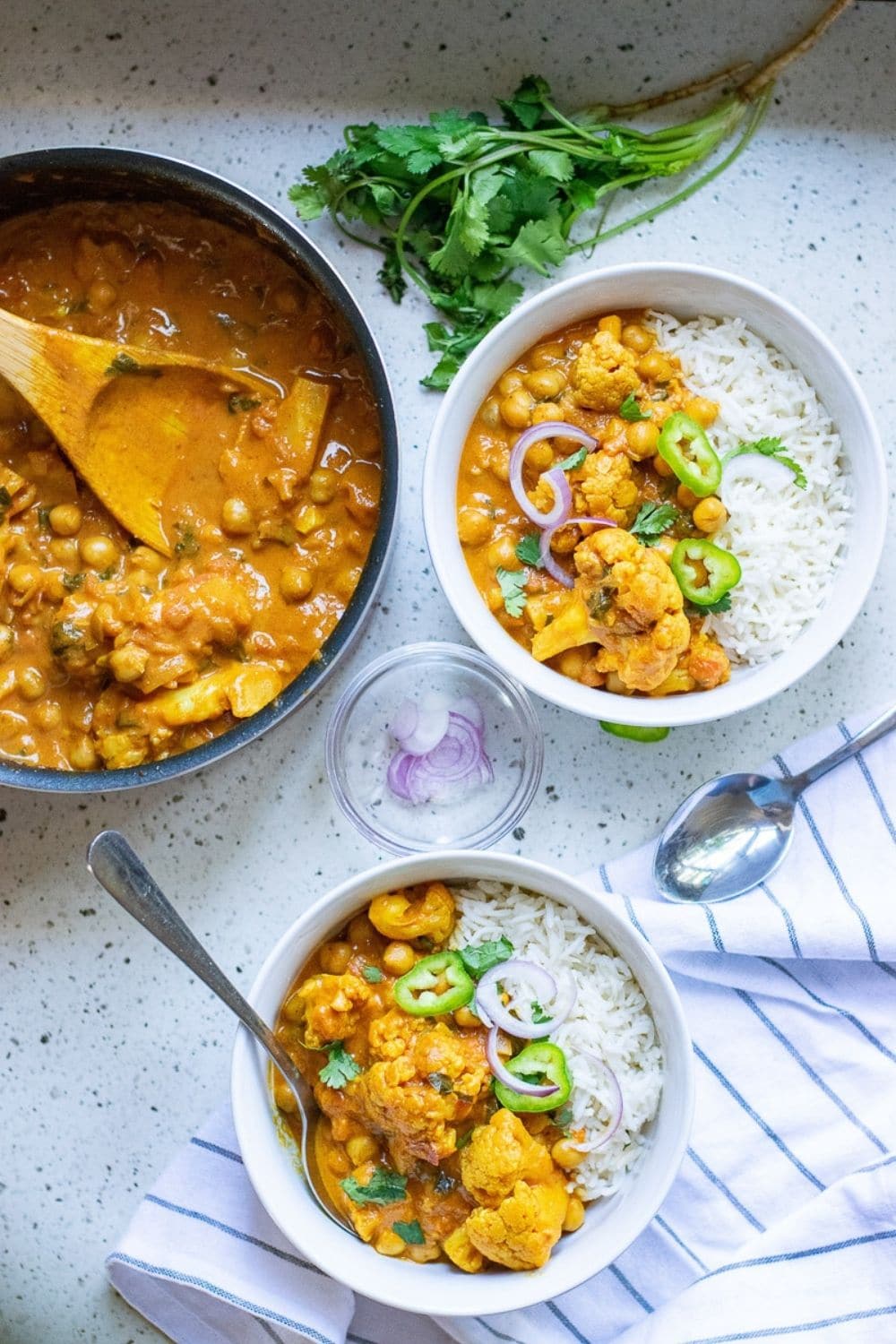 Jump to:
Just a couple of spices, and this curry dish is as authentic as a dish from your favorite restaurant! And it's super easy to make too.
It's a one-pot meal—which makes it perfect for a quick clean up. Just add the spices to the pot, throw in the coconut cream, chickpeas, and cauliflower, and then let it cook. It's that simple!
Round out your meal with a tasty, fresh salad. Try a quick Quinoa Tabbouleh Salad, more chickpeas with this Chickpea Avocado Salad, or this sweet, fresh Apple Walnut Salad with Honey Miso Dressing.
This vegan chickpea curry recipe is...
vegan
vegetarian
plant-based
gluten-free
dairy-free
Indian-inspired
ready in 20 minutes
a simple weeknight meal
While you're here, be sure to grab our FREE 5-Day Meatless Meal Plan. It's packed with tasty recipes to make vegetarian cooking easy and delicious!
How to Make Vegan Chickpea Curry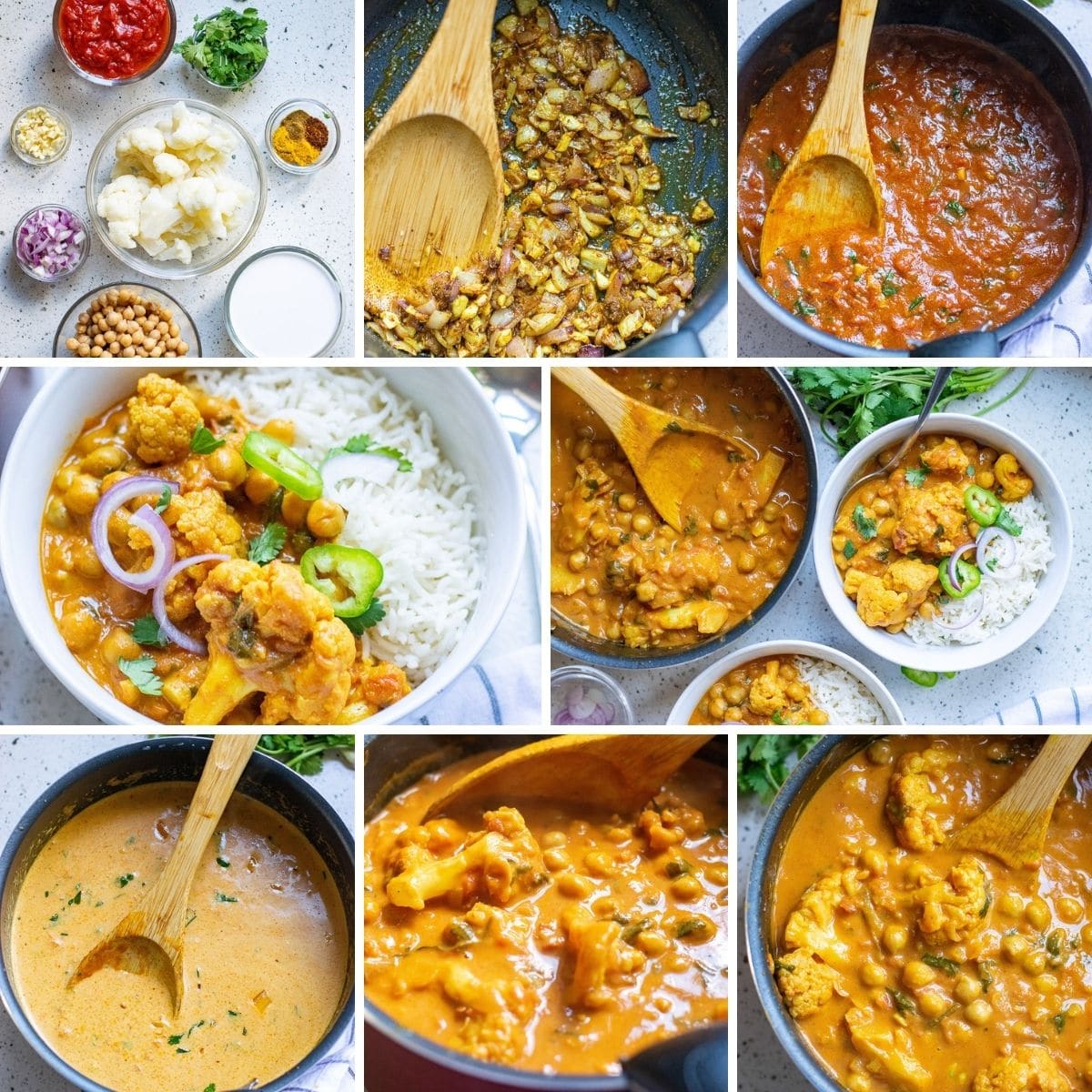 In a large nonstick pot, heat olive oil.
Once it's hot, stir fry onions and garlic until they are tender and fragrant.
Add spices and cook for a bit.
Add chopped tomato and fresh coriander to the pot. Stir and let it cook for a short time.
Add coconut cream to the pot and stir.
Let it cook for a bit, and then add the chickpeas and cauliflower.
Sir the curry and bring it to a simmer.
Decrease the heat, cover, and let the curry cook, stirring occasionally.
Uncover the curry, and let it cook for a while longer.
Remove the curry from the heat and serve it immediately with basmati rice.
Top it with green chili, fresh coriander, and pickled onions.
Scroll down for the full recipe with measurements and detailed instructions.
Tips & Tricks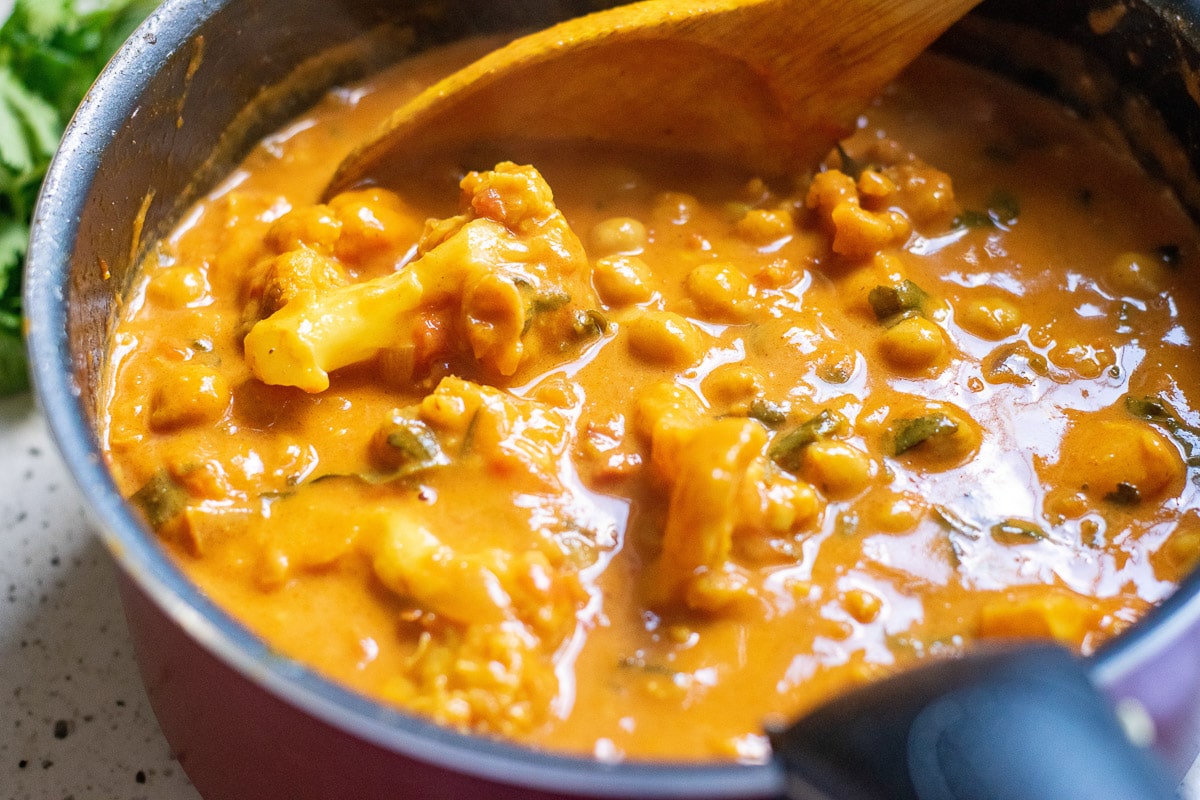 Leftovers
If you have leftovers, the good news is that this vegan chickpea curry works great as leftovers! It can be stored in the fridge for 5 days.
Even though this coconut, Indian curry is delicious as soon as it's done, it can taste even better the next day—because then it's had time to let the cauliflower marinate. So don't be afraid of these leftovers!
Variations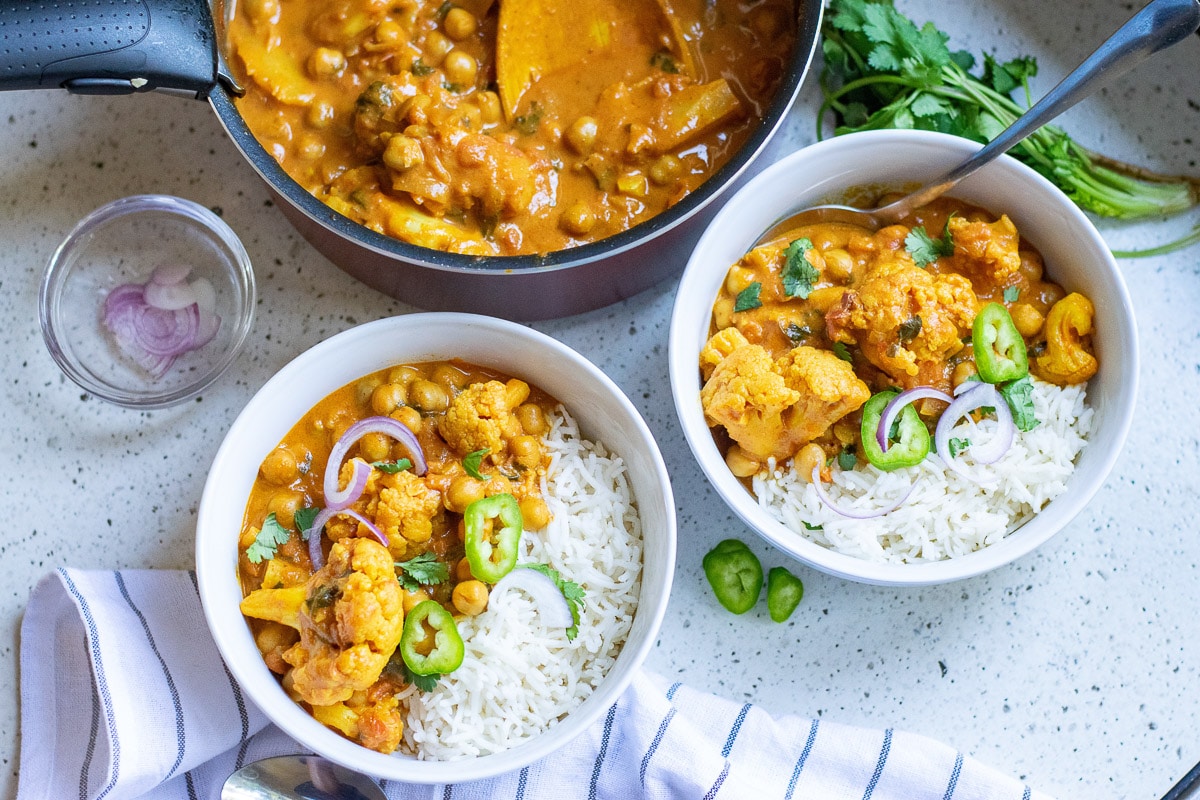 Swap Out Chickpea & Cauliflower
Even though chickpeas are the main ingredient of this creamy curry, you can swap them out for any other ingredient that you want! You can also swap out the cauliflower.
That means you can use lentils, kidney beans, pinto beans, peanuts. You can also add veggies like broccoli, cabbage, bok choy, or radishes.
You might even add a whole bunch of delicious vegetables and legumes.
Fresh Red Chili
If you want some extra hot, spicy flavor, then add fresh red chili to your vegan chickpea curry.
Vegan Chickpea Curry FAQs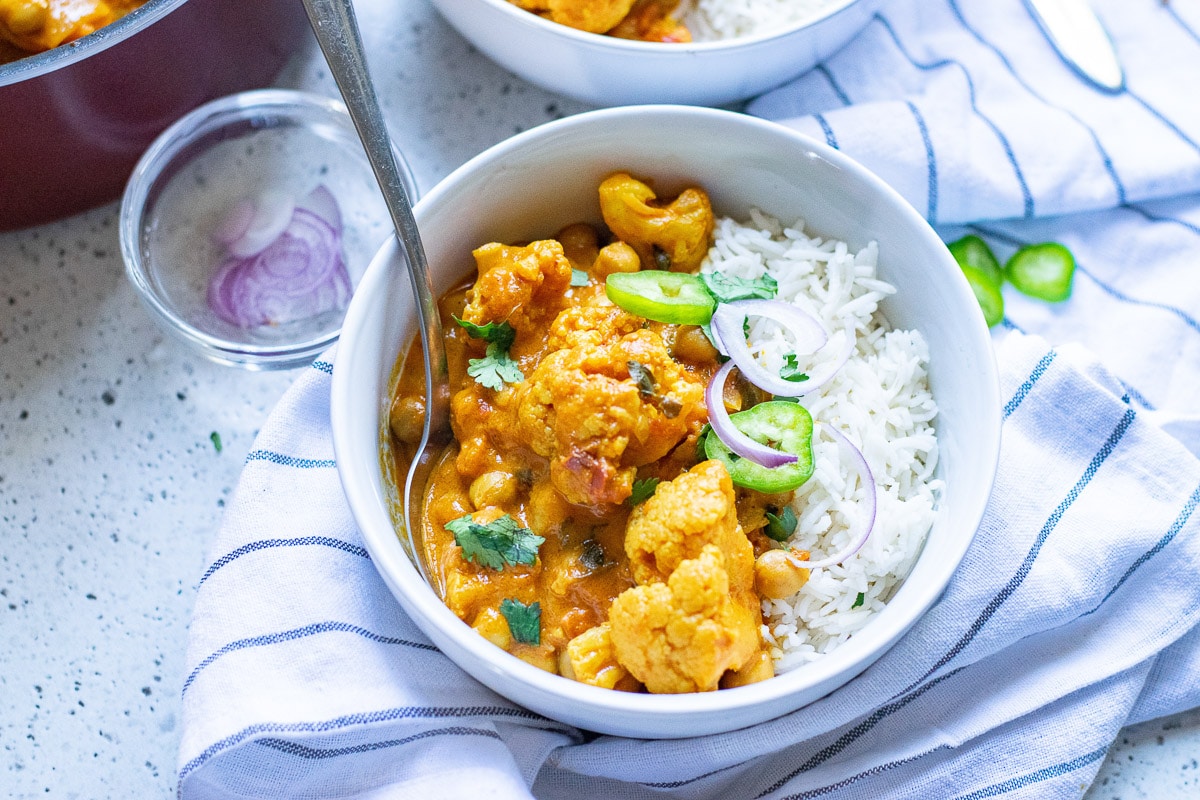 How long does it take to cook chickpeas?
Of course, you can use canned chickpeas, but if you want to make them from dried chickpeas, start by soaking them. Put them in a bowl and cover them with cold water. Use plenty of water and leave them to soak for 8 to 12 hours. Then drain them, and they're ready to use for your curry.
If you have an InstaPot or pressure cooker, you can pressure-cook the dry chickpeas and have them ready in 40 minutes.  
Are chickpeas and garbanzo beans the same thing?
Yes, chickpeas and garbanzo beans are the same thing. The word chickpea comes from Latin, whereas garbanzo is derived from Spanish.
While you're here, be sure to grab our FREE 5-Day Meatless Meal Plan. It's packed with tasty recipes to make vegetarian cooking easy and delicious!
Recipe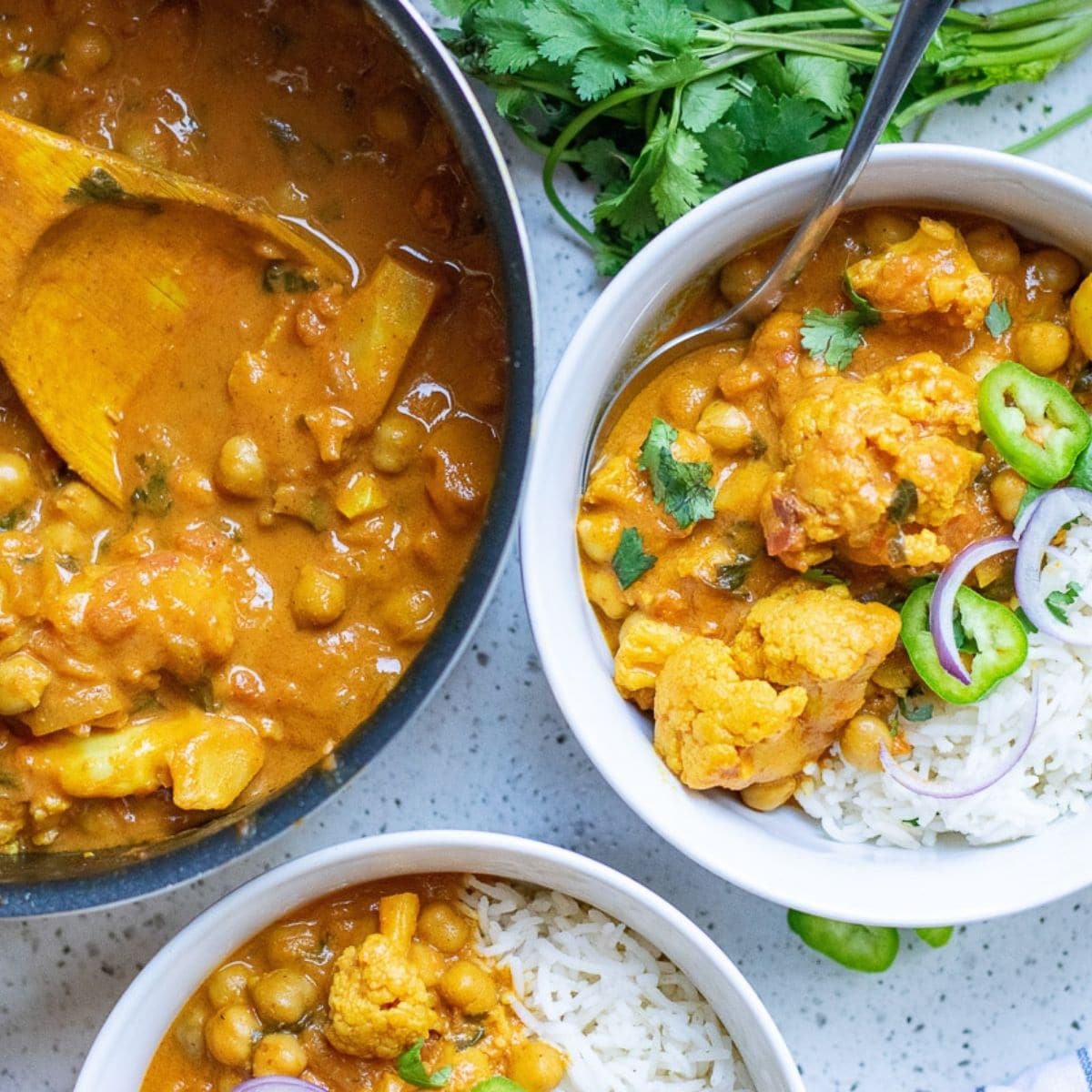 Instructions
Heat a large non-stick pot on medium heat with olive oil. Stir fry onion and garlic until tender then add spices and cook for some seconds.

Add chopped tomato and fresh coriander in the pot. Stir and let the sauce cook for 1 minute.

Add coconut cream and stir. Cook for another 1 minute. Now add chickpea and cauliflower. Stir and bring to simmer.

Decrease to low medium heat, cover and let cook for 7 minutes by stirring occasionally. Uncover and let curry cook for another 3 minutes.

Remove from heat and serve immediately with basmati rice, green chili, fresh coriander and onion pickles.
Notes
You can swap cauliflower or chickpea with any other ingredients.
Add fresh red chili if you want the curry to be very spicy and hot.
Best to eat the next day as cauliflower absorbs flavor when it's marinated.

Store 5 days in refrigerator.
Nutrition
Calories:
2459
kcal
Carbohydrates:
188
g
Protein:
62
g
Fat:
179
g
Saturated Fat:
127
g
Sodium:
5342
mg
Potassium:
4272
mg
Fiber:
53
g
Sugar:
39
g
Vitamin A:
1893
IU
Vitamin C:
175
mg
Calcium:
490
mg
Iron:
29
mg
Craving more veg-friendly recipes?
Shop our collection of vegetarian and vegan cookbooks, including our new Vegan Thanksgiving and Vegan Christmas cookbooks!