Whip up a batch of this One-Pot Coconut Lentil Curry whenever you need some delicious vegan comfort food for dinner. This Indian-inspired curry is a one-pot dinner made with warm spices, coconut milk, lentils, and more!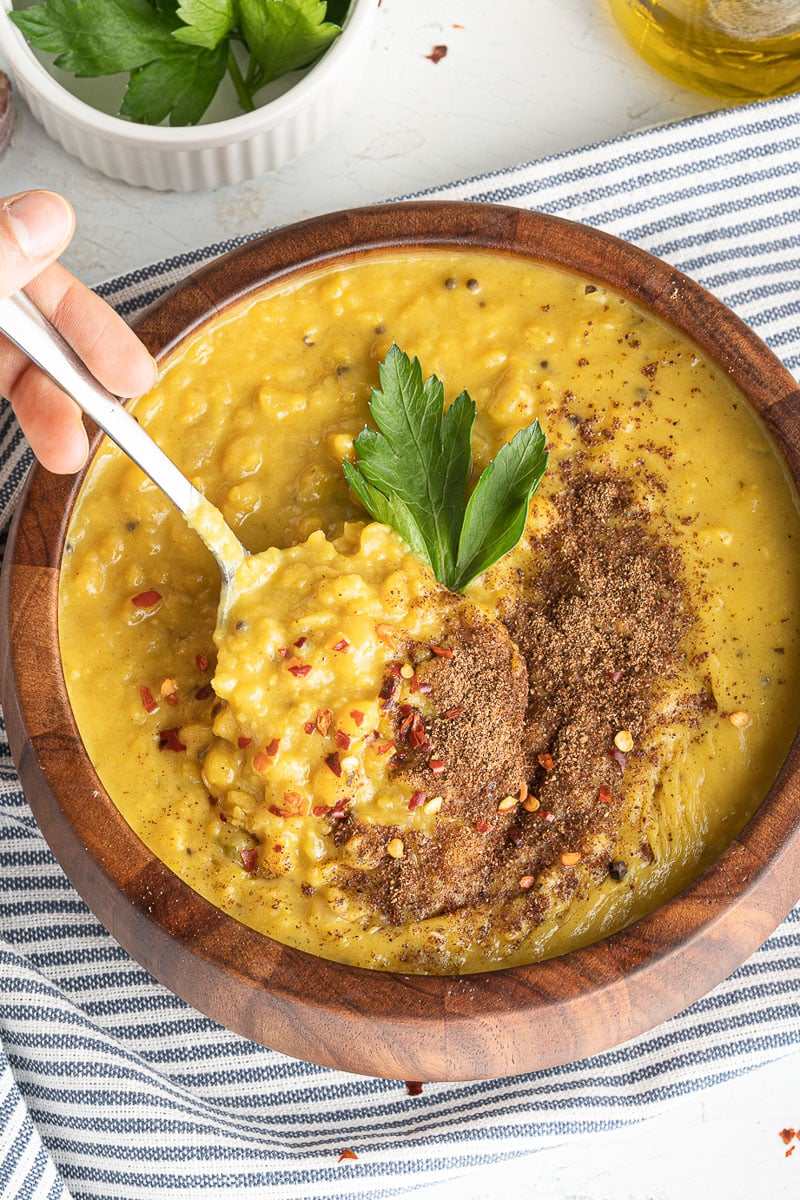 Jump to:
Skip ordering takeout and make this vegan curry at home. You will thank me when you get to enjoy the leftovers the next day. This curry is delicious and packed with protein to leave you feeling full and energized.
This One-Pot Coconut Lentil Curry recipe is..
Vegan 
Vegetarian 
Gluten-free 
Wholesome 
Made from real ingredients 
Protein-packed 
Nutrient rich 
While you're here, be sure to grab our FREE 5-Day Meatless Meal Plan. It's packed with tasty recipes to make vegetarian cooking easy and delicious!
How to Make One-Pot Coconut Lentil Curry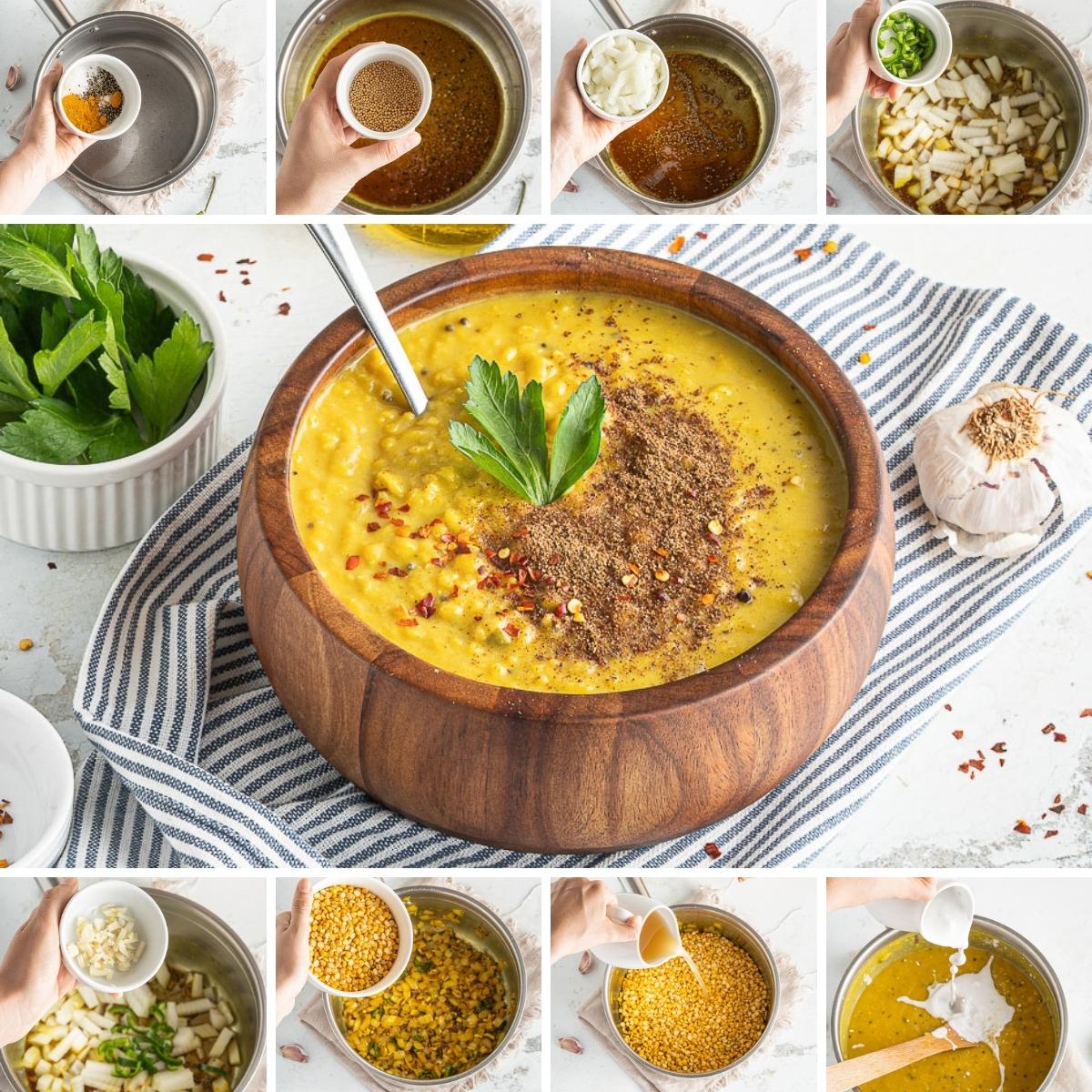 Over medium heat, melt coconut oil in a large pan.
Add in the first round of ingredients. 
Stir consistently to prevent burning. You want the mustard seeds to pop. 
Add pepper, onion, and garlic and cook until the onions are transluscent.
Mix in lentils and veggie broth, then cook on medium heat for 40 minutes.
When the lentils are cooked, remove from heat, and stir in the coconut milk. 
Full directions for this One-Pot Coconut Lentil Curry are in the printable recipe card at the bottom of the post. 
Helpful Tips For Making One-Pot Coconut Lentil Curry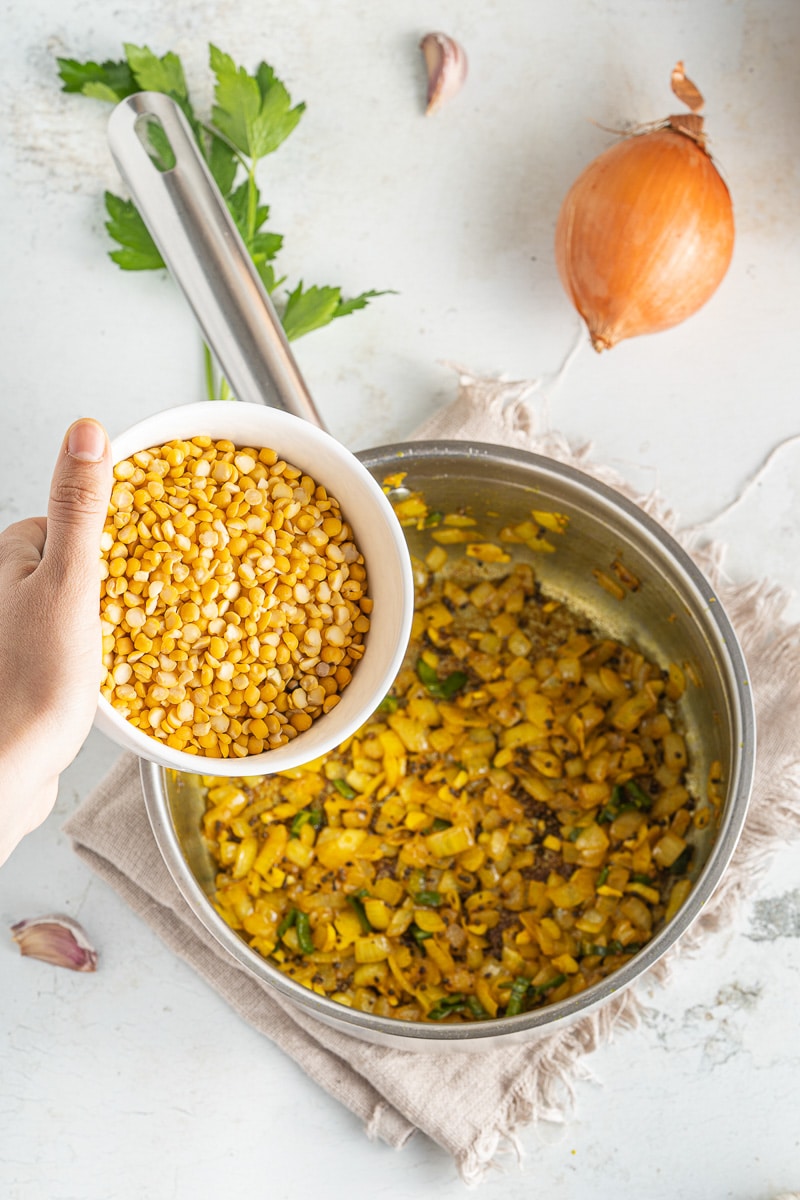 Heavy-Duty Pot 
Make sure that you use a heavy-duty pot, as it will provide an even cooking surface. This will prevent your curry from cooking unevenly. Cheaper pots can create hot and cool spots as they cook, and then you run the risk of your curry not cooking evenly. 
Liquid Needed
You will find that some brands of lentils will require more liquid. If you see that your lentils are using up the liquid too quickly, you can just add more vegetable broth to the mix. 
I have found that some brands of lentils can take all the way up to 2 cups more liquid at times. You will need water to prevent the lentils from drying out.
Variations to One-Pot Coconut Lentil Curry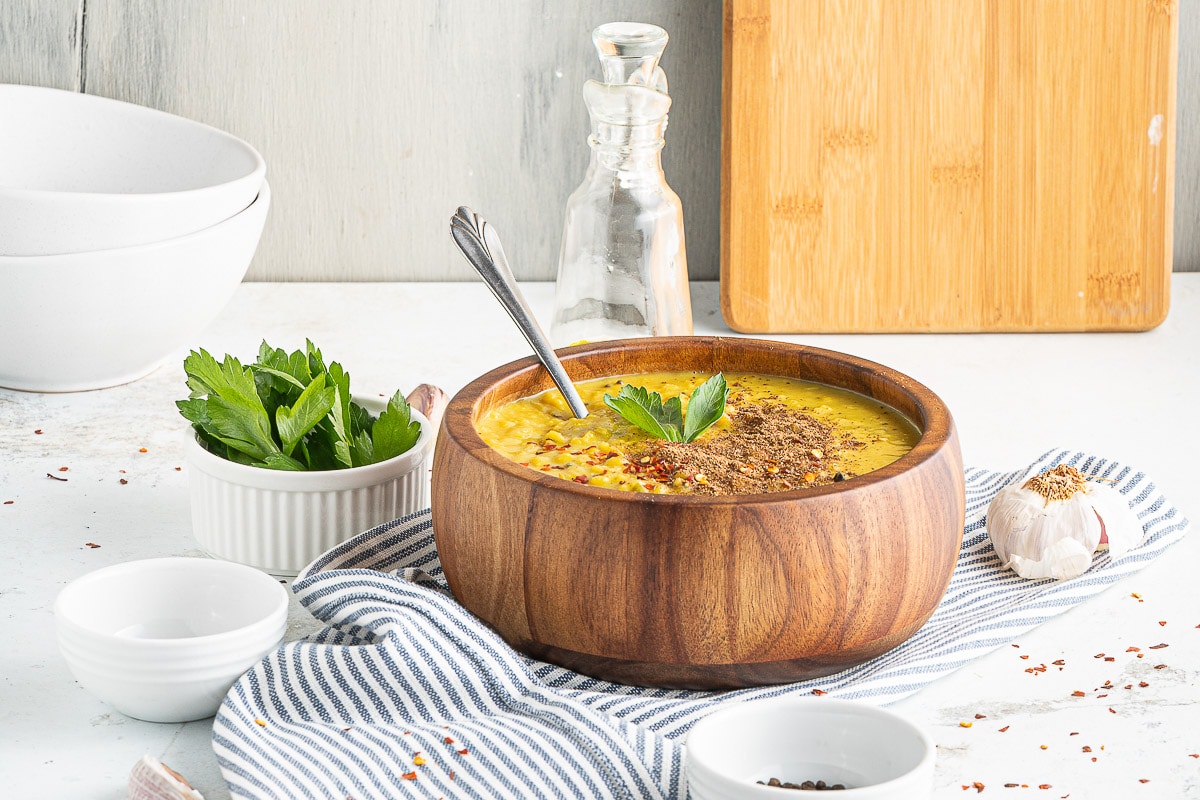 Lentils
I used yellow lentils for my curry, but you are welcome to swap out the variety of lentils if you want. Just adjust the liquid as needed to get your lentils to soften and fully cook. 
Soaking Lentils
I didn't soak my lentils for this recipe. But if you want to soak your lentils, you definitely can! This will reduce the cooking time by half. Just soak your lentils in water for 8 hours prior to cooking them. 
Spice Factor
You can easily adjust the spice or heat factor to your liking. I used ½ teaspoon of red pepper flakes, which gives the curry a medium heat level. If you want your curry to be a bit more mild, I would use only ¼ teaspoon of pepper flakes to lessen up the heat. 
One-Pot Coconut Lentil Curry FAQs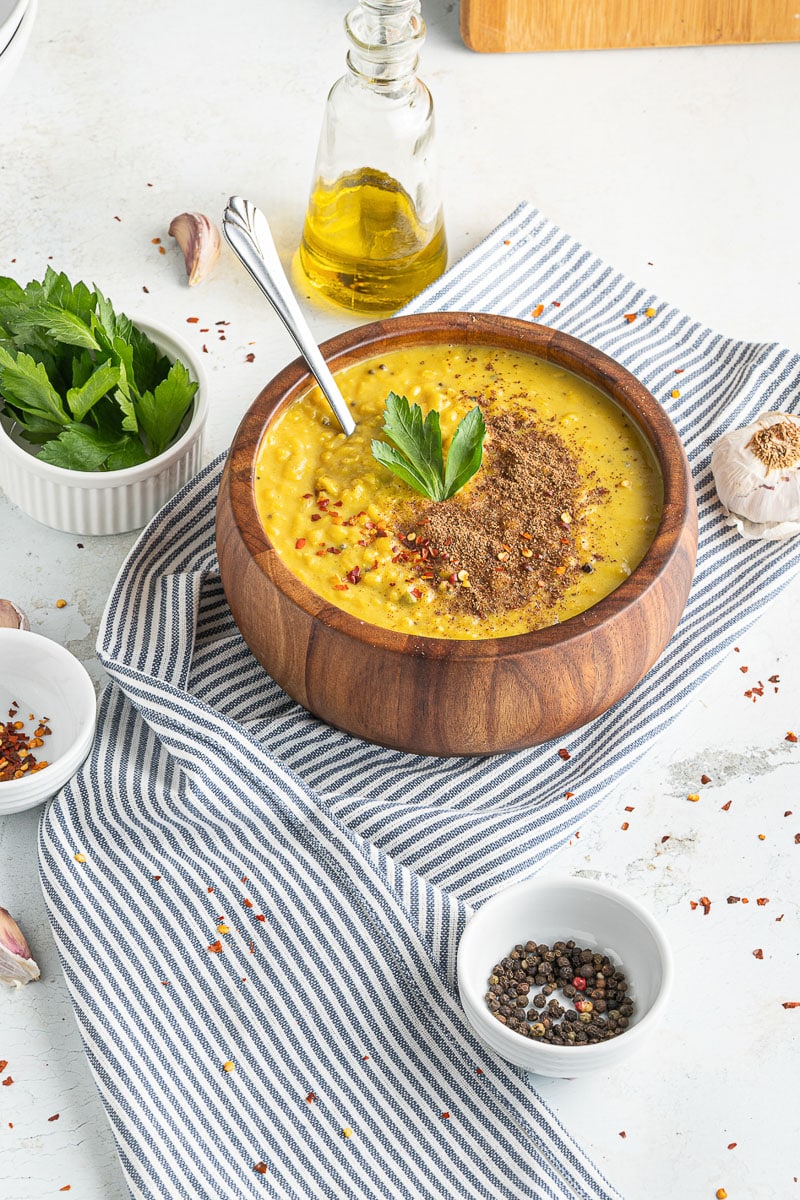 How much curry does this recipe make? 
This recipe makes around 6 cups of lentil curry. On average that makes around 3–4 generously-sized servings. 
Can I double this recipe? 
Go right ahead and make a double batch of this curry if you are serving a larger crowd or want leftovers. Just make sure to use a larger pan that can hold it all. 
How should I serve coconut lentil curry? 
You have many ways to serve up this curry. Serve it over a bed of rice, with naan bread on the side, or even alongside some couscous. Feel free to serve this curry with whatever tastes best for you. 
Recipe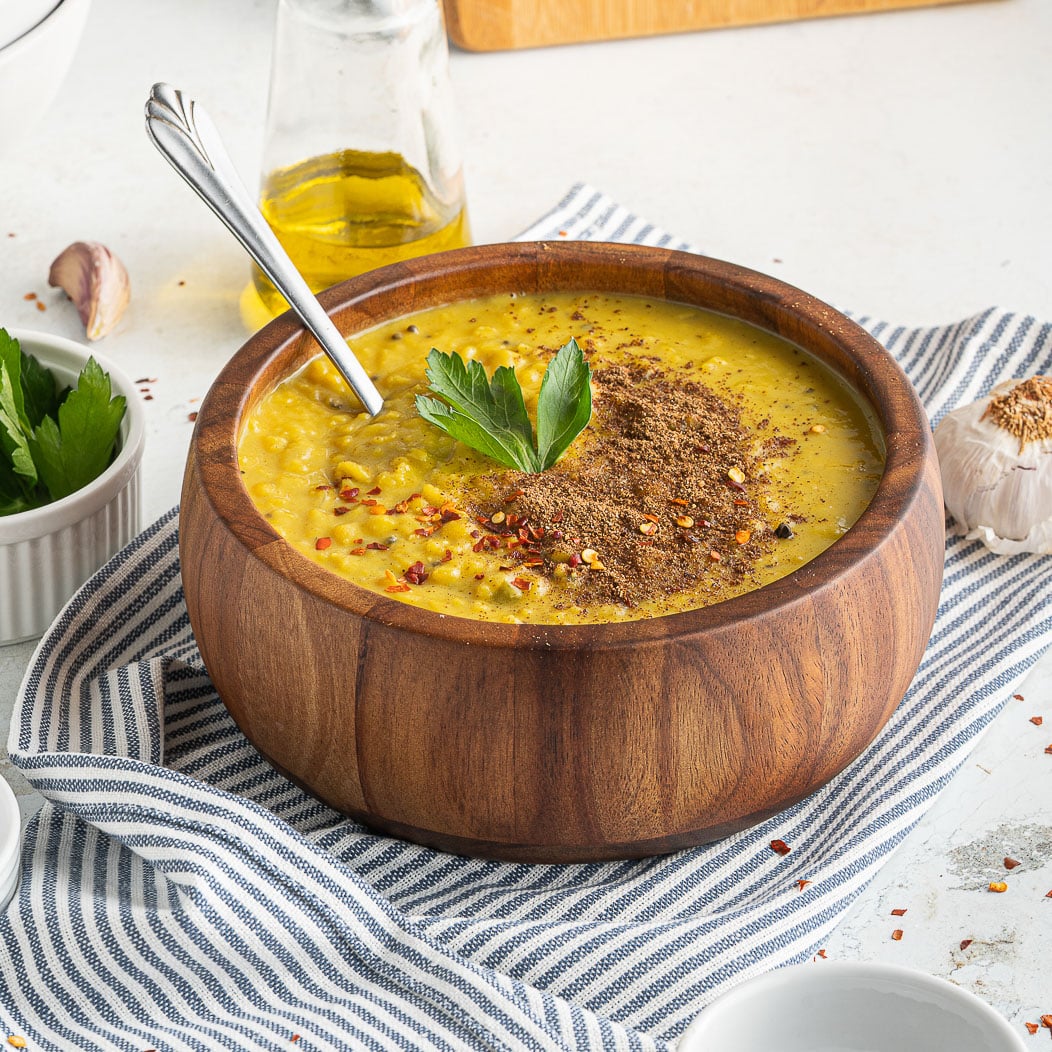 Instructions
Heat coconut oil in a large pan, over medium heat. Add the ground turmeric, salt, pepper, yellow mustard seeds, and garam masala. Stir continuously for 1–2 minutes or until the mustard seeds start to pop.

Add the onion, garlic, and chili pepper.

Cook for 5–6 minutes, until the onion is softened and transluscent.

Add the lentils and vegetable broth, stir, and cook for approximately 40–45 minutes over medium heat. Continue stirring occasionally so the lentils don't stick to the botom of the pan.

Check on the lentils frequently, and add up to 2 cups of additional water if needed to keep them from sticking or drying out. Once the lentlils are tender, remove from heat. (Note that the cooking time and amount of liquid needed can vary depending on the specific type and brand of lentils you are using, so check on them frequently!)

Add the coconut milk and stir into the lentil curry.

Serve curry garnished with additional garam masala, chilli flakes, and fresh herbs.
Notes
I did NOT soak the lentils prior to preparing them in this recipe. If you prefer, you can soak the lentils for 8 hours prior to preparing them. This will reduce the cooking time by approximately one half.
This recipe makes approximately 6 cups of lentil curry, which should be 3–4 generous portions or more if served as a side dish.
This lentil curry is delicious served with rice, couscous, or naan bread.
Nutrition
Calories:
461
kcal
Carbohydrates:
66
g
Protein:
26
g
Fat:
11
g
Saturated Fat:
9
g
Polyunsaturated Fat:
1
g
Monounsaturated Fat:
1
g
Sodium:
1253
mg
Potassium:
1088
mg
Fiber:
30
g
Sugar:
6
g
Vitamin A:
722
IU
Vitamin C:
23
mg
Calcium:
78
mg
Iron:
9
mg
Craving more veg-friendly recipes?
Shop our collection of vegetarian and vegan cookbooks, including our new Vegan Thanksgiving and Vegan Christmas cookbooks!