These carrot cake cupcakes are packed with spices and topped with decadent maple-cream cheese frosting, incredibly moist, and cute as a button. They're basically the  perfect springtime treat!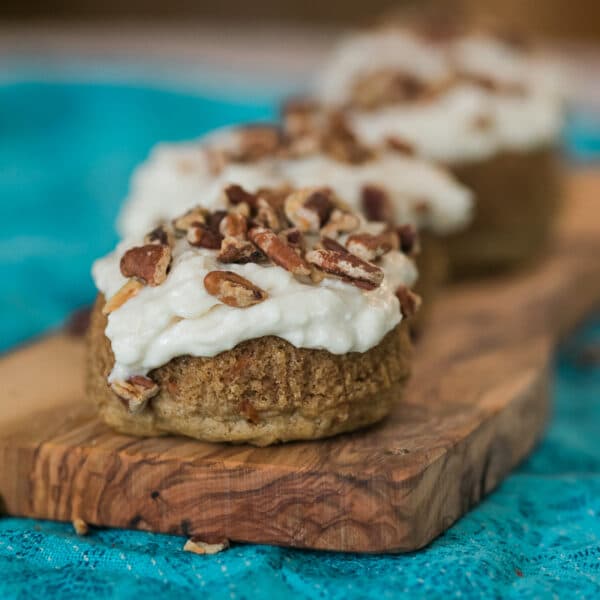 Carrot Cake Cupcakes with Maple Cream-Cheese Frosting
I have always adored carrot cake! It's been one of my favorite desserts since I was a kid. I know - I was kind of a weird kid.
I've tried tons of different carrot cake recipes, but I typically find them overly complicated to make. Plus, I don't love baking a whole cake for just a few people.
So this past weekend, I did some experimenting and crafted the single best carrot cake cupcakes that you'll ever taste!
They're moist. They're adorable. And they're loaded with delicious maple cream cheese frosting. What's not to love?
For a vegan version - hop over to check out this vegan carrot cake with a vegan version of this maple cream cheese frosting. You can make it as a full cake or cupcakes! (I also suggest grabbing a copy of this free vegan substitution cheat sheet, to help vegan-ize any recipe.)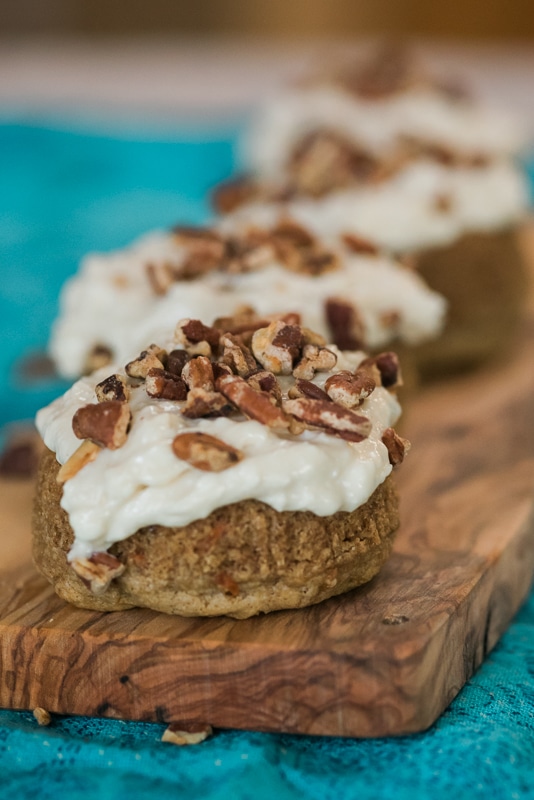 Fun fact - carrot cake is thought to be an evolution of carrot pudding, a popular Medeival dessert. Who knew carrot cake had so much history?
Let's Make Carrot Cake Cupcakes!
Ready to make some carrot cake cupcakes? You won't believe how easy this recipe is!
First, start off by mixing up the cake batter. Simply whisk together sugar, olive oil, one egg yolk, a few tablespoons of water, and a bit of vanilla extract.
When all of that is combined, add in flour, baking soda, and salt. The mixture will start to look like cake batter now!
Next, add the spices! For my carrot cake cupcakes, I used a mixture of cardamom, cinnamon, cloves and nutmeg. You can experiment with the spices to find what you like best. But definitely don't leave out the cardamom - it's the secret ingredient!
Finally, we mix in finely chopped carrots. And we officially have carrot cake cupcake batter! Check the consistency and be sure it's to your liking. I like moist carrot cake - so I make sure the batter is still a little runny.
Pour the batter into a cupcake tray - each cupcake tin should be about half full.
Heat the oven up to about 350 degrees, and bake your mini carrot cakes for about 20 minutes.
While the cupcakes are baking, you can get started on the frosting. Simply mix together cream cheese, a pinch of salt, and a generous drizzle of maple syrup. Be sure to use a good quality maple syrup for the frosting - it's the best part! Try not to eat it all before the cupcakes bake! 😀
When the carrot cake cupcakes are done baking, remove them from the oven.
Take a clean baking sheet, and spread chopped pecans in a single layer. Toast them in the oven for about five minutes. Keep an eye on them - no one likes burned pecans!
Top each carrot cake cupcake with a generous dollop of the maple-cream cheese frosting and a sprinkle of toasted pecans.
Enjoy!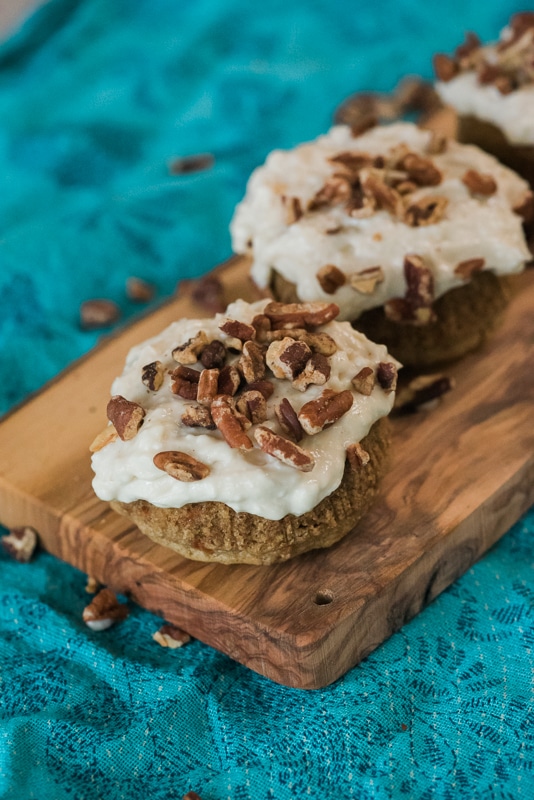 Carrot Cake Cupcakes - Variations
If you're in need of a gluten free recipe, check out my gluten free carrot cake recipe here.
And for the ultimate plant based version - you'll want to try this vegan carrot cake with indulgent maple cream cheese frosting.
And if maple syrup isn't your thing, check out the cinnamon-cream cheese frosting on this banana cake. It would go equally well with these mini carrot cakes!
Want more delicious recipes?
Subscribe to the Delicious Everyday weekly newsletter. You will get a printable e-book with my most popular recipes, a guide to vegetarian pantry essentials, handy cheat sheets, and you'll never miss another recipe!
Recipe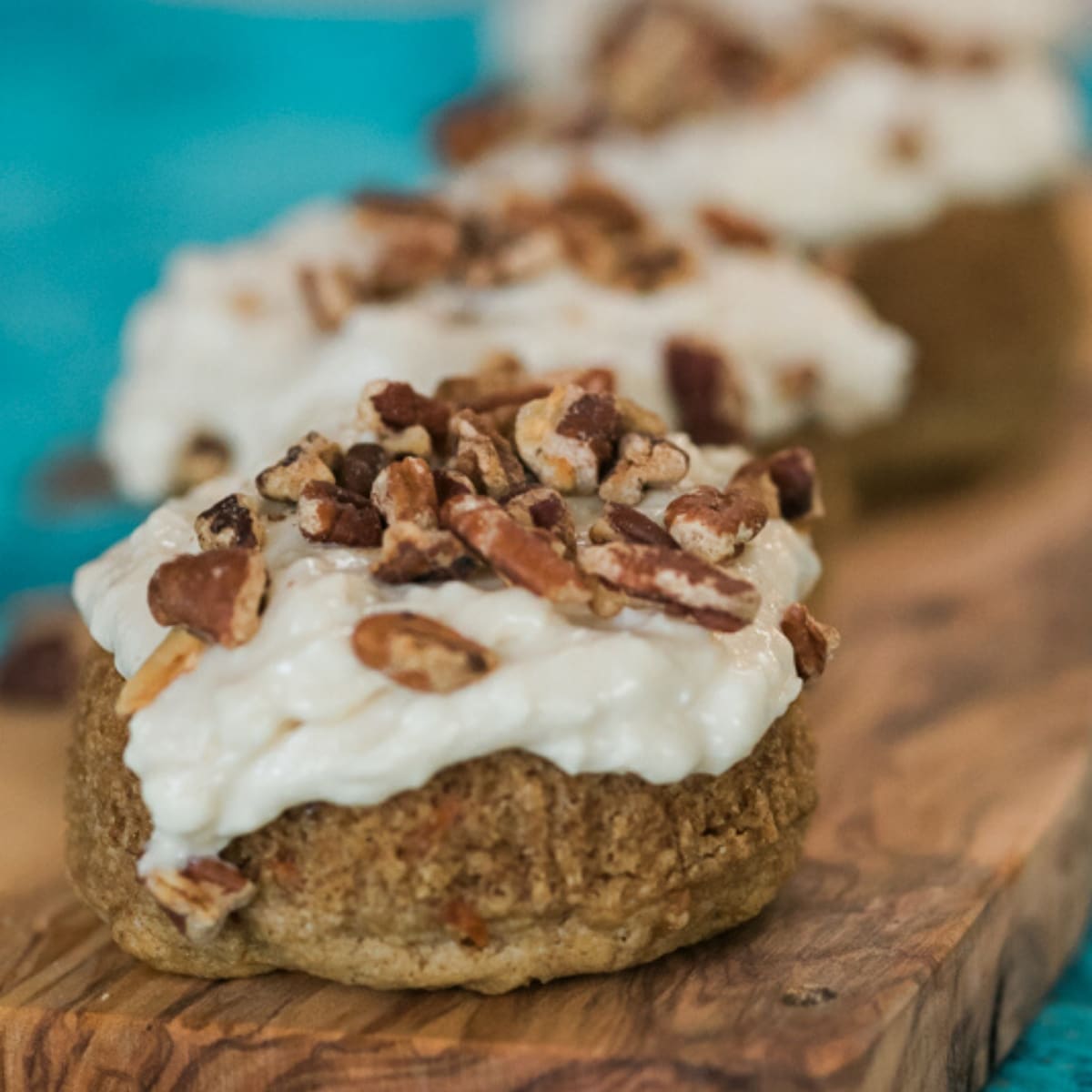 Instructions
Preheat oven to 350 degrees.

Lightly spray a cupcake tray with olive oil spray.

Separate one egg, reserving the yolk and discarding the egg white. Set aside.

Roughly chop shredded carrots.

In a medium sized bowl, whisk together the sugar, olive oil, egg yolk, vanilla extract, and ¼ cup water.

In the same bowl, add flour, baking soda, cardamom, cloves, cinnamon, and nutmeg. Add a pinch of salt. Mix well.

Pour carrot cake cupcake batter into prepared cupcake tins. Each tin should be about half full.

Bake cupcakes for 20 minutes, checking often.

Meanwhile, spread pecans in a single layer on baking sheet. Bake in oven for 4-5 minutes, until lightly toasted. Set aside.

Prepare the cream cheese frosting. In a medium bowl, mix together the cream cheese and maple syrup. Add a pinch of salt. Mix until well combined and slightly fluffy.

Remove cupcakes from oven.

Top each carrot cake cupcake with a large dollop of maple-cream cheese frosting. Sprinkle with toasted pecans. And eat!
Nutrition
Calories:
356
kcal
Carbohydrates:
37
g
Protein:
4
g
Fat:
21
g
Saturated Fat:
7
g
Cholesterol:
51
mg
Sodium:
265
mg
Potassium:
139
mg
Fiber:
1
g
Sugar:
22
g
Vitamin A:
2190
IU
Vitamin C:
0.7
mg
Calcium:
53
mg
Iron:
1.2
mg
Craving more veg-friendly recipes?
Shop our collection of vegetarian and vegan cookbooks, including our new Vegan Thanksgiving and Vegan Christmas cookbooks!