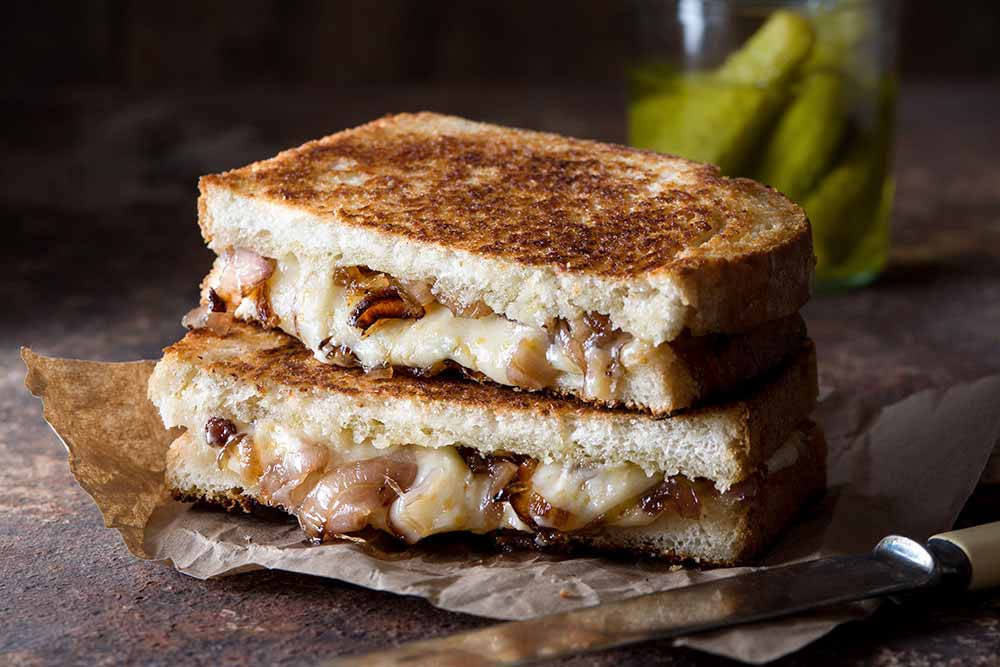 We're still coming to grips with the fact that summer is almost over, but at least we know that soup season is just around the corner, and, of course, soup's BFF, grilled cheese! We scoured the web to find the best grilled cheese sandwich recipes in the 'verse, and we think we have the ultimate kick-butt list. But be warned if it's mealtime and you're far away from your kitchen: reading this list could give you the hangries.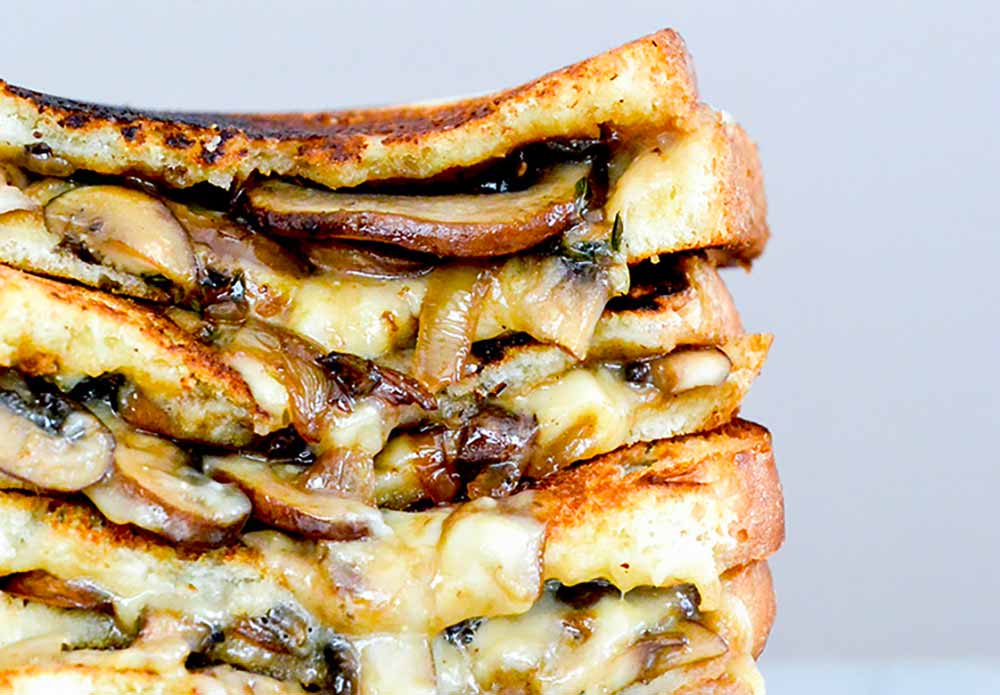 Mushroom, Onion and Stout Grilled Cheese Sandwiches // Floating Kitchen's mouthwatering beer-simmered mushrooms with an extra melty combo of Gruyère and Brie, spiked with more stout, create one incredibly irresistible grilled cheese sandwich in our book.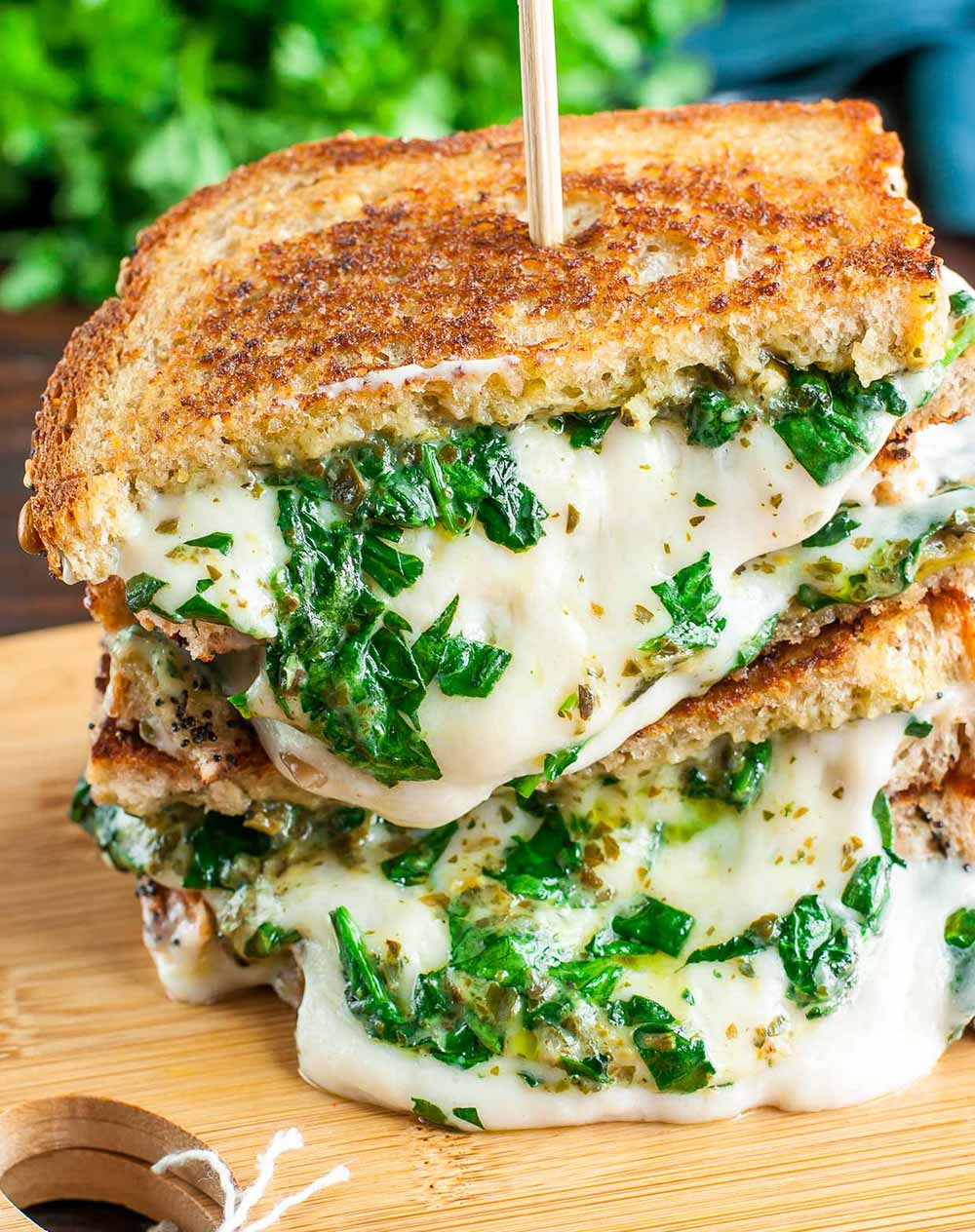 Easy Cheesy Vegan Spinach Pesto Grilled Cheese // If this sandwich doesn't scream ooey-gooey goodness, we just don't know what possibly could. Peas and Crayons then pumps up the melty wow factor by adding savory pesto and spinach to the works. Oo-la-la.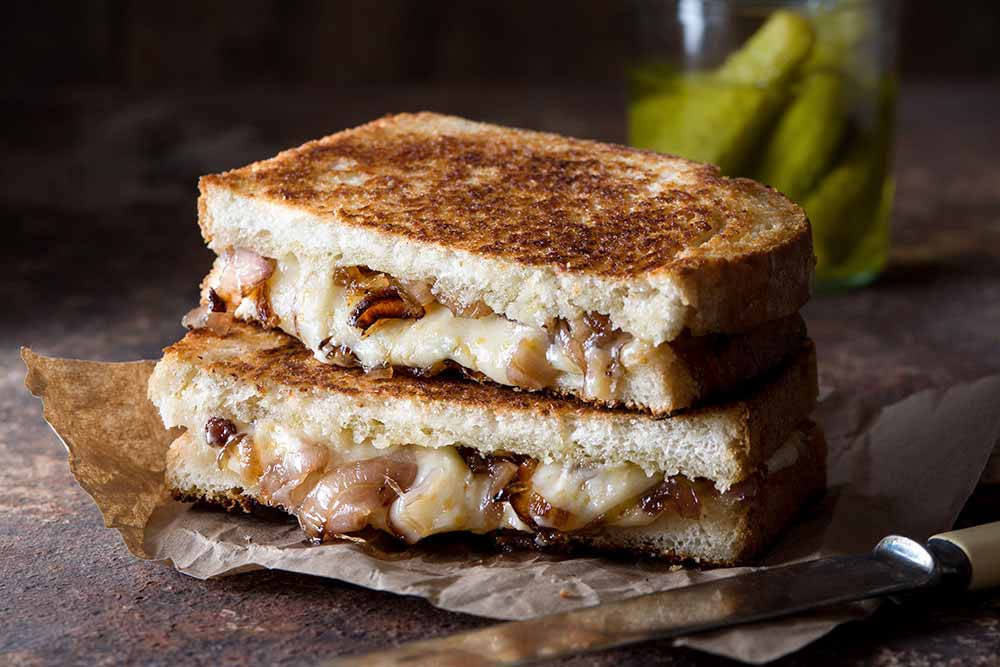 Grilled Cheese Sandwich with Tarragon and Bourbon Caramelized Shallots // The perfect sandwich for grown-ups who love grilled cheese, but want a little extra somethin' special in their sandwiches. The Spice Train combines bourbon caramelized shallots (swoon!) with mustard and tarragon for a tasty grilled cheese upgrade.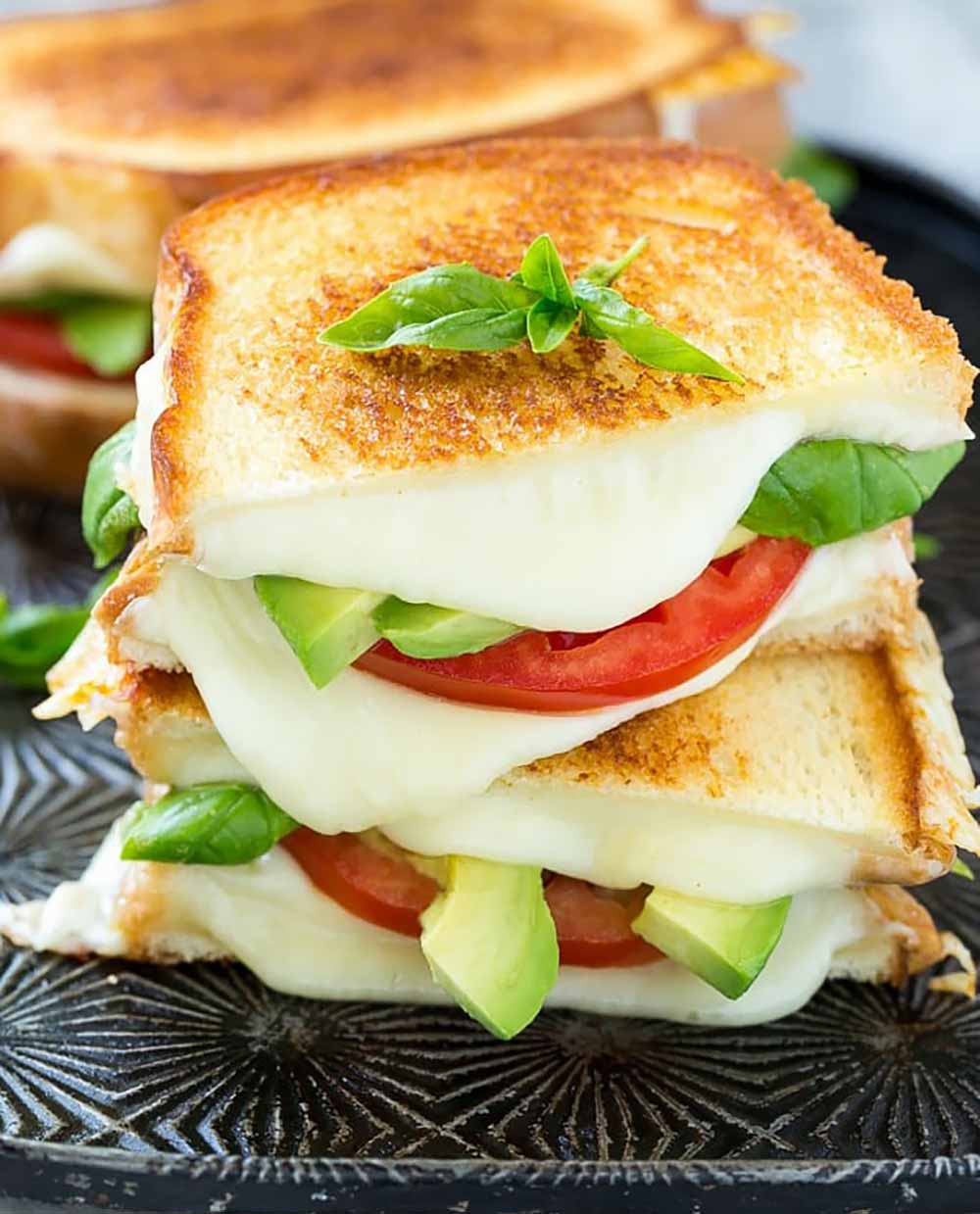 Grilled Caprese Sandwich // Our favorite summer salad becomes the grilled cheese of our dreams. And then Dinner at the Zoo gilds the Caprese lily with avocado slices. We're so on board with that.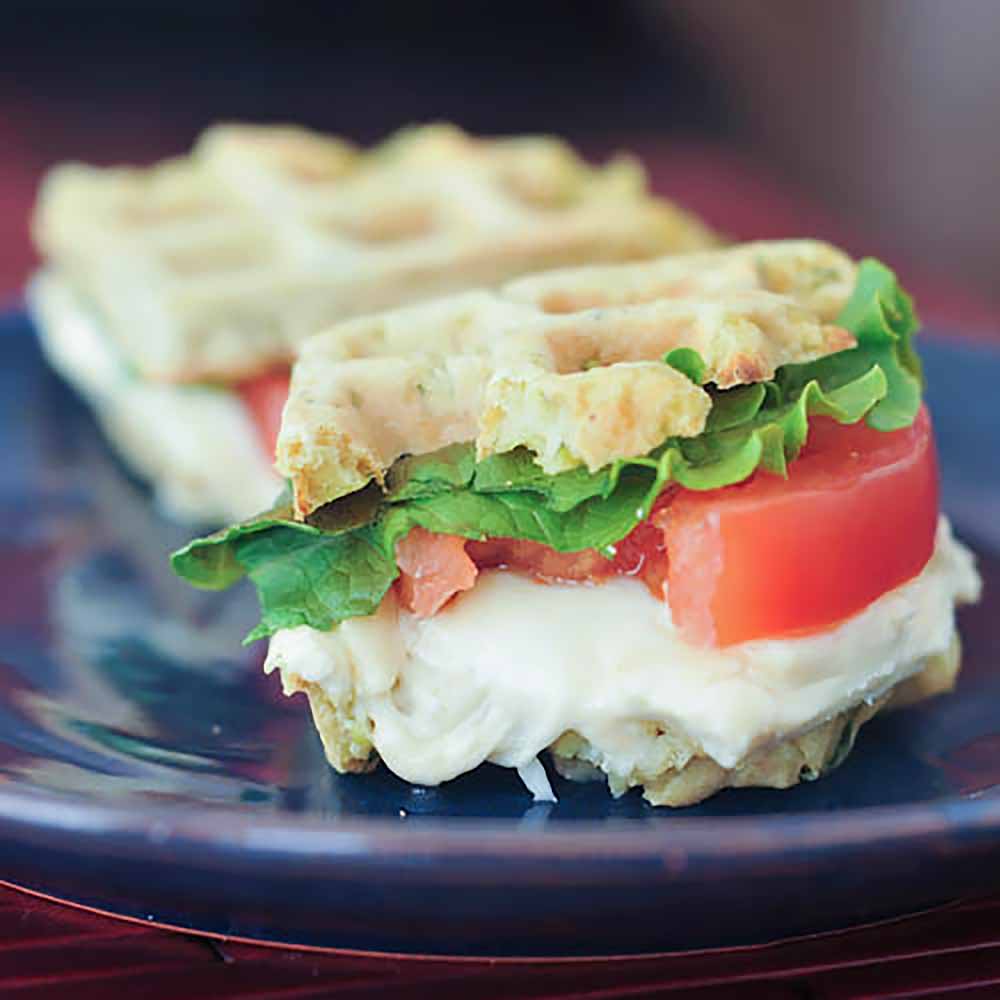 Grilled Cheese Wafflewich Sliders // If your garden is overflowing with zucchini (and even if it isn't), we think Spabettie's idea for a zucchini waffle grilled cheese slider is just da bombdotcom.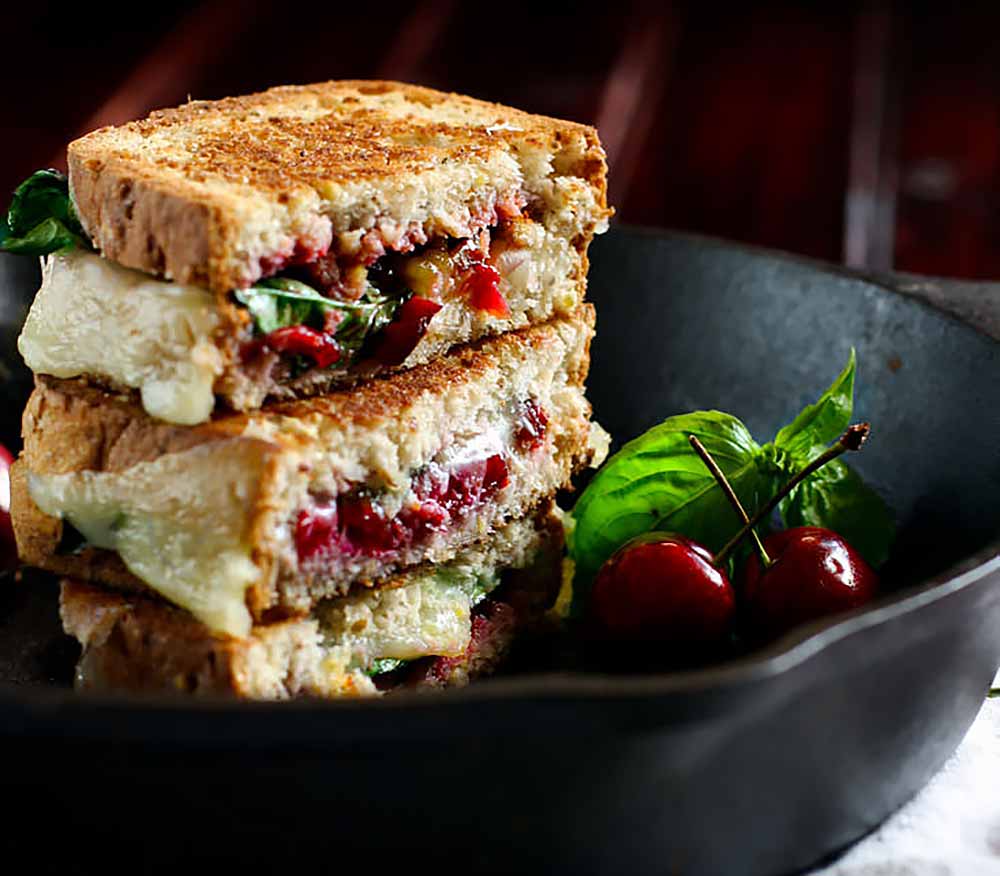 Cherry Basil and Provolone Gluten Free Grilled Cheese // Grilled cheese doesn't always have to be a health sticky wicket. Cotter Crunch cooks up a post-workout recovery sandwich with anti-inflammatory cherries and basil in a mineral-rich cast iron skillet for muscle-soothing fuel.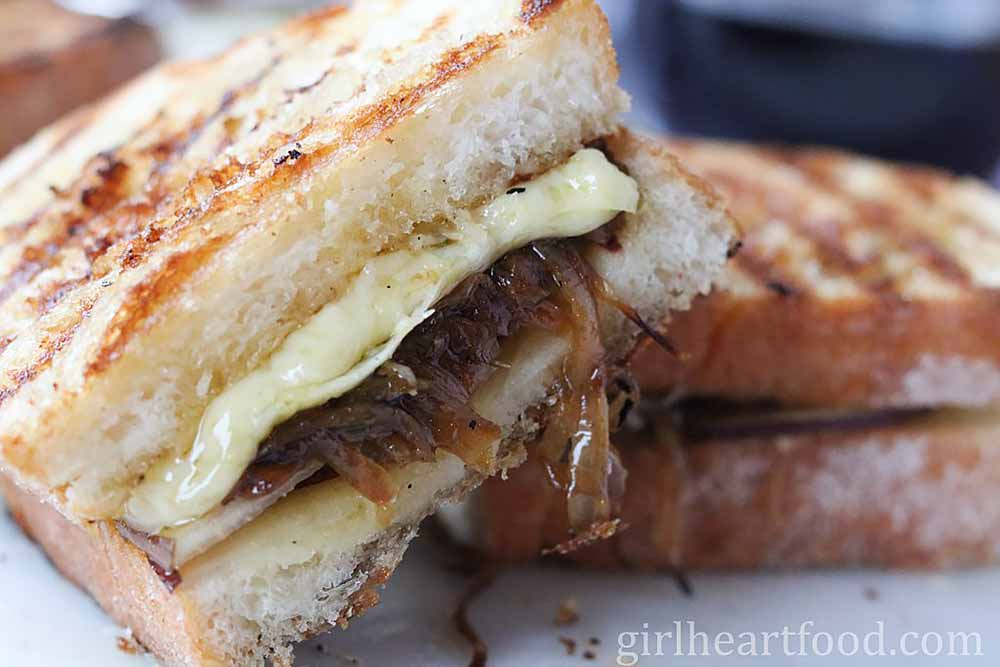 Grilled Cheese with Heidi, Pear and Caramelized Onions // If there's one thing we're sure about when it comes to grilled cheese sandwiches, it's that caramelized onions and super flavorful cheeses go together on bread like peas and carrots. Girl Heart Food shows us why, and then tops it all with sweet pear slices, just because.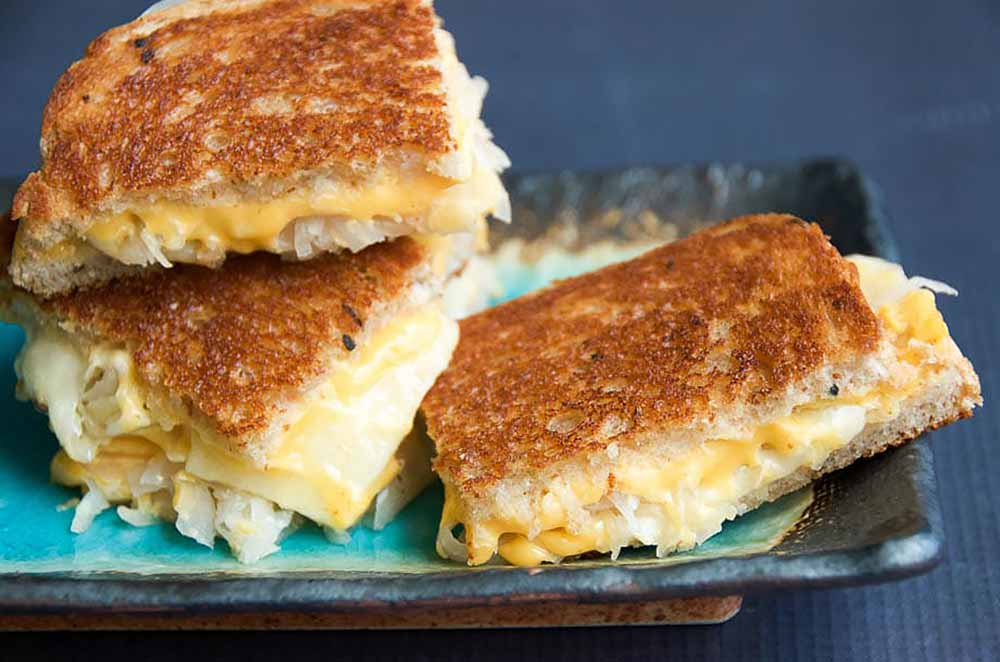 Grilled Cheese with Sauerkraut and Dijon // Umami Girl describes her sauerkraut-topped, Dijon-slathered grilled cheese sandwich as a "hot mess" — but in the best way possible. All we know is, we can't get this sandwich off our minds, and now we can't wait for Oktoberfest.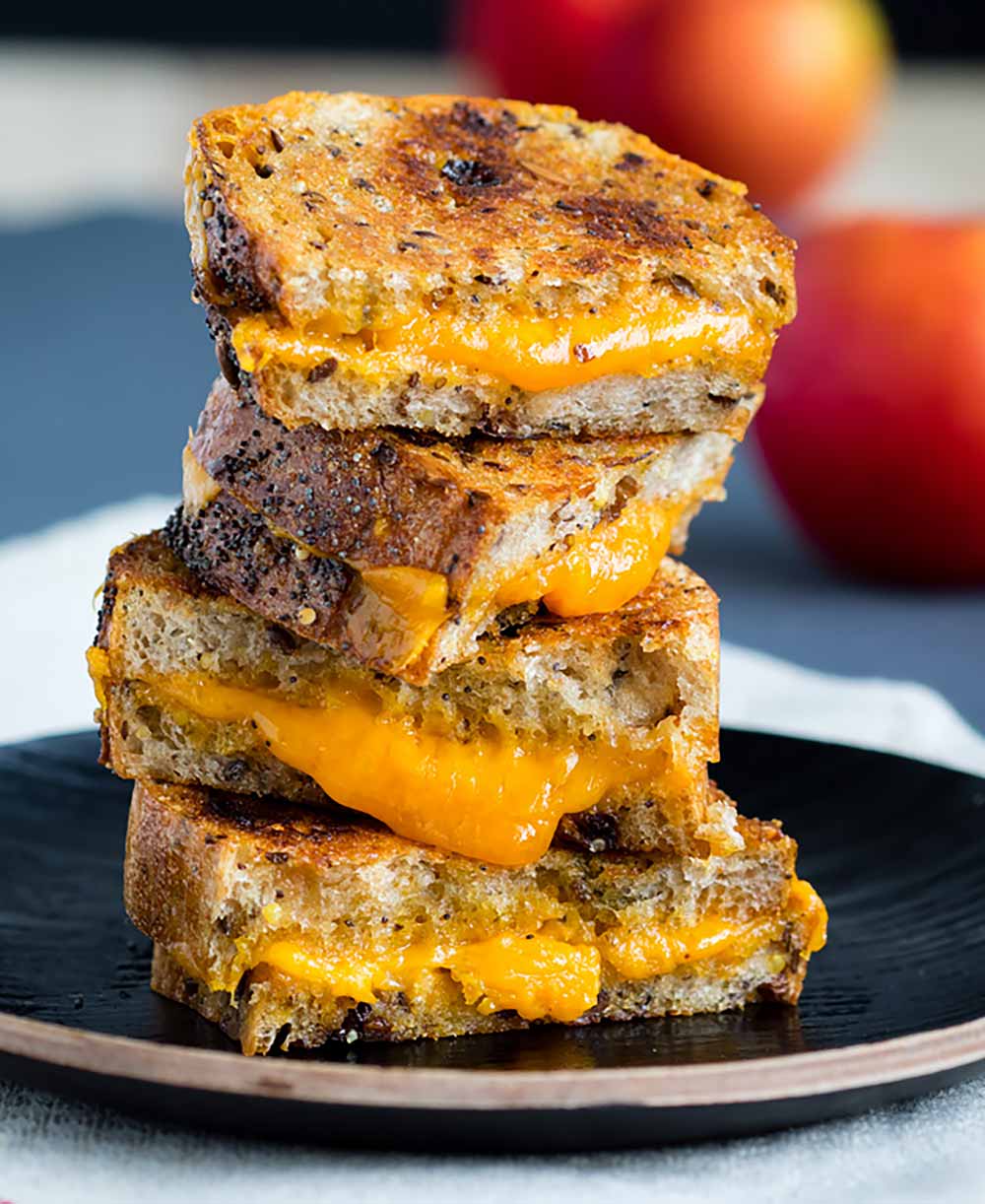 Raisin Bread Grilled Cheese // When it comes to making tasty grilled cheese sandwiches, crusty white or wheat breads are far from your only options. The Worktop gets creative and uses raisin-studded bread for pops of savory sweetness.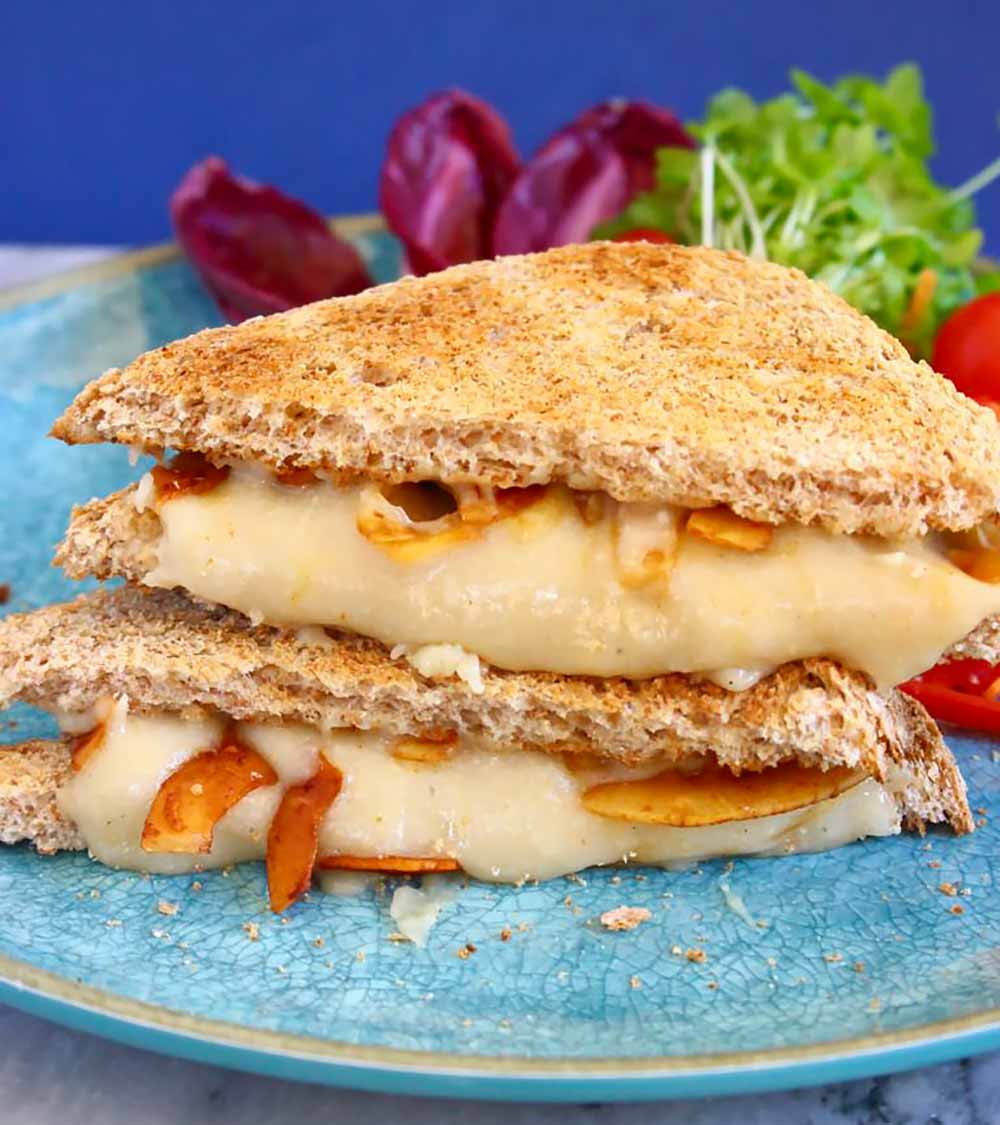 Vegan Coconut Bacon Stretchy Melty Grilled Cheese // The vegan lifestyle doesn't mean that a decadent, bacony grilled cheese sandwich is off the table. Rhian's Recipes whips up homemade vegan cheese and tops it with smoky-savory-crispy coconut bacon.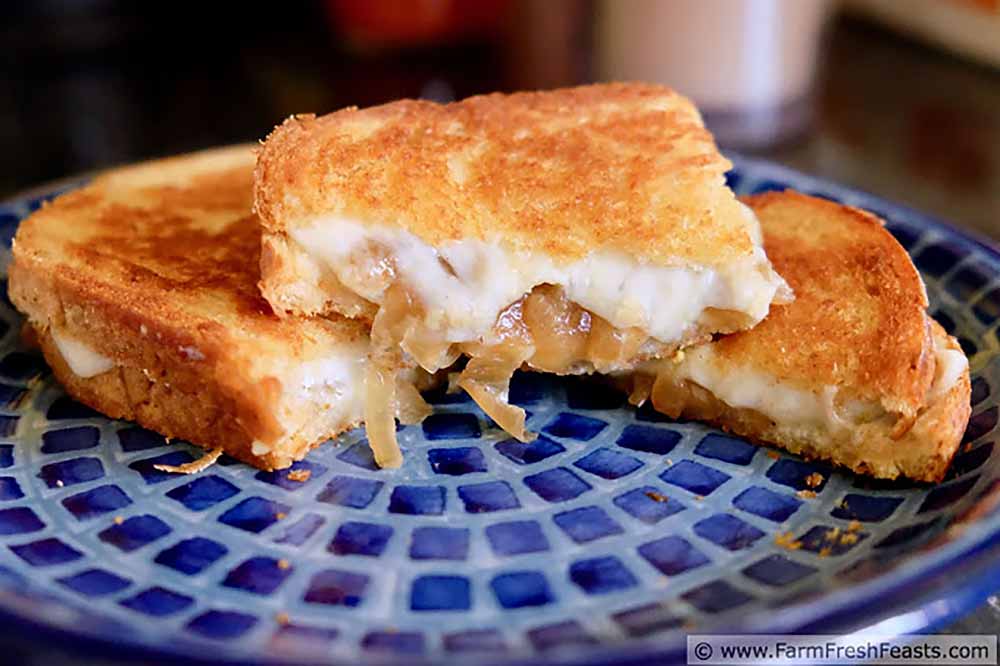 Grilled Cheese with Caramelized Onion, Gorgonzola, and Havarti // Blue cheese lovers, this one's for you. Farm Fresh Eats cooks up a cheese lover's dream sandwich, with loads of gorgonzola and Havarti cheeses (and, oh yes, caramelized onions).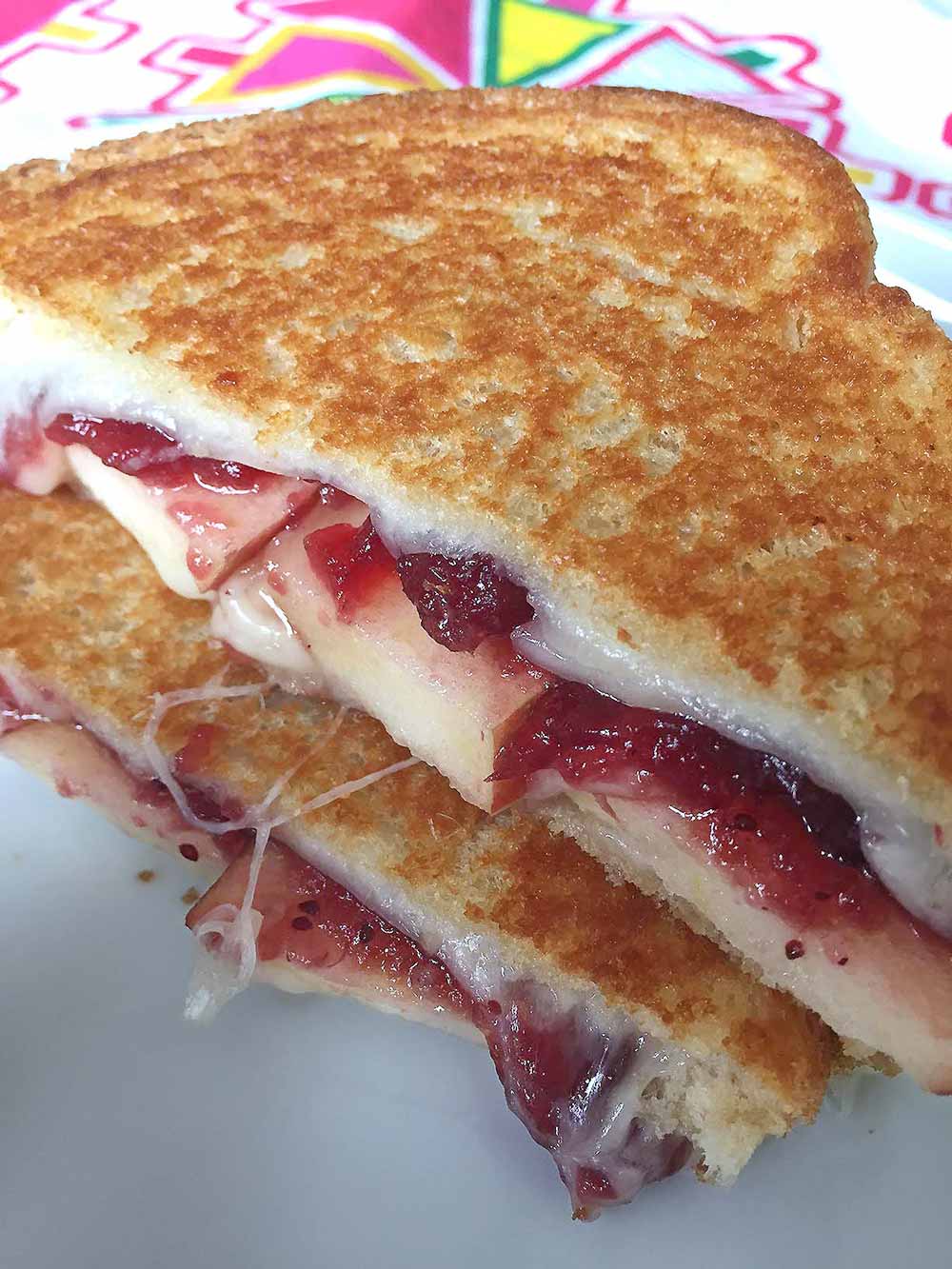 Apple Cranberry Grilled Cheese Sandwich Recipe // As a veteran of many a grilled cheese sandwich made with Thanksgiving leftovers, I can say enthusiastically that cranberry sauce on grilled cheese is for reals. Melanie Cooks takes this amazing combo one step further and adds sliced apple for a touch of sweetness.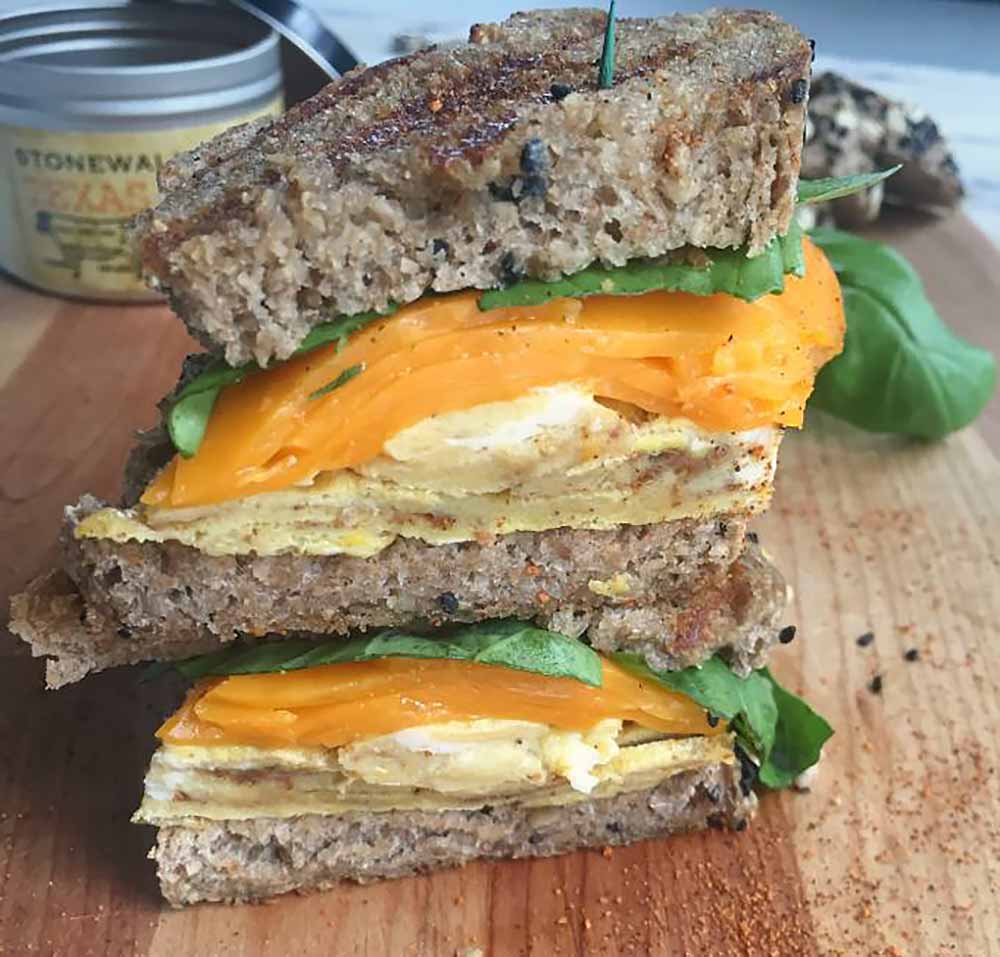 BBQ Spiced Grilled Egg and Cheese Sandwich // All we can say to this egg and cheese grilled cheese sandwich from A Cedar Spoon is, yes, please! Breakfast, lunch, dinner, we'll take it!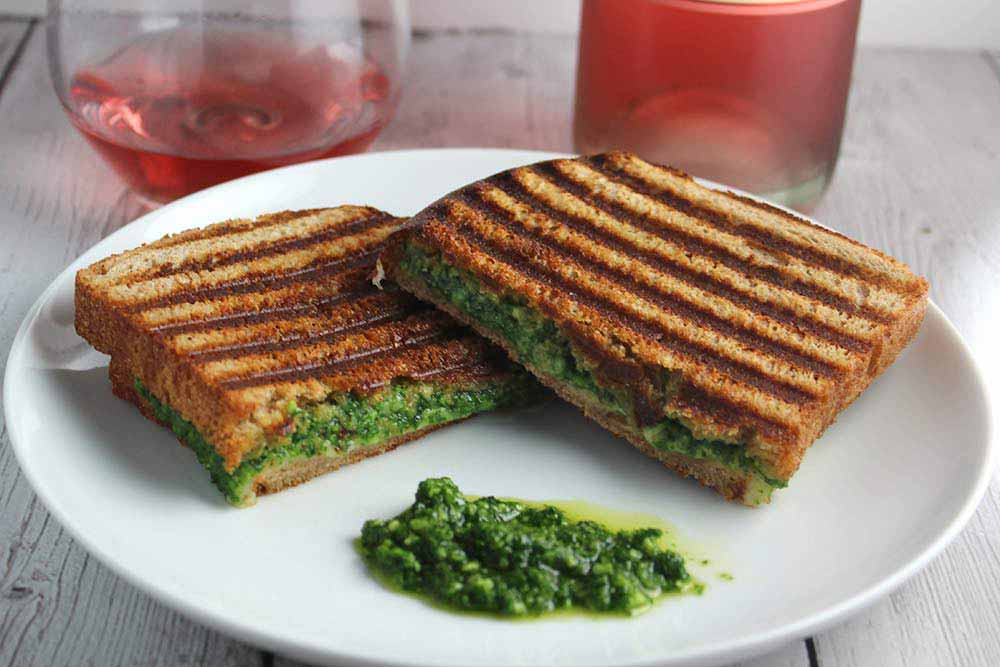 Kale Pesto Grilled Cheese // Kale is everywhere at the farmers' markets, so now is a great time to pick up a fresh bunch, whirl it into the nutrient-packed pesto from Cooking Chat, and schmear it on your next grilled cheese sandwich. Aside from being really tasty, it's a great way to get more kale into your family without them really realizing it.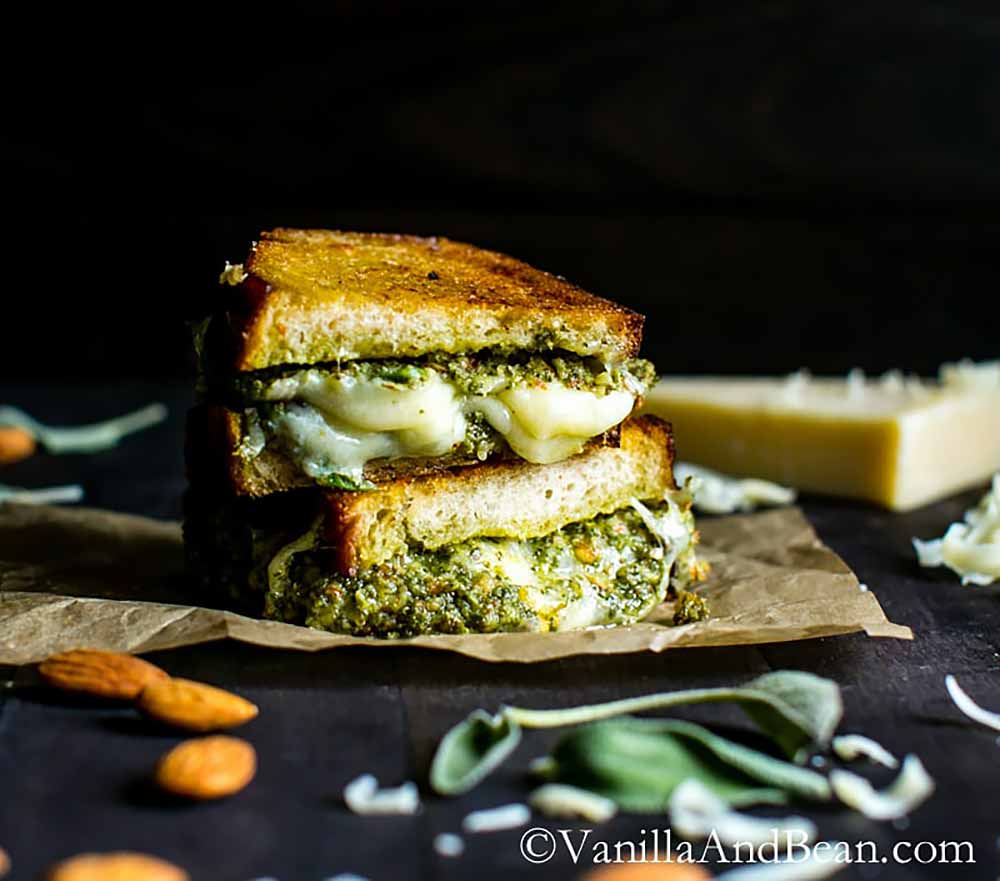 Almond-Sage Pesto Grilled Cheese Sandwich with Gruyere // Pesto with almonds and sage, instead of basil and pinenuts, gives this Gruyere-stuffed grilled cheese from Vanilla and Bean fall leaning flavors that will be perfect with that first bowl of cozy tomato soup!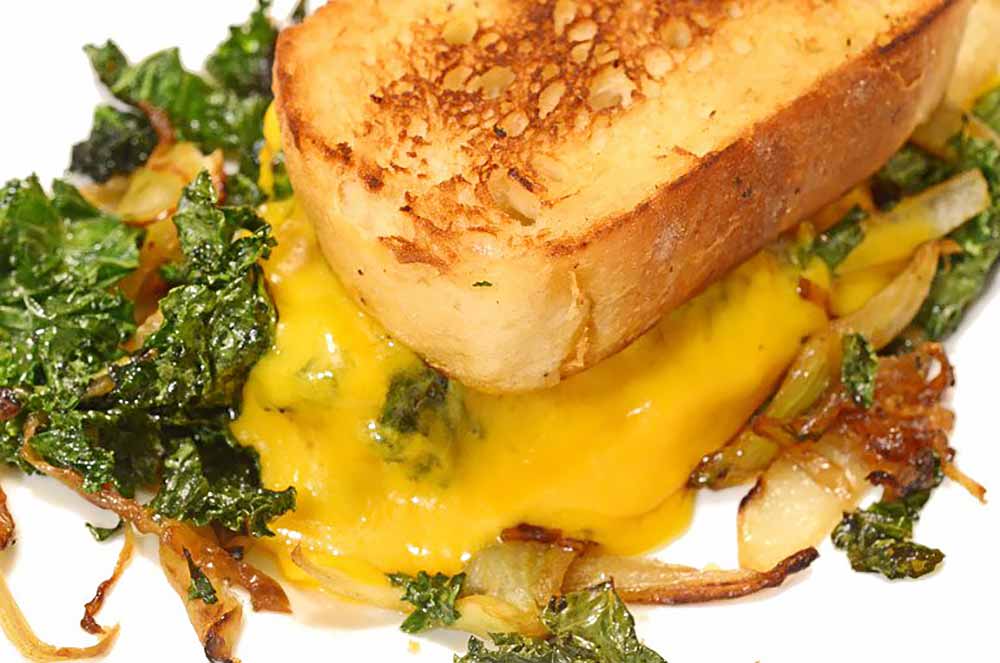 Caramelized Fennel, Onion & Kale Toasted Cheese Sandwich Recipe // Fennel is a most under-appreciated veggie in our book, and when Platter Talk cooks it down with onions to sweet caramelization, well, we say that's just love on cheesy bread. And another plug for healthy greens: we love the idea of grilled cheese as a kale delivery vehicle!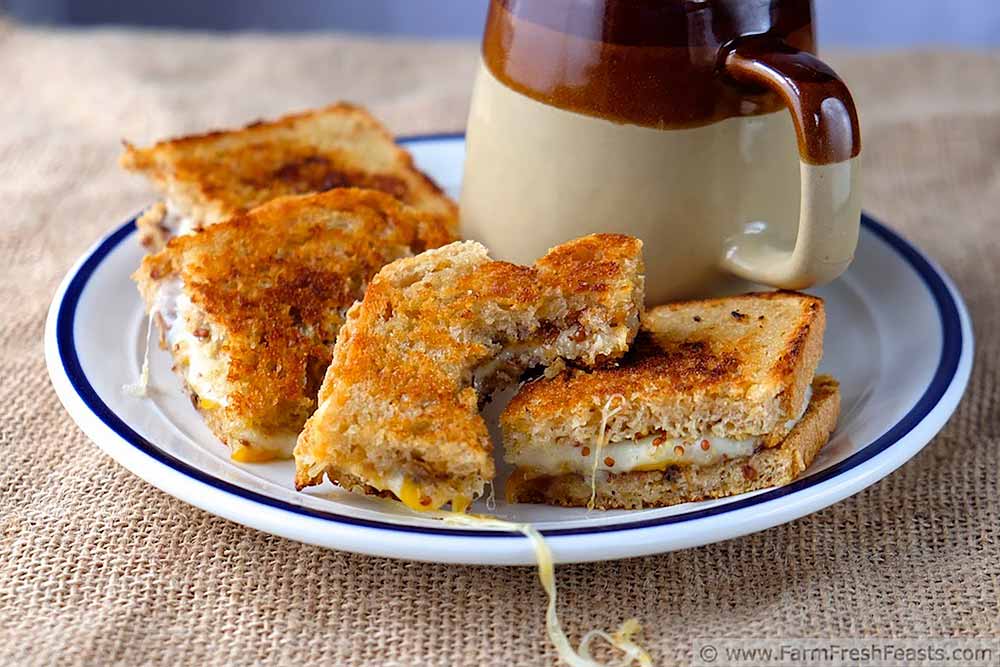 Grilled Cheese with Cheddar, Havarti and Apple Fig Chutney // Whoever thought to put apple fig chutney on a grilled cheese sandwich is genius. That would be Farm Fresh Eats, and we're counting the minutes until we can dash to the store and pick up some chutney.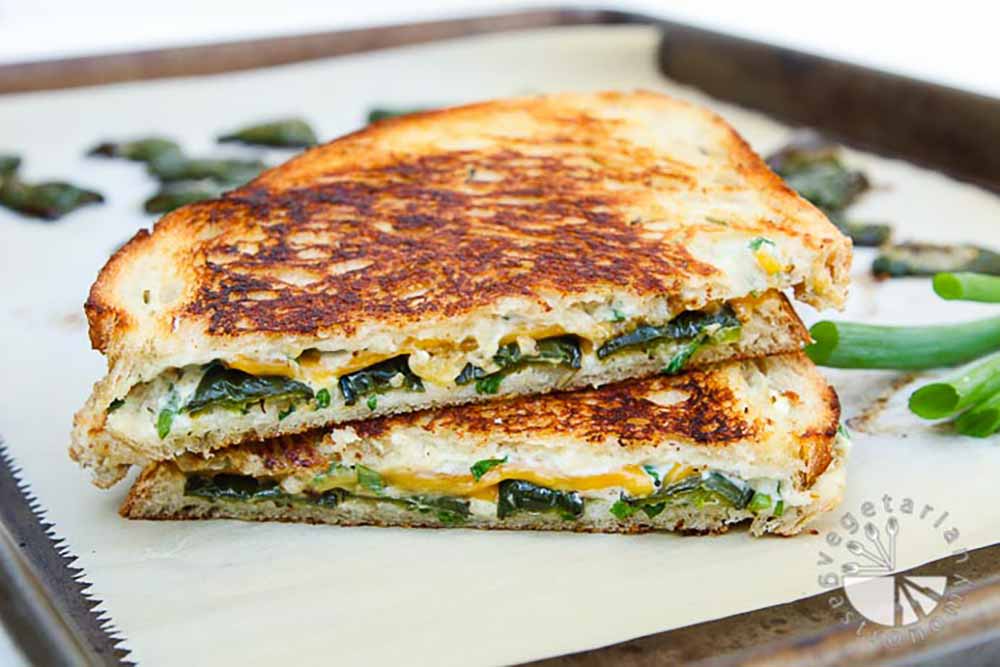 Jalapeno Popper Grilled Cheese // Our favorite bar appetizer has been turned into a grilled cheese sandwich. Thank you, Vegetarian Gastronomy!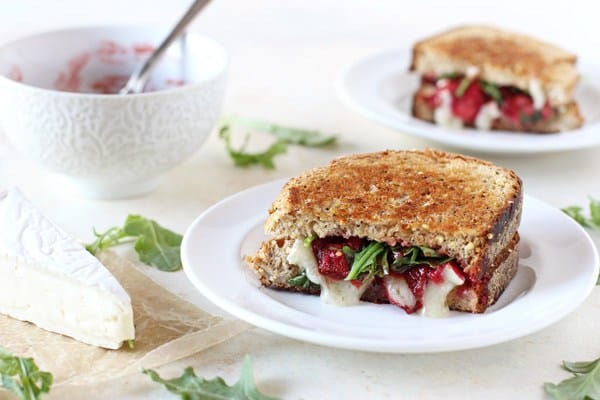 Roasted Strawberry and Brie Grilled Cheese // Roasted strawberries with balsamic and brie combine for a grilled cheese sandwich that's sassy enough to be an elegant appetizer!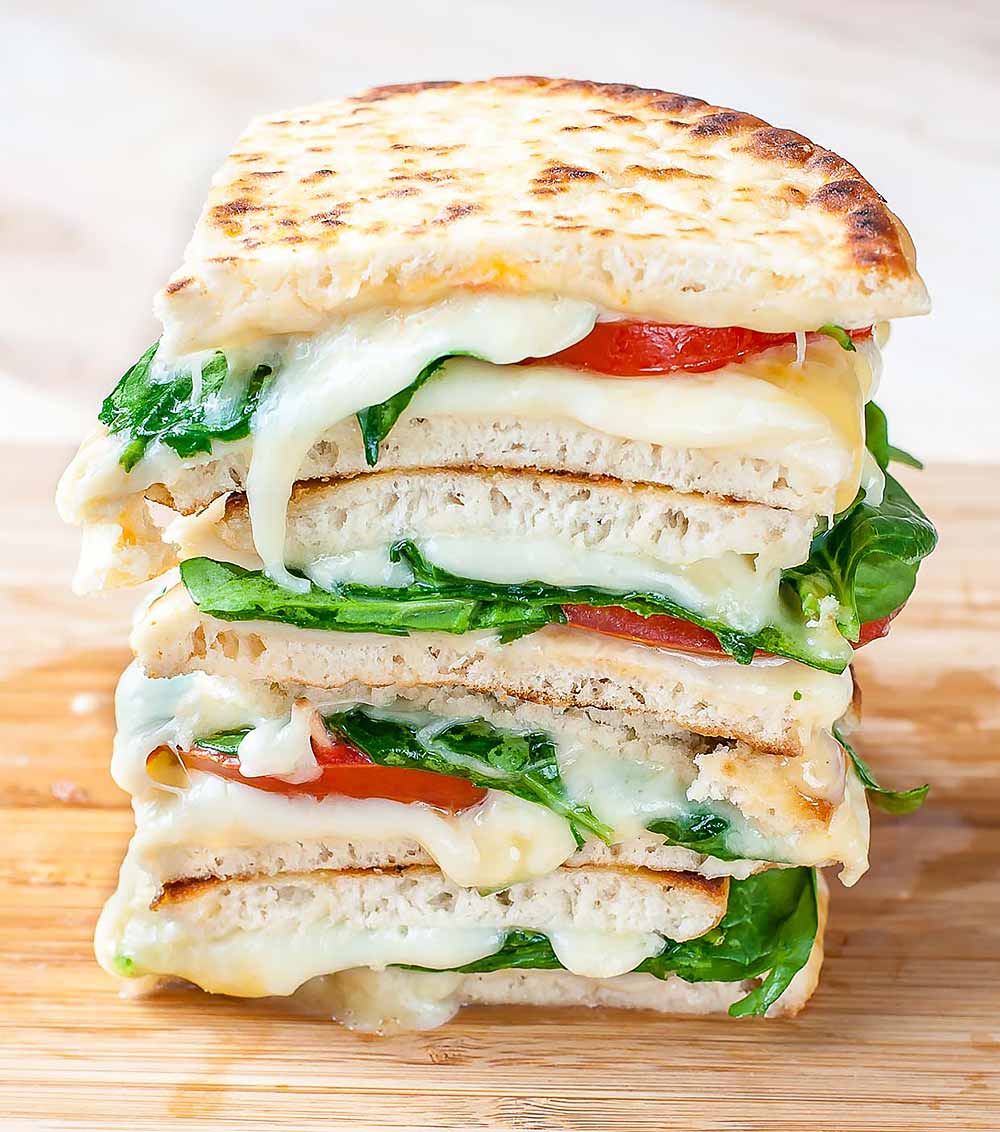 Spinach and Tomato Grilled Cheese Pitas // Versatile pita bread steps in nicely as the outer wrapper for Peas and Crayons' veggie stacked grilled cheese. And if you happen to have spinach dip, we're thinking, toast up a few pita triangles, and, hello, comfort food meal!