We've always been fans of Richa Hingle's Vegan Richa blog. Anyone who's tried to cook Indian knows it can be a challenge to master, and her vegan recipes make it seem totally doable. (Her non-Indian dishes, like these Pinto Bean Broccoli Lentil Burgers, are also spot-on.) She always includes plenty of options for those who are gluten-free, have food allergies, or who avoid soy or oils, which is a big bonus for vegans and non-vegans alike.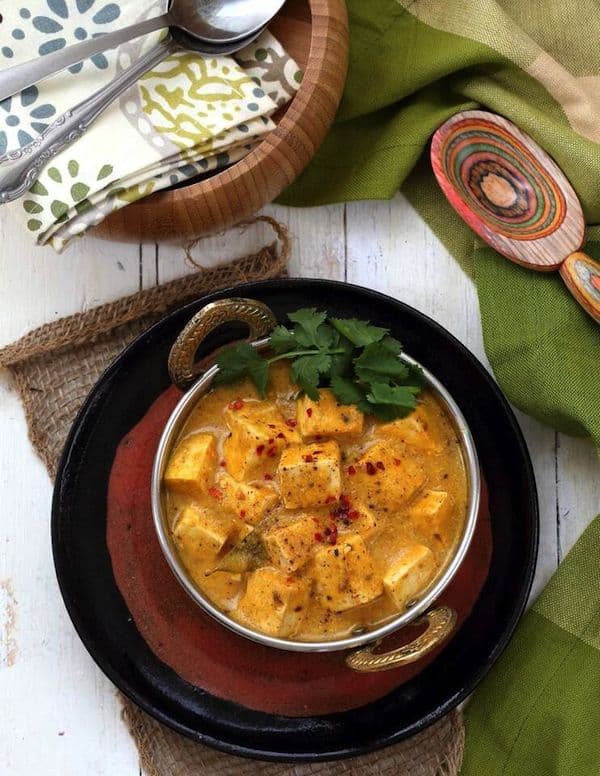 Personally, I'm kind of in love with Indian food and I'm nearly always disappointed when I try to wing it. So Richa's new book, Vegan Richa's Indian Kitchen: Traditional and Creative Recipes for the Home Cook, was a godsend when it arrived. It's great for aspiring Indian cooks; it's divided into handy categories like Lentils and Beans, Dry Vegetable Curries, and One-Pot Meals, and includes an informative primer on the spices, grains and flours of Indian cooking. In order to minimize specialty-store shopping, Richa gives a basic Indian-cooking shopping list divided into "must have," "good to have," and "nice to have" ingredients—most of which can be found at your supermarket. For a lot of people, one of the biggest barriers to exploring any world cuisine is specialty ingredients, so this shopping list was super helpful.
The Kidney Bean Curry (which tastes like an Indian version of chili), Gluten-Free Chia Flatbreads and Pistachio Spoon Fudge were all excellent, as was this Mango Tofu Curry recipe, which she has been kind enough to share with Oh My Veggies Readers!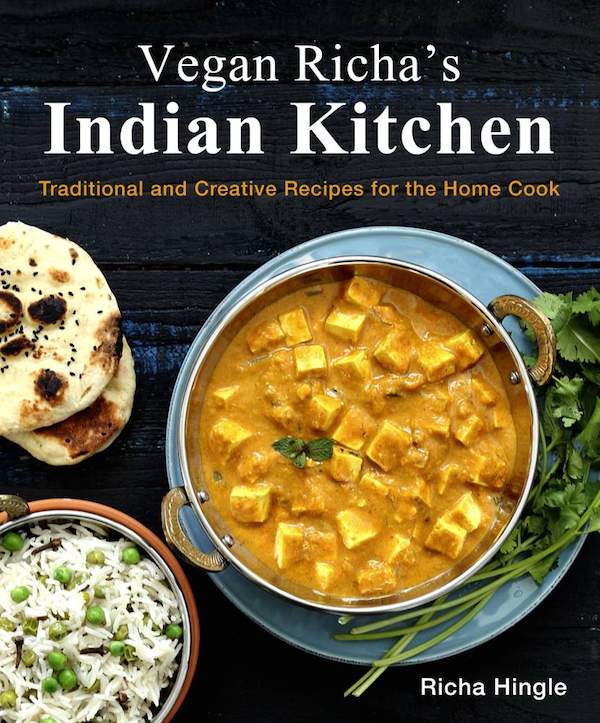 Richa's notes on this recipe: 
Mangoes are abundant in India, where they are always juicy and sweet. In the United States, mangoes can be a bit tart. For desserts or curries like this one, I prefer mango pulp or puree in canned or bottled form. You can use a ripe mango, if you prefer, but be sure to puree it well before using. This is a simple recipe but the resulting dish is very alluring with its sweet and spicy sauce.
Recipe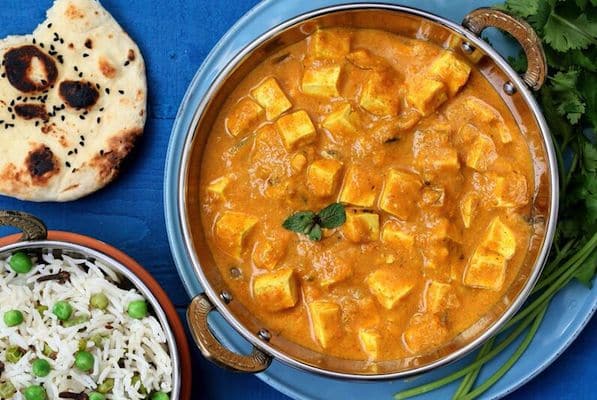 Ingredients
For the Curry:
¾

cup

chopped red onion

1

1-inch knob of ginger

3

cloves

garlic

2

tablespoons

water

1

teaspoon

safflower or other neutral oil

¼

teaspoon

cumin seeds

4

cloves

1 ¼

cups

canned or culinary coconut milk

¾

cup

ripe mango pulp or puree

unsweetened or lightly sweetened canned

½

teaspoon

salt

2

teaspoons

apple cider vinegar

Generous dash of black pepper

¼

teaspoon

Garam Masala

for garnish

2

tablespoons

chopped cilantro

for garnish
Instructions
For the Tofu:
Cut the tofu slab into ½-inch slices. Place them on a clean kitchen towel. Cover with another kitchen towel. Place a 10-pound (approximate) weight on top and let sit for 10 minutes. (Alternatively, you can use pressed tofu.) Cut the tofu slices into ½-inch cubes.

Heat the oil in a large skillet over medium heat. When the oil is hot, tilt the skillet so the oil coats it evenly. Add the tofu and cook until lightly brown on some sides, stirring occasionally, 4 minutes. Add the cayenne, cinnamon, garam masala, and salt and mix well to coat. Cook for another 2 minutes and set aside.
For the Curry:
In a blender, combine the onion, ginger, and garlic and blend into a smooth puree with 2 tablespoons of water. Heat the oil in a large skillet over medium heat. When the oil is hot, add the cumin seeds, bay leaves, and cloves. Cook for 1 minute. Add the pureed onion and cook until

the onion mixture is dry and does not smell raw. Stir occasionally to avoid sticking, 13 to 15

minutes. Add the coconut milk, mango pulp, salt, and vinegar and mix well. Add the tofu and all

the spices from the tofu skillet to the sauce skillet. Add a dash of black pepper.

Mix, cover and cook until the sauce comes to a boil, 5 minutes. Reduce the heat to low and

cook uncovered until the sauce thickens and desired consistency is achieved, about 15 minutes. Taste and adjust the salt and tang. Add ½ teaspoon or more sugar if the mango pulp was not sweet. Garnish with cilantro and a dash of garam masala and serve hot.
Notes
Recipe from Vegan Richa's Indian Kitchen
Copyright © 2015 by Richa Hingle. Used by permission Vegan Heritage Press, LLC.
Nutrition
Calories:
332
kcal
Carbohydrates:
18
g
Protein:
12
g
Fat:
26
g
Saturated Fat:
17
g
Polyunsaturated Fat:
3
g
Monounsaturated Fat:
4
g
Trans Fat:
1
g
Sodium:
455
mg
Potassium:
348
mg
Fiber:
4
g
Sugar:
11
g
Vitamin A:
589
IU
Vitamin C:
23
mg
Calcium:
158
mg
Iron:
3
mg
Craving more veg-friendly recipes?
Shop our collection of vegetarian and vegan cookbooks, including our new Vegan Thanksgiving and Vegan Christmas cookbooks!